15 kitchen island ideas – how to create a practical and stylish focal point in your space
If you've got the space nothing adds to a kitchen like an island – these kitchen island ideas offer handy workspaces, storage, extra seating, somewhere to socialize and more...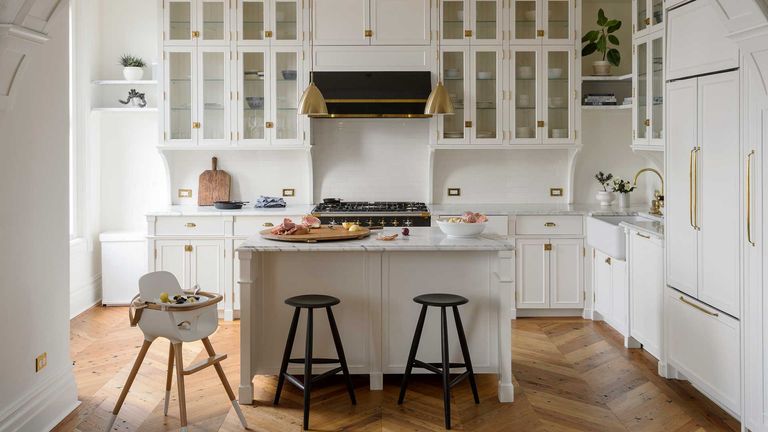 (Image credit: Matthew Williams)
By Hebe Hatton
Looking for modern kitchen island ideas? Aside from gaining additional worktop space for cooking, plus extra storage space, kitchen islands make great informal dining spaces – for breakfasts and morning coffees – and often act as the heart of the home. Plus, now we are all working from home a whole lot more they can be a nice spot to set up with your laptop for a few hours.
'Kitchen-diners and open-plan living areas have become more popular over the past year with the kitchen acting as more than simply somewhere to cook, and is now somewhere for families to congregate, work, as well as cook, eat, and clean.' explains George Miller, Home Designer at Neptune. 'This ties in with adding an island or a kitchen table, as well as extra seating in the room for more multipurpose use. It's important to consider lighting within your kitchen diner, where you will need as much light as possible for cooking and cleaning, but more ambiance for when you sit down to eat.'
They're also ideal for defining spaces, like zoning an open plan kitchen and creating two 'separate' spaces for cooking and dining. And then, of course, they look lovely too and can create an instant focal point in a kitchen. From metro tiles, marble, and metal, to rustic wood, concrete, and stone, whether you are into period-style Shaker kitchens of fiber modern sleek designs, we have plenty of beautiful ideas that are sure to persuade you an island is now an essential in your space...
1. Get the sizing right
Whether you are adding an island to your current kitchen, or thinking of going for an island in a brand new kitchen design, size and shape are the first things to consider. You want the space to work ergonomically, you should be able to move around it easily and it should function as a key part of your kitchen.
'Although a practical choice for kitchens an island should be considered carefully before the final design is chosen.' explains Ben Burbidge, Managing Director at Kitchen Makers.
'You should look to maximize the internal and worktop space but don't be tempted to make the overall dimensions too big as it could dominate or restrict movement around the kitchen. If you want to include appliances or sinks make sure you can accommodate the required plumbing or electrics.'
2. Go symmetrical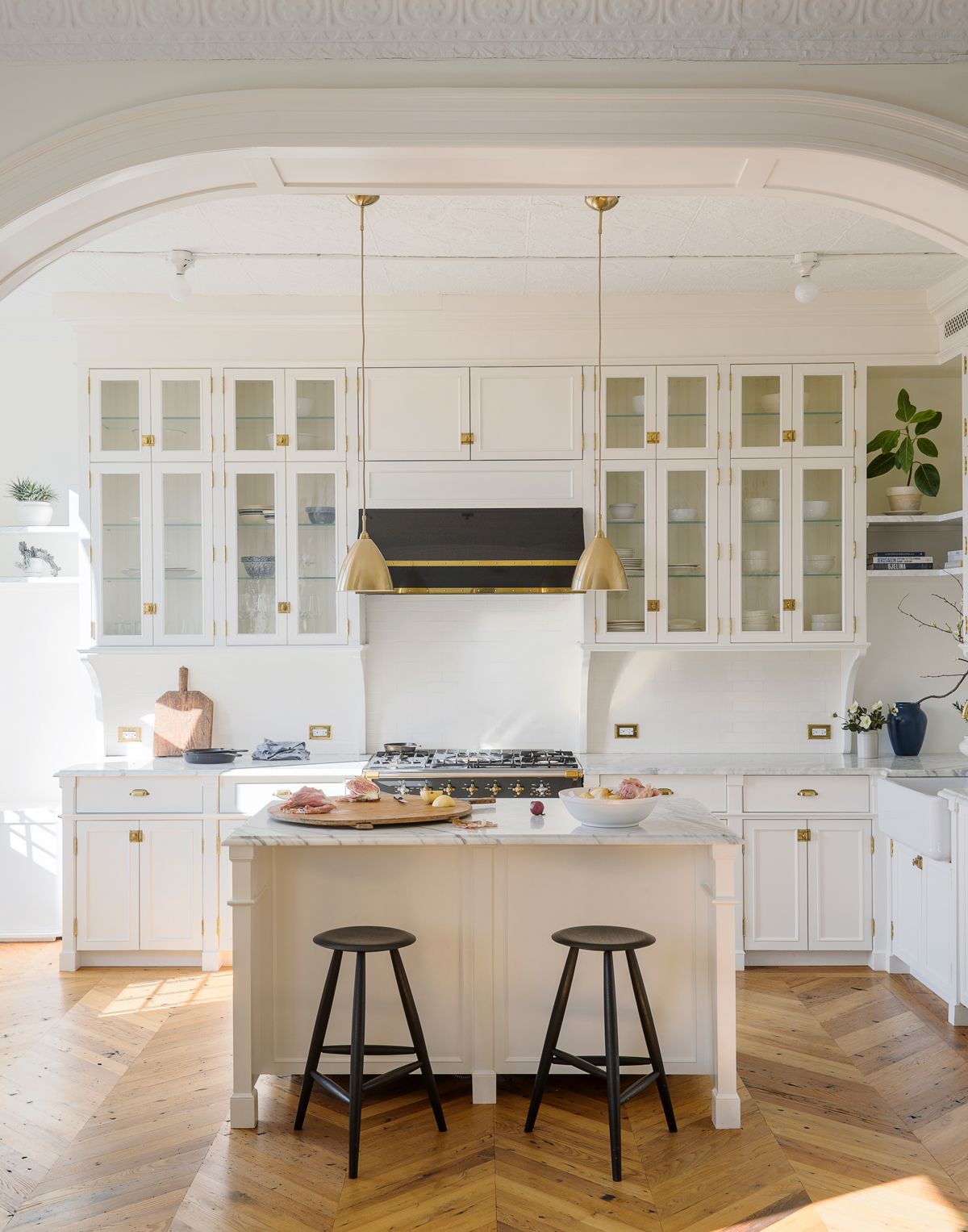 How beautiful is this kitchen island idea? The inspiration for the look came from French bakeries, with tall glass fronted wall cabinets and a compact island sat in the center.
If you are blessed with a small kitchen the best way to go when adding an island is to keep it simple and symmetrical as you can see here, place the island in the middle of the space with the same amount of room on either side and match the design to the style of your cabinets. Add a couple of stools that can tuck neatly under the counter to double up the island as a breakfast bar and hang the same amount of lights above to create a subtle, but stylish balance.
3. Mix finishes for a textured look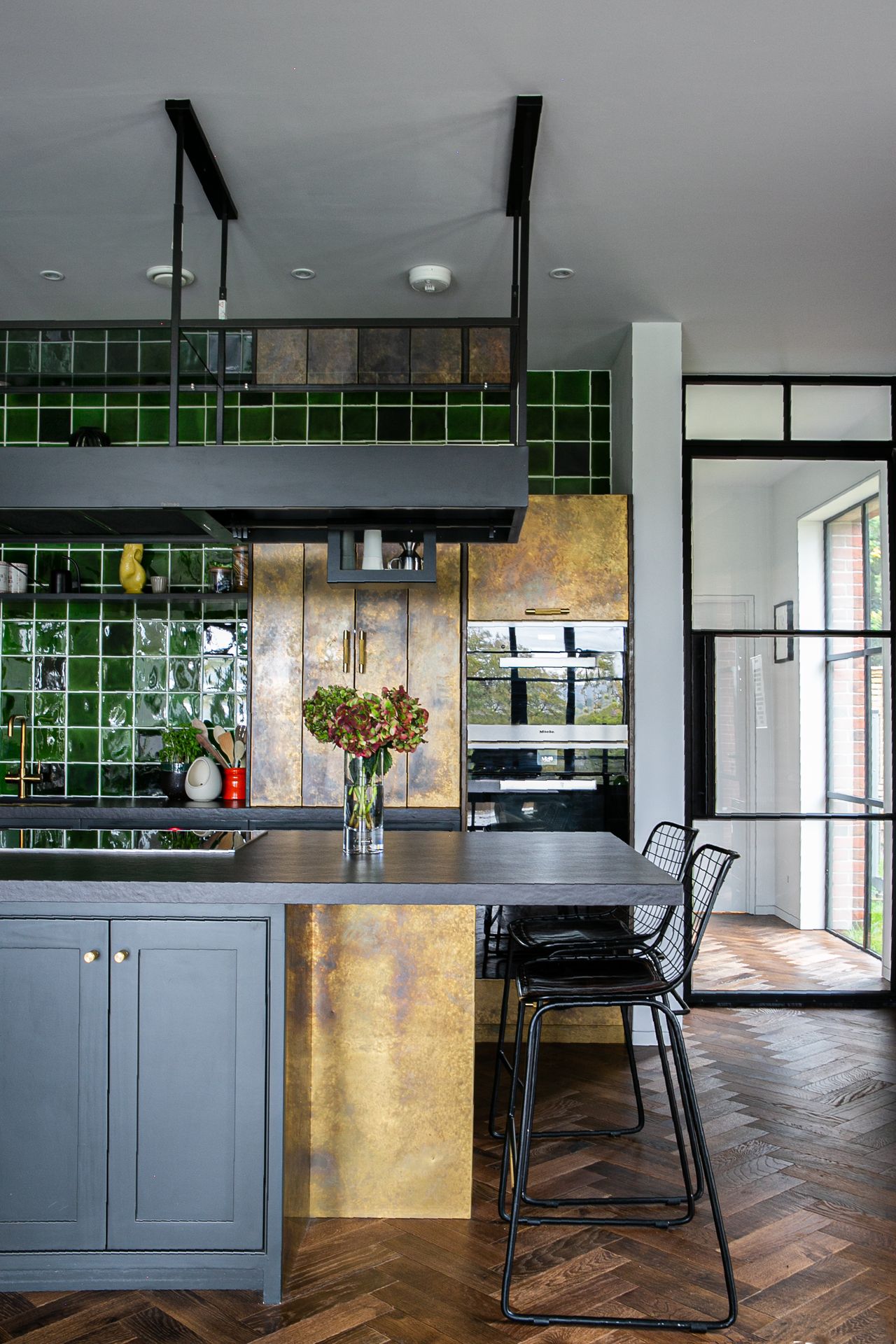 A kitchen island is a lovely way to introduce a second finish to your kitchen, adding texture and depth to the space. You can go bolder with your kitchen island materials, and even choose something more luxurious and expensive that wouldn't be an option of all your kitchen cabinetry.
Marble is a popular choice, as is concrete for a more industrial look, but we are loving the aged brass mixed with the off-black wooden cabinetry and the sleek green Victorian wall tiles. For a more cohesive look, you could copy this kitchen island idea by The Main Company and take the same material into just one of your kitchen cabinets to really up the two-tone effect.
4. Make the most of and island with plenty of storage
While we all love the look of a kitchen island, they are designed for functionality over form – an extra surface space to cook and eat at and prime real estate for adding lots of extra kitchen storage. Make use of both sides of the island, and ensure you add either deep drawers or, as can be seen here, plenty of shelving that can be used for cookbooks, crockery, and any other general kitchen clutter.
5. Plan your lighting carefully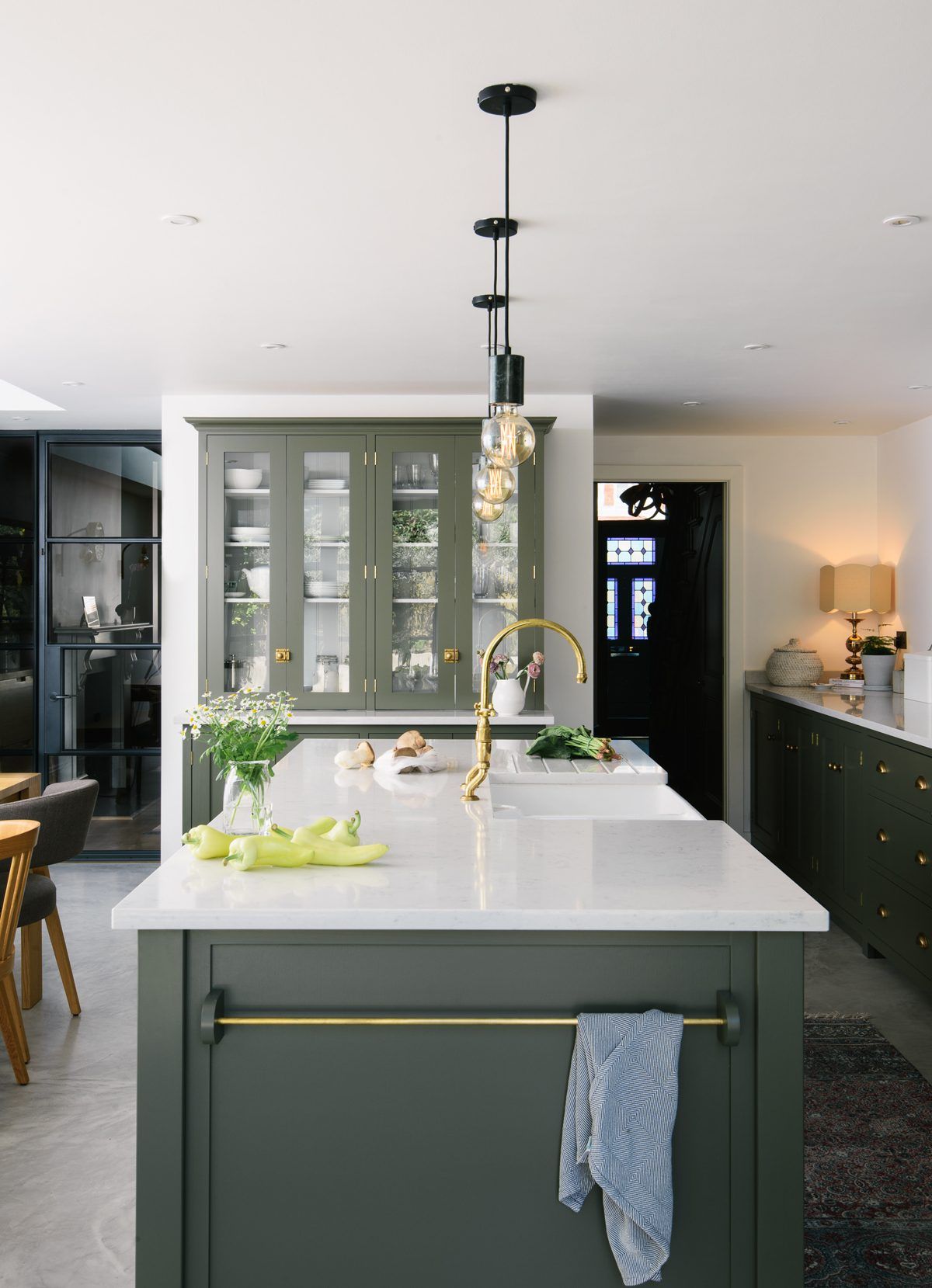 Getting your kitchen island lighting right is key to it being a practical part of your kitchen. You'll want to make sure you have enough task lighting so you can use your island to prep, cook, and work at if you need to.
Pendant lighting is a good option for an island as not only do they look lovely and make the island even more of a focal point, they provide a strong overhead light. However, if you can add a dimmer switch so you can change the mood of the area from practical and bright (perfect for prepping or working) to softer and more ambient (perfect for eating or entertaining).
6. Use a kitchen island to add a pop of color
Love colorful kitchen cabinets but no yet ready to commit to going all over? A kitchen island is the perfect way to bring a pop of color into a space while keeping the rest of the room classic and neutral.
We're just a bit obsessed with Pearl Lowe's new kitchen, designed by deVOL. While yes, that warm deep yellow is a bold choice, it doesn't overwhelm the room, and works beautifully with the cream cabinets and splashes of warmer hues used throughout the space.
7. Go large and add lots of seating
From one of Pearl's kitchens to another. If you have the space, as this kitchen does, go big with your island, what use is a sea of floor with walls of cabinetry surrounding it? This kitchen has a three-meter island topped with seamless Arabesque marble. The island benefits from a double sink as well as glass-fronted built-in storage – so you can easily find what you're looking for. Plus it fits in plenty of seating so doubles up as a dining room too.
8. Use a kitchen island to zone an open plan space
In a large open plan kitchen diner, an island can help to divide up the space, creating almost a wall between the cooking area and dining area. This kitchen takes it even further by building open shelving from the ceiling above the island to create even more of that zoning effect. The island itself was inspired by an antique table, to contrast the industrial style metal cabinetry.
9. Pick a luxurious material for a stand out island
As we've mentioned an island is the perfect opportunity to go really bold with your choice of materials. The green and gold tones of the island were the starting point for the whole design of this kitchen, with the gold being reflected in the wall cabinetry and the ceiling being painted to mirror the color scheme of the marble. Also note how the same marble has been taken onto the splashback too create more of cohesive feel between the island area and the wall cabinets.
10. Add the hob to your kitchen island
We've all heard of the kitchen triangle theory – the basic concept that the kitchen main workstations in the kitchen should form a triangle. It's hardly groundbreaking but it does make sense, being able to move quickly and easily from the fridge to the sink to the stove, and adding a hob to an island makes that triangle a whole lot easier to create in your kitchen. Plus, it's more sociable if you use your kitchen as a space to entertain as you can cook while facing into the room rather than with your back to your guests.
Do consider where the extractor fan will go though. You can get some lovely designs that come down over the hob, or worktop extractors are becoming more of a thing now, or you could do as in this kitchen and mount an extractor flush to the ceiling.
11. Keep it slimline in a small kitchen
Islands can still work in smaller kitchens, you just have to keep them simple and slimline and make them work harder by having them be home to the sink or the hob or even your bulky appliances like the dishwasher so you can save space elsewhere.
Throwing down a rug between the kitchen and the island really helps this space feels bigger too – an easy hack for making a small kitchen feel larger as it breaks up the floor and if you opt for a runner can make the space look longer too.
12. Incorporate a breakfast bar
If you are adding a seating area to your island, do consider how the seats will fit into the space when they aren't in use. You don't want them to be awkwardly sticking out into the space while you are trying to prep and cook. The best option is to add a space where you can tuck the seats totally out of the way by extending the island slightly, this also just makes it comfier to sit at, especially if you add in a bar at foot level to perch your feet.
13. Make it moveable
Give yourself the option to move your island about as you please by picking a design that's on wheels. It's a more relaxed vibe, especially if you opt for a vintage find like a butcher's block to add an industrial touch. This works really well in a small kitchen too, you could just use a kitchen trolley for a similar effect on a smaller scale.
14. Reflect the materials and style of your home
Before deciding on a design for your kitchen island, look at the space it will stand in and be inspired by any original features of your home. An exposed brick wall, a marble fireplace, herringbone flooring, or, as is the case in this kitchen, beautiful timber beams. The island is also made of timber to mirror what's going on on the ceiling, creating a really rustic textured but still cohesive look.
15. Keep it sleek and simple
Another example of how a small kitchen island can still add so much to a space. Keep it sleek and simple by mirroring the design of the rest of the kitchen, matching the worktops so it almost just feels like a floating worktop. Add statement lighting to make it appear like more of a focal point, and tuck in some seating to add contrast.
What is the best size for a kitchen island?
'An island narrower than 900mm is unlikely to work well, especially if you're hoping to place stools at the counter. Standard units are 600mm deep, and while here at Blakes we don't work to a template so can make our units any size, if you plan to put appliances like fridges or freezers on your island, you will be constrained by those standard dimensions.' says Michele Meldrum of Blakes London.
'For comfortable leg room when you're sitting at an island, you'd ideally be looking at about 400mm of depth but if you're fighting for space you might chose to compromise a bit of space and comfort and get away with 300mm. You may be able to work around this issue by creating an overhang on one end of the island to place counter stools (not bar stools!) under the island.'
Also, think about the size of your room – 'there should be at least one meter gap between the island and the wall or run to allow freedom of movement. If space is limited, a peninsula where one end is attached to the wall could be a better option.' explains Chris Spink from Hush Kitchens, so again let this guide you when it comes to choosing the best size kitchen island for you.
What is the average cost of a kitchen island?
So how much does a kitchen island cost? We have a whole guide to help you with pricing but the numbers range from as little as £250 (you could get a second-hand butcher's block for this or an Ikea offering) to over £20,000 if you are after something large and in a really luxurious material. The average price however is around £2,700 for a good quality kitchen company to build and install a kitchen island.
Hebe is the Digital Editor of Livingetc; she has a background in lifestyle and interior journalism and a passion for renovating small spaces. You'll usually find her attempting DIY, whether it's spray painting her whole kitchen, don't try that at home, or ever changing the wallpaper in her hallway. Livingetc has been such a huge inspiration and has influenced Hebe's style since she moved into her first rental and finally had a small amount of control over the decor and now loves being able to help others make decisions when decorating their own homes. Last year she moved from renting to owning her first teeny tiny Edwardian flat in London with her whippet Willow (who yes she chose to match her interiors...) and is already on the lookout for her next project.