What type of kitchen handles are best? Designers explain how to get it right with the perfect shape, size and style
Kitchen hardware can have a transformative effect on a kitchen, but too often it's an afterthought. We asked designers what type of kitchen handles are best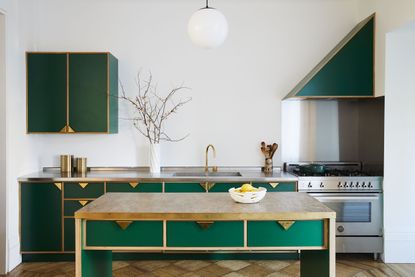 (Image credit: GRT Architects. Photo credit: Nicole Franzen)
There are two distinct types of kitchen hardware customer. The first is the savvy upgrader, who recognises that there's still life in their cabinets but suspects something shiny could give it all a lift. The second is at the tail end of a full renovation, brain muddled by decision fatigue, ready to grab at anything that looks vaguely brass-like in order to get the thing done.
The good news is that the best kitchen handles can add instant polish or punch to your kitchen at a relatively inexpensive cost – compared to the cabinets, anyway. The bad is that getting it not-quite-right has an outsized effect.
'Handles can either elevate your space or completely interrupt the design,' warns Trish Lynn, principal designer at Colette Interiors. 'Vintage-style handles, for example, could greatly throw off the design of a clean-lined modern kitchen'.
Amy Kreutz, a partner at Conceptual Kitchens, agrees: 'While we stress the importance of a handle's overall appearance and proportion within the cabinetry composition – a unique piece of hardware may look different in a line on a run of cabinetry than on its own – you should choose a piece that fits with the tone of your kitchen.'
'If you can, we recommend viewing a few different options in the space with the other finishes alongside it. Once you've made your selection, take a look at the varying sizes and map out a plan for your kitchen'.
1. Consider the practicalities
'It's important to feel the weight and size of a pull in your hand,' says Kreutz, but less commonly considered are 'the projection from the cabinet surface, diameter and center-to-center length. These are crucial factors often overlooked in the hardware selection process'.
'A pull that overhangs from the center, for example, is more likely to get caught on loose clothing than one squared off. One with grooves and divots may be harder to clean,' she adds.
California-based designer Todd Prince suggests zoning in on the cabinets and drawers you dive into most often. 'If cabinets are opened and closed multiple times throughout the day, budget accordingly and invest in good-quality craftsmanship', He is wary of following the crowd here: 'Trends are great for items that are easily replaced and budget-friendly. I stay clear on cabinet hardware and specify timeless options that fit the interior architecture and kitchen style.'
2. Factor in the cabinet style
'There is probably no right or wrong here,' say restoration specialist Berkeley Place, but 'traditional and country kitchens will usually have cup handles, which are without doubt the most practical. They don't catch clothing and grime is easily removed'.
Old houses tend to have good bones, so consider what will do justice to what's already there. 'We find solid timber, stainless steel or brass will provide the best overall look and feel – and without a doubt will be the most hardwearing. Stainless steel will probably be the most durable and resistant to water, and brushed brass has been very popular recently.
'Often cheaper handles will have a lower or less hardwearing finish which, will not last long in a kitchen. Grease from fingers alone will soon cause an inferior finish to erode.'
Beware the online purchase that doesn't explicitly refer to kitchen use, as they might not be up to the job. 'Often funky handles one can buy online are designed for furniture or general cabinetry, rather than kitchens, so are not really designed for the day-to-day requirements of a kitchen.'
3. Consider the decor style you want
Handleless and recessed designs might be the first that come to mind, but there's another modish option that is quickly gathering steam – and it's far more grabbable.
In modern kitchens, we clocked the current vogue for supersized handles, usually carved out from the same material as the cabinets, in our recent round-up of the latest kitchen hardware trends. No doubt the approach speaks to a desire to see natural materials with as little visual interruption as possible – as well as more specific trends such as Japandi style.
In this upstate New York home (above), architecture firm Stewart-Schafer used the same rift white oak selected for the cabinets to create oversized handles. 'We wanted a clean, ergonomic pull, and we wanted to showcase that simplicity and function can be elevated in the right context,' says co-founder James Veal. 'We actually did a lot of samples to get the right feel when pulling.'
If you're not going bespoke but still want something contemporary, Anderson has spotted rising interest in leather hardware 'or elements with leather features'.
Are bespoke kitchen handles always more expensive?
Not necessarily, says Rustam Mehta, co-founder and partner of New York-based GRT Architects. 'We think there is a low-bar for pursuing custom hardware, provided one has an adventurous client and a good network of fabricators. The triangles [designed for a Brooklyn townhouse, above] were cost competitive with off-the-shelf pulls, and we think a lot more special.'
It could be worth looking for references in the wider space to guide a more unusual shape – these were inspired by the triangular shroud that conceals the ventilator – but beware visual overwhelm if you've also gone for detailing on the cabinet fronts, warns Mehta. 'When using a graphic shape like our triangular pulls, one must consider whether the two are fighting each other. The busier the cabinet faces, the more difficult it becomes to integrate a very graphic pull. In those instances we often consider an invisible "integral" pull instead.'
And if you go really off-piste, make sure you understand how to attach them. As GRT produced a prototype of the triangle pull themselves, they knew that 'producing them would not require expensive setup or tooling – as may be the case for a custom cast pull'.
The Livingetc newsletter is your shortcut to the now and the next in home design. Subscribe today to receive a stunning free 200-page book of the best homes from around the world.
Cat Olley is a British design and lifestyle journalist, editor and copywriter. Formerly on the features team at ELLE Decoration, she has written for The Guardian, The Modern House, Evening Standard Homes & Property, Inigo and John Lewis at Home. She specializes in the latest trends and ideas happening in the design world, and is our go-to for aesthetically-led pieces.