Should the hob go in the kitchen island? Experts decide on the most sociable and space-saving design
Should the hob go in the kitchen island? If you're a sociable cook, a hob in the kitchen island could be just what you've been missing...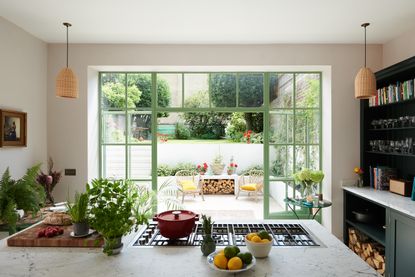 (Image credit: deVOL)
Your kitchen island can be many things - a social hub to gather round, a dining surface, a work station, and a cooking prep space. But did you know this all-encompassing piece can also be home to the hob and the central cooking zone?
By installing a hob in the kitchen island, you can face your guests (whether that's hungry faces waiting for breakfast or friends at a dinner party) while you whip up your culinary delights. It's a sociable way of cooking that allows you to interact and join the conversation while you're prepping.
'A hob on the island works well when you like to cook and socialize at once,' says Mindy O'Connor, Principal of Melinda Kelson O'Connor Architecture & Interiors. 'It can be much more inclusive and even fun to face guests or family when stirring/cooking dinner.'
Of course, if you like to be left to your own devices when cooking and the thought of this fills you with dread, then a hob on the kitchen island is likely not for you.
'If you like to be left alone to concentrate, or are bothered by distraction, this arrangement is to be avoided,' adds Mindy.
Should the hob go in the kitchen island? Top things to consider
A hob in the kitchen island can be a good idea for anyone with a busy lifestyle that likes to be involved with the buzz in the kitchen at all times.
It's also a great kitchen island layout idea if you enjoy soaking up the scenery outside; sometimes the kitchen island offers views that may not be afforded with a hob set into base cabinets.
What's more, placing the hob in the island can actually save space in small kitchens by freeing up storage space that would have been lost in base cabinet placement.
So in short, yes, a hob should go in the kitchen island if you want to create a liveable and space-saving layout. But there are factors to take into consideration.
Can a kitchen island still look aesthetically pleasing with a hob on it?
'It can be aesthetically pleasing to have the hob on the kitchen island since the alternative of a sink on the island can often be full of dishes and cooking prep mess,' says Mindy O'Connor, Principal of Melinda Kelson O'Connor Architecture & Interiors.
'An induction hob can be easily cleaned and pots removed to a perimeter sink when no longer being used.'
And, you can make it look attractive with a few simple styling tricks, says Mindy, adding: 'Place pretty cutting boards on either side of the hob to hold pots when not in use, and pots to organize prep ingredients or spoons. This keeps everything in stations and makes for an attractive and tidy island space.'
$9.99
Where should you place a hob on a kitchen island?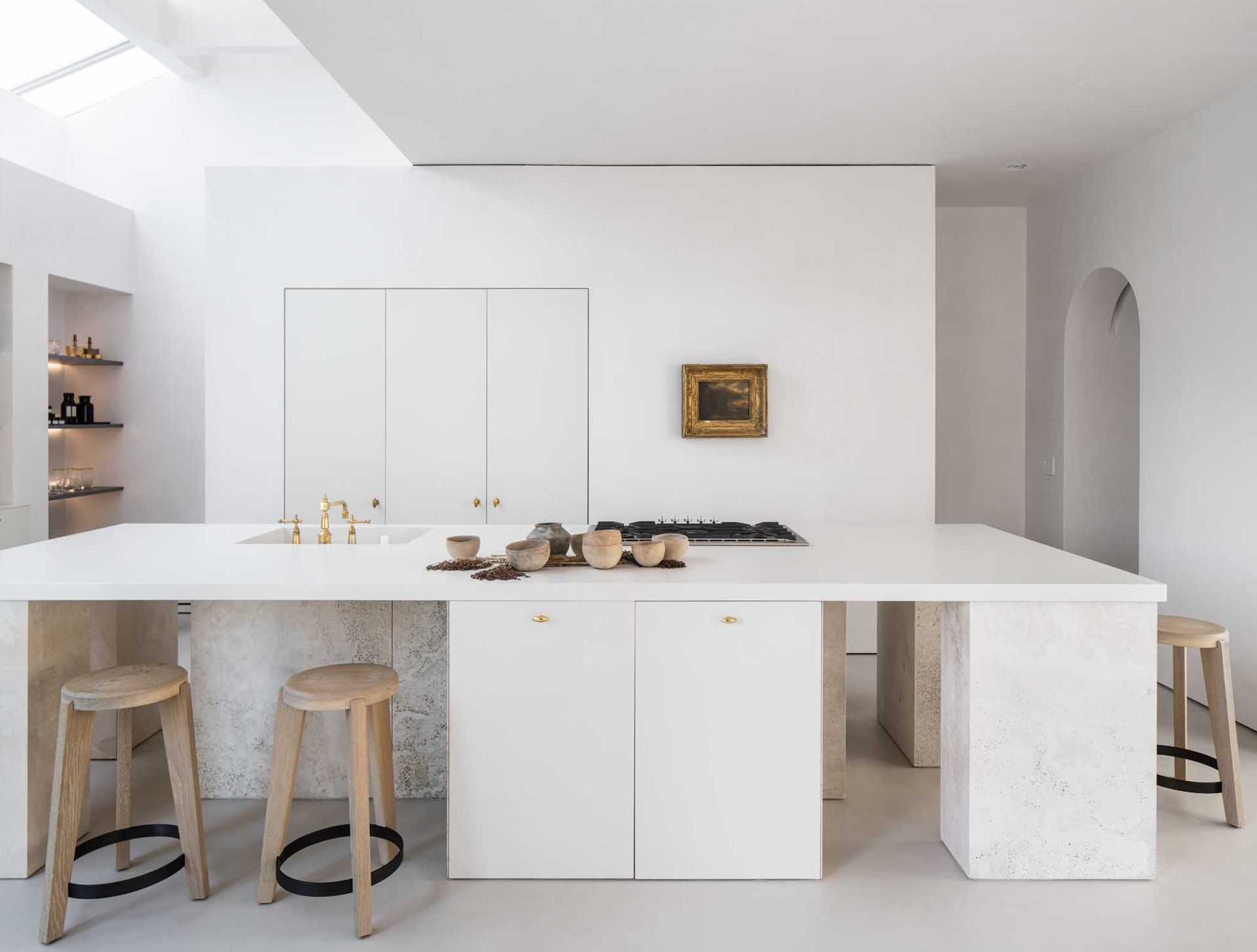 Where you place the hob in the island depends entirely on the kitchen layout and design.
If you like symmetry in kitchens, you can position it centrally, but placing it at either end also works so that it's 'out of the way'.
'The only rule is to ensure that you have enough working space on either side of the hob,' says Mindy O'Connor. 'So, while it does not need to be centered necessarily, it cannot sit within 15" of the edge for optimal cooking or safety.'
And Bob Bakes, Head of Design at Bakes & Kropp adds: 'It's best to leave as much space as you can for safety and practicality, but the exact number varies given the space.
'At a minimum, aim to leave 24 to 30 inches on either side and an extra 24 if you have a kitchen island with seating.'
What about extraction?
'Ventilation will be a consideration with the hob on the island,' warns Mindy O'Connor. 'If you want an uninterrupted ceiling plane and are not keen on having a hood over the island, you will need to consider alternative ventilation options.'
A downdraft cooktop is an option for hobs on a kitchen island where you don't want the open view to be disrupted. Downdraft ventilation can be vented outside or through the floor, or recirculate filtered air back into the kitchen.
However, not all designers are fans of integrated ventilation systems over the traditional hood. Mindy O'Connor says: 'Downdraft ventilation, while tempting, is generally not very effective and not recommended over a hood that draws vapors up to the ceiling and out.'
Is it better to have a sink or a hob on a kitchen island?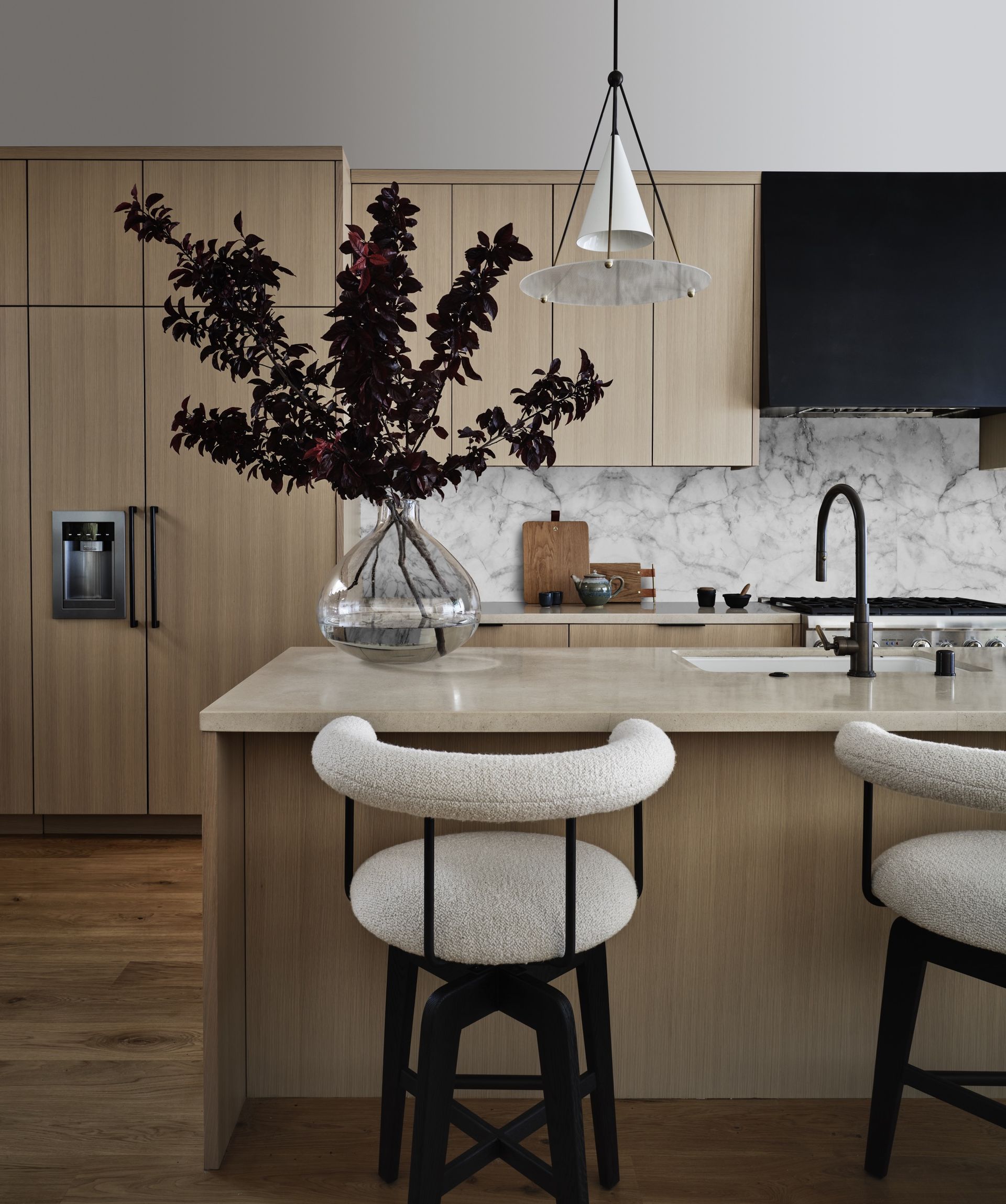 'We tend to prefer the traditional look and feel of a range and hood within the wall, and love to place sinks within the island,' says Bob Bakes. 'It helps set up the kitchen layout we call the 'working triangle', which keeps these prep and cooking spaces within close proximity without overcrowding.'
And Mindy O'Connor says it's all about the blend of function and aesthetics you'd like to achieve, adding: 'Like all elements in design, it depends on the context. The context to determine which is better for your kitchen always includes the space, the layout, the light, the functional needs of the cooks, and your aesthetic choices.'
Of course, you can opt to have both the sink and the hob on the kitchen island if you'd like to keep your prep and cooking space together. However, if you like to use your kitchen island mainly for socializing and eating, it might be preferable to keep appliances to the perimeter.
Ruth Doherty is a lifestyle journalist based in London. An experienced freelance digital writer and editor, she is known for covering everything from travel and interiors to fashion and beauty. She regularly contributes to Livingetc, Ideal Home and Homes & Gardens, as well as titles like Prima and Red. Outside of work, her biggest loves are endless cups of tea, almond croissants, shopping for clothes she doesn't need, and booking holidays she does.