How to make your kitchen island look more expensive - 7 ways to easily elevate your decor
These expert-approved tips are the perfect way to make your kitchen island look more expensive and give it a high-style finish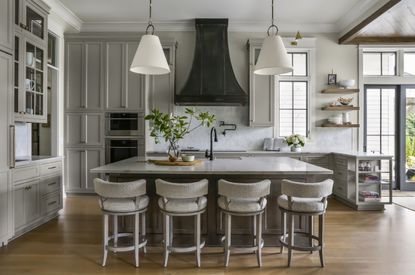 (Image credit: Brad Ramsey Interiors/Paige Rumore)
The Livingetc Newsletter
For style leaders and design lovers.
Thank you for signing up to LivingEtc. You will receive a verification email shortly.
There was a problem. Please refresh the page and try again.
A kitchen renovation is a costly design project, and it's likely you'll have to compromise on something to stay within budget. Brushing up on how to make your kitchen island more expensive will help to boost the aesthetic if you've had to tighten the reins on the island itself.
Styling is an important part of enhancing your kitchen island, and creating pretty centerpieces and tablescapes will work to add a creative panache to the look.
We've tapped a host of experts to offer easy ways to make your kitchen island look more expensive below, so you can achieve a design-smart finish without breaking the bank.
How to make your kitchen island look more expensive in 7 easy steps
1. Upgrade your cabinet hardware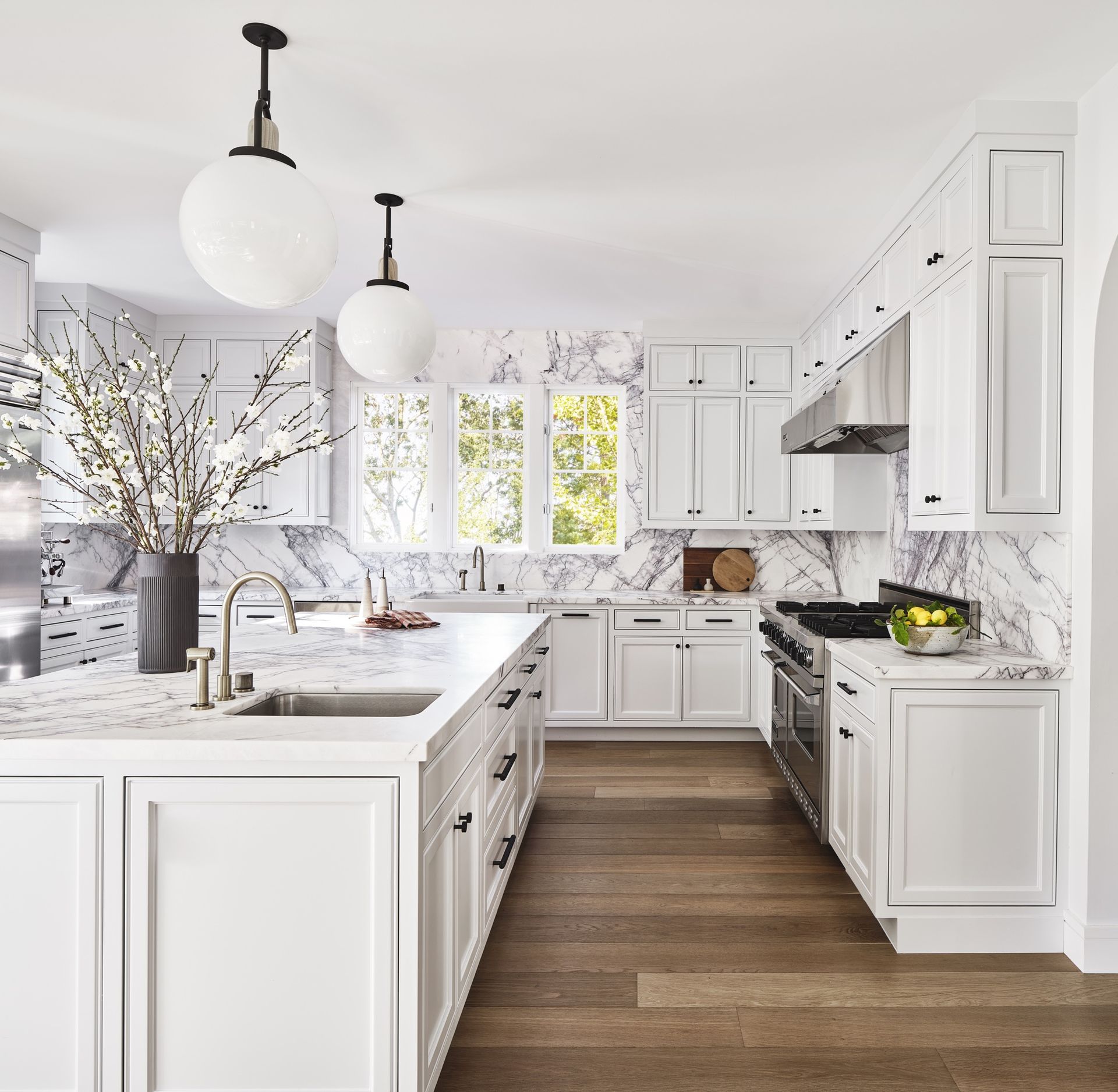 The fastest way to give your kitchen island a refreshis by investing in new cabinet hardware.
Sarah Rosenhaus, Principal and Founder of Sarah Rosenhaus Interior Design, says: 'Changing your cabinet hardware can upgrade the whole look of an island and create a more 'expensive' look.'
You don't have to spend a fortune to get a high-end look either, with stores like Semihandmade offering great quality hardware at affordable prices.
Opt for matte black, brass or aged brass in delicate styles like knobs, cup drawers and slim bars for an elegant look in keeping with the kitchen trends for 2023.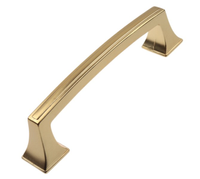 2. Add a single vase of statement branches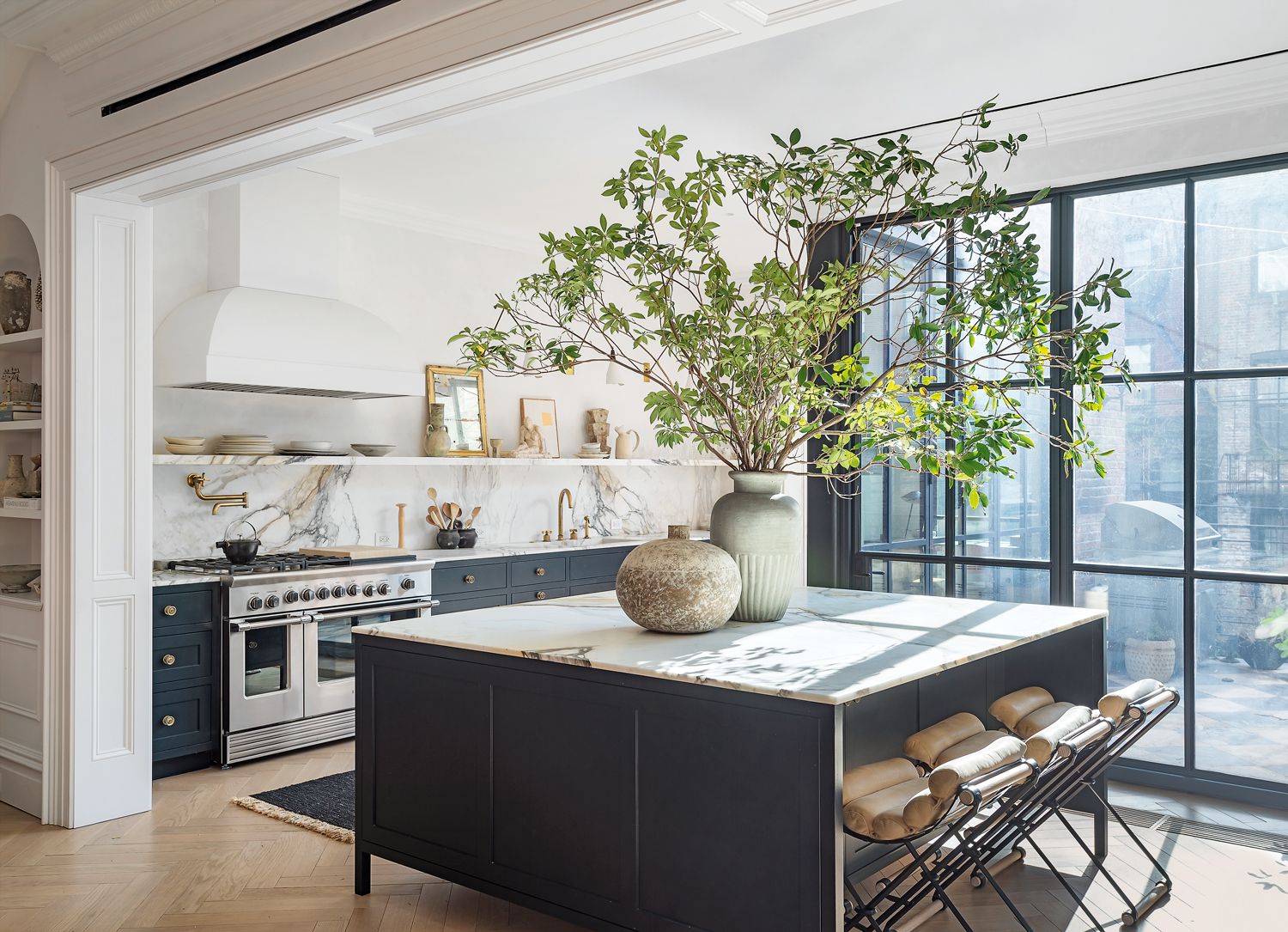 'A large vase with a dramatic floral arrangement immediately elevates a kitchen island,' states Sarah Rosenhaus.
It's a look that's small in cost and big on impact, and one that interiors expert Athena Calderone, whose beautiful kitchen in Brooklyn can be seen above, has become synonymous with.
On her site eye-swoon.com, Athena writes: 'If there's one thing I've become known for, it's my affinity for decorative branches. Clipping large-scale stems outside my home and arranging them in vintage vessels is the simplest, most joyful way we can bring the outside in.
'I love the slightly wild and unruly nature of branches in a refined space, and I Iove that they offer verticality.'
Athena's top tip on styling decorative branches? 'Embrace asymmetry and do not cut them all to be the same height,' she says. 'Remember these branches are a piece of nature that you're bringing into your home and thus are imperfect - but that's the beauty.'
She adds: 'They offer a new life to our homes, imparting both a sculptural and textural quality. And best of all, it's free! So, go on and forage in nature and see what you can find.'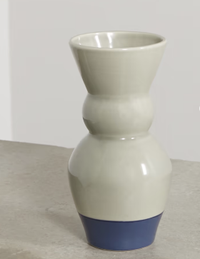 Lucie vase by Marloe Marloe at Net-A-Porter
Earthenware always manages to make everything around it look expensive. Its slightly rough texture and slightly dull gleam work to make whatever is placed near it feel curated, handpicked and even handmade.
3. Create a kitchen island tablescape
Tablescapes don't have to be confined to your dining room. In fact, it's a lovely way to make a kitchen island look more stylish and inviting, too.
Sarah Rosenhaus suggests: 'Create a 'tablescape' using a tray or large cutting board. Arrange a collection of bowls, florals, and smaller items on top.'
And Kristen Pena, of K Interiors, says you can also scatter some well-placed accessories across the island for a chic look, adding: 'A few really lovely accessories can elevate the look of your island. Try to keep the items on the counter to a minimum and only place lovely well-positioned beautiful items on there. A hand-crafted fruit bowl, a vintage lamp or gorgeous cutting boards can do the trick.'
A beautiful scented candle is also a lovely idea for adding ambience into the mix; opt for one in a clay pot, or a cool apothecary jar for added style points.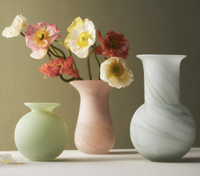 4. Pep up your plumbing
Sinks can be a really efficient element of a kitchen island layout idea, turning the piece into a multifunctional space that works practically for washing and chopping, as well as a gathering spot, and a sometime work area.
Allow the sink to become part of the design aesthetic, and enhance the island's overall look with quality finishes.
'Plumbing finishes can act as jewelry on your kitchen island sinks,' says Kirsten Pena. 'Consider a finish that will be a layer that adds contrast and a luxe element to the organic nature of the stone.' Ceramic or even brass works well - both key in current kitchen sink trends.
5. Introduce design-led lighting
Kitchen island lighting can really lift the overall look of the piece.
The popular choice of a trio of kitchen island pendant lighting will always work, but you can also think outside the design box for a unique look.
'Lighting can be the jewelry of a space and thoughtful unique pendants over a kitchen island add instant panache,' comments Sarah Rosenhaus.
Opt for a cluster of pendants at different heights, or choose an architectural or sculptural option for an added design element. A linear single pendant that spreads across the island is also a stylish idea.
And, if you don't have room for statement pendants, a chic table lamp placed on the counter will work wonders for enhancing the look of your kitchen island. We love the beautiful sculptural lamp in the kitchen by K Interiors below.
6. Show off objet on kitchen island shelving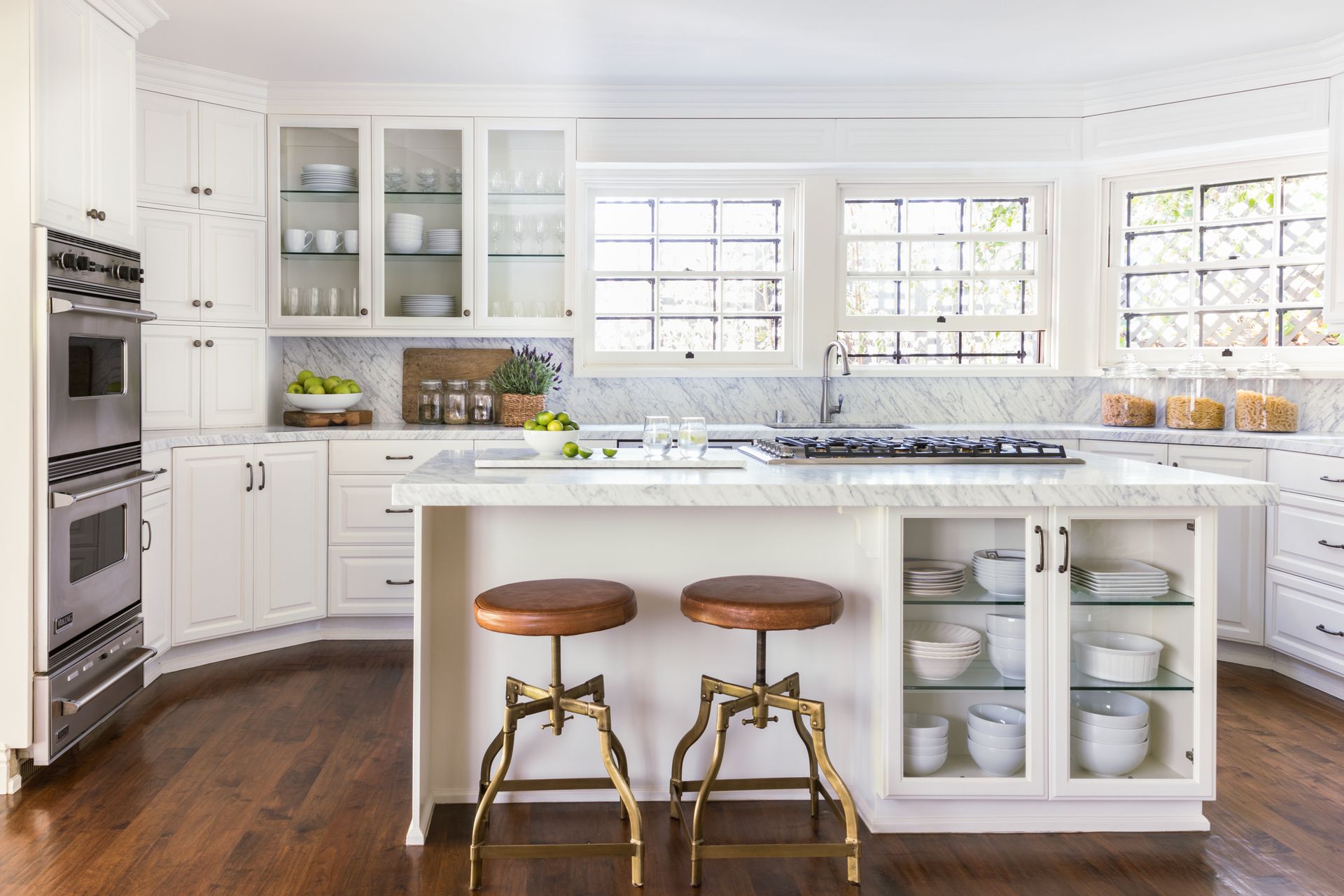 If your kitchen island contains shelving or cabinets (a handy kitchen storage idea), try to make sure they don't become a dumping ground for any old bits and pieces - this will only work to bring down the sophistication factor.
Instead, show off your finest ceramics, pretty objet, vases or decorative bowls for a look that will elevate your kitchen island while also providing extra storage space at the same time.
'A kitchen island isn't just functional because it provides extra counter space or another place to grab a quick bite. An island can also add additional storage to your kitchen,' says Joshua Smith, Principal Designer and Founder of Joshua Smith Inc.
'This is particularly helpful for small kitchens where you still want the luxury of a kitchen island. Opt for glass cabinets to showcase your finer dishes, which will elevate the look of your kitchen island while also giving the illusion of a larger space.'
7. Swap out your seating
There's nothing wrong with plain stools- they can work perfectly in the right space - but making your kitchen island seating ideas a little more design-forward will ensure the entire look is lifted.
In the kitchen by Maestri Studio above, the glamorous brass chairs match the brass trim on the kitchen island, as well as the brass detailing in the kitchen, creating a curated, high-end finish. The fabric on the seats adds print and color to the look, as well as offering an inviting, comfortable place to perch.
And you don't have to go for uber-glam metallics to elevate the space - simply working within your decor scheme or blending decor styles will do the trick. The upholstered stools in the kitchen by Living with Lolo below enhances the country look of the Shaker cabinets, while picking out the blue of the kitchen island cabinetry; matte black oversized pendants, meanwhile, add a modern edge, creating a balanced look overall, with seating and lighting working together to raise the aesthetic effect of the kitchen island.
For style leaders and design lovers.
Ruth Doherty is a lifestyle journalist based in London. An experienced freelance digital writer and editor, she is known for covering everything from travel and interiors to fashion and beauty. She regularly contributes to Livingetc, Ideal Home and Homes & Gardens, as well as titles like Prima and Red. Outside of work, her biggest loves are endless cups of tea, almond croissants, shopping for clothes she doesn't need, and booking holidays she does.