9 kitchen sink trends for 2023 that make our editor want to re-do his new kitchen
The latest kitchen sink trends prove the basin can be a hero piece, coming in new colors, textures and styles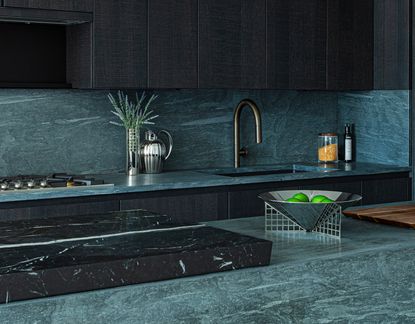 (Image credit: Salvatori)
The Livingetc Newsletter
For style leaders and design lovers.
Thank you for signing up to LivingEtc. You will receive a verification email shortly.
There was a problem. Please refresh the page and try again.
Kitchen sink trends for 2023 show that every part of your house is susceptible to the different moods currently in the zeitgeist. Bold, luxe, rounded, colored - the best creative minds in the world are thinking more about this rather under-utliized yet potential hero piece than ever before.
"By using more interesting materials, sinks will become a more important design element than the more utilitarian versions of the past," says Ines Kelly of Kelly Hopter interiors, of this new take on interior design trends. "An overall move towards warmer and moodier interiors will favor richer, darker tones in stone and metals."
From stone sinks featuring bold veins to glossy metallic finishes, today's kitchen sink trends can work with a range of interior styles. 'And that workstation sink is genius,' sighed Livingetc's editor Pip Rich, who recently did his kitchen and - now much to his annoyance - didn't include one. Whether you're after the perfect sink to match your serene, minimalist kitchen, or are open to letting a bold design inspire your entire scheme, keep reading for expert-led ideas and inspiration.
9 design-led kitchen sink trends for 2023
1. Natural stone
An increasingly popular alternative to a classic ceramic or stainless steel sink, a natural stone sink brings warmth and character to kitchen trends. Natural materials are a key tenet of 'soft' minimalism, the latest wave of the trend synonymous with calming, clutter-free spaces. A natural stone sink is an ideal way to bring texture and warmth to a soft minimalist kitchen, but can work just as well in a more traditional space.
"Brimming with character and personality, a natural stone sink and worktop can transform a kitchen, no matter what the style," says Gabriele Salvatori, CEO of Italian natural-stone brand Salvatori. "For a more uniform look, one may even decide to go a step further and clad drawer facings and cupboards in a matching material. The finish is not only beautiful to look at and touch, but natural stone is also incredibly hardwearing and will maintain its beauty over the years."
Natural stone also pairs well with wood, as seen in the kitchen by Salvatori in our hero image - so it's ideal for minimalist kitchens. "Here, a deep, neutral-toned wood compliments the natural stone worktop and sink for a more dynamic look," says Gabriele . "We're seeing more and more combinations of stone and wood for a more dynamic feel to the kitchen, especially if it picks up the color theme of the cupboards or other furniture. Wood is a versatile material that works beautifully with natural stone in neutral tones."
2. Marble with a strong vein
As we've seen in countertop trends, marble sinks will continue to be popular in 2023. But increasingly designers are using varieties with strong, bold veins. The look is super luxurious and can bring energy, warmth and color to your kitchen. In the example above, by DeVOL, the pale terracotta of the walls pick out the sink's warmer hues, softening the effect of the stripes and creating a calmer vibe. But you could just as easily amp up the drama by decorating the surrounding area of your sink in darker colors.
"Carrara and Arabescato marble add a certain glamor to a kitchen," says Helen Parker, deVOL's Creative Director. "The smooth and tactile marble with natural veining is reminiscent of old Italian kitchens. It has a beautiful way of ageing and every one is unique. This choice has really added to our furniture giving our customers a new and rather more opulent look in a very understated way."
3. Textured copper
Another natural material we expect to see in more kitchens this year is copper. "As we continue to embrace more authentic, natural materials in the design of our homes, we'll likely see more sinks that move away from man-made stainless steel and porcelain to materials that exude more warm and richness: think integrated stone or copper sinks," says Ines kelly of Kelly Hopter Interiors.
In the example above, the copper sink adds a layer of texture to the transitional style kitchen, helping to blend the traditional cabinets with the more modern, industrial-style pendant and faucet.
"Copper sinks are beautifully understated and mellow to the eye," adds Helen Parker, deVOL's Creative Director. "They are elegant but incredibly hard wearing and they age beautifully, gathering character with every use. Copper is timeless and really should be used more frequently in kitchens and bathrooms as its properties are unique, mixing durability with timeless style."
4. Polished brass
Much like the kitchen faucet trend for jewel-brights, a polished brass sink will add a pop of luxe and decadence to your kitchen. In the kitchen by deVOL, the dark countertop contrasts the metal for a modern, high glamor look.
"This meter wide sink is a show stopper, but also a really practical and natural product, that will age gently and beautifully over time," says Helen Parker, deVOL's Creative Director. "If you are looking for something really special and exclusive but like to keep your glamor subtle, then the brass sink is perfect for you. It works particularly well with black slate or granite worktops, the contrast is quite dramatic and in our opinion a very smart choice. We imagine this sink is going to attract quite a cult following and appeal to the most daring and fabulous customers."
5. Workstation sinks
Who said a stunning, stone sink couldn't be practical, too? The sunken workstation in the sink pictured is designed to conceal modern kitchen mess with style, and takes the trend for stone sinks a step further by adding hidden functionality.
"In high end markets, clients are moving away from stainless steel workstation sinks or fireclay sinks, and instead favoring integrated stone sinks," says Karen Harautuneian, Founder of Hub of the House Studio and co-founder of Hart & Toth Cabinet Co. "These integrated stone sinks are further elevated when they feature a sunken drain board within the sink basin."
Jennifer Zimmerer, Rejuvenation's Buyer for Kitchen & Bath, has also seen a rise in demand for these multifunctional sinks: "Right now, we're seeing oversized 'workstation' sinks trending in the market. These versatile sinks have ledges or tiers and come with accessories that allow you to transform your kitchen sink into additional counter space for food prep, a drink station for entertaining, or even a drying rack."
6. Modern farmhouse sinks
Farmhouse sinks have been huge in recent years, and it seems the trend is not going anywhere. A practical choice for family homes, this style of sink is hugely versatile, and is a feature in many modern farmhouse kitchens...and those that have brought the rustic look to the city.
"A farmhouse sink is big, wide and deep, and far more of a statement than an undermounted sink," says Helen Parker, deVOL's Creative Director. "Farmhouse sinks are much more traditional and have been seen in every type of kitchen since the 17th century. The size was important as it made life easier both for comfort and for volume in the days when women would spend a considerable amount of time at the sink. Nowadays we don't have to worry so much about these issues, thankfully, however, they do make a rather lovely place to wash delicate clothes, dogs and hold large floral arrangements."
7. Dark farmhouse sinks
Traditionally, farmhouse style sinks are white. For a more contemporary take on the trend, try this style in a darker material. In the kitchen pictured above by Kelly Hopter Interiors, the farmhouse style sink in soapstone gives the traditional look a modern twist, reinforced by the dark cabinets and countertop.
Designer Ines Kelly has accessorised with metallic finishes in the faucet and lampshade to help lift the look and prevent those dark hues from becoming overly moody.
8. Central statement sinks
A central bar area can be the life and soul of your kitchen – a place to cook, work, and entertain. It's no surprise then that designs are ever-increasing in functionality and sophistication. Adding a sink to your kitchen bar will enhance the practicality of your space while giving you an opportunity to elevate its look. A statement piece like Rejuvenation's aged brass sink pictured adds instant interest and luxe.
"We're really seeing bar sinks trending," says Jennifer Zimmerer, Rejuvenation Buyer for Kitchen & Bath. "People are expanding their bar carts into defined bar spaces—with sinks that tend to be more of a statement piece. They're choosing bolder colors or materials that don't match back to their main kitchen sink. The Rivera Prep Sink in Aged Brass is one of our bestsellers. This unique collection is hand-hammered by artisans and develops a beautiful patina over time."
9. Seamless surfaces
Deviating from stainless steel and ceramic sinks provides opportunities to create a seamless countertop, where your sink and counter are made of the same material. This creates a clean, contemporary look that would work if you're asking yourself 'how do I make my kitchen minimalist?'
In the kitchen pictured by Salvatori, this continuity of materials was taken one step further. "In addition to a natural stone sink and worktop, drawer facings and cupboards are clad in the same material for a more uniform look," says Gabriele Salvatori.
For style leaders and design lovers.
Kate Hollowood is a freelance journalist who writes about a range of topics for Marie Claire UK, from current affairs to features on health, careers and relationships. She is a regular contributor to Livingetc, specializing in reporting on American designers and global interiors trends. Based in London, Kate has also written for titles like the i paper, Refinery29, Cosmopolitan and It's Nice That.