10 kitchen faucet trends for 2023 - the finishes, shapes and styles that are running hot right now
Even kitchen faucets have trends, with finishes, shapes and styles coming and going. Here is what the experts predict will be big in 2023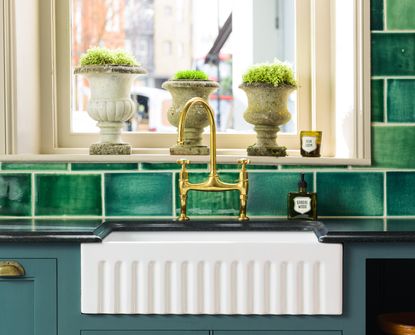 (Image credit: DeVOL)
The Livingetc Newsletter
For style leaders and design lovers.
Thank you for signing up to LivingEtc. You will receive a verification email shortly.
There was a problem. Please refresh the page and try again.
Yes, kitchen faucet trends are thing. And it's no surprise, really, when you consider that the facuet is a key part of how a kitchen ends up looking. A finishing detail, they're often one of the first things people notice - they stand out against the countertop and backsplash. So what styles are big right now, what is looking hot and what has run a bit cold?
Interior design trends generally are about creating a space that mirrors how you want to live. And thanks to innovations in materials and tech they are wide ranging. This is also true of faucets. "Kitchen faucets don't change with the seasons, but new ideas keep coming to the fore," says Livingetc's editor Pip Rich. "I'm particularly impressed by the return of chrome, a metal I've not seen used this way by so many top designers for quite some time. It adds a certain coolness to a kitchen."
Keep reading to discover the biggest kitchen faucet trends for the year ahead.
10 kitchen faucet trends that are hot in 2023
1. Mixing metals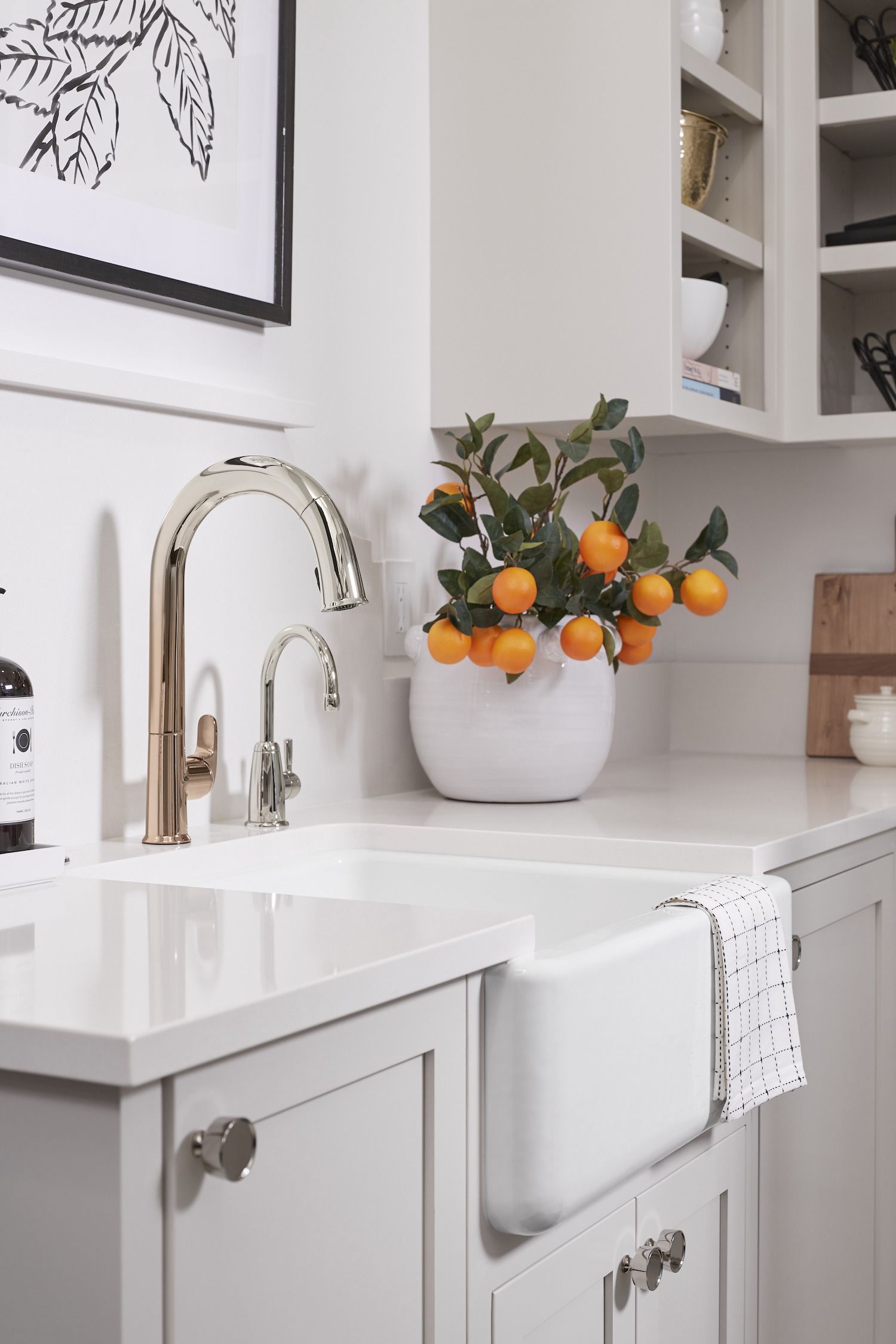 Once upon a time mixing different metals together might have been seen as a faux pax, but this is no longer the case. In the fashion world, designers have started mixing gold and silver jewelry to make a fresh statement, and kitchen trends are following. Combining the silver handles of your cabinets with a gold faucet, for example, will give your kitchen a characterful glamor.
"Mixing metal finishes in the kitchen has become popular in the past few years and in 2023 we'll likely see more faucets that feature mixed finishes – think black and brass or black and nickel," says Ines Kelly, Kelly Hopter Interiors.
American manufacturing company Kohler has a number of mixed metal finishes, including the rose gold and nickel ombre finish pictured above. The ombre effect brings a welcome shimmer to the neutral kitchen and playfully contrasts with the more traditional farmhouse sink.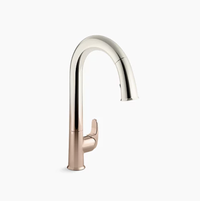 2. Monochrome finishes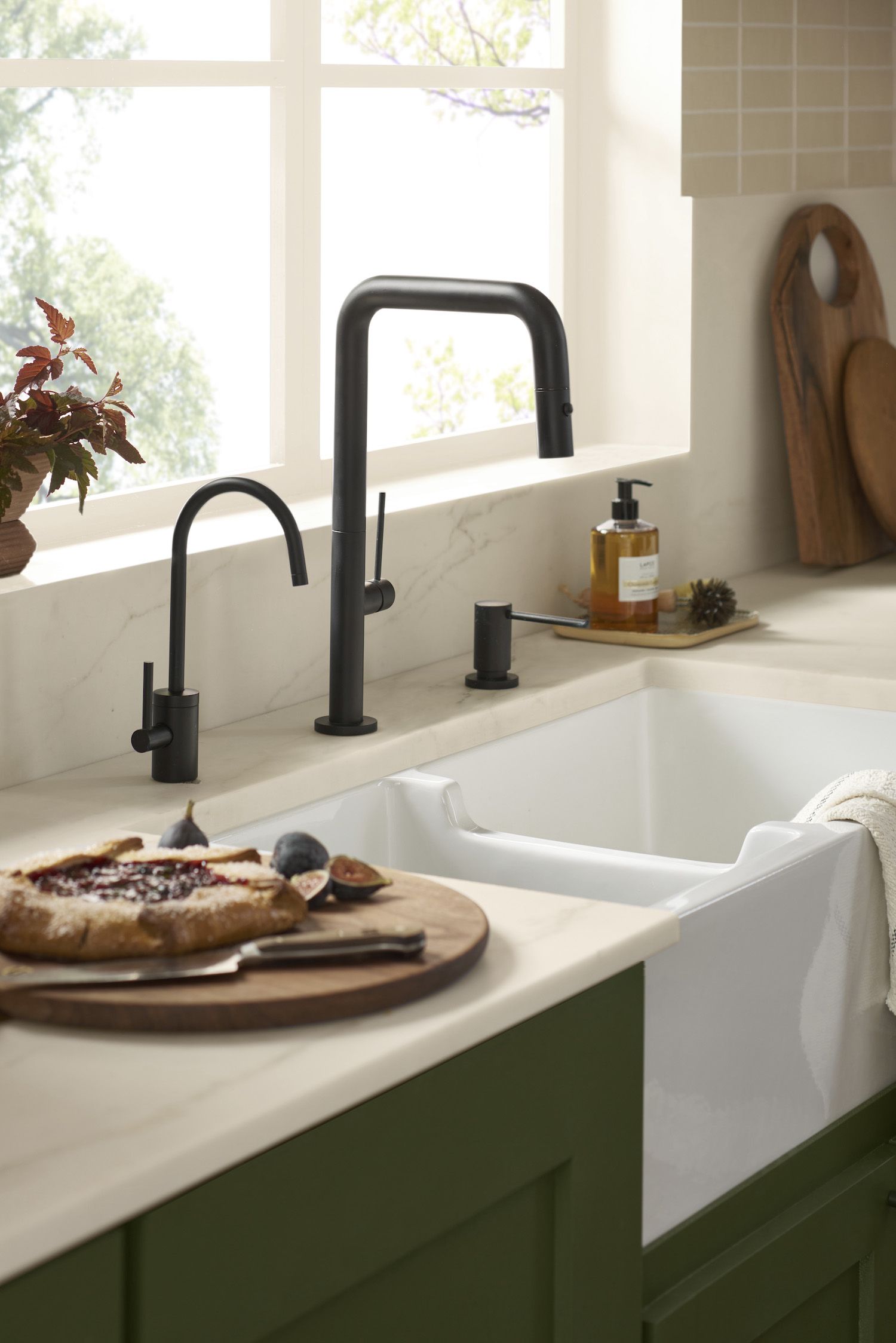 Black taps may have been on the scene for a couple of years, but this is a trend that's here to stay. As Emma Joyce from luxe kitchen and bathroom brand brand House of Rohl tells us: "We have seen an increase in demand for black faucets, particularly in a beautiful matt finish. And these continue to increase in popularity. A more contemporary choice than chrome, opting for black brassware creates a striking accent in any kitchen design."
A black faucet will instantly modernize your kitchen. While they are a natural choice for minimalist kitchens, they can also give shaker-style cabinets a contemporary lift, as pictured above.
3. Jewel-bright metallics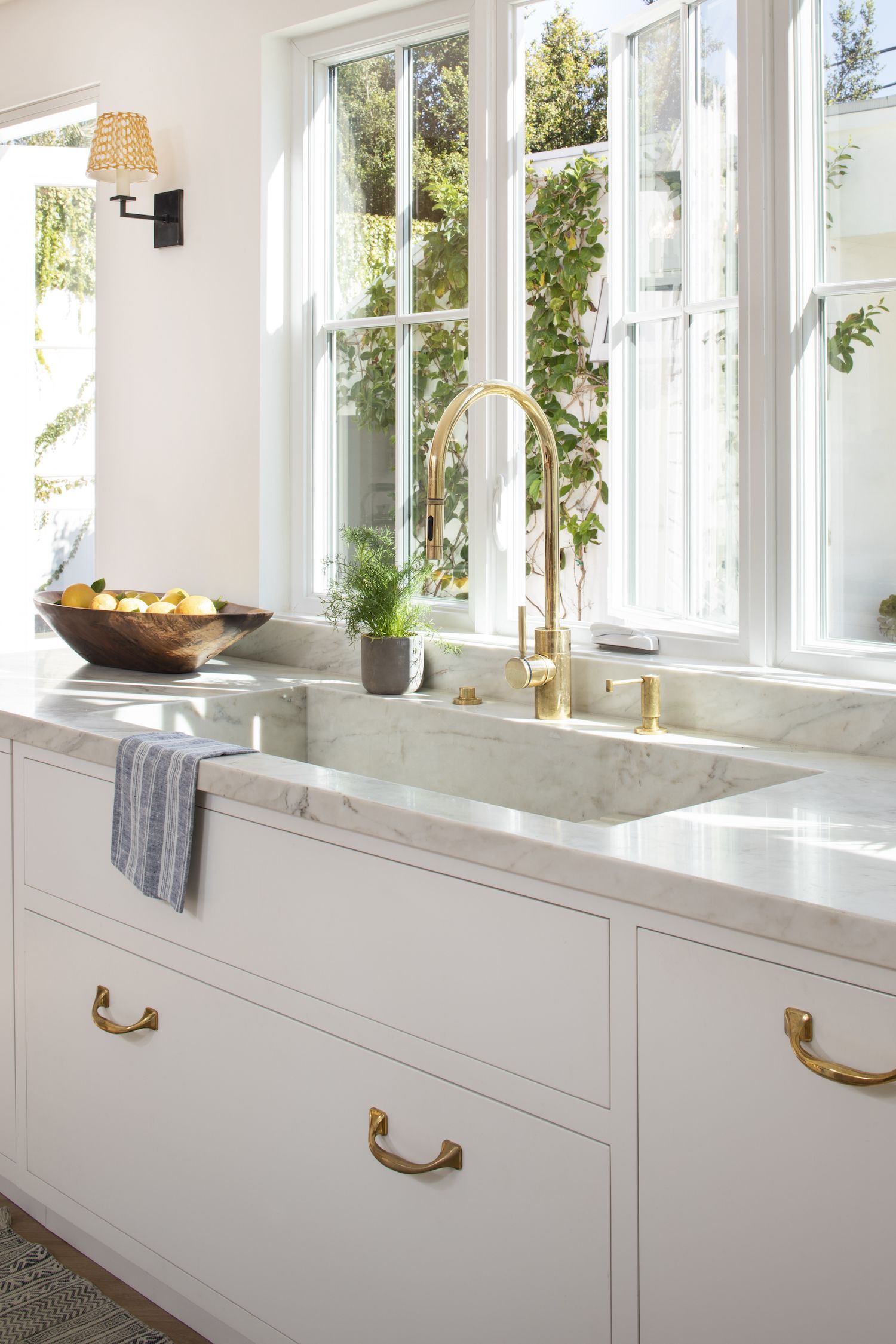 Faucets in high-shine, golden finishes will continue to brighten up modern kitchens in 2023 and beyond. Adding this 'kitchen jewelry' to your space – which can also be applied through metallic cabinet handles or lighting fixtures – will prevent it from feeling purely functional. Metallic accents can work particularly well in open plan kitchens where you may entertain and cook at the same time.
"I have a brass faucet in my own kitchen, and love the warmth it brings to an otherwise Scandi space," says Livingetc's editor Pip Rich. "Gold fauctets are vibrant, but not too vibrant - a hint of something interesting that blends into a calming backdrop."
4. Statement color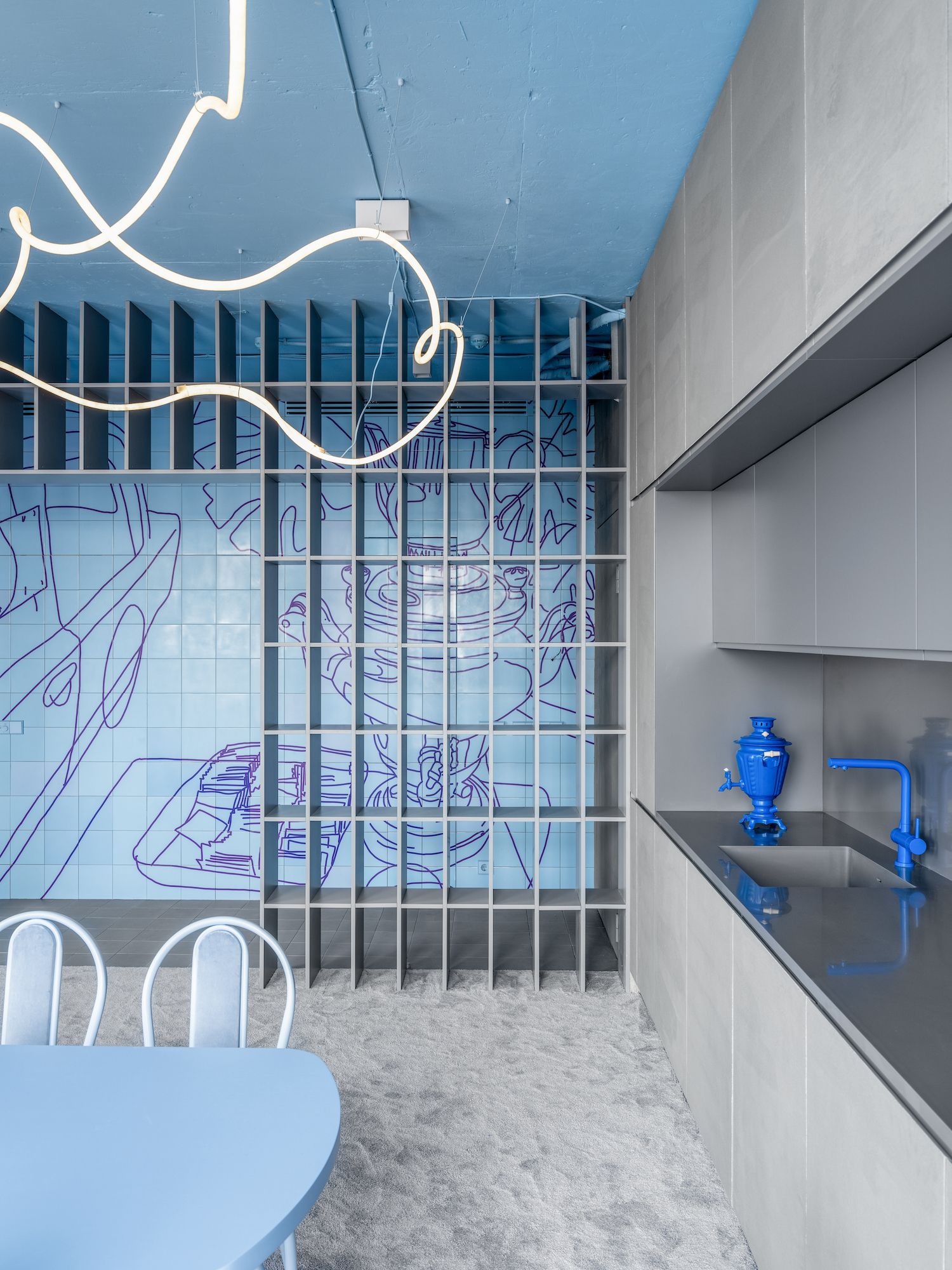 Forget feature walls and colored appliances – the latest way to apply a color pop in your kitchen is with a brightly hued faucet, a look we've also seen in kitchen sink trends.
"Colorful taps such as blue or yellow are a great way to lift a minimal interior," says Pip Rich. "I've always been inspired by the way Crosby Studios uses bold hues, and this kitchen is a case in point. The facuet seems to glow against the grey background, the perfect touch. And it's a relatively easy thing to update without remodelling a kitchen entirely."
To keep this look feeling sophisticated, match the color of your faucet to other features of the room, like in the blue kitchen by Crosby Studios pictured. Or, let a boldly colored faucet become the focal point in an otherwise neutral kitchen.
5. Aged brass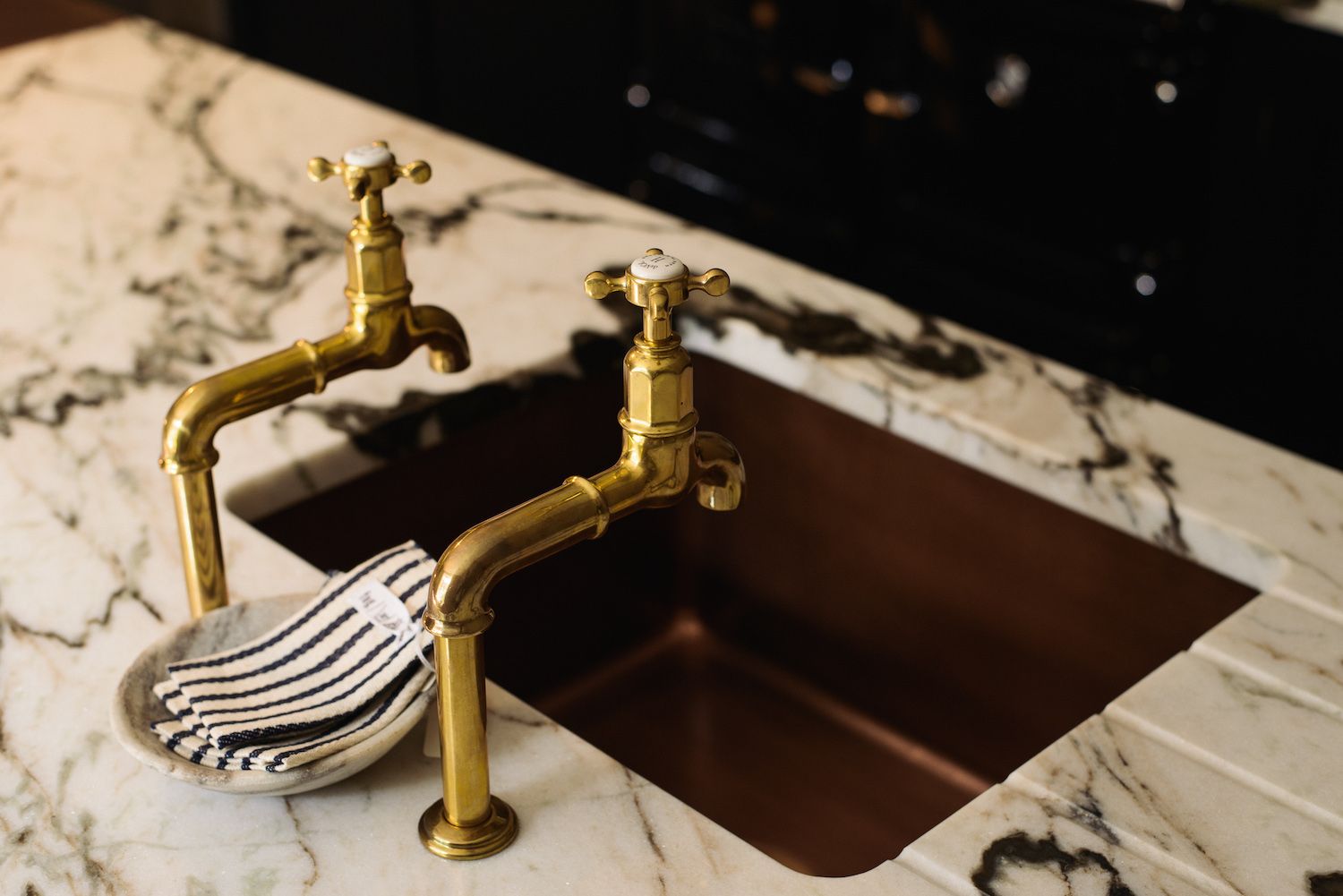 Contrasting the more modern monochrome and metallic finishes, faucets in aged brass are another big trend for 2023. This finish is ideal for a more traditional look, or will help create balance in a transitional style kitchen.
"We have seen chrome and nickel hardware and faucets go from the only choice imaginable, to the lesser favored option over the beloved introduction of aged brass," says Helen Parker, deVOL's Creative Director. "The desire is to create an 'old but new' look tap, that gives us the vintage feel but not the vintage problems. All these changes in colors, materials and accessory options are natural, to be expected in the world of fashion and design, everything has its moment, but there is a skill to deciphering what is a fad and what is a look with longevity."
6. Minimalist shapes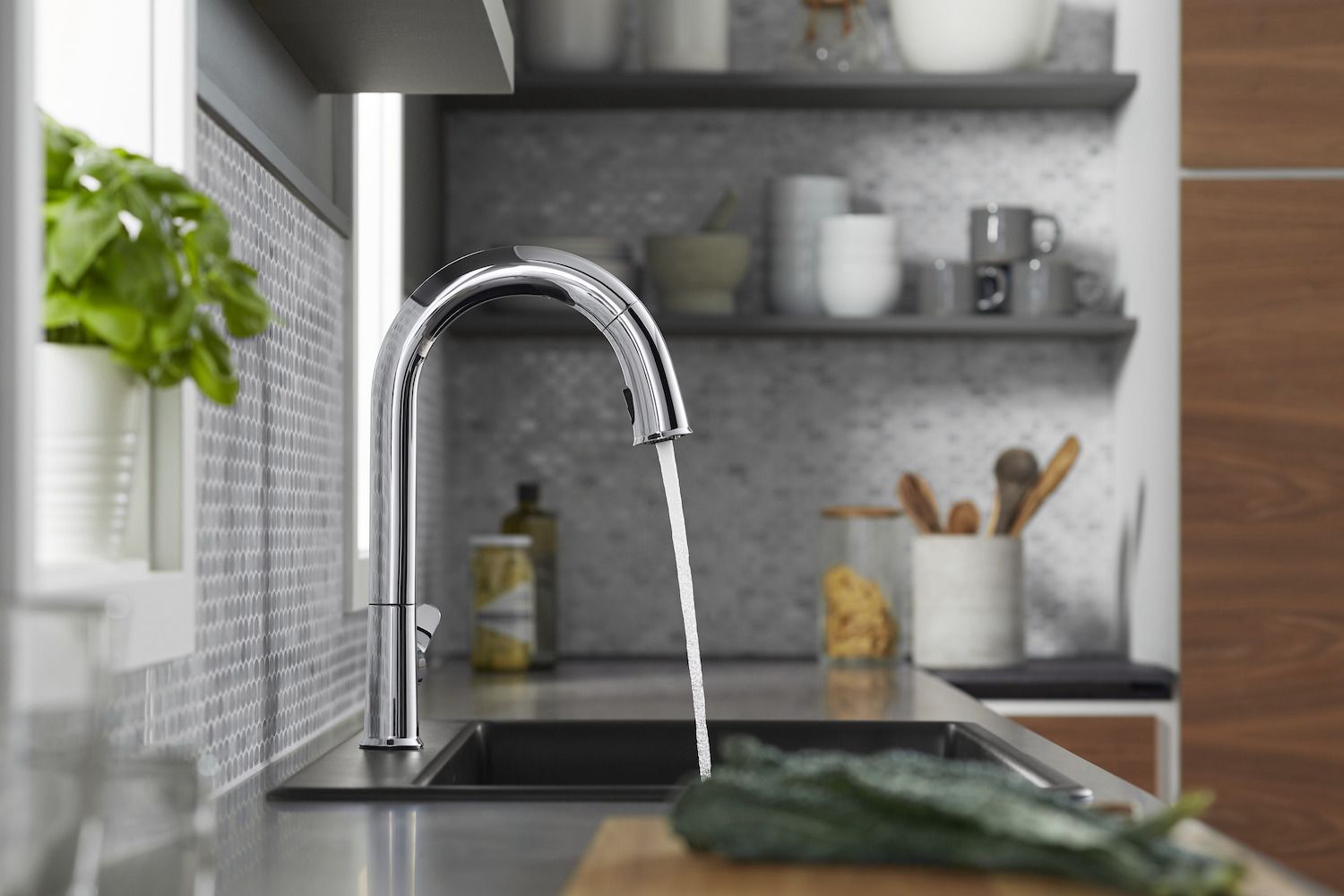 Minimalist in interior design remains popular in 2023 – especially with the emergence of soft minimalism as a warmer take on the trend. Moving away from sharp edges and towards curves and organic silhouettes, soft minimalism in kitchens requires simple, elegant hardware.
The faucet pictured, by Kohler, would be a welcome addition to any minimalist kitchen. The design minimizes visual clutter, while the curve in the neck achieves a softer, more inviting look. For a soft minimalist kitchen, pair a sleek faucet like this one with a countertop and sink made from natural stone or marble.
7. Full-service suites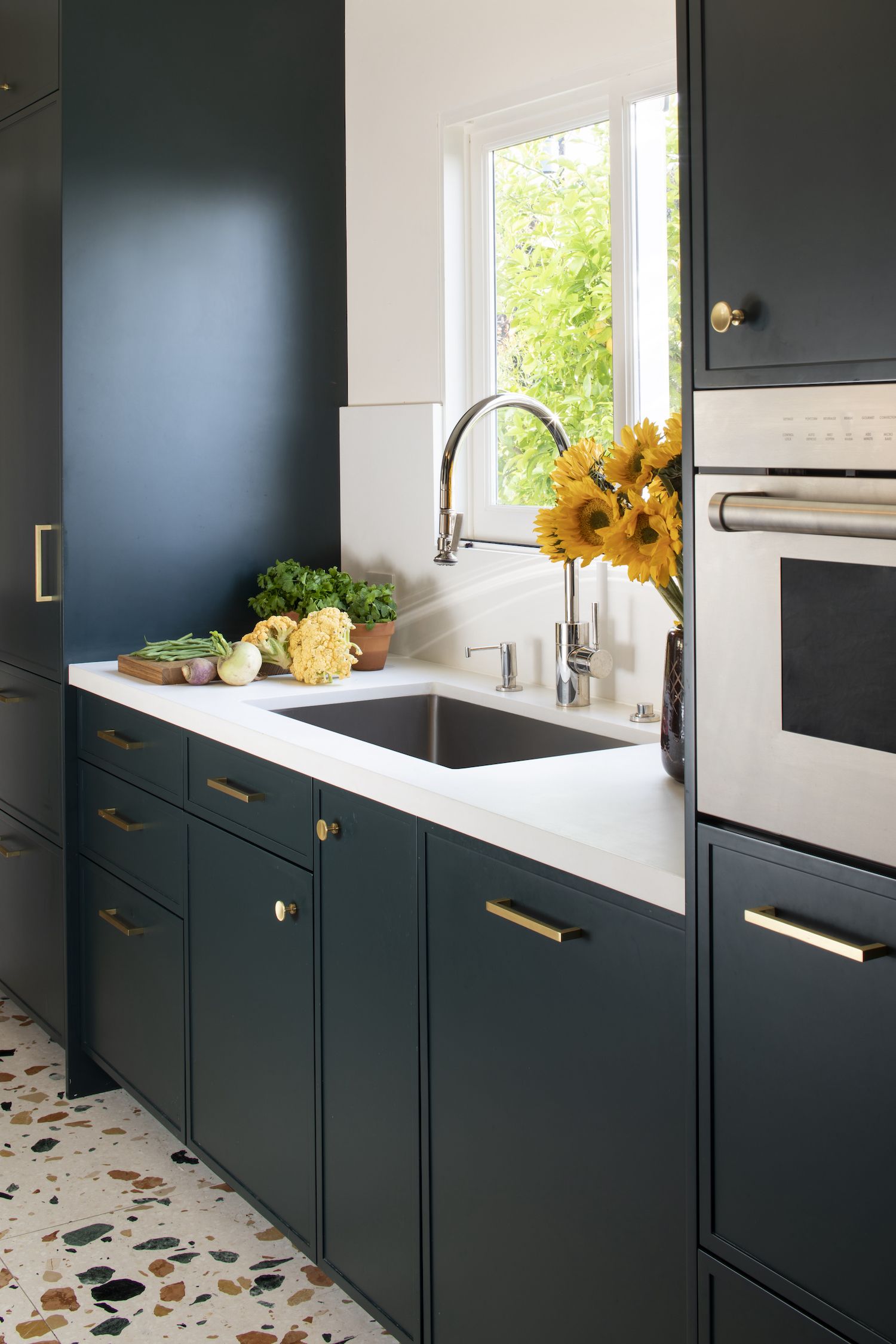 Style meets functionality with this trend, where a kitchen faucet is accompanied by a matching soap pump and hot water tap. A set of hardware surrounding your sink removes the need for other kitchen accessories and appliances, making it a great choice for minimalist kitchens and smaller spaces.
"We've noticed bar/prep stations gain popularity as people are pairing their prep faucet with a water dispenser," says Jennifer Zimmerer, Rejuvenation Buyer for Kitchen & Bath. "We've also seen a shift in style from having one single standalone faucet to having a full suite of products: water dispenser, soap pump, garbage disposal button, all in matching styles and finishes."
8. Sustainable style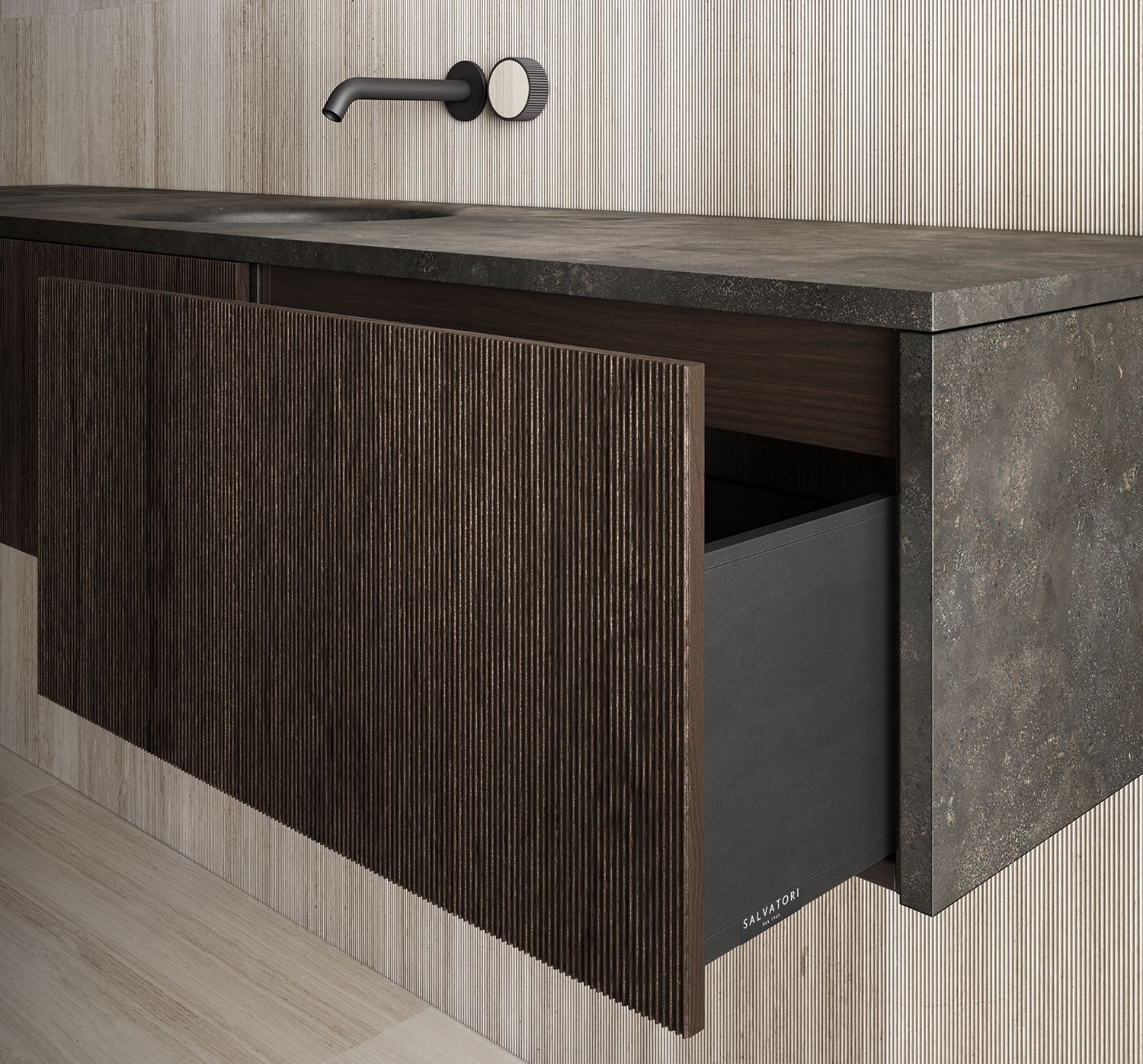 Designs that use new, environmentally friendly techniques and materials will become increasingly common throughout 2023. Importantly, designing sustainably doesn't have to mean sacrificing style, as Salvatori's Spaghetti tapware collection (pictured) demonstrates.
"Sustainable practices and materials are things people are looking for more and more," says Gabriele Salvatori, CEO of Italian natural-stone brand Salvatori. "The Spaghetti tapware collection is finished in an elegant gunmetal color using PVD, an eco-friendly technology that is increasingly replacing finishes such as paint and chrome. The finish contrasts beautifully with Salvatori's natural stones on the wall and mixer."
Choosing higher-quality pieces is another way people are shopping more sustainably. "Clients and designers will be selecting high end, quality faucets that last a lifetime rather than more disposable options," says Karen Harautuneian, Founder of Hub of the House Studio and co-founder of Hart & Toth Cabinet Co.
9. High-tech tapware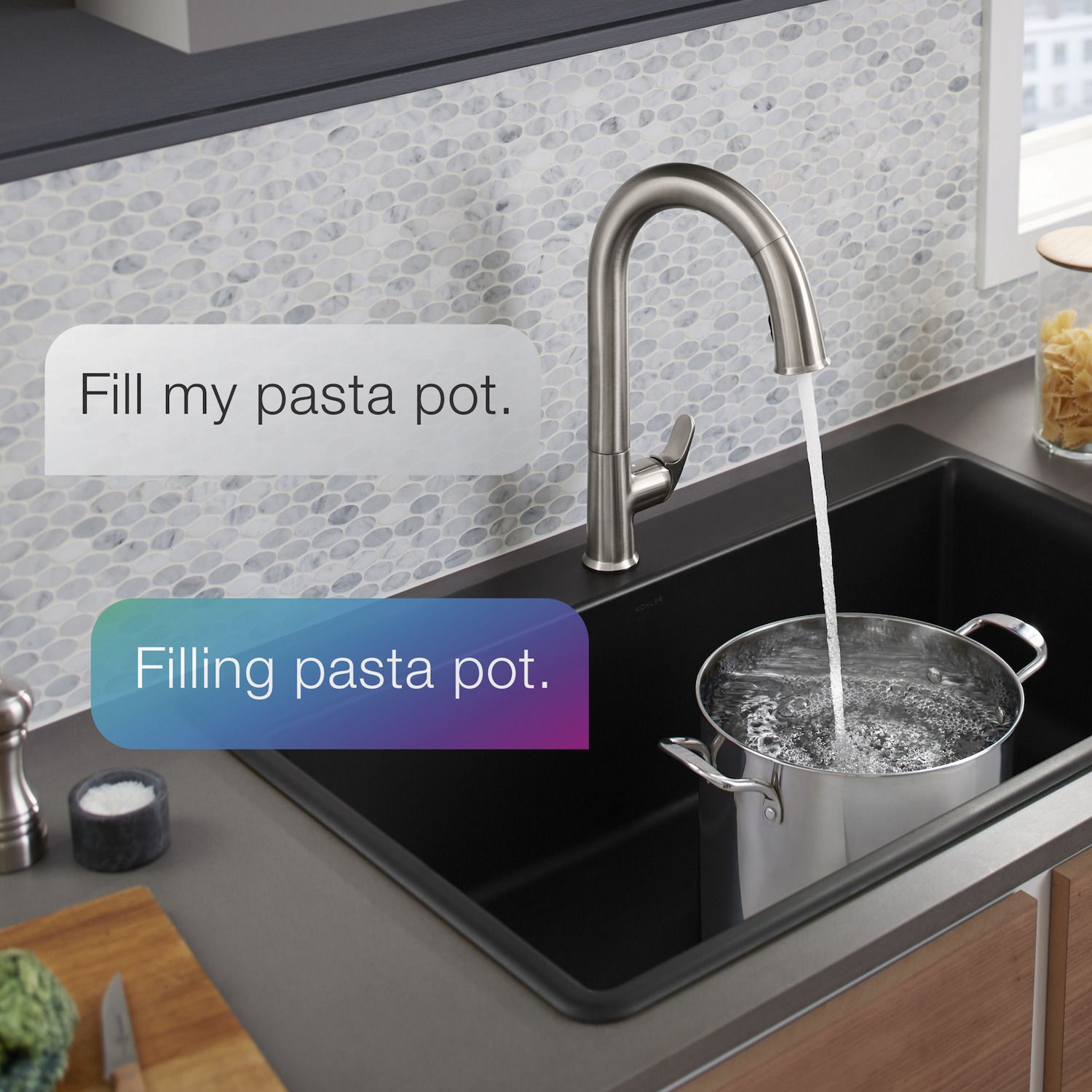 Technology isn't just making faucet finishes more sustainable – it's bringing futuristic new functionality to our kitchens. Smart faucets, like the Kohler faucet pictured, connect to the internet to allow you to turn on the water flow remotely or via voice control. Ines Kelly of Kelly Hopter Interiors says: "More and more homeowners are asking for smart faucets – from touchless and water efficient to all-in-one that deliver cold, hot, boiling, filtered and even sparkling water. In 2023 we will continue to see increasingly more technologically advanced faucets in our kitchens."
And if you're not sure you're reading to start talking to your tap, there are plenty of other faucet gadgets to make your kitchen more boujie. "Instant hot water! It's such a luxury!" says Rejuvenation's Jennifer Zimmerer. "Over the last few years, we've really seen all of our water dispensers – not only hot water, but also hot/cold combos and cold water dispensers – increase in popularity."
10. Sink skirts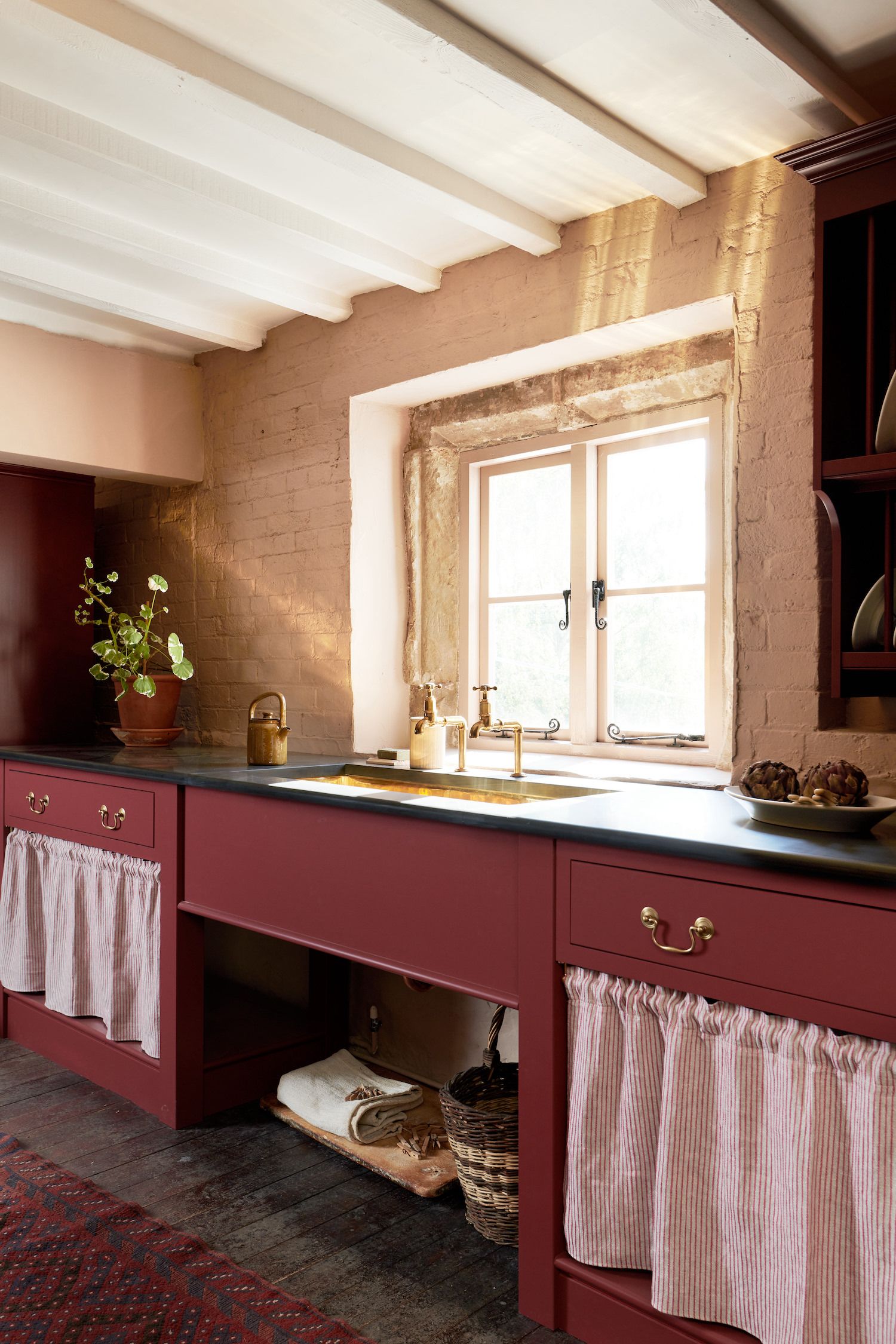 We're counting this trend here because it ties into the faucets, contrasting their metallic gleam with a pretty drift of fabric. A fun and affordable way of doing this is to install a sink skirt, set to be a huge kitchen trend for 2023.
In the example above from deVOL, the sink skirts flank either side of the sink area to add a playful, rustic charm. By adding texture to your kitchen, sink skirts are a cosier alternative to kitchen cupboards. Bringing warmth to the sink area, they look particularly at home with faucets in gold or brass finishes.
For style leaders and design lovers.
Kate Hollowood is a freelance journalist who writes about a range of topics for Marie Claire UK, from current affairs to features on health, careers and relationships. She is a regular contributor to Livingetc, specializing in reporting on American designers and global interiors trends. Based in London, Kate has also written for titles like the i paper, Refinery29, Cosmopolitan and It's Nice That.