How do I make my kitchen minimalist? The 8 steps designers take for a perfectly relaxing space
Folding these 8 rules into your kitchen design will create the perfect minimalist space that's calming, ordered and designer-approved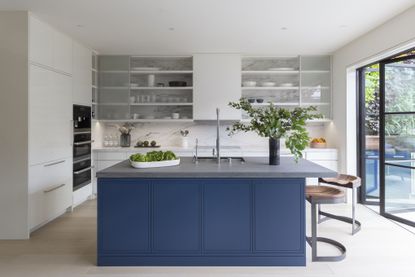 (Image credit: David Duncan Livinston. Design by Heather Hilliard)
A minimalist kitchen can be an incredibly rewarding space - just think: everything in its place, a calm environment, and, most usefully, a clear deck ahead of you for when your culinary creativity takes flight. But there are a few key steps to bear in mind when planning the design of your minimalist kitchen, in order to optimize both its utility and its beauty.
The esteemed New York City-based architect Audrey Matlock notes that key in your planning - and this is true for any modern kitchen - is allowing for adequate storage space: "It's essential to maintaining a visually zen environment," she says. "So that the counters can remain uncluttered, I recommend a lot of below-counter storage to accommodate special storage needs, from knives to spices to large trays." She also advises integrating electrical work to prevent visible electric cords ruining the vision. Overall, the idea is to strip everything back to its simplest form, and then layer on a few well-chosen details. Here's our guide to creating a kitchen that follows the tenets of minimalism in interior design, and that is both functional and pleasing to the eye.
How do I make my kitchen minimalist?
1. CREATE CLEAN RECTILINEAR LINES
In a minimalist kitchen, you want simplicity. A clean rectilinear form will help you achieve this. "It creates a sense of order and balance," explains Nina Magon of Nina Magon Studio, a high-end, Houston-based interior design service. "This clear, uncluttered look allows the kitchen to appear more spacious and organized, as well as clean and modern."
To ensure that your kitchen has a balanced look, there are several key considerations, explains Magon. Everything from the placement of windows, doors and lighting, to the layout of the cabinets, countertops, and appliances will need to communicate with these bare bones of the minimalist kitchen. "With careful planning and consideration, it is possible to create a kitchen with rectilinear perspectives that is both aesthetically pleasing and functional."
2. CHOOSE A UNIFYING COLOR PALETTE
Minimizing visual noise and creating cohesiveness is an essential part of planning your minimalist kitchen. Audrey Matlock, the New York City-based architect, advises minimizing multiple colors and textures.
Of this white kitchen she says, "The white cabinetry, counters and appliance finishes and lack of visible hardware create the ultra minimalist kitchen. Simplicity and order allow creative thoughts to flow," she explains, while "a cluttered work space invites a cluttered mind". With a very restrained color palette such as this, she adds, "Art and furniture can become the focus." This yet another reason why minimalism is a better way of life - it allows you to be able to appreciate your most treasured things.
3. BUILD SYMMETRY INTO THE DESIGN
"Our minds are at ease when everything lines up and is symmetrical," explains Heather Hilliard, an exclusive interior designer based in the San Francisco Bay area. "It brings order to chaos. The space will feel more intuitive if it is symmetrical." If possible, she advises, "try to center the kitchen island in the room, center the range on the island, and center the sink in the island."
4. BUILD A PANTRY TO MINIMIZE CLUTTER
A pantry - where you can store all the food staples and cooking gadgets of a busy kitchen, where you can just simply shut the door on often unavoidable kitchen clutter - is an essential part of your minimalist kitchen.
Hilliard advises carving out enough square footage for a generous-sized pantry: "This is key to maintaining organization in the kitchen and keeping it serene. Don't underestimate what might end up there: "We've inventoried client's appliances, pots and pans, overflow serve ware, formal china, glass and stemware, linens as well as snacks, dry goods and bulk items" - each item will have a designated place in the pantry, she says.
(Also, inventory-making is a useful exercise in taking stock and decluttering, so you needn't create space for, say, three pressure cookers.) And, she adds, "plan for a pocket door so the room can be closed off while entertaining."
5. SIMPLIFY THE LAYOUT WITH A BUILT-IN TABLE
In a minimalist kitchen, you want as few stray lines as possible - one way of doing this is to build furniture into the fabric of the kitchen. "Built-in furniture helps to maintain a clean and organized look," says Magon. "Additionally, it takes up less space than traditional seating and can therefore maximize space without adding to the visual busy-ness."
Here, Magon paired grey chairs with the white cabinetry to "create a subtle contrast that would draw the eye without being too overpowering - as well as a look that is modern and stylish." Just don't forget to tuck in the chairs.
6. USE NATURAL MATERIALS TO SOFTEN THE LOOK
Now that your minimalist kitchen has been pared back, it's safe to start introducing a little warmth and interest. The gentle softness that wood brings works well in a minimalist kitchen. "The warmth of the wood is ideal in minimalist kitchens as there are so few elements in it and so much restraint," explains Hilliard, "so the use of wood adds softness, texture and richness." But you need the right kind of wood, she adds.
"We prefer rift-cut white oak for cabinets in minimal kitchens," she explains. "The grain is consistent, vertical and clear. Knots and 'cathedral arches' look busy and do not lend them to a minimal kitchen."
7. ADD PERSONALITY WITH SHELFIES
If by now your kitchen is obediently ultra-minimalist, but perhaps a little stark, now is the moment to layer on a soupcon of personality. These shelves, created by Nina Magon Studio, add interest and character to the kitchen.
"It helps to make the kitchen more inviting and cozy, while still keeping the overall look minimalistic," Magon explains. Shelf details can include items like dishware, greenery/florals, and decorative vessels, he adds. Or some of the little things no kitchen willl have heart or soul without, according to Livingetc's editor.
By sticking to white and wooden items for the shelf here, Doggett was complementing the color scheme of the kitchen. "By choosing white dishes with wood accents, and a few simple wooden pieces, I was able to create a cohesive and stylish kitchen that is both inviting and modern."
8. WARM UP THE ROOM WITH COLORFUL FURNITURE
When adhering to the church of minimalism, it can be easy to forget to have fun. A quick way to inject that is with a judicious spot of color. "It adds a touch of vibrancy and personality to the space," says Magon. "It can help to create a more inviting atmosphere, while still maintaining the clean, simple aesthetic of a minimalist kitchen."
You don't have to go for the most arresting color possible - if you'd rather not make a bold statement with a contrasting color, opting for a complementary tone will also add joy, says Magon.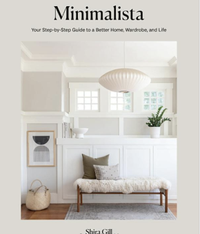 The Livingetc newsletter is your shortcut to the now and the next in home design. Subscribe today to receive a stunning free 200-page book of the best homes from around the world.
Fleur Britten is a well-respected journalist who for years was the Senior Features Editor at Sunday Times Style. She is known as one of the smartest lifestyle journalists around, revered for being able to decode trends and report on new zeitgeists as they happen. She now writes for the Telegraph, Livingetc, Vogue, The Times, Harper's Bazaar and the Guardian.