The 8 little things no kitchen will have heart or soul without, handpicked by our Editor
From the decorative to the functional, these 8 small additions to your kitchen will help make it a room in which you really want to spend time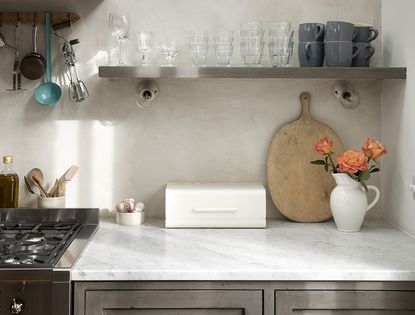 (Image credit: Future)
A kitchen is about so much more than the sum of its parts. It's not just a place to cook, or a room that has to function as the nerve center of your home. When put together well it can be the place which adds a little bit of sparkle to your life, lifting the practical and making the everyday feel special.
These 8 little additions are not going to be as essential to the average modern kitchen as, say, a stove and a refrigerator. But they do all, in their own way, give the space a little heart, a lot of soul. And that's what good design is truly all about.
The 8 little things no kitchen will have heart or soul without
1. A statement coffee press
Let's start with the essentials that aren't actually essentials, because they're way more fun to think about and a whole lot sexier to look at, too. Will a kitchen function without a statement coffee press? Sure. But is it also instantly elevated by a handsome freestanding pourer that you can impress guests with when they stop by? No question about it.
Because a kitchen is probably the room you spend more time (awake, at least) than any other space), elevating the every day is an easy way to make you feel more enticed with, more engaged with and more excited by your life. Simply serving coffee from a piece that looks elegant and well curated will add a new level of sophistication to the ceremony.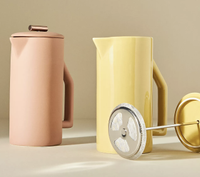 Yield ceramic French press, Anthropologie
Both peachy terracotta and lemon yellow are key colors when it comes to kitchen trends this year. They both give off a sunny warmth, radiating a charm that feels right for now.
2. A modern taper candle
Staying in the realm of things that, admittedly, a kitchen will literally function without I've included a candlestick because it's shorthand to perfect ambience. If you have a kitchen island you also eat at, or if you like to make your home more Hygge then a flickering glow is so much richer and warmer than turning on the overhead pendants.
We have a ritual in our house that, as dusk falls, the taper candle on the island gets lit before the lights get turned on. It imbues the room with a sense of soul and heart - what a kitchen should be all about.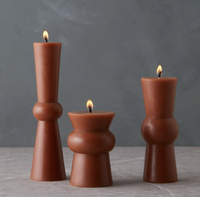 3. A cast iron skillet set
I have a theory that you actually only need three pans in order to have a fully functioning kitchen. One stew pot that also acts as both a skillet and a saucepan, one oven-proof baking dish that doubles as serveware and a lidded Dutch oven dish that goes on the range as well as inside the stove.
And with that tight edit being all that has to be fitted into your kitchen drawers, visually coordinating them in one color will make them feel like one cohesive little group. Plus it will help to declutter kitchen countertops if they get left out during cooking, providing less aesthetic noise.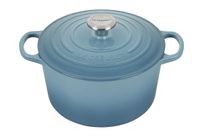 Le Creuset has become ubiquitous for a reason. It ages well, it's versatile and it looks good. Walmart has regular deals on many colors, so pick and choose your shade.
4. A bluetooth speaker
Are you even cooking if you're not doing it while singing along to Beyonce/Taylor/whoever your latest musical crush is? Prepping food without music is work. Prepping food with tunes on is practically a party.
So sit one of the best bluetooth speakers in the corner, sync up your phone and let the kitchen disco commence. (Since you ask, Madonna's latest album of dance remixes of her classic hits is my current favorite soundtrack).
5. Linen napkins
I felt like I'd made it as an adult when I started using linen napkins with every evening meal, even if I was dining alone. Much like the candlelight and the coffee press detailed above, this was about adding a little sparkle to the ordinary, treating myself as I would if I were a revered guest come to stay. It's no extra effort, really, to swap a linen napkin into the place of a square of paper towel, and it can make a whole world of difference.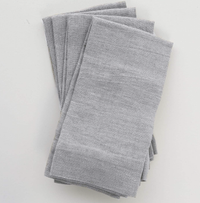 Ah, but there's nothing quite like the feel of Rough Linen's linen. From its bedding to its tableware it's just the right level of slubby, its color just the right fleck and it washes really well (particularly crucial for napkins).
6. A wood chopping board
Not only is a wood chopping board something which lends a pleasing rustic vibe to an otherwise functional space, it also ages so much better than a plastic one. Dents take on a modern farmhouse kitchen air, chips look intentional.
Plus it can be propped up against the wall to fill that little bit of dead space next to the cooker.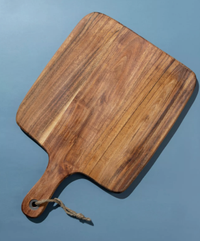 7. Colored water glasses
In the constant quest to drink the 2.5 liters per day (or whatever the current recommendation is) it's important to make water look a little more elevated. So a colored tumbler alongside your dinner almost has the feeling of a Duralex of rose with your lunch while on holiday in France. I said almost.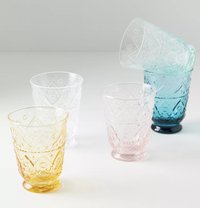 8. Bar Keepers Friend
And now, let's finish off by moving into the world of the genuine kitchen essentials. This miracle cleaning hack is an essential for any home cook - it's unbelievable how good it is. I first discovered it on social media and have become a total convert, using it on my Le Creuset, my ceramic sink, the inside of stained coffee mugs...
Just sprinkle a little white powder onto a stained surface, rub with water and it'll look as good as new. The effect it had on my grease-stained and brown-marked bakeware genuinely blew my mind restoring it to being as good as new. A snip at under $10, and worth every cent.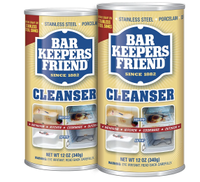 Seriously, this stuff is magical. I've recommended it to countless friends, many of which have genuinely sent me photos of their Le Creuset before and after. Just call me a cleaning influencer.
The Livingetc newsletter is your shortcut to the now and the next in home design. Subscribe today to receive a stunning free 200-page book of the best homes from around the world.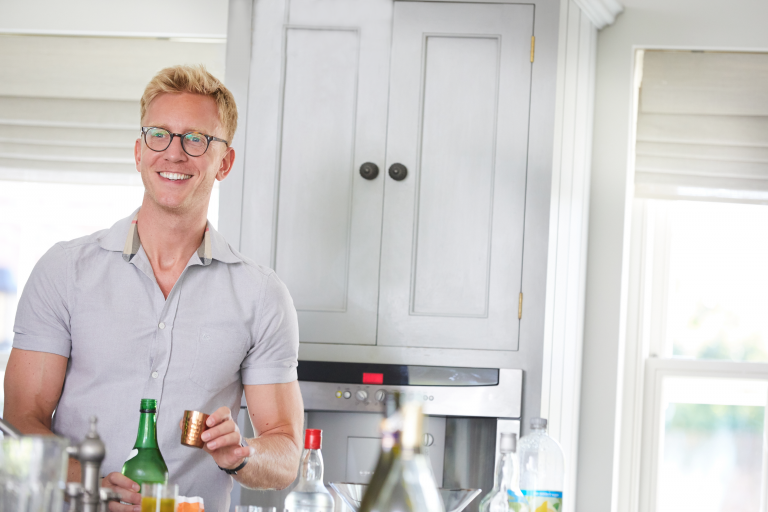 The editor of Livingetc, Pip Rich (formerly Pip McCormac) is a lifestyle journalist of almost 20 years experience working for some of the UK's biggest titles. As well as holding staff positions at Sunday Times Style, Red and Grazia he has written for the Guardian, The Telegraph, The Times and ES Magazine. The host of Livingetc's podcast Home Truths, Pip has also published three books - his most recent, A New Leaf, was released in December 2021 and is about the homes of architects who have filled their spaces with houseplants. He has recently moved out of London - and a home that ELLE Decoration called one of the ten best small spaces in the world - to start a new renovation project in Somerset.