10 Unexpected Boy Bedroom Wallpaper Ideas
We've found the best boy bedroom wallpaper ideas – Whether you're looking to create a fun immersive theme or seeking a style they won't grow out of too quickly...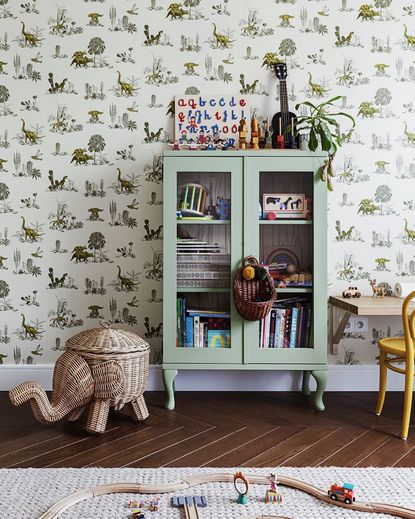 (Image credit: Future)
We've searched high and low to pull together ten beautiful boy bedroom wallpaper ideas.
A boys' bedroom is the perfect space to explore playful ideas and one of the best ways to inspire their imagination is through wallpaper. Boy bedroom wallpaper can add colourful visual stories into a room in a way that paint just can't compete with. Whether you're looking to create the perfect jungle nursery, focussed on a fun immersive theme or seeking a style that they won't grow out of too quickly, you're bound to find something to get the creative juices flowing with our pick of boy bedroom wallpaper ideas.
1. STORY TIME
Fuel your little knights imagination with images of magnificent castles, dragons and mysterious mountains. The inky blue hand painted design makes it the ideal wallpaper for growing tots.
"Choosing a wallpaper design with a timeless theme in sophisticated colours means they won't grow out of it too quickly." - Hibou Home
See Also: Boys' bedroom ideas
2. FEATHERED FRIENDS
Fine illustrative patterns are a wonderful way of adding interest to your boys bedroom. This nature-inspired design by British illustrator Katie Scott, is a fine example showcasing the untamed beauty of birds. Available in four beautiful colour options, this large-scale repeat pattern includes a menagerie of crested cockatoos, elegant cranes and sweet starlings.
3. INTERGALACTIC
Aim for the stars with this whimsical space-themed boy bedroom wallpaper that twinkles with dreamy details. A space-themed bedroom not only inspires the dreamer in your little one, but also creates a calming bedtime environment. Why not be brave and paper the ceiling for a magical star gazing experience?
See Also: Wonderfully Fun Kids Play Room Ideas
4. JUNGLE EXPLORER
We love the playful use of colour within this jungle-themed boys' bedroom wallpaper. Your mini explorer will discover the majesty of the jungle and will enjoy learning about the delicately hand-painted animals and foliage within this versatile print. Added bonus: the wallpaper is high strength and wipeable - perfect for removing sticky fingerprints, because after all, boys will be boys.
5. A BRITISH CLASSIC
This iconic Spitfire print wallpaper is a quick and easy way to update any boys bedroom. The timeless design and traditional colours are ideal for boys of all ages. We love the idea of using it in alcoves or loft bedrooms as a way of turning an otherwise awkward space into a cosy nook. Team it with a hanging model plane – or gltc's classic aeroplane shelf – to complete the look.
See Also: Sharing Kids Room Ideas and Seriously Cool Bunk Bed Ideas
6. MONOCHROME MINI BEASTS
Connect your young adventurer to the natural world around them with this fun Mini Beasts wallpaper complete with snails, beetles and creepy crawlies of all kinds. The monochrome wallpaper acts as a brilliant versatile base from which you can add colour into the room with soft furnishings and decor. Finish it off by tying it all together with a monochrome Mini Beasts cushion.
7. MARVELLOUSLY MAGNETIC
What could be more fun than interactive magnetic wallpaper? This prehistoric dinosaur print offers a magical trip to a far away land and stirs up the imagination of every little boy. Children can create their own magical stories using an assortment of magnetic creatures and write-on speech bubbles.
"For those boys with a storytelling flair, our Magnetic Dino Wallpaper brings a unique interactive touch to their rooms, where they can act out their own narratives with our cast of magnetic creatures and characters." - Sian Zeng
See Also: Trending: Gorgeous Map Walls And Murals
8. DREAMING OF DOTS
Sometimes subtlety is the key with boys bedroom wallpaper; especially if you want it to be a space that they can grow into. This polka dot wallpaper is made up of handprinted dotty forms reminiscent of potato stamps. We love the organic non-uniformity of the dots and with a choice of 3 beautiful earthy tones, you can't go wrong.
See Also: Cool, Scandi Kids Room Designs To Suit Modern, Minimalist Homes
9. TROPICAL PARADISE
Transport your boys bedroom into a tropical island paradise with this on-trend swaying palms wallpaper for all the beachy vibes. It comes in 4 colourways or can be customised to a colour of your choice. We love how the neutral rust shade helps add warmth into a space.
10. COME RAIN OR SHINE
Umbrellas at the ready. This April Showers wallpaper is anything but gloomy and will transform your boys bedroom into a playful weather-inspired hideaway. Excite him with bedtime stories of fluffy grey clouds releasing a colourful pitter-patter of magical raindrops. The best part? No muddy wellies in sight.
How do I choose a wallpaper for a boy?
When it comes to selecting wallpaper for a boy's bedroom, rules simply don't exist. In fact the bolder and braver that you can be the better. Don't be afraid to experiment with pattern and colour to give a room an instant lift - it will take your boy's bedroom to a whole new level!
What Wallpaper is in for 2020? What is on trend, what is not?
Gone are the days of boys' bedrooms having to be blue. The choice is now far more varied and the colour options are endless. Wallpaper used to have the stigma of being old-fashioned but it has crept back into popularity with 2020 being no exception. Traditional designs and themes such as the 'seaside' and 'stars' work beautifully for a classic boys bedroom, however on trend tropical vibes are making a comeback with a focus on Carribean-style living.
How do I wallpaper a bedroom?
Wallpapering a bedroom can seem like a daunting task if you've never done it before but nearly all suppliers have helpful step-by-step guides online to support you through the process. They also often have a handy calculator to help determine how many rolls of wallpaper you will need for your room, but if in doubt contact them for advice.
How much does it cost to wallpaper a room?
The price of wallpaper can vary hugely so it is always important to factor in all associated costs before making a decision. Some of which include wallpaper lining, wallpaper paste, brushes, rollers and sponges. An alternative option would be to seek out quotes and hire a professional decorator to hang the wallpaper for you. The average rate for a decorator starts from approximately £150 per day.