The Serena Williams x Away collaboration has landed —just in time to cure your winter travel woes
Serena Williams and Away Travel teamed up once again to design a travel collection that'll inspire your next getaway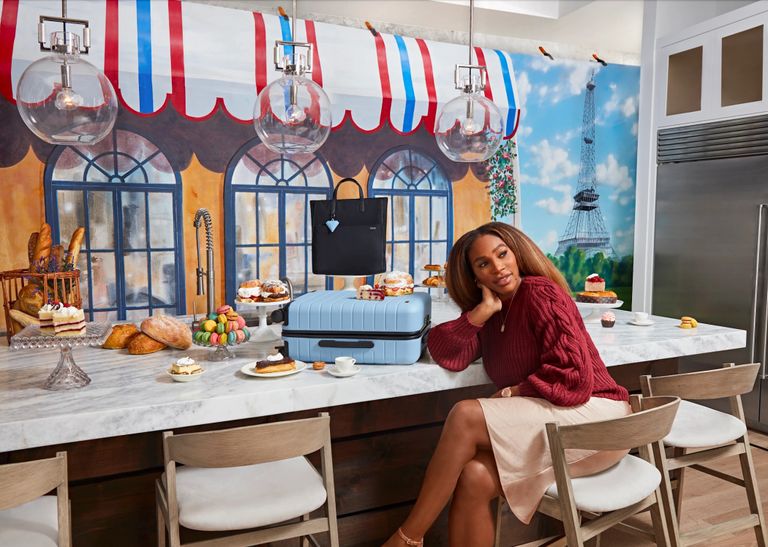 (Image credit: PR/ DKC News)
Dreaming of the perfect getaway —so is Serena Williams! 
Away Travel announced that they have once again teamed up with the 39-year-old for a second collection together — making it the perfect time to update your best suitcase. 
Like the rest of the world, Williams' faced harsh and disappointing travel restrictions — but her new collaboration with Away arrived just in time to kick off a new year and a fresh start; encouraging us to dream of the days where we can travel and provided just the collection to do so. 
"Like so many, I've been dreaming of being able to travel again safely, so I wanted to bring to life a collection that not only speaks to Away's functionality and my personal style but also gets people really excited about their own future trips," the tennis pro told Forbes.
This collection has one focus: to fuel dreams of future travel plans while celebrating her multi-dimensional lifestyle and the passions that translate across her life on the road and time at home. 
Available January 28th online and in-stores, the Away x Serena Williams collection features a line of suitcases, bags, and accessories designed with sleek, useful features and a custom print to reflect her unique style.
So, for any of your homebound travelers looking for a way to fill your immense desire to travel? Now's the time. The Away x Serena Williams collection is the perfect reason to refresh your travel collection — and we've rounded up a few of our favorite pieces below!  
1. Away x Serena Williams Suitcases
The Carry-On for $225, at Away Travel
The carry-on suitcase is sized to fit in the overhead bin of most major airlines and is compact enough for train and car trips alike. With a durable polycarbonate hard shell and 360° spinner wheels that ensure a smooth ride, this piece is built to last.View Deal
The Bigger Carry-On for $295, at Away Travel
Much like the original carry-on, the bigger version is also lightweight and sized to fit in the overhead bin on most major airlines, too. Perfect for longer trips, its interior compression system and hidden laundry bag make it easy to pack all of your essentials. View Deal
The Medium for $275, at Away Travel
Holding up to 9.9lbs, the medium carry-on is sensational. The durable polycarbonate hard shell, leather details, and black leather luggage tag are highly distinguishable when traveling, as are the slew of shades available. Factor in the hidden laundry bag to keep dirty clothes separate and the 26" x 18.5" x 11" size, and we're sold! View Deal
The Large for $295, at Away Travel
The Large —the biggest suitcase the brand offers—is a checked bag built to last, with a durable polycarbonate hard shell and 360° spinner wheels that ensure a smooth ride. Plus, its interior compression system and hidden laundry bag make packing that much easier.View Deal
2. Away x Serena Williams Pet Carrier
The Pet Carrier for $245, at Away Travel
The Pet Carrier makes it easy to bring your furry friend wherever you go, with features like sherpa bedding, water-resistant lining, and multiple pockets (for both of you). Designed to work seamlessly with the way you already travel, it has latches that can fasten it to a car seat belt and a sleeve that can secure it to any Away luggage.View Deal
3. Away x Serena Williams Front Sling Bag
The Front Pocket Sling Bag for $125, at Away Travel
Take on the world like Serena with the Front Pocket Sling Bag—featuring an interior organization system that keeps your cards, keys, headphones, and more all within reach. Plus, the nylon, water-resistant body, and adjustable straps make this comfortable to wear around your waist or body.View Deal
4. Away x Serena Williams Convertible Backpack Tote
The Convertible Backpack Tote for $225, at Away Travel
The Convertible Tote puts versatility first, featuring a strap that transforms it into either a tote or a backpack in seconds. It also features pockets for days, including storage for your phone, your passport, and your water bottle, as well as two laptop sleeves. View Deal
5. Away x Serena Williams The Expandable Toiletries
The Expandable Toiletry Case for $95, at Away Travel
Designed for the traveler who needs a little extra space, this option features a water-resistant nylon body, wipeable interior for effortless cleaning, and mesh and transparent pockets that make it easy to quickly find what you need. View Deal
The Expandable Packing Cubes for $55, Away Travel
 Stay organized with these packing cubes, featuring water-resistant nylon to protect your clothes, a mesh top that makes it simple to find what you need, and an expandable zipper that allows you to squeeze in that extra outfit.View Deal
Still, want more? Check out additional Away x Serena Williams newly-released items below: