Are these the world's most unique kitchen islands? Designs that will make you re-think what's possible
You don't have to play by the rules when it comes to your kitchen island. These designs have all made the island a unique standout for the space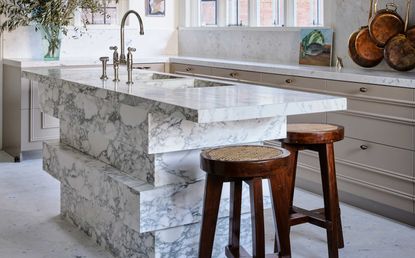 (Image credit: Anson Smart. Design: Tamsin Johnson)
The Livingetc Newsletter
For style leaders and design lovers.
Thank you for signing up to LivingEtc. You will receive a verification email shortly.
There was a problem. Please refresh the page and try again.
What do you envisage when you think of a kitchen island? In most kitchens, an island tends to be a block of floating cabinetry in the center of the space and, if you're adventurous, you might design this in a contrasting material, color or countertop. Sometimes it's a freestanding piece of furniture, even, or some beautiful antique repurposed and reimagined.
However, sometimes interior designers just go left-field with kitchen island ideas, making completely unexpected choices, whether it's a material not often used, a clever design or just taking an idea that's a little more everyday and elevating it into something incredible.
With that in mind, we've collected some of our favorite kitchen islands that do something a little bit different. From classic designs re-imagined and interesting-yet-minimalist kitchens to exciting shapes and outlandish materials, these are among the most unusual and unique.
Luke is a design writer and award-winning interiors blogger, who specializes in luxury homes and decor. Here, he's curated some of the most interesting and unusual kitchen islands around, proving just what's possible with this hub of the home.
1. This incredible island, propped up by a boulder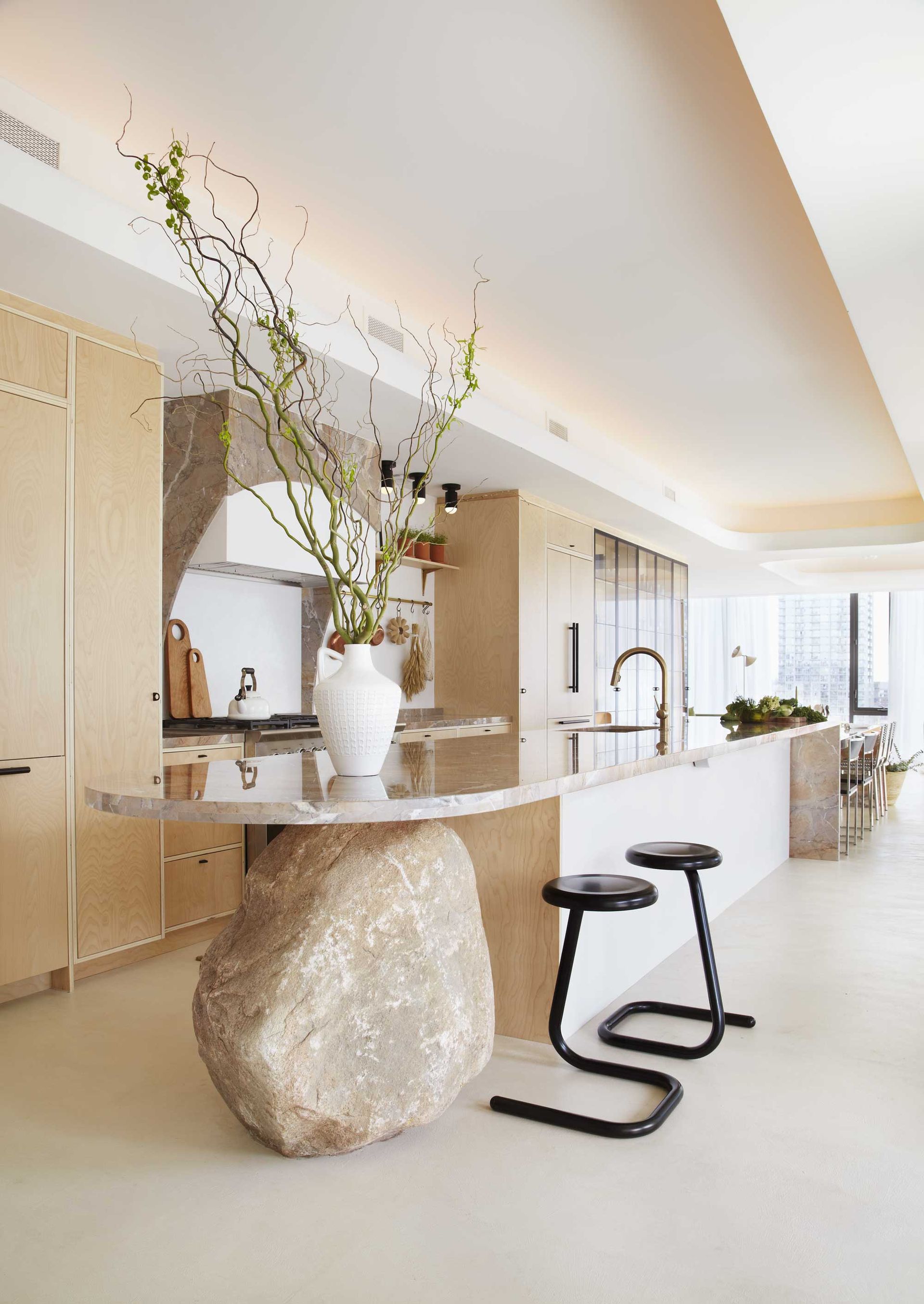 When designing this apartment, Andrea Kantelberg, founder of Evolved Living, a lifestyle design brand focusing on health and wellbeing, wanted to work in a central hall table – something she had always loved in Upper East Side traditional interiors, but that there was no place in the home's plan for.
Instead, she incorporated the concept of this table into the island of the modern kitchen, with an unusual, split-second idea. 'I kept thinking about the grounding aspect of entering an interior, the sense of arrival, the pause before a home opens to you,' Andrea tells us, 'and out of nowhere the idea was sparked of a boulder.'
'From a design standpoint, I wanted to acknowledge the healing power of nature, its impact on mental health and wellbeing,' Andrea adds. 'By introducing as many aspects of these biophilic elements into this wellness space, my hope was that whomever experienced the space, would feel the daily stresses stripped away upon entering.'
The boulder was sourced from a boulder yard in Ontario, which the designer visited, with measuring tape in hand, to find one that was the right height required for the island. However, getting it into the site was another story. 'I pulled out the document and realized that there had been a typo,' Andrea recalls. 'Rather than 200 pounds as noted, the boulder weighed 2000 pounds!' They had first planned to crane it into the apartment, but decided it was too risky and instead, a crew of 8 men had to move the boulder through corridors and up in the elevator, something that only worked within millimeters.
'Once in the space it felt as natural as I had conceived in my mind, it appeared effortless and grounding,' Andrea explains. 'Fast forward, and the magnitude of requests on where to buy a boulder, has been the most popular email received in our office.'
2. Or this monolithic stone island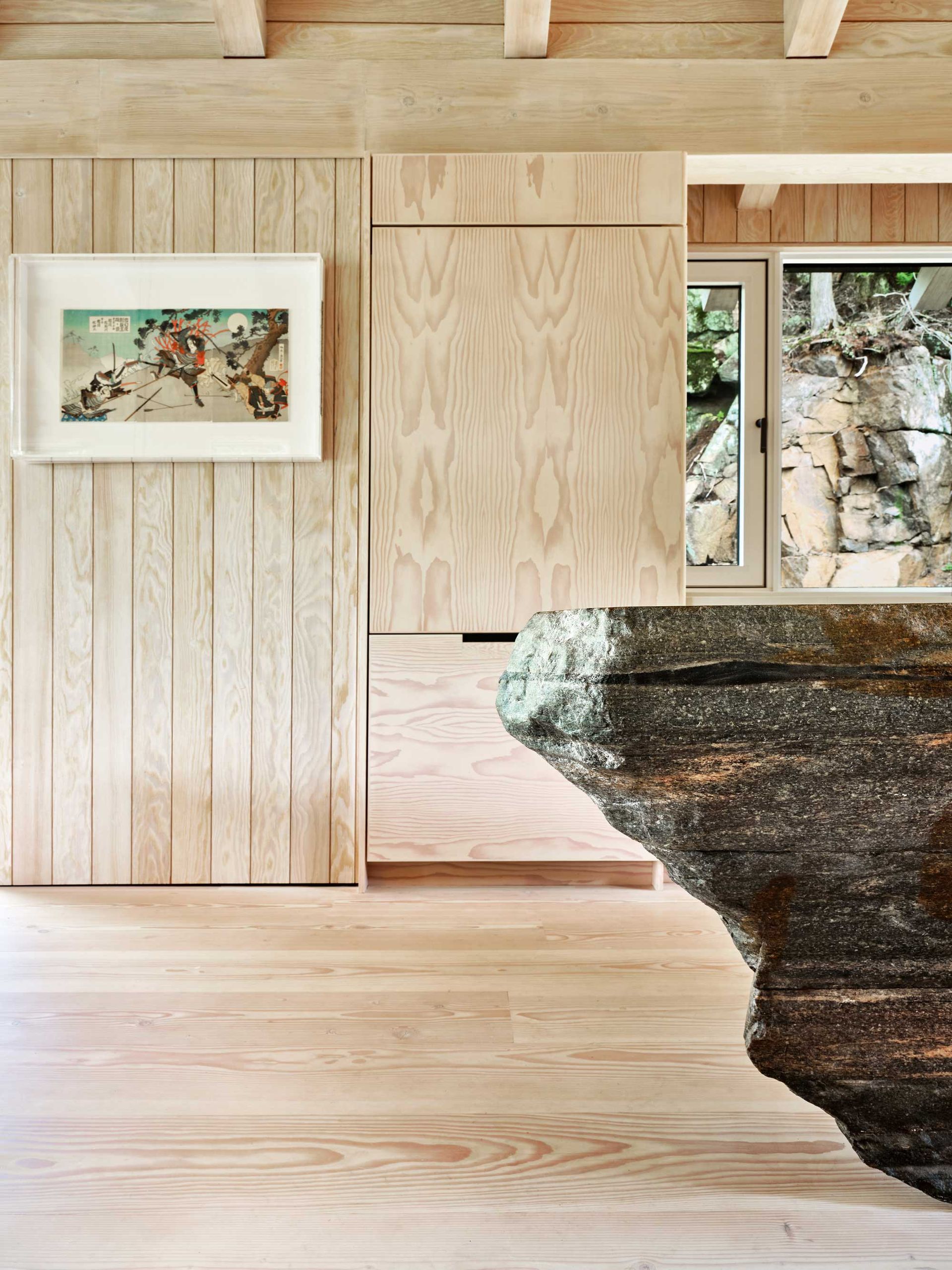 In this minimalist kitchen designed by Studio Paolo Ferrarri, a vast 11x4' stone island with a natural raw edge is the centerpiece of the design. It's made from a solid block of Muskoka granite that echoes the cliffs the house is set into, made from the same material, that can be seen from the kitchen windows.
'This was an extremely complicated piece,' architect Paolo Ferrari explains. 'We had the vision of wanting to create a kitchen that both blended into the interior architecture with a monumental island that connected the interior to the site's terrain.'
While it looks the granite has just been found in the perfect shape and form, and retained its natural form, it's actually been cleverly engineered. 'They used machinery typically intended for slicing and splitting oversized rocks to carefully shape the island, Paolo explains.
Given its weight, it called for some special measures to be used when constructing the home. 'Structural supports were integrated into the architecture early on during the engineering phase and thankfully we were able to execute our original vision,' Paolo says. 'It's an extraordinary aspect of this project.'
3. This sleek, organic design in a small apartment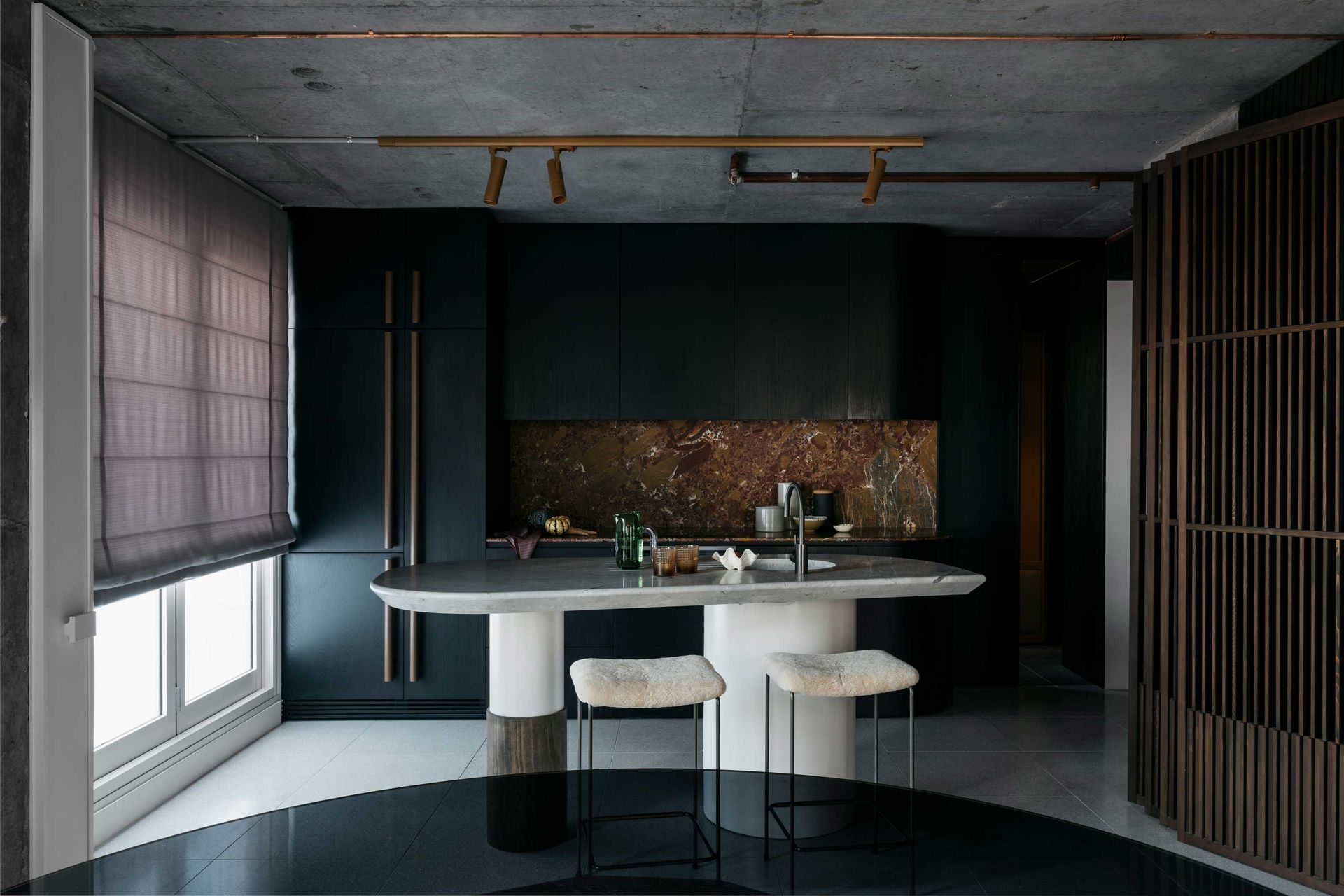 During the renovation of this apartment, designer Yasmine Saleh Ghoniem of YSG Studio relocated the small kitchen for a floorplan that made more sense with the oceanside views, however, this then also meant the island would sit directly in front of the apartment's balcony.
'This custom sculptural island bench-top was designed to sit at an angle, allowing for a clear egress path around it,' Yasmine tells us. 'In turn, it transforms the typically functional element into a decorative piece especially with the addition of the timber veneer ring around one leg.'
It's an intriguing design with a three-inch thick marble kitchen countertop sets on two cylindrical legs. 'The thicker drum contains the sink's plumbing yet it looks like an intentional aesthetic feature,' Yasmine explains. 'The design also enables the open kitchen to appear larger given that we chose not to build an island bench with drawers and cupboards beneath its surface.'
4. This minimalist island made from columns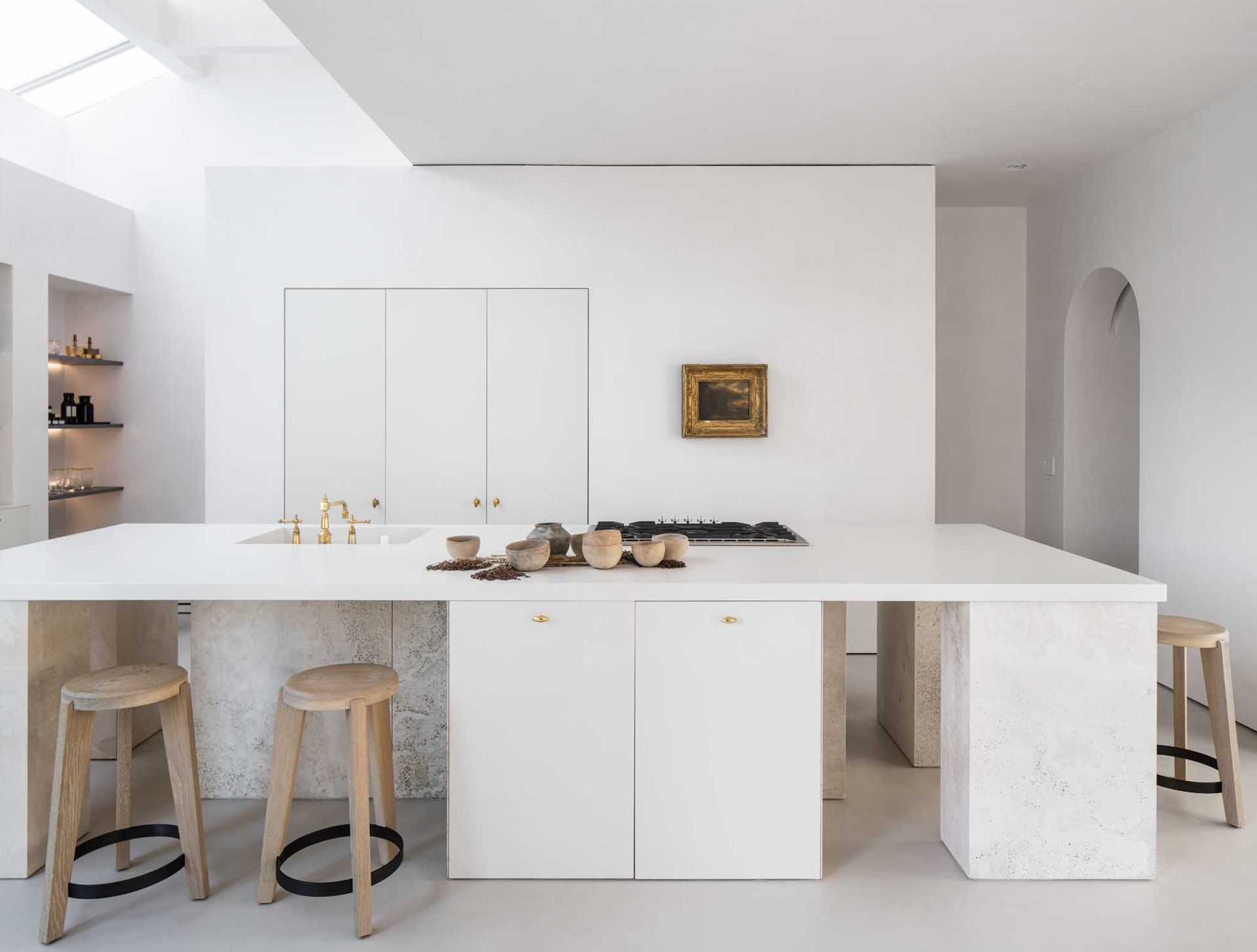 This space proves that a kitchen island doesn't have to be a maximalist expression to be unique. In fact, this design is special in the way that it not only embraces materials in a minimalist design, but how it fits within the wider home and is perfectly crafted for function in the space.
'The kitchen features a 13-and-a-half-foot island that echoes the geometry of the home's architecture,' interior designer Mandy Graham explains. 'Structural blocks of travertine were thoughtfully positioned with the intent to embrace counter seating, concealed storage and workspace from all sides.'
The large kitchen island is topped with a Neolith countertop, and presents a different view from every angle, and at different light levels. 'The staggered stone blocks juxtapose light and shadow beneath the vast countertop,' Mandy explains.
5. A luxe island created with offset stacked marble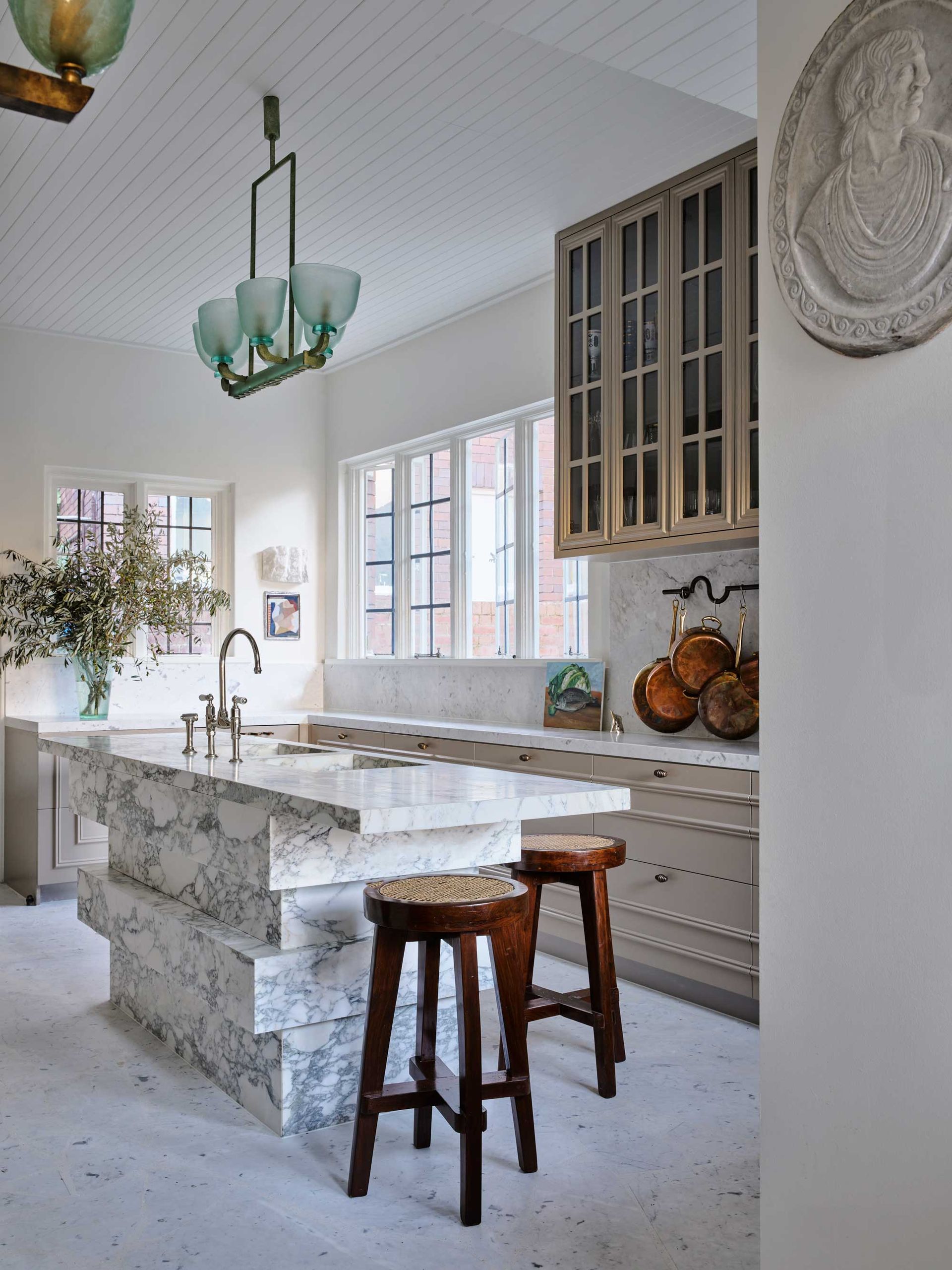 Islands made entirely from beautiful natural stones may have once been a unique idea, however in modern homes, they've become a lot more of a common occurrence. However, interior designer Tamsin Johnson elevated this idea with a kitchen island in her own home, that appears to be made from separate Calacatta Gioia marble blocks, stacked in an irregular, offset design.
It seems almost gravity-defying, but while also bringing some movement and interest to the marble, it also helps the island feel less dominating and monolithic, while the countertop overhang allows for kitchen island seating to be included, too - something often missing from these solid block stone islands.
6. This subtly faceted quartz island design
Image 1 of 2
For architect Dieter Vander Velpen, a stone-block kitchen island was the solution for creating a showpiece for this modern kitchen. 'The idea was to create a statement kitchen island because the owner is a passionate cook who loves to entertain, when he has guests he can really use the kitchen as a kind of "stage",' Dieter explains.
However, to bring an additional interest, the architect introduced another dimension to the island with a subtle, faceted design. 'We chose to create an island that gives the illusion to be carved from a rectangular central block that's aligned with the walls and cabinetry, while the facets add a dynamic and sculptural quality,' Dieter says. 'It's a sculptural piece that's aligned within the straight volume of the space giving us the best of two worlds: a statement, but also harmony.'
The island is made from quartz, a natural stone and marble alternative, that is hardier and can be found in beautiful colors and patterns. 'This one is called "Fusion Wow" and is a really extraordinary stone because there's a lot of color which is really fitting for this project,' Dieter says.
7. This double island with a swiveling 'platter'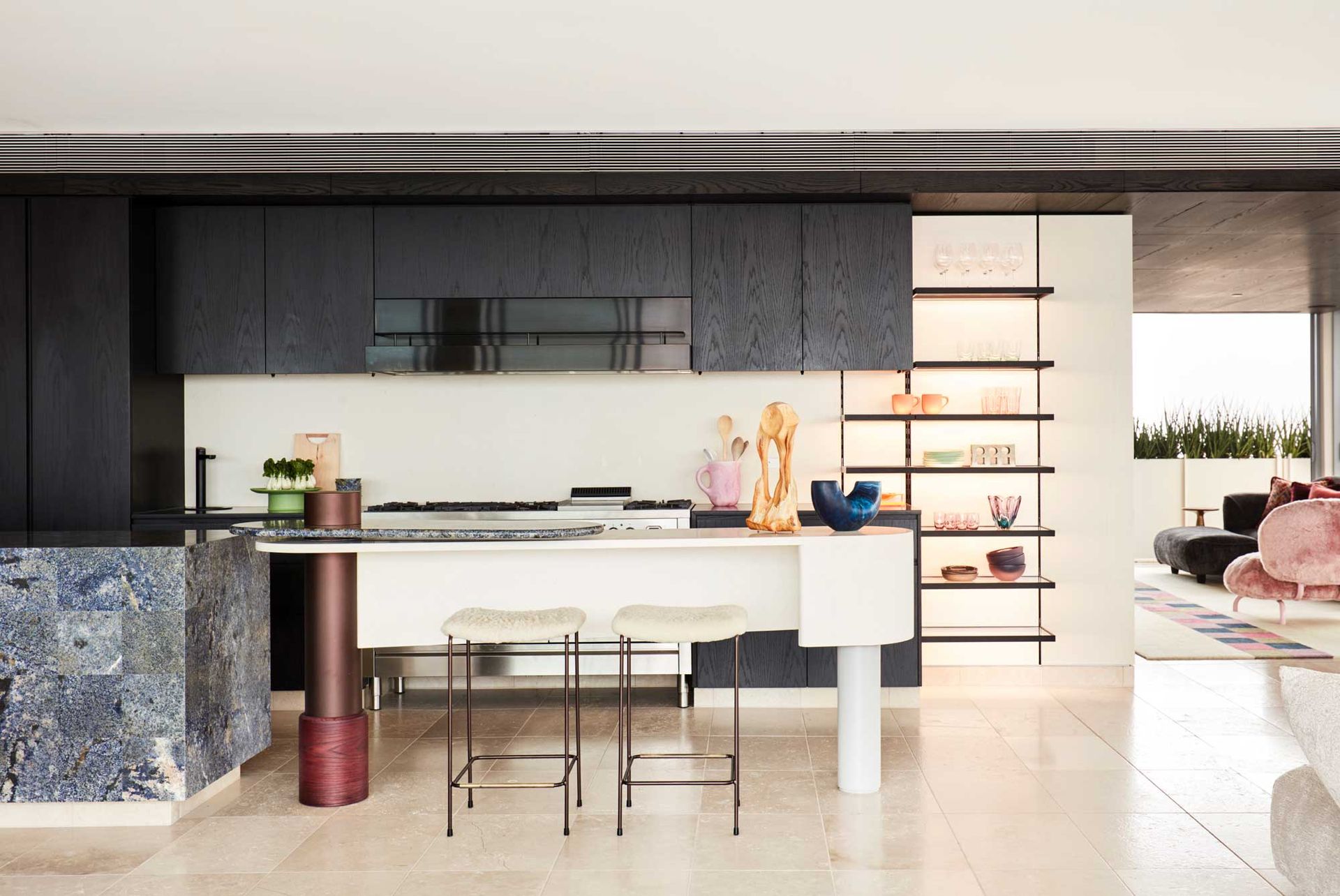 From the outset, this kitchen is full of bold interventions. A blue granite peninsula extends from the kitchen walls, sitting aside a kitchen island - an undoubtedly unusual kitchen layout for including an island.
'Adding sculptural appeal, an offset floating plinth with a curved return sits upon drum legs beside the kitchen counter,' Yasmine from YSG Studio explains. 'A plum-toned fulcrum supporting a 360-degree rotating granite 'platter' (an entertaining device for canapés or cheese) connects the two structures and gives guests something to play with the moment they sit down for a drink.' It has a dual function as a bar as well come nightfall.
8. This creative, rounded design in a Utah home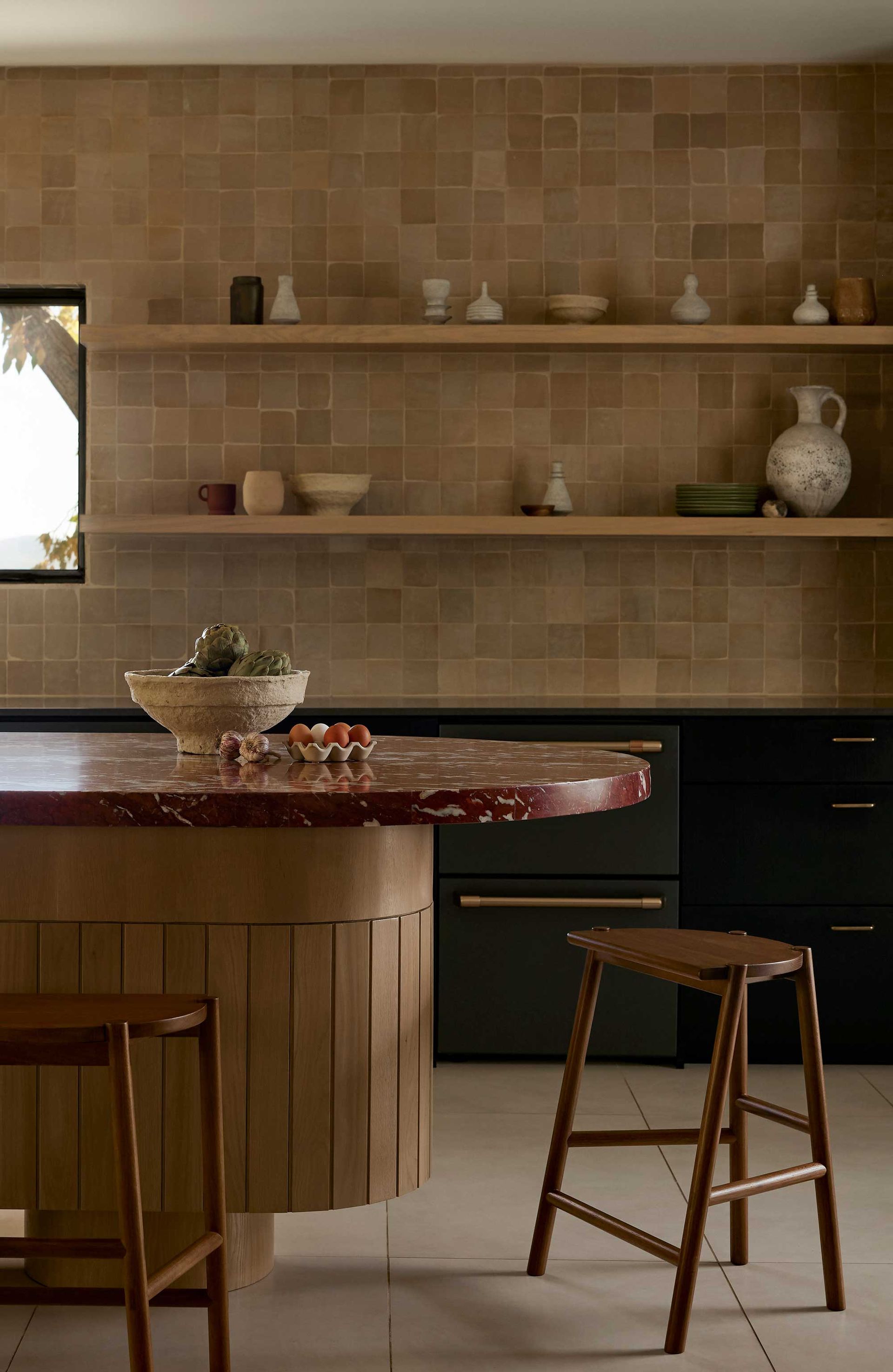 Unusual stones, curved shapes, freestanding islands and fluted, paneled surfaces - each of these are big kitchen trends right now. This dynamic kitchen island created by interior designer Susannah Holmberg of Susannah Holmberg Studios encapsulates them all for a modern, unique design.
'The goal of the design was to create a flexible walk-out space that would double as a second family kitchen and a place to entertain family and friends, so it only seemed natural to go with a a fun and playful design,' says Susannah, 'but one that also feels elevated.'
'Going with a pill-shaped island and veined red marble seemed to fit the bill,' Susannah adds. 'We paired it with the existing black cabinets which we softened with brass hardware and a neutral glazed zellige. The result is a playful kitchen that works with the color palette of the rest of the space: maroon, red, dusty blue and cream.'
9. This classic island packed full of storage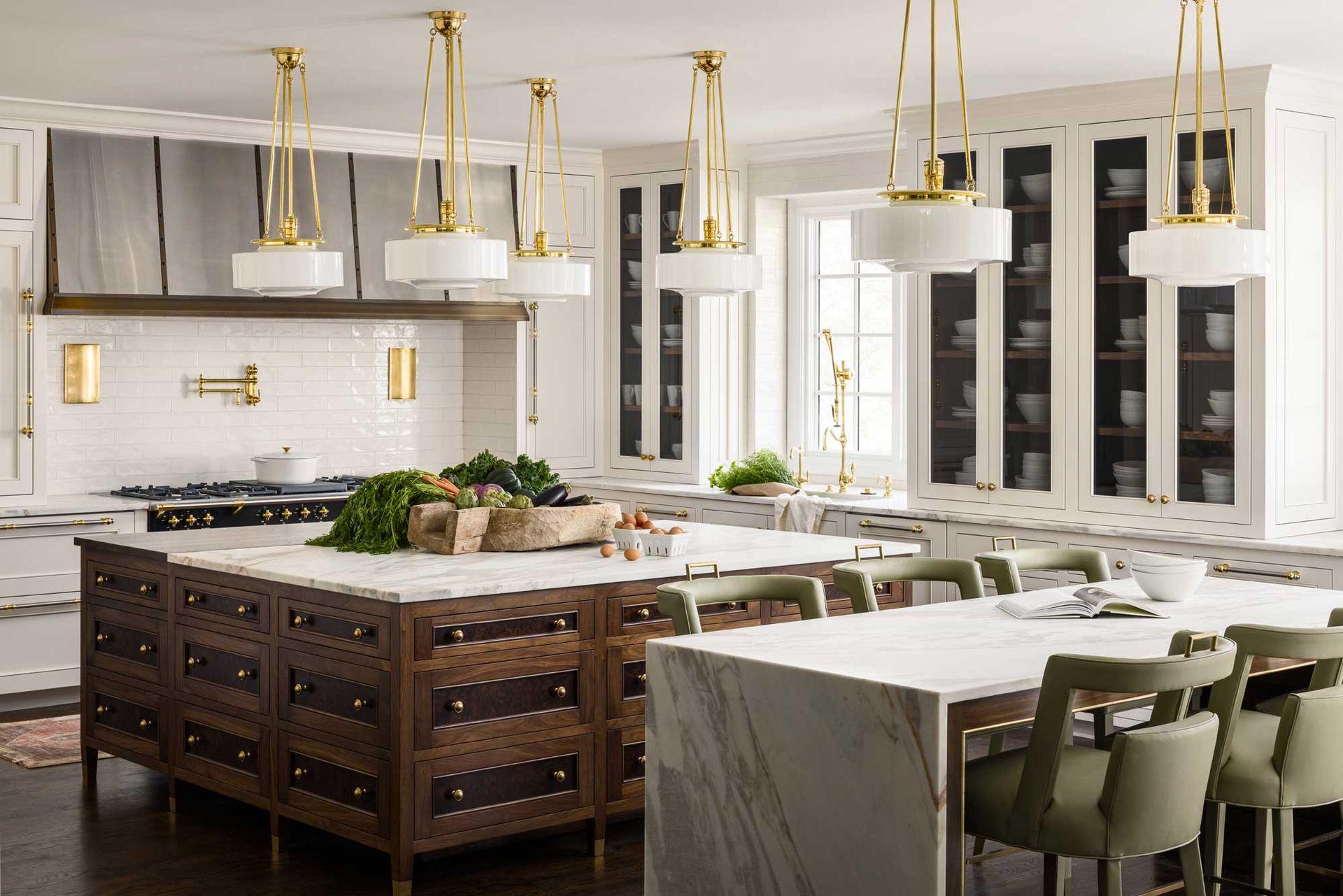 This kitchen may be classic in design, but the island is a unique idea, incorporating draw fronts from corner-to-corner for an elegant look. 'We custom designed the island with a walnut frame and burl inlay to mimic the feeling of an antique European cased good,' explains Mallory Robins, co-founder of interior design studio Kobel & Co.
'All four sides contain some element of usable kitchen storage, with stationary panels only occurring on the corner,' she adds. 'The island is entirely oversized drawers, spec'd to meet the clients' specific culinary needs, with the exception of a mixer lift cabinet on the back side.'
For style leaders and design lovers.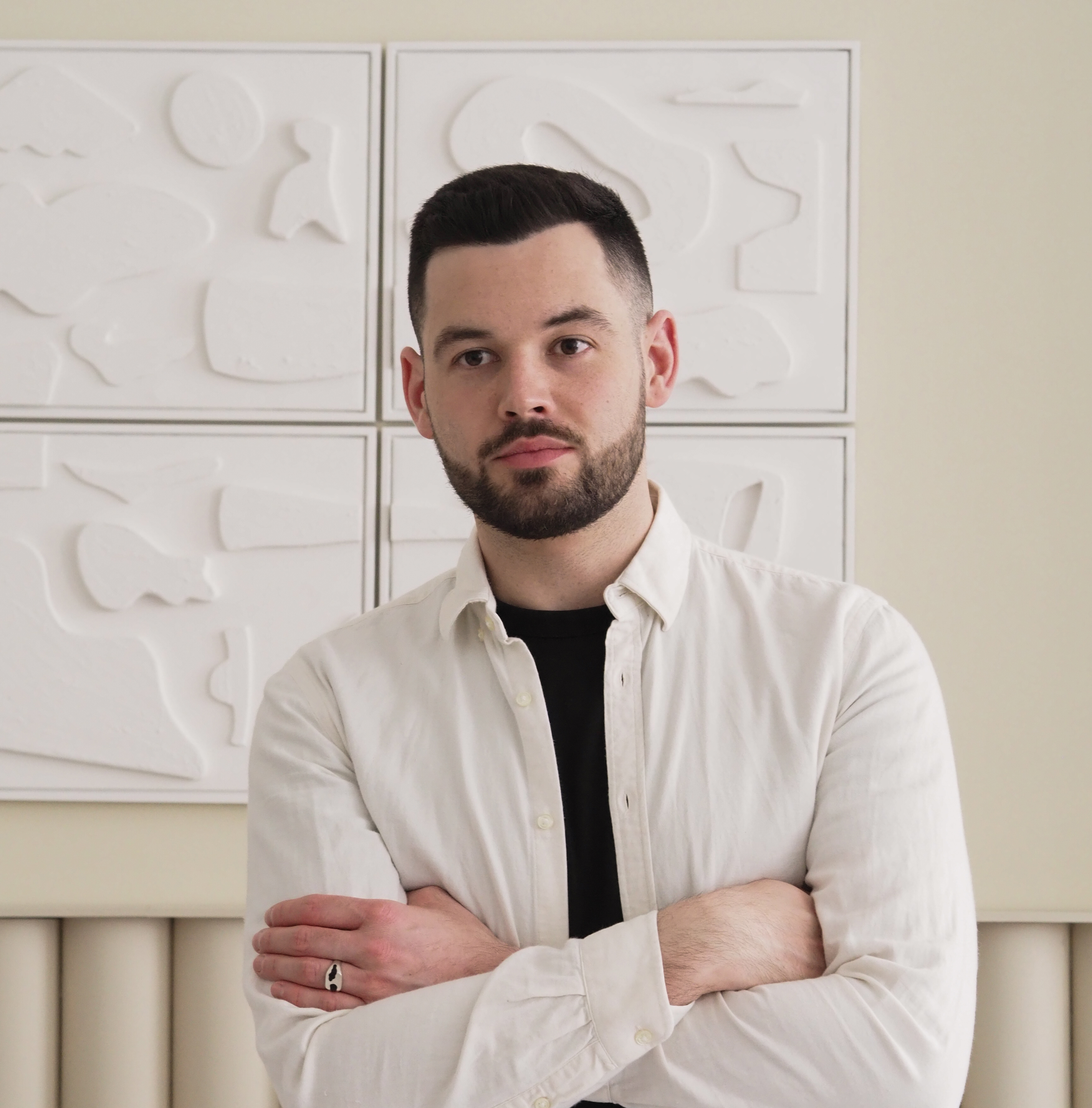 Luke Arthur Wells is a freelance design writer, award-winning interiors blogger and stylist, known for neutral, textural spaces with a luxury twist. He's worked with some of the UK's top design brands, counting the likes of Tom Dixon Studio as regular collaborators and his work has been featured in print and online in publications ranging from Domino Magazine to The Sunday Times. He's a hands-on type of interiors expert too, contributing practical renovation advice and DIY tutorials to a number of magazines, as well as to his own readers and followers via his blog and social media. He might currently be renovating a small Victorian house in England, but he dreams of light, spacious, neutral homes on the West Coast.