Just For Fun: 13 of the most useless products on Amazon we can't believe actually exist
From an earthy 'Eau de dirt' cologne and a hamburger holder to a sequinned Nicolas Cage cushion and shower curtain with pockets for your phone, these are the Amazon products that have us speechless.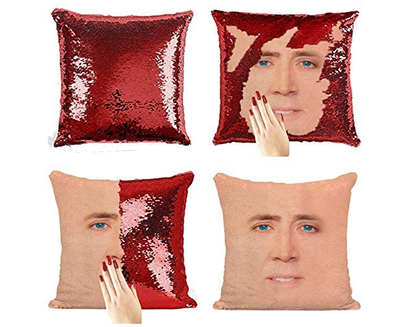 (Image credit: Amazon)
Let's be honest. While there are – occasionally – some very good finds on Amazon, it can feel a bit like looking for a needle in a haystack.
And while we did manage to pull out the offers we'd happily have in our own homes – including some stylish lighting, chic furniture, home accessories and bargain bedding – we also came across these fantastically random items in the process.
So, just for fun, here are 13 of the most mind boggling products we've found so far.
1. 'The gift of nothing, for the person that has everything'
What do you give the person who has everything? Nothing.
This cheeky gift offers quite literally that; nothing. Just an empty box that reads:
"Congratulations! You have received the gift of nothing. Absolutely nothing. This is the ultimate in minimalism. Less is more, more is less."
"Open the pack and be enthralled when nothing happens. Allow nothing to flow through your mind and calm your soul," reads the description."
2. Perfume that smells of dirt
Know a green-fingered gardener in your life who just loves the smell of the outdoors? They might actually like this avant-garde 'Eau de dirt' perfume.
Surprisingly, it's received absolutely rave reviews online. One reads:
"I've been looking for a perfume that I like and I absolutely love this scent! I am a bit of a plant lady and I've the years, have fallen in love with the scent of dirt that comes after watering my plants. So when I found out there was a perfume that smelled like that, I wanted to try it out. I was a bit skeptical but was pleasantly surprised to find that the scent replicated the spell really well!"
Another happy customer wrote:
"If you love the smell of a fresh bag of potting soil, or the smell of working with the earth this is it. It couldn't be more accurately represented. The name should be Earth and not "dirt". It is very grounding to me and relaxing and it reminds me of working in the garden with my father as a child. I love this fragrance. I spray it after a stressful day and it helps me come back to earth literally and relax and fall asleep."
But it turns out that smelling like dirt doesn't come cheap, as the perfume costs £53.67.
Other fragrances in the collection include Clean Skin, Fireplace, and Funeral Home (yes, really).
3. A shower curtain with pockets for your phone
A shower curtain with pockets for your iPhone or iPad, so you can read e-mails and messages in the shower? Touché, Amazon, not bad.
Shower curtain, £13.99 and free delivery, Amazon.
4. Lazy glasses for reading horizontally
These high definition periscope glasses allow you to read horizontally, or even watch TV while lying down.
One happy customer wrote: "My sore neck says thank you!! These glasses make reading much easier as I can lie on my back look straight up to the ceiling and without crooking my neck to read. Also in a sitting position the book can sit on my lap and I can read without bending my neck over to read. "
Horizontal reading glasses, £7.78 plus free delivery, Amazon.
5. Sequinned Nicholas Cage cushion
How's this for a decorative cushion? A festively red sequinned cushion that reveals Nicolas Cage's face hidden underneath. I mean... What more could a Nicolas Cage fan ask for?
Nicolas cage cushion, £15.95, Amazon.
6. Miniature leaf blower
Behold, the world's smallest leaf blower. Smaller than a hairbrush, the leaf blower is too small to actually blow any leaves. But, the product suggests it can be used as a mini dust blower, to keep your keyboard and computer area dust-free. We're not convinced.
Mini dust blower, £12.93, Amazon.
7. An empty tin of beans
This £5 tin of Heinz beans is completely empty. The point, you ask? It makes a pretty good hiding place for storing valuable items you want to keep hidden.
Empty tin of beans, £5, Amazon
8. Handerpants – underpants for your hands
Voila, underpants to wear on your hands. Or as most people would call them: fingerless gloves. The reviews say that they are as soft and comfortable as underwear.
9. A dog selfie stick
Behold the selfie stick – for dogs. The attachment can hold a ball, dog toy or treat to help get your pet's attention and capture the perfect photo.
The tennis stand adds a non-slip strip to prevent the tennis ball from falling easily.
Selfie stick pet attachment, £8.99, Amazon.
10. Bathe & Brew shower coffee maker
Know somebody who needs this coffee maker in the shower, that can dispense soap while also pouring you coffee?
Just kidding. The deceptive box is actually a prank box, which means that it arrives empty as a gift box to fill with something else. A fun way to gift a scarf, pair of socks or other item – we just hope the receiver isn't too disappointed that the shower coffee maker isn't real.
Other prank boxes include an Extreme Chores game for kids, the crib dribbler – a drinks dispenser for inside a cot, and an 18 foot wide blanket that promises (on the packaging) to cover 8 people.
11. Hamburger holder
A plastic cup to hold your hamburger, keeping your fingers ketchup and mayo-free.
Or, you know, you could just use a napkin. But believe it or not, this hamburger holder has had rave reviews, with some claiming the product to be life-changing.
Burger holder, £14.94, Amazon.
12. Unicorn head squirrel feeder
Who doesn't like watching wildlife feeding in their garden? This feeder takes it up a notch, as the Unicorn Squirrel Feeder transforms squirrels into magical beasts.
We've rather enjoyed scrolling through the reviews on Amazon which include many pictures of squirrels in people's gardens, all with giant unicorn heads.
Squirrel feeder, £28.70, Amazon.
13. Burrito blanket
A blanket, designed to look like a burrito? We're not sure, but there's no doubt that it's making us feel a little hungry.
Burrito blanket, £14.89, Amazon.
The Livingetc newsletter is your shortcut to the now and the next in home design. Subscribe today to receive a stunning free 200-page book of the best homes from around the world.
Lotte is the Digital Editor for Livingetc, and has been with the website since its launch. She has a background in online journalism and writing for SEO, with previous editor roles at Good Living, Good Housekeeping, Country & Townhouse, and BBC Good Food among others, as well as her own successful interiors blog. When she's not busy writing or tracking analytics, she's doing up houses, two of which have features in interior design magazines. She's just finished doing up her house in Wimbledon, and is eyeing up Bath for her next project.