20 Amazon home decor buys you need to see
Browse these hidden Amazon home decor picks, and learn more about the upcoming Amazon Prime Day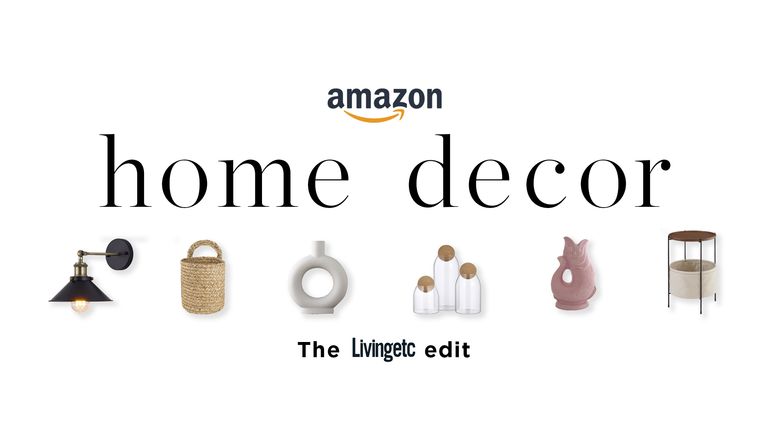 (Image credit: Future)
Contributions from
Discover hidden gem Amazon home decor buys and complete your space for less in 2022 with help from this guide. In a hurry? You can secure that lovely next-day Prime delivery whilst you're at it. You'll be surprised to learn that Amazon not only sells an array of home decor picks, but that many of them are stylish enough to earn a place in your living room or bedroom, and will spruce up your space to no end.
No one would ever guess that the picks below were available on Amazon, with this list handpicked by us here at Livingetc. Our favorite pieces include statement chairs, bar carts and cabinets, and decorative vases. We would gladly display these chic pieces in our own homes, and the fact that you can pick up some of them for a discounted price makes the whole affair even sweeter!
If there's a particular piece you end up loving on this list, bear in mind that Amazon Prime Day should be gracing us with huge discounts this summer, many of which will be applied to home decor picks. Scroll through this list of Amazon home decor buys below and adorn your space with lovely picks for a little less, or bookmark your favorites for the upcoming Amazon Prime Day sale, it's up to you!
For now, if you can't wait until Amazon Prime Day to pick up a bargain, then check out our Memorial Day sales page for outdoor deals on everything from furniture to grills.
---
Shop Amazon's best picks
---
Browse Amazon home decor buys yourself
---
Become an Amazon Prime member for free..
You can take advantage of free and fast delivery as well as much more if you are a Prime member. Should you not be (yet), there's a free 30-day trial (opens in new tab) up for grabs. Sign up now to reap the benefits, or wait to use your free trial in time for Amazon Prime Day, which has historically been in July of each year.
When is Amazon Prime Day?
There's no exact date for Amazon Prime Day 2022. What we do know however, is that in the pre-pandemic years, the mammoth Amazon-only event was usually held in June or July, making it an excellent mid-year opportunity for a deal. If you can't bear to wait for Black Friday to roll around, Amazon Prime Day presents itself as an excellent opportunity for shopping. In recent years, the date of Amazon Prime Day has been more tangible, and was held in 2020 in October instead. We're on the lookout for the official date of the day itself, and will be sure to update this page when we know more.
How does Amazon Prime Day work?
Amazon Prime Day is exclusive to Prime members, meaning you'll need to be an existing member or sign up for a free trial at the time of the event in order to benefit from the discounts. Once you're all signed up, you can scroll through Amazon on the designated (not yet confirmed) days and see all of the glorious discounts you can pick up.
How long is Amazon Prime Day for?
As we said above, we have no confirmed information on Amazon Prime Day 2022 just yet. We can speculate based on previous years that you'll be able to benefit from two days of discounts, as occurred in 2020 and 2021, but nothing is for certain just yet.
Molly is the Ecommerce Writer for Livingetc and spends her time searching the internet for the next best thing for your home as an expert in lifestyle shopping and consumer trends. When she's not writing, she would most like to be swimming in the nearest sea/ocean or getting through her never-ending pile of novels.