The best sofas: comfortable, design-led and stylish sofas
The best sofas on our radar, including design classics, modern masterpieces, and, of course, the most comfortable sofas that still pack a punch in the style stakes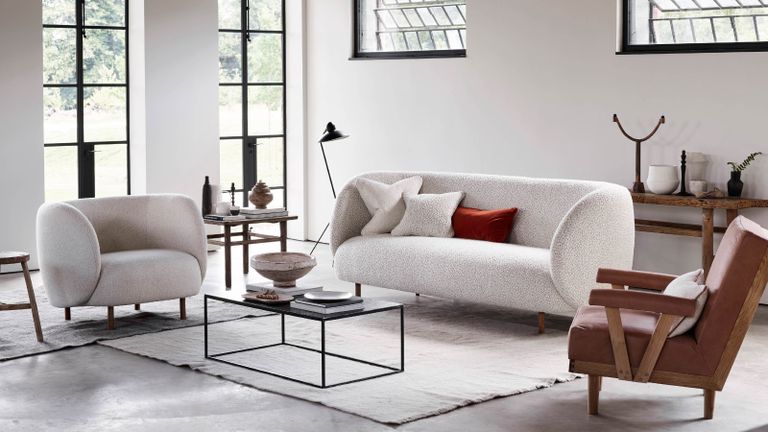 (Image credit: Love Your Home)
By Amy Lockwood
Looking for the best sofas for your interior? This key piece of furniture can make or break a living room interior scheme, so it's a decision we all want to get right.
As an integral part of the home and everyday life, it isn't enough that a sofa just looks good, it also needs to be somewhere comfortable to relax and unwind at the end of a long day, a place to seat guests for entertaining, and a piece of furniture that can withstand the rigours of family life if needs be.
Finding options to choose from is certainly easy; from classic two and three-seater sofas, chaise sofas, modular sofas you can configure into a bespoke layout, and spacious corner sofas that are perfect for open-plan rooms, there is a wealth of choice available. Plus, of course, there's the multifunctional sofa bed that allows you to offer guests a quick and easy overnight sleeping space. Find more of those in our guide to the best sofa beds.
However, sourcing a sofa that actually delivers in terms of style, size, comfort, and budget without a compromise in any one area can still be a tough task, which is where this guide is designed to help.
We've done the leg work to track down the best sofas for design-led aesthetics and comfort. Tried and tested, we think these are the best sofas available right now.
---
The best sofas of 2022: a buying guide
1. The Conran Shop Planar Plinth sofa
Best sofa overall: a comfortable and good-looking sofa with generous size options
Specifications
2 seater sofa: H73 x W180 x D107cm
3 seater sofa: H73 x W220 x D107cm
4 seater sofa: H73 x W240 x D107cm
5 seater sofa: H73 x W300 x D107cm
Seat height: 53cm
Upholstery options: 70+
Matching furniture: No
Reasons to buy
+Comfortable seating with just the right mix of squish and support+Four generous width options+Wide armrests+Good range of upholstery options including lots of leather choices
Reasons to avoid
-No matching furniture other than smaller/larger sofa sizes-Best for large rooms
Deep comfortable seats, a soft yet supportive backrest, and a good range of widths make The Conran Shop's Planar Plinth one of our favourite sofas.
Delivering the elusive mix of seats that are deep and squishy enough to curl up on and a low backrest that still offers a good level of back support if you prefer to sit, we found this sofa comfortable on all levels.
As long as you have the space for it, it's a sofa that feels generously proportioned in all aspects, from the perfect-height wide armrests to the deep blocky seats and four ample-sized widths including a super-generous 300cm wide 5-seater.
The low profile means it works well in an open-plan layout as it won't block the vista, and the black-stained fir plinth base lifts the sofa frame clear enough of the floor to stop the bulky form from feeling too heavy, whilst that boxy shape is weighty enough to ground a seating area.
We like it best in the Chalk boucle upholstery which provides a tactile and organic contrast to the sofa's geometric shape, but it also lends itself well to the wide range of leathers available, including a good mix of desaturated shades from Coal black to Graphite grey and tan Cognac. Plus, there are plenty of wools, velvets, linens and cotton weaves to choose from.
With prices starting from just over £5000 for the 2 seater model, this sofa is certainly an investment, but as an option that delivers both comfort and style by the spadeful, we think it's well worth considering for a larger living space.
Shop now:
Planar Plinth 2 seater sofa, from £4995, The Conran Shop
Planar Plinth 3 seater sofa, from £5795, The Conran Shop
Planar Plinth 4 seater sofa, from £5995, The Conran Shop
Planar Plinth 5 seater sofa, from £8070, The Conran Shop
---
2. Sofa.com Holly sofa
Most affordable sofa: a good value, stylish and comfortable sofa with chaise and corner sofa options too
Specifications
2 seater sofa: H87 x W155 x D90cm
2.5 seater sofa: H87 x W185 x D90cm
3 seater sofa: H87 x W215 x D90cm
4 seater sofa: H87 x W288 x D90cm
Chaise sofa: H87 x W255 x D150cm
Corner sofa: H87 x W266 x D266cm
Seat height: 50cm
Seat depth: 54cm
Upholstery options: 70+
Matching furniture: Armchair & footstool
Reasons to buy
+Good value+Comfortable seating with just the right mix of squish and support+Four sofa width options+High legs can make a small room feel more spacious+Good range of upholstery options+Matching furniture available
Reasons to avoid
-Armrests may be a little high and thin for some
One of the most stylish, comfortable and affordable sofas we've come across in our search, the 2 seater Holly sofa starts at just £850 so it's a good option if you want luxe-look seating on a budget.
A great range of size options makes this a versatile solution for most small to mid-sized rooms, including 2, 2.5, 3 and 4 seater straight-backed sofas, plus a chaise and a corner sofa option which also comes in four sizes - from the extra small 2-3 seater corner sofa to a more spacious 5-6 seater option.
Neither too modern nor too emphatically classic, the design will suit a wide range of interiors, from period properties to contemporary homes. The high-legged build is also useful for lending a more spacious feel to small living rooms.
Comfort-wise, in our opinion, the sofa has just the right mix of squish and support thanks to its substantial feather-wrapped foam seat cushions, feather back cushions, and its high-backed frame; comfy enough to curl up on but with great back support if you prefer to sit.
We especially like the high armrests as it means you have something to support your back if you like to sit sideways and put your feet up, but some might not like the thin tapered design and the armrest's height.
Over 70 upholstery options also make finding a colour and fabric to suit your decor easy, and all fabrics we handled felt good quality. The velvets are a particularly good choice with plenty of colour-popping statement shades to choose from, but there are also family-friendly polycotton mixes, linens, wools and some great statement fabrics like on-trend textured boucles.
Shop now:
Hollly 2 seater sofa, from £850, Sofa.com
Holly 2.5 seater sofa, from £935, Sofa.com
Holly 3 seater sofa, from £1025, Sofa.com
Holly 4 seater, from £1320, Sofa.com
Holly chaise sofa, from £1410, Sofa.com
Holly corner sofa, from £1715, Sofa.com
---
3. Heal's Oswald Sofa Bed
Best sofa bed: a king-size sofa bed with pocket-sprung seating and sleeping
Specifications
3 seater sofa bed: H98 x W222 x D103cm
Seat height: 43cm
Seat depth: 55cm
Sleeps: 2
Sleeping area size: H98 x W222 x D152cm
Upholstery options: 3
Matching furniture: Footstool
Reasons to buy
+Pocket-sprung foam seat and backrest makes for comfortable sitting and sleeping+Foam and feather back cushions+A super generous king-sized sleeping area+Hidden storage
Reasons to avoid
-Only one width option-Fairly low seat-Limited upholstery options-Limited matching furniture available
If your guest bedroom has recently been turned into a home office, or you just want to make a spare room work a little harder for you, then a sofa bed makes for a great piece of multifunctional furniture.
However, finding an option that offers both comfortable sitting and sleeping can be a far harder task than you might hope, but, thankfully, we think Heal's Oswald sofa bed has achieved this seemingly elusive goal.
This is a fold-out sofa bed where the sofa seat extends forwards and the backrest folds flat to create the sleeping surface. Initially, that might sound less comfortable than a pull-out option with a dedicated mattress, but in this case, the seat and backrest are formed from several foam layers, and - the important bit - there are 10cm deep pocket-springs nestled in the foam's midst.
This makes for a sofa base with a good amount of give and bounce - not a soft and squishy sofa, but definitely enough comfort that you could use this sofa bed as your main living room seating if you desired. It offers a comfortable sleep experience too - in our opinion akin to a dedicated mattress - with a generous king-size mattress-sized sleeping area.
And, once the sofa bed is pulled out into position via the leather strap - a manouevre made easy thanks to the bed legs which unfold automatically - a handy storage area means these cushions can be stored safely away so as not to clutter the room.
Fabric choices are limited, but the mid-grey and navy blue are both versatile options. If you want more upholstery options then our round-up of the best sofa beds offers some alternatives with wider fabric selections.
Overall, this is one of the best sofa beds we've come across though; satisfying all needs without too much of a compromise in any area.
Shop now: Oswald sofa bed, £2499, Heals
---
4. Love Your Home x Livingetc Hepworth Sofa
Best curved sofa: this crescent sofa in boucle fabric hits all the key trends
Specifications
2 seater sofa: H88 x W190 x D98cm
3 seater sofa: H88 x W226 x D98cm
4 seater sofa: H88 x W260 x D98cm
Upholstery options: 100+
Matching furniture: Armchair, small footstool & large footstool
Reasons to buy
+On-trend design+Livingetc x Love Your Home collaboration+Love Your Home promise carbon-neutral manufacture, offsetting 100% of their carbon emissions+Good range of upholstery options+10+ leg options+Matching furniture available
Reasons to avoid
-Add extra back comfort with scatter cushions available separately
We may be somewhat biased, but with its gentle curves and cocooning shape, we can't think of a more soothing place to sit than the Hepworth sofa, designed in collaboration between Livingetc and Love Your Home.
This sofa encapsulates all of the moment's key trends in one; a curvaceous cloud-like shape that appears to float on its linear legs, all wrapped up in tactile textured off-white boucle upholstery that enhances the organic form.
The capsule Hepworth collection offers the sofa and a coordinating armchair, all designed with rounded seats and wraparound backrests. On the firmer side rather than a squishy-type seat, it makes the perfect spot for drinks before dinner.
There are three sofa widths available to suit a variety of room sizes, plus the Hepworth armchair, and two sizes of lozenge-shaped footstool to transform this sofa into a chaise.
Upholstery-wise the sofa benefits from Love Your Home's extensive and exclusive fabric collection, plus a carefully considered edit of upholstery options curated by the Livingetc team; think sumptuous toffee velvet, supple pale leathers, and textured Seafoam or Leopard boucle.
There are also 10+ material options in those tall legs to complement your fabric choice, including dark walnut, pale oak, warm hickory, and luxe brass.
Plus, Love Your Home is aiming to get serious when it comes to sustainability; all furniture frames are made with sustainably produced FSC-certified beech wood, fabrics are sourced directly from third-and-fourth generation European mills, and its manufacturing and showrooms offset 100% of their carbon emissions.
Shop now:
Hepworth 2 seater sofa, from £2428, Love Your Home
Hepworth 3 seater sofa, from £2728, Love Your Home
Hepworth 4 seater sofa, from £3054, Love Your Home
---
5. The Conran Shop Chiltern sofa
Best sofa for small living rooms: a comfortable high legged sofa with compact measurements
Specifications
1.5 seater sofa: H79 x W130 x D96cm
2 seater sofa: H79 x W152 x D96cm
3 seater sofa: H79 x W205 x D96cm
4 seater sofa: H79 x W228 x D96cm
Seat height: 45cm
Upholstery options: 70+
Matching furniture: Armchair
Reasons to buy
+Comfortable seating with just the right mix of squish and support+Four compact width options+High legs can make a small room feel more spacious+Good range of upholstery options+Matching furniture available
Reasons to avoid
-Back cushions encourage you to recline slightly rather than sit up straight, which might not suit everyone.
If space is at a premium, then we think this small sofa nails compact design without it feeling like you're scrimping on design-led details or luxurious comfort.
Available in a super small 1.5 seater sofa or neatly proportioned 2, 3 or 4-seater widths, this contemporary design is elevated on high tapered legs that will enhance the size of a smaller room by allowing your eye to travel underneath the sofa frame to maximise the floor space the eye can register - making a room appear far larger visually.
Seating-wise this is a sofa to sink into, with squishy seats that invite you to curl up and get comfortable the moment you sit down. The high back cushions make leaning back comfortable too, although as the backrest ends a little below the cushion height you do tend to tip slightly backwards into a reclined position rather than an upright posture, which might not suit everyone.
Unlike with many compact sofas that save space by reducing armrest widths or even removing them entirely, the Chiltern's armrests still feel perfectly ample which adds to the feeling that nothing has been lost in gaining back some living room space.
In terms of upholstery, we think this refined shape suits a velvet fabric best, so it's lucky there are plenty of options on offer, from the deep and rich Cobalt blue to a warm Avocado green or Petal pink. It also looks fresh and contemporary in a linen selection, or the Mustard yellow wool for a hit of sunshine-hued serotonin.
Shop now:
Chiltern 1.5 seater sofa, from £2565, The Conran Shop
Chiltern 2 seater sofa, from £3010, The Conran Shop
Chiltern 3 seater sofa, from £3480, The Conran Shop
Chiltern 4 seater sofa, from £3715, The Conran Shop
---
6. Ligne Roset Togo Sofa
Most iconic sofa: a modular design classic that's still going strong
Specifications
1 seater sofa module: H70 x W87 x D102cm
2 seater sofa module: H70 x W131 x D102cm
3 seater sofa module: H70 x W174 x D102cm
Corner sofa : H70 x W276 x D233cm
Seat height: 38cm
Upholstery options: 8
Matching furniture: Armchair module & footstool
Reasons to buy
+A cult classic+Modular sections allow you to create your ideal layout
Reasons to avoid
-Firm seating-Super low to the ground seat height won't be for everyone-Limited upholstery options
Instantly recognisable for its distinctive shape and deeply quilted folds, Ligne Roset's Togo sofa has retained its cult classic status for the past 40 years.
The iconic sofa form was designed for Ligne Roset in 1973 by Michel Ducaroy; dreamt up as the ultimate chill-out space for afternoon siestas, lazy evenings, and - as the seating came to be depicted in magazines and films of the time - hazy Seventies' hedonism.
The deep modular design can work especially well in large open-plan spaces, where you can continue adding sections to your heart's content to create a seating solution in proportion to your space.
To help you create that bespoke layout there are four main Togo components available; the classic 2 and 3 seater modules, along with a single-seater chair and a corner module that allows you to create an L-shaped or U-shaped sofa configuration.
Perhaps surprisingly, we actually find that slouchy silhouette pretty firm for sitting, and the concave dips that form the seating areas mean you're a little limited with how you can sprawl. Plus, of course, the low-to-the-floor design won't be ideal for everyone.
The standard upholstery fabrics are also a little limiting, with 9 main velvet options to choose from.
It's still hard not to be beguiled by that iconic silhouette though. Not just for contemporary interiors, the playful design works especially well contrasted against otherwise formal interiors and classical architectural detailing.
Shop now:
Togo single seat module, from £1634, Heal's
Togo 2 seater sofa, from £2348, Heal's
Togo 3 seater sofa, from £3132, Heal's
Togo corner sofa, from £7878, Heal's
---
Best sofas: a buying guide
The best sofa for your interior will depend on a range of factors, including the size of the room in which it will be placed, your style preferences, and, of course, your lifestyle. So what are the key points to consider when sourcing the best sofa for your home?
---
How to choose the right size sofa
It may sound obvious, but size is one of the most important aspects to consider before falling in love with your dream sofa.
You're probably going to want the most spacious seating your room will allow, but it's also important to consider scale to ensure a design works in a particular space. Just as too small a sofa can impact entertaining or family living considerably, opting for too large a sofa can overwhelm a room.
One useful approach – especially if your sofa will be pushed back against a wall – is to utilise the two-thirds rule. This means opting for a sofa width that is no more than two-thirds the width of the wall behind it. If you have enough space to play with that you can opt for sofa half the width of the wall behind then this will increase the feelings of spaciousness further, and allow room for useful side tables and/or floor lamps at either end.
If you have an open plan layout then a chaise or corner sofa can be a useful zoning tool. In this case, it's important not to go too small or the seating will appear lost.
Modular sofas, that allow you to extend beyond the remit of the usual three-seater width, can be a good choice for open plan interiors, with the benefit that individual sections can be combined to create U or L-shaped seating configuration. Grouping seating on or around a large rug will help to ground the relaxation area and create a more intimate 'zone' within a larger space.
When considering size, of course, it's also hugely important to check your measurements.
As well as width, make sure to take into account the sofa's height, especially if it needs to fit under any existing architectural details like a windowsill or picture rail, and remember to consider the sofa's depth to ensure there's still plenty of room to walk and move around it. Marking out the dimensions with masking tape is an easy way to try and get a sense of scale. Even a compact two-seater can overwhelm a smaller room if the sofa depth is too deep.
Also, consider access dimensions. If you have a narrow entranceway, awkwardly shaped hallway, or need to negotiate a staircase, then measuring up to ensure the sofa will fit through any tricky access points will save a lot of stress on delivery day.
And if your access is difficult? Don't think that means you have to plump for the smallest two-seater you can find. A modular sofa is a great option for adding spacious seating to difficult rooms, and – especially useful for high-rise apartment dwellers – the new generations of sofa in a box that arrive flat-packed have come a long way in terms of style.
---
Getting a sofa style right
Beauty is, of course, in the eye of the beholder, but there are a few useful tips you can bear in mind to make sure you choose the best style of sofa for a particular interior.
Firstly, consider the sofa legs. Easy to overlook whilst you are browsing through swoon-worthy swatches of upholstery, the legs of a sofa can have a big impact on its overall appearance.
Generally speaking, low-to-the-ground sofas that have no visible legs to speak of are best for open plan rooms where the more bulky design will help to add gravitas to the room and ground a scheme.
Smaller rooms will benefit from a leggy design where the sofa base is lifted clear of the floor. Allowing the eye to travel under the sofa – potentially to the furthest wall of the room – will create a feeling of spaciousness and stop what is potentially the largest piece of furniture in the room from dominating too much.
Secondly, think about the upholstery. Unless you're buying a ready-made model, there is usually a huge selection of fabrics on offer at any sofa retailer, and each can subtly alter the way a sofa looks and even feels – fabrics with more drape potentially creating a softer, more squishy sofa seat, whereas thicker less flexible materials creating more resistance and a firmer feel.
Velvets will add a smart, luxe feel, slubby linens can create a relaxed vibe, and hardwearing and more stain-resistant cotton mixes can be a practical addition to a busy family home. Sofas that offer loose covers can also be a great solution, allowing the flexibility to update upholstery as and when needed, and ensuring your sofa has ultimate longevity.
---
How to find the most comfortable sofa
We think sofa sitters tend to fall into two main camps, those that prefer to sit upright with their feet planted on the floor, and those who prefer to sprawl, curl up or recline. The most comfortable sofa for you is likely to depend on which of the two seating styles you are most inclined towards and then finding a sofa that suits your sitting style.
Those who prefer to remain upright will likely find a sofa with a shallower seat depth the most comfortable. This allows you to sit up straighter whilst your feet remain on the floor, rather than a deeper seat which will tip you back into a more reclined posture.
Finding a supportive backrest is also more important for upright sitters. Look for models where the sofa frame has a high backrest, rather than just relying on a high back cushion for support, and you might prefer a higher armrest.
If you prefer to curl up or lay down as soon as the opportunity presents itself then you're likely to be able to opt for a lower profile design with a more generous seat depth. You might want to consider arm height too, and opt for a lower arm that can double as a headrest when sprawled out.
Sofa cushion construction can also affect comfort levels and will be a consideration for vegan shoppers. A pure foam cushion generally offers a fairly firm sitting experience but has the benefit of springing back into shape after being sat on. Whereas feather cushions can provide a more plumptious seat, but tend to settle over time so can require regular plumping.
To combine the best of both worlds, many sofa manufacturers now offer foam cushion cores that are wrapped in a layer of soft feathers – providing comfort and retaining the sofa shape.
---