12 best sofas of 2021: design-led and comfortable couches
Our edit of the best sofas of 2021 so far. Discover design classics, modern masterpieces, and, of course, the most comfortable sofas on our radar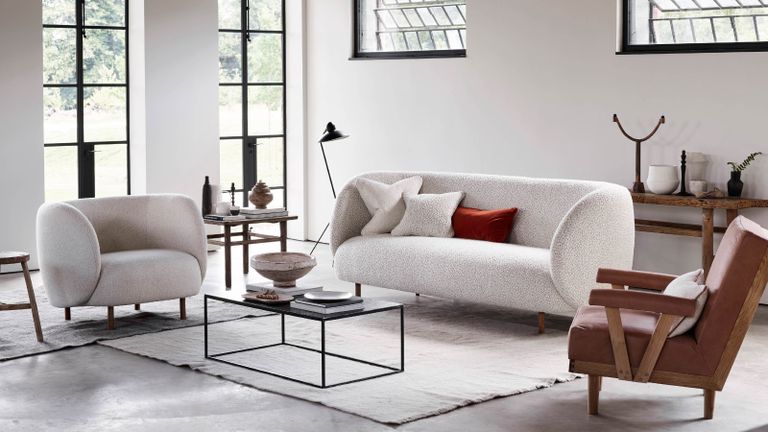 (Image credit: Love Your Home)
By Amy Lockwood
In compiling our edit of the best sofas available in 2021, the importance of investing in the right seating for our homes has never been clearer. 
We've spent more time at home in the past year or so than many of us ever thought possible, and our sofas have seen a good deal more use than they might normally do. As such, many of us are reassessing what it is that makes our homes, and especially our furniture, not just look good but feel good to use. 
Read on to discover versatile modular sofas that easily adapt to layout changes, the most comfortable three-seater settees, and the couches that take design-led seating beyond the living room. 
And if, like us, you're eager to get guests back into your home as soon as restrictions allow, then dive into our selection of the best sofa bed options to ensure that you're full-house ready.
Best sofas of 2021
1. Hay Mags Modular Sofa
Best modular sofa for adaptive seating
Specifications
Size: varies by module
Seat height: 40cm
Fabric options: 8
Lead time: 5 - 6 weeks
Reasons to buy
+Varied configuration options+Ample armrests ideal for perching+Short lead time
Unlimited configuration options make the modular sofa a firm favourite amongst interior designers; offering useful ways to zone open-plan spaces and the ability to customise seating layouts to suit any room or purpose. 
Danish brand Hay's sectional sofa offering comes in the shape of the Mags collection; a low profile, architecturally shaped sofa softened by rounded edges. Designed with minimal detail and maximum comfort in mind, durable high-density foam and interior padding offer optimal slouching satisfaction.
We're big fans of the wide variety of comfortable modular units available in this range; kick back by adding a chaise longue; extend ad infinitum with additional seating and corner modules. 
2. Love Your Home x Livingetc Hepworth Sofa
Best sofa for daydreaming the winter months away
Specifications
Size: W226cm x H88cm x D98cm
Seat height: 41cm
Fabric options: 100
Lead time: 6 - 8 weeks
Reasons to buy
+Livingetc x Love Your Home collaboration+Over 100 colour and fabric options+Love Your Home promise carbon-neutral manufacture, offsetting 100% of their carbon emissions
We may be somewhat biased, but with its gentle curves and cocooning shape, we can't think of a more soothing place to curl up and wait out the winter months than the Hepworth sofa; designed in collaboration between Livingetc and Love Your Home.
The Livingetc capsule collection offers two armchairs and a sofa, all designed with deep seats and ample backrests that we think are ideal for Sunday snoozing. 
Upholstery-wise, opt for the tactile touch of the comfortingly textural leopard boucle or choose from a carefully considered edit of supple leathers and sumptuous velvets curated by the Livingetc team. 
3. &Tradition Cloud 2 Seater Sofa
Best sofa for a moment's solitude
Specifications
Size: W185cm x H120 x D90
Seat height: 40cm
Fabric options: 2
Lead time: 16 weeks
Reasons to buy
+Hide from the world (or the kids) behind this high-backed Italian+Super plumptious feather pillows
As has been stated many times throughout the pandemic; we are all weathering the same storm, yet in very different boats. 
If your particular vessel is feeling a little crowded after months of stop-start homeschooling or joint working from home, then Luca Nichetto's Cloud sofa for &Tradition might be just the spot for a moment's solitude.
Place this high-backed Italian sofa centrally and it will create some welcome room zoning, which - after a year when many of us have begun to reassess the pros and cons of open-plan living - could be just the ticket for some partial privacy away from the fray.
Once cocooned within its walls, plumptious feather-filled cushions offer seating as cloud-like as the name suggests, making it the ideal spot for an impromptu game of hide-and-seek. Perhaps with an emphasis on the hiding.
4. &Tradition Mayor AJ6 Sofa
Best sofa for a hallway
Specifications
Size: W138 x H82 x D62cm
Seat height: 40cm
Fabric options: 3
Lead time: 16 weeks
Reasons to buy
+Refined elegance+Hand-built solid walnut frame
In normal times - when we swap slippers for shoes and leave the house on a more regular basis - having a place for multiple family members to comfortably don footwear is an essential addition to the hallway. 
The ultimate in refined shoelace tying, the Mayor sofa was originally designed in 1939 as a collaboration between modernist architects Arne Jacobsen and Flemming Lassen. When given the opportunity to design a new public building just outside of Copenhagen, the duo undertook to design the furniture for the interior space too. The Mayor bench was conceived to seat couples awaiting marriage in the new town hall. 
Elegant minimalism and honest craftsmanship retain the solemn ceremony of the sofa's original purpose, with oiled wood legs and understated Chesterfield buttoning delivering a quiet grandeur that makes for the perfect welcome home.
5. Heal's Muuto Rest Sofa
Best sofa for an instant serotonin hit
Specifications
Size: W200cm x H72 x D92
Seat height: 42cm
Fabric options: 2
Lead time: 10 - 11 weeks
Reasons to buy
+Sunshine in sofa form+Deep comfortable seats+Also available in a neutral colour palette
If mid-winter bleakness combined with a tad-too-much staying at home has seen your mood dip, then the Muuto Rest sofa in saturated yellow might just be the serotonin boost you need.
Generous two or three-seater sofa options offer ultra-padded design, with contemporary Scandinavian minimalism softened by curved cushioning and reassuringly crisply-tucked fabric folds.  
Call us in need of an emotional support sofa, but we think this squishy sunshine-substitute might just help to ease the journey through the remaining cold British winter months, keeping us stocked with visual vitamin D whilst voyages to temperate climes are on hold. 
6. Ensemblier Horbury Sofa
Best sofa for heritage design and sustainable craftsmanship
Specifications
Size: W164 x H80cm x D79 cm
Seat height: 44cm
Fabric options: Design advice offered or customer's own
Lead time: 10 - 12 weeks
Reasons to buy
+Legacy heritage design+Natural, sustainable materials+British craftsmanship
London-based Ensemblier pride themselves on creating legacy pieces designed to be passed down from generation to generation; purposefully working with independent artisans and master craftsmen to revive British craft and breathe new life into skill sets that are at risk of being lost to machine-making and mass production. 
Advocating for a change in direction towards sustainable making rather than throwaway culture, their handcrafted furniture is built to last; designed to be reupholstered and repaired by future generations rather than discarded. 
The Edwardian-inspired Horbury sofa features clean, elegant lines with a structure formed from natural materials with sustainable provenance. Inside back and arms are padded with traditional rubberised hair, legs are mahogany or oak, and seats are sumptuously filled with down and feather. Heritage design at its finest.
7. Heal's Ligne Roset Large Togo Sofa
A playful design classic
Specifications
Size: W174cm x H70 x D102
Seat height: 38cm
Fabric options: 8
Lead time: 22 - 23 weeks
Reasons to buy
+A cult classic+Ideal for sprawling +Modular sections make for easy reconfiguration
Instantly recognisable for its distinctive shape and deep pleated folds, Ligne Roset's Togo sofa has retained its cult classic status for the past 40 years.
The iconic sofa form was designed for Ligne Roset in 1973 by Michel Ducaroy; dreamt up as the ultimate chill-out space for afternoon siestas, lazy evenings, and - as the seating came to be depicted in magazines and films of the time - hazy Seventies' hedonism.
Manufactured with no structural elements other than five densities of carefully layered foam, the playful slouchy silhouette looks especially beguiling contrasted against otherwise formal interiors and classical architectural detailing.
8. Zanotta William Chaise Modular Leather Sofa
Best leather sofa for contemporary spaces
Specifications
Size: W380 x H87 x D105cm
Seat height: 43cm
Fabric options: 7
Lead time: 8 - 10 weeks
Reasons to buy
+Slimline form eliminates bulk+Aniline leather weathers well with age+Modular form offers multiple configurations
Designed by Damian Williamson for Zanotta, this contemporary leather sofa defies its minimalist silhouette and maximizes comfort via luxurious goose-down filled seating and backrests. 
We're big fans of the modular set-up that allows for easy layout configuration, including a connecting walnut shelf unit that makes the perfect resting place for an evening's aperitif.
Upholstered in aniline leather - dyed with soluble dyes that retain the hide's natural surface variation - the sofa's patina will only get richer with time and use. What better excuse for putting your feet up.
9. Loaf Souffle Sofa
Best for sofa-slouching and easy colour matching
Specifications
Size: W163cm x H83 x D107
Seat height: 40cm
Fabric options: 156
Lead time: 10 - 12 weeks
Reasons to buy
+Handmade in Britain+Huge range of fabrics and colours+Multiple size options, armchairs and footstools to mix or match
If you've been struggling to find upholstery in the exact shade to suit a scheme, then Loaf's multitudinous fabric and colour options may well be a sight for sore eyes. 
Along with a wide range of 156 colour and fabric variations, Loaf offers multiple sofa shapes, styles and sizes to choose from. Handily you can also specify relaxed-fit loose covers; so if your decor changes, so can your upholstery.  
We especially like the Souffle sofa shape for classic period elegance built with modern comfort in mind. However, ample padding and generous seats make all of Loaf's sofa options seriously comfortable, and, when circumstances allow, trying-before-buying is particularly easy with several Loaf 'shacks' across the UK.
Handcrafted in Britain using solid timber that is 'glued and screwed the old-fashioned way', there is good reason the ubiquitous Loaf sofa is so well-loved. 
10. MENU Eave Dining Sofa
Best sofa for a Michelin-worthy dining space
Specifications
Size: W165 x H79 x D75cm
Fabric options: 2
Lead time: 12 - 14 weeks
Reasons to buy
+ Add style and comfort to the dining area in one fell swoop
If lockdown has meant you've been pining for your favourite dining experience, then MENU's Eave dining sofa might just lull you into feeling a Michelin-starred entree is about to arrive. 
The architecture-inspired banquette fuses sofa and bench to bring functional comfort and gentle minimalism to the dining table. 
Available in a neutral caramel-yellow named Sacho Moss, or the imagination-stirring pale green Hot Madison Reloaded, MENU's Eave seating proves sofas aren't just for the living room.
11. Sofa.com Oscar Chesterfield Sofa
Best Chesterfield sofa for classic yet contemporary styling
Specifications
Size: H87 x W269 x D101cm
Seat height: 58cm
Fabric options: 100+
Lead time: 8 - 10 weeks
Reasons to buy
+Classic Chesterfield design+Good range of seat options+Great range of upholstery choices
A modern twist on the traditional Chesterfield sofa, the Oscar four-seater sofa from Sofa.com is the perfect way to add some heritage character to a contemporary home or bring a period property bang up-to-date. 
The versatile collection of sizes available - from compact two-seater through three, three-and-a-half and four-seater - make tailoring the fit to tricky bay windows particularly easy, whilst the strong selection of fabric options allow you to play safe or go bold.
The hand tufting rolled arms and elegant turned legs are also echoed in a compact loveseat that's the perfect finishing touch for a dashing drawing room.
12. Jonathan Adler Ether Cloud Settee
Best statement sofa for bringing joy to your interior
Specifications
Size: H97 x W177 x D99cm
Seat height: 38cm
Fabric options: 1
Lead time: 10-14 working days
Reasons to buy
+Fun, statement design
Designed by Jonathan Adler to bring a little piece of heaven to the lounge, the Ether Settee will have your guests fighting over who gets to sit pretty in the clouds. 
Ivory bouclé, a lozenge-shaped form and tapered stiletto legs that appear to make the sofa float high off the ground create a fun and ethereal mix that brings Adler's trademark joyful humour and theatrical glamour to the interior.
---
How to buy a sofa online
Quick, convenient, and without the hassle of schlepping around the shops, increasing numbers of us are now turning to online platforms to source homeware and furniture that we previously might have bought only offline. 
But what should you know before buying a sofa online? Well, as with any major purchase, it pays to do as much homework as possible before clicking that buy now button. In particular, you might want to:
- Order fabric samples of your favourite upholstery to test with other elements of an interior scheme 
- Take advantage of online video consultations to get expert advice from the retailer 
- Check your measurements, and then check them again! As well as width, make sure to take into account the sofa's height, especially if it needs to fit under any existing architectural details like a windowsill or picture rail, and remember to consider the sofa's depth to ensure there's still plenty of room to walk and move around it. Marking out the dimensions with masking tape is an easy way to try and get a sense of scale.
- Also consider access dimensions. If you have a narrow entranceway, awkwardly shaped hallway, or need to negotiate a staircase, then measuring up to ensure your sofa bed will fit through any tricky access points will save a lot of stress on delivery day. A sectional sofa that's crafted in several parts and can be configured in situ is always a good option for builds with difficult access. 
Amy's eye for colour, form and composition was honed in the design studio, creating prints for the interiors industry whilst studying textile design at Winchester School of Art. Here she developed her knowledge of key design principles and gained a deeper understanding of how a space can influence our sense of wellbeing, the ways we respond to our environment, and what we deem to be of value.
Amy's own style is considered, contemporary and timeless, with a strong interest in contemporary craft and homewares that champion collaboration between traditional makers and innovative technologies. A belief that design must exist in balance with the natural world fuels her interest in exploring sustainable, circular, and regenerative design processes and underpins her passion for natural materials and responsible craftsmanship.
When she's not writing about interior design or sourcing the latest homewares for Livingetc, Amy is most often found deliberating over the perfect shade of white paint, adding to her ever-growing plant collection, or printmaking in her home studio.