How to buy furniture sustainably – top tips on sourcing sustainable furniture, from upcycling to buying new
Looking to update your homeware but still be friendly to the planet? Read our guide for everything you need to know about how to buy furniture sustainably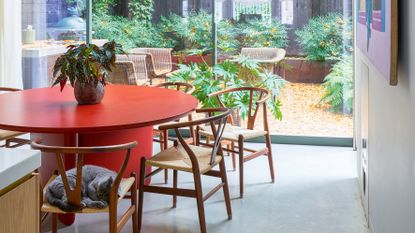 (Image credit: James Merrell)
Sustainability is the furniture trend that is here to stay, but knowing where to start can be tricky. Which materials are sustainable? Where can I buy eco-friendly furniture? Should I be buying anything at all?
'Sustainable furniture is all about what material is being used, how the pieces are manufactured and how they are transported and delivered,' explains Kelly Collins, head of creative at sustainable sofa company, Swyft.
'When something is sustainable it typically means that the materials have been previously recycled and have been given a new life as furniture, or materials that are renewable and can be regrown easily,' says Collins. 'It also means that the manufacturing process is as environmentally-friendly as possible and doesn't produce a high carbon-emission.'
There's a lot to consider when it comes to sustainable living, but to make things more straightforward, we've created a comprehensive guide on how to shop for furniture sustainably, whether that's by upcycling your old furniture or buying brand new from responsible brands.
How to buy furniture sustainably – everything you need to know to ensure your new furniture is sustainable
'For those wanting to lead a more eco-conscious lifestyle, one of the hardest things to change and improve on is furniture,' says Kelly Collins of Swyft.
'Large chain stores within the furniture industry often have a high carbon footprint thanks to the manufacturing processes. But, the majority are trying to move in the right direction and making small changes wherever possible to become more eco-friendly,' Collins says.
If you are struggling to find the furniture you need down second-hand avenues, or you're not ready to jump into the upcycling deep end just yet, here's everything you need to know to ensure the new furniture you purchase is as sustainable as it can be.
Purchase furniture made with sustainable materials
'Making furniture out of natural materials, or materials that can be recycled or are recycled already, are the most sustainable,' says Daisy Brazil, co-founder of eco-conscious furniture company, Planted. 'Our sofas and chairs are made from FSC beech frames, rubberized coconut husk foam (rubberized with latex, which is a natural product), then layers of wool and cotton.'
'Looking at what things are made from is the most important. Keep plastics and chemicals out of your home by checking the information on items,' she recommends.
'Wood is one of the most sustainable materials to use for furniture and is a popular choice amongst homeowners,' adds Kelly Collins. 'It absorbs carbon dioxide which lowers the overall carbon footprint. It's perfect for naturally retaining heat meaning you'll need less energy to warm your home. It's durable and can last a very long time. It can be reused and recycled easily.'
Look for durable construction and design
'Ensure the design, materials and the construction is durable so it'll less likely need replacing,' recommends Kelly.
For the best results, shop in-person, suggests Dave Sadler of JB Furniture: 'Shopping online can make it harder to make an educated decision as often one can be slightly misled at the quality of the products they are purchasing.'
'Furniture products should be built to last and consumers should be shopping with that in mind,' says Dave. 'There is no better example than the furniture trade, where you can often find products that are designed to last a very short period, versus well designed, well-built products that will last a lifetime.'
Choose furniture that can be recycled
'Think long term,' recommends James Barker, managing director of Barker and Stonehouse. 'Products such as mattresses have a natural lifespan between 7-10 years so before buying one, it's worth considering how easily it can be recycled at the end of its life.
Each year, more than 7 million mattresses were sent are landfill in the UK. 'It is a staggering number as mattresses are full of components, such as steel springs, that can be recycled very easily,' says Barker.
Before you purchase your furniture, check with the retailer for the recycling options that they offer. Barker and Stonehouse, for example, collect old mattresses to be fully recycled and there are plenty of brands now offering similar schemes.
Or pick furniture that's made from recycled materials
'Salvaging materials and forging unique designs from landfill-bound items is one of the most sustainable choices we can make,' says Barker.
Brand new furniture made from recycled materials is a great mid-point if you are looking for a new furniture option that isn't harsh on the planet.
'By using recycled materials we reduce the impact of waste on the natural environment, reduce the need to consume natural resources and the impact of extracting those resources,' explains Monika Lubkowska-Jones, creative director of leading glassware brand LSA International.
'We have been making recycled glass available in our collection for some years now, but I think we are all becoming more acutely aware of the need to recycle and to buy products made of recycled materials and those that will stand the test of time.'
Pick a furniture designer who cares about sustainability
Greenwashing is a word we hear banded about a lot at the moment – it is the branding of something as eco-friendly when, in reality, it is unsustainable. So it's really important to have trust in the designers and stores to you are buying from and check the credentials closely. Do your own research too.
'Always look for credentials backing up so-say green and sustainable claims, as opposed to sweeping or wishy-washy statements about where furniture is from or how it is made,' recommends Daisy Brazil. 'You want the cold hard facts here, which a truly eco company would have no problem openly giving you.'
Another marker of durable (and thereby sustainable) furniture is a guarantee: 'Many premium quality, well-built items with quality workmanship will be offered with longer guarantees than the standard we come to expect online,' Sadler points out.
'It's also worth considering the carbon footprint of the furniture that you are buying,' Barker adds. 'How far has it had to travel to reach you? We're incredibly lucky to have a wealth of brilliant furniture makers on our doorstep here in the UK and the environmental impact of 'buying local' shouldn't be underestimated.'
Furniture designer Jonathan Thomas suggests that sustainability starts with the designer: 'In a world of rare resources, of finite materials, modern craft and the luxury sector needs to encompass a more sustainable approach to the use of materials.'
'I believe the role of a designer in creating a sustainable future is to solve the problem for the end consumer by designing products that meet their needs and those of the environment,' adds Monika Lubkowska-Jones. 'To consider all design in terms of functionality, longevity, materials, and packaging, ultimately producing products that have an intrinsic and lasting value.'
Dave Sadler adds: 'Retailers and manufacturers conscious about sustainability will try to find ways to use recycled materials and eco-friendly materials when producing their products.' You should also look for a company's 'sustainability story', which will 'often be communicated on their website.'
Purchase from local, small-scale producers
'If you're wanting to buy new then we'd suggest avoiding the big chains and shopping in local, independent places as they are much more likely to be eco-conscious,' says Kelly Collins.
'Don't be afraid to ask questions such as if they are FSC certified, what materials and finishes are used, and how they produce the products, to ensure you're getting something as sustainable as possible,' Kelly recommends.
'It's a shame that factory-produced furniture which includes all the nasties, and badly made frames, are so much cheaper,' says Daisy Brazil. 'We see high street furniture coming to be reupholstered after six months.
'Making conscious choices to have better-made, sustainable furniture in your home is an investment,' she says. 'You should only have to buy one sofa in your lifetime!'
Eco flooring - the 11 best and most beautiful materials explained
How to buy furniture sustainably – the second-hand options
'As the interiors market continues to grow, fast homeware's impact on the environment is becoming an increasingly prominent issue,' says Hannah Rouch, CMO of resale site, Gumtree. 'Without a doubt, one of the best ways individuals can minimize their personal footprint is to embrace the circular economy.'
Read on for tips on how to embrace the circular economy when shopping sustainably for furniture.
Get your friends and family involved
'Before heading to the shops to look for sustainable furniture for your home, first check with your friends and family to see if there's anything they're looking to sell or get rid of,' recommends Kelly Collins.
'You may find some real, cost-effective gems this way and you'll be doing your part in helping the planet by reusing, upcycling and prolonging the life of existing products rather than taking them to the tip,' says Collins.
Shop second-hand for furniture
'Shopping for vintage or pre-owned pieces prevents deforestation and unnecessary manufacture,' says Daphne Vassiliades, co-founder of designer furniture resale site, REHAUS.
'Not only are our customers reducing their carbon footprints by keeping designer furniture in circulation and out of landfill, but the result is a home that changes organically over time, laden with style and personality,' says Vassiliades.
You can shop second-hand online – on sites like REHAUS, Gumtree, eBay, or even Facebook Marketplace – or in person at dedicated second-hand stores, vintage markets, or charity shops.
'I would encourage everybody to look to their local charity shops with an open and creative eye, rather than purchasing brand new,' says paint expert, Annie Sloan. 'There's a much greater sense of satisfaction in making your house a home in this way.'
'Look for furniture on eBay, or social media that you love the shape of, and then get in touch with a local upholsterer to see how you can transform it into something unique for you,' suggests Daisy Brazil.
Upcycle old furniture instead of buying new
'Having successfully evolved beyond its less than desirable shabby chic associations, upcycling is fast becoming the most popular environmentally supportive craft of the 21st century,' says Chris Billinghurst, founder of the House of Upcycling.
'It's key to start small and hone your upcycling skills along the way,' Billinghurst recommends. 'Follow the professionals on social media for inspiration and consider signing-up to one of their online or in-person workshops.'
'Give furniture pieces a new life by revarnishing them, or painting them an on-trend color like sage green,' recommends James Partridge of eco-friendly store, Greenshop. 'A new color of wood stain or paint can transform an item: a darker varnish will bring a warmer feel, while a pale color like white or sky blue will introduce a lighter atmosphere into the room.
'You should use environmentally friendly paints, primers, and wood stains,' Partridge suggests. 'Try to look for products that are solvent-free and water-based.'
The Livingetc newsletter is your shortcut to the now and the next in home design. Subscribe today to receive a stunning free 200-page book of the best homes from around the world.
Olivia Emily is one of the most exciting new talents in consumer lifestyle journalism. Currently finishing off a Masters in Journalism at the City University, London, she has quickly proved herself at being adept on reporting on new interiors trends. A regular contributor to Livingetc, she is brilliant at being able to decode information for our audience.