Bathroom Colour Ideas: 24 Chic & Stylish Paint Colours For Your Bathroom
These bathroom colour ideas range from spa-inspired muted tones to bold, dramatic hues that work.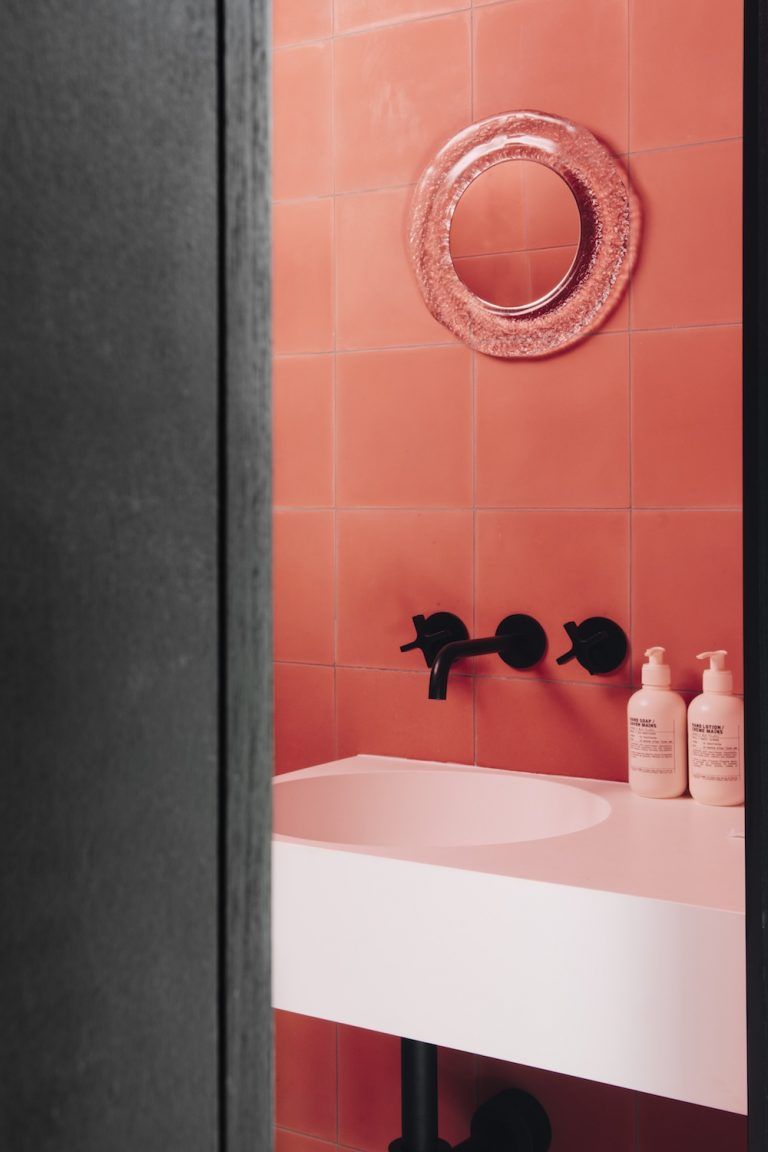 (Image credit: Lauren Bamford)
Looking for bathroom colour ideas? These interior-designed spaces illustrate how to incorporate a little colour into your modern bathroom, whether that's playing it safe with soft greys, blues and greens, going for a modern look with a monochrome scheme, or going all-out with rich pigment.
While we're big fans of spa bathrooms, and muted, zen-like spaces with stoney colours (or pastels at a push), sometimes it pays to be brave.
Just like in the rest of the home, grey is always a safe and popular choice, with dark greys creating more dramatic looks and soft greys being a more neutral choice.
Even blues can create entirely different moods and atmospheres, with sky blues perfect for family bathrooms, while the dark navy and smokey blues are mostly reserved for stylish master ensuites.
Can't decide on just one colour? Some bathrooms have gone half and half; with bathroom tiles leading halfway up the walls, and a flash of colour above.
And then there's painted bathroom ceilings too! Amongst these bathrooms you'll find a Tiffany Blue painted ceiling and even a zesty green painted ceiling, proving that you can be brave with colour choices too. Either way, there's plenty of inspiration whatever your bathroom style.
There's even a baby pink painted bathroom, lilac bathroom and plum coloured bathroom, as well as a bright turquoise bathroom space. Or how about a vibrant coral, for an energised and uplifting space? There are bathroom colour ideas here for everyone.
1. On-trend pink
Pink bathrooms are one of this year's biggest bathroom trends, and we're seeing a lot more pink bathroom inspiration popping up in our most recent Modern Homes.
A fresh lick of paint is the most obvious way to introduce pink in the bathroom. Most paint brands are onto it with trend driven colour palettes and we've seen a beautiful spectrum of grown-up pinks ranging from the palest calamine to those with earthy red pigments from Farrow & Ball, Little Greene, Earthborn, Annie Sloan and Benjamin Moore, to name just a few.
Of course tadelact – or polished plaster – is another way to bring a beautiful earthy pink pigment into your bathroom or shower area. And there are professional firms who can apply it for you and ensure it's waterproof.
There's also a wonderful array of pink tiles on the market. This gives the opportunity to incorporate two trends at the same time. There are chevron shapes from Topps Tiles, fish scale styles at Otto Tiles & Design and the ever-popular hexagonal Lily Pad tiles at Tiles Direct - all in gorgeous shades of pink.
Rather than tile an entire wall or floor, if you're just after a splash of pink or a nod the the trend, think about a tiled splashback next to basin or bath – or in a shower room.
2. Go for a timeless grey
A grey bathroom scheme is always a safe and popular choice, with dark greys creating more dramatic looks and soft greys being a more neutral choice.
A medium grey in this bathroom is warmed up by a parquet wood floor. This room is all about the materials – the Arabescato marble contrasting with the dark walls, parquet flooring and nickel fittings.
A countertop basin and floating vanity add to the modern look of this grey bathroom. Brass lighting, fixtures and fittings add warmth and a dose of modern glamour.
This luxurious space offers a peaceful retreat. The walls are not actually concrete but a painted plaster effect.
See Also: Concrete Bathroom Ideas
And finally, paint doesn't have to go floor-to-ceiling; tile the bathroom half-way up to create a waterproof barrier, then choose a grey paint for the walls above.
3. Go dark
For a grown-up, chic and sultry look, dive in with a dark shade.
Charcoal walls look very chic in this grown-up bathroom. Premium bathroom fittings combined with personal elements create a bathing zone that's both cosy and luxe.
4. Soft Greens
A soft green shade like a dusty sage can create a restful, spa-inspired bathroom vibe.
In the bathing space below, delicate foliage complements the natural, pared-back scheme.
The soft, dusty pistacchio shade below is a lovely colour to start the day with. The colour has a sort of historic feel to it, as it was very prevalent in 18th century bathrooms.
5. Grey green
The below darker green colour palette might seem bold, but it actually creates a very restful and indulgent scheme.
6. Sky Blues
Soft blue walls set the tone for a calming bathroom space below.
Or use sky blue as an accent. Here, a strip of colour above the tiles helps to lift this space to prevent it feeling too stern.
A warmer shade was chosen to accent the master ensuite bathroom in this glamorous South Kensington apartment.
7. Mid blues
A serene blue shade creates a lovely backdrop for this master bathroom below.
A darker mid blue was chosen for this small bathroom below.
The cute bathtub is from a restoration yard and the perfect fit for this bijou space.
8. Coral
The main bathroom in this modern Hobart home in Australia offers a flash of bright, contrasting colour with coral tiles.
9. Earthy Tones
An earthy shade with painted skirting gives this bathroom a decadent, country hotel vibe.
10. Smokey Blue
A smokey blue shade feels very grown up, especially when combined with a very sophisticated vanity and crittall-style accents. White ceilings, skirting and window frames keep it fresh.
Instead of painting the walls, here the bathroom has been framed with colour, with the blue shade spilling out over the ceiling as well. Picking out the blue from the stand-out floor tiles and using it on the walls and ceiling gives a lovely cocooning feel.
11. Vibrant greens
This funky bathroom makes grey Mondays a lot easier!
Green tiles can also inject vibrant energy. Tile bathrooms halfway up the wall and leave the rest white for a fresh look, or tile all-over for a striking wet room.
These green bathroom tiles add a flash of colour to this asymmetric, broken-plan home in Hackney.
12. Monochrome scheme
A wet room finish makes the most of this space, and the black and white bathroom scheme gives it a modern, urban edge.
Meanwhile, black taps and brassware punch through the all-white scheme below, giving a slice of drama to this classic and beautiful design.
Metro tiled bathrooms continue to be a popular choice. A black freestanding bath and complementing window frame add a fresh contrast.
Or add black accents through Crittall doors and a Crittall-style shower screen.
13. Lilac and lavender
All-over lilac floods this bathroom below in a soft lilac glow. A luxe freestanding bath invites everyday indulgence.
14. Navy blue accents
Navy blue walls match the bathtub in this grown-up space, but the marble tiles in the shower stop the space from feeling too dark.
Designer Beata Heuman used glossy navy blue tiles in this West London townhouse's bathroom below, but a white ceiling and playful accents keep the mood light.
15. Polished plaster
The polished-plaster walls in a deep-sea blue really up the ante in here. Blue is such a flattering colour and also very relaxing.
16. Burgundy
Fashion designer Alice Temperley chose this unusual burgundy choice for her bathroom walls in her Edwardian mansion in Somerset.
17. Plum
Punchy purple walls add pizazz to rustic wood.
18. All-over black
This smart, small bathroom space is covered head to toe in tiny black chevron bathroom wall tiles, giving it a cool hotel bathroom look.
The enveloping black painted backdrop below is relieved by splashes of green foliage and black and white floor tiles.
Black walls can make a bathroom feel more cosy and intimate.
The cloakroom / powder room below was painted in black gloss for a dramatic look.
19. Turquoise
Turquoise is a gender-neutral colour, which makes it perfect for this childrens' bathroom.
20. Cyan
This bathroom palette is drawn from a mixture of blues, including cobalts and azures.
21. Brown
Brown is an unusual paint colour choice, but designer Jonathan Adler chose it for the ceiling in his Greenwich Village home's bathroom.
22. Grass green
A plain white bathroom is given a lift thanks to a bright green ceiling shade that pops.
23. Paint Effects
Paint doesn't have to be one-dimensional. Here a blend of colours creates an artistic and layered effect. See more paint effect ideas...
24. Neon Glow
The hot pink shower space in designer Harriet Anstruther's London home isn't actually painted; the bright pink shade is all down to the neon lighting in the ceiling.
What colour is best for bathrooms?
When planning a modern bathroom scheme, go bold but don't go overboard. Create harmony by connecting the colours to the decor in the rest of the house and for best results stick to a limited palette or use colours with a neutral base, introducing them through feature walls or floors, furniture or accessories likes taps and towels.
Rachel Martin, merchandising director at bathroom retailer C.P. Hart says that we're currently seeing a kaleidoscope of colours in bathroom trends. "This year we're noticing powerful water-inspired blues and greens revitalising bathroom schemes, as well as earthy neutrals, muted pastels and pop colours such as pink and yellow. In fact, there's never been a better time to escape the restraints of minimalism and have a little bit of fun with bathroom design."
Termed the 'new neutral' a few years ago, blush pink is also a modern choice for bathrooms, as Russell Whitehead and Jordan Cluroe of 2LG Studio explain, "Pink bathrooms are still a stunning and will not go out of fashion because it's a wonderful base colour – it's calming, warm and soothing. Pair it with bold blues or reds for an energising space that makes your morning exciting or keep it calm with soft greys and white for a relaxing bath at the end of the day."
Despite the sway towards colour, the heyday of grey is far from over. "People want to bring more colour into bathrooms but they are still using a neutral as a base on say the floor or half of the wall to ensure the room isn't taken over by colour," says Amanda Telford, marketing manager at CTD Tiles. "Grey is one of the most versatile choices – you can pair with other neutral tones or you can use it as a neutral base to play with colour."
Black and white bathrooms are also still a perennial favourite, though this year the striking schemes are softened with the addition of tonal shades and texture for depth. "The monochrome trend has evolved from the high contrast bathrooms seen in previous years and now features a combination of whites, blacks and greys for a warmer feel," says Helen Jones of Ripples Bathrooms. "Textures like slate and wood also create this muted undertone."
Lotte is the Digital Editor for Livingetc, and has been with the website since its launch. She has a background in online journalism and writing for SEO, with previous editor roles at Good Living, Good Housekeeping, Country & Townhouse, and BBC Good Food among others, as well as her own successful interiors blog. When she's not busy writing or tracking analytics, she's doing up houses, two of which have features in interior design magazines. She's just finished doing up her house in Wimbledon, and is eyeing up Bath for her next project.