This apartment next to London's Hyde Park showcases the best aspects of biophilic design
The natural and bright London home is a fine example of decorating with nature in mind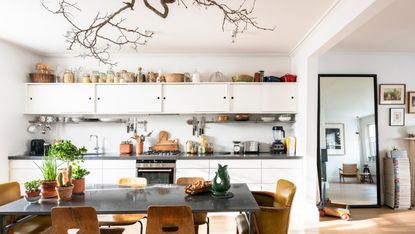 (Image credit: The Modern House)
This stunning apartment in London's Hyde Park area showcases just how much can be achieved by maximising natural light and sticking to natural materials and colour schemes. The biophilic design trend has been highlighting the importance of making our indoor spaces more harmonious with the natural environment – and this modern home exemplifies the benefits.
Located minutes away from Hyde Park and Connaught Village, the apartment has the advantage of many Victorian homes – tall ceilings and large windows. The thoughtful interior redesign makes the absolute most of the natural light and plays with the idea of the space having a conversation with the tree-lined streets outside.
The open-plan kitchen has a striking and unique feature – a tree branch suspended from the ceiling. The effect is graphic and simultaneously whimsical, a piece of London amid the contemporary decor.
Find more modern kitchen ideas in our gallery
The current owners have a keen eye for restrained detail and a considered, minimalist use of high-end materials such as oak wood flooring, natural stone, and polished concrete. The Mid-century furniture complements these choices and helps maintain a natural palette. One of the main principles of biophilic design is the extensive use of natural finishes and colours, and this apartment uses them flawlessly.
The colour green is another staple of nature-inspired design. It's one of the most popular colours at the moment, with lots of new research highlighting how beneficial using green in the home is for our health and wellbeing. The Hyde Park apartment works with playful inserts of green rather than whole green room schemes. These are clever and restrained nods to the trend that add a freshness to the interior design scheme. The zingy apple green shade in one of the bedrooms is particularly inspired, but there are also accents in cooler sage greens.
Want to attempt a similar design? Explore the best green paint in our guide.
A home office area is a must-have addition to any pandemic-era home, and this apartment offers a casual, alcove office solution that offers just enough privacy within the otherwise open-plan scheme. Like other area of the apartment, it is drenched in natural light – essential to working productively.
Explore more home office ideas in our gallery.
The overall scheme is so modern that it's easy to forget that this is a Victorian home, but the original marble fireplace is a handsome reminder of the building's heritage.
Want to know more about biophlic design? Explore biophilic design ideas in our guide.
The Strathearn Place aparment is on sale by The Modern House. It's within minutes' walk of The Serpentine Lido, The Italian Gardens at Hyde Park, and the fashionable shops of Connaught Village.
Anna is a professional writer with many years' experience. She has special interests in architecture, photography, and high-end interior design. Her work has appeared in Homes & Gardens, Gardeningetc, and many other publications.