Explore a Kensington apartment full of personality and charm
Bursting with sophisticated colour, the beautiful Kensington apartment of Deian Rhys is full of modern home decor ideas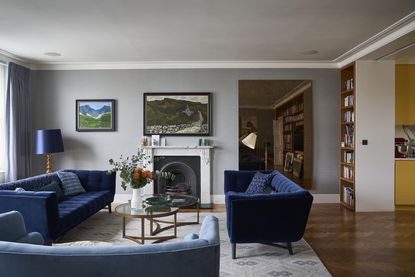 (Image credit: James Merrell)
THE PROPERTY
A two-level Kensington apartment on the top floor of a Victorian terraced house in south west London. The ground floor of this modern home (opens in new tab) comprises of a hallway, kitchen, sitting room, study and shower room. On the first floor, there is the master bedroom with dressing room and ensuite, guest bedroom and ensuite, laundry room and the central courtyard.
See Also: See how a small Victorian terrace has been tastefully extended into a modern family home
(opens in new tab)
KITCHEN AREA
When planning the apartment, it was important to achieve a fluid feel to the living space with interwoven rooms blending together. 'We had a strong idea of how we wanted it all to look,' continues Deian, 'The open-plan aspect makes the flat feel extremely sociable. I can be cooking in the kitchen while talking to someone in the sitting room. We also wanted a mid-century (opens in new tab) feel with the furnishings, from the muted yellow kitchen – which incidentally was inspired by a story in a past Livingetc – to the accessories we have chosen. Plus, a lot of natural wood everywhere adds a cosy finish.'
A mid-century (opens in new tab) feel to the kitchen and dining room was achieved with muted yellow units, vintage furniture and a classic marble splashback.
Kitchen units, bespoke. For similar marble splashback, VictoriaPlum (opens in new tab). Kitchen table, The Conran Shop (opens in new tab). Chairs vintage 1960 design. Lights (over table) Foscarini (opens in new tab).
See also: Stylish storage solutions and cool colours define this London apartment
(opens in new tab)
LIVING AREA
There is always much laughter in this home, and it's not unusual to find Euan and Deian gathered with friends in a corner of the living room, where a beautiful teak cabinet sits, adorned with various bottles of spirits, just waiting for Euan to mix everyone a cocktail. The piano is tuned ready, and a selection of random vintage portraits of women ('Why women? Because we love women!') observe from the wall. "This home has taken dedication,' acknowledges Deian, 'But we both agree it's absolutely been worth it.'
See Also: Living room ideas: 24 decorating tricks to inspire (opens in new tab)
'We had a ton of scaffolding running up the outside of the building so we could transport heavy materials like granite blocks and even, eventually, the grand piano!,' reveals Euan. 'Because it's such an old house, once we started the project, we discovered loads of problems we couldn't have foreseen, like old chimney flues in places where we'd planned to add structural steel supports. One time our builder yanked on an old electrical wire and it suddenly popped out of the newly decorated wall of the flat downstairs.'
See Also: Modern home decorating ideas: 18 striking design ideas worth copying (opens in new tab)
MASTER BEDROOM
Light streams into this master bedroom (opens in new tab) through the floor to ceiling sliding glass doors. The natural wood everywhere creates a sense of warmth and comfort.
Rug, John Lewis (opens in new tab). For similar bed linen, The White Company (opens in new tab).
See Also: Four Poster Bed Inspiration (opens in new tab) and Gorgeous Master Bedroom Ideas (opens in new tab)
GUEST BEDROOM
With undertones of earthy green used here, the feeling of being at one with nature in this home continues.
For similar blanket, Melin Tregwynt (opens in new tab).
See Also: Modern Bedroom Ideas (opens in new tab)
Shining a spotlight on the now and the next in home design and decor, Livingetc is the UK's best selling high end and contemporary home design magazine. As a brand, Livingetc showcases the world's very best homes, breaks and makes the trends, and has access to leading international designers for insight and ideas. It was first published in 1998, and is currently edited by Pip Rich.