Stylish storage solutions and cool colours define this London apartment
Stylish storage solutions and cool colours are key in this open-plan child-friendly family home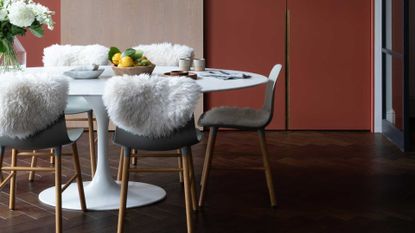 (Image credit: Paul Craig)
THE PROPERTY
A two-storey apartment in a five-floor Victorian mansion block in west London. The ground floor has a living room, family room, kitchen-dining room, plus cloakroom. The lower ground floor has four bedrooms and four bathrooms – three of which are en suite – plus a utility room.
The owners of this elegant modern home did the opposite of what people usually do. They moved their young family from outside London to the centre of the city. Keen to live within walking distance of the kids' school and to see if urban life would suit, they began by renting a flat for a year.
It was an experiment that worked. The flat has very high ceilings – about 4.5m – with huge windows, so the feeling of light and space is amazing. The couple also love that their garden and proximity to London's beautiful parks adds to the child-friendly feel of the location.
So when, after their year of renting, the flat came up for sale, they moved swiftly to buy it and began a renovation to make it more suited to their style.
HALLWAY
A light space with tall ceilings, timeless parquet flooring and Crittall-style doors lead you into the living room.
DINING AREA
Initially, the couple just wanted to make a few cosmetic changes, because everything had been decorated in beige, as well as add new flooring and underfloor heating, but then it started to grow.
Working with interior designer Sarah Ellison of Frank & Faber, the couple were inspired to take away the wall between the kitchen and dining room to make the space feel more open.
It was a load-bearing wall, so they had to put in structural steels to support the floors above – but once they had started with structural changes they kept on going.
Floor-to-ceiling cupboards mean there is a place for everything. The Arrangements 15B suspension light designed by Michael Anastassiades is a show-stopping addition.
See Also: Striking hallway floor ideas
KITCHEN
After living with all that soulless beige, the owners wanted to bring in some bursts of bold colour, which they felt would work well in such large rooms.
The size of the wood kitchen is almost the same as before, but taking out the wall that divided it from the dining room makes it feel so much larger,
The couple also wanted an easy-to-maintain home with lots of kitchen storage – open plan only works if there is a place for everything, down to where to keep the vacuum cleaner and the husband's climbing equipment.
As a result, there are storage solutions in every room, including tall cupboards that make the most of the high ceilings and even a built-in pegboard for hanging climbing ropes, tucked in a cupboard under the stairs.
LIVING ROOM
Interior designer, Sarah encouraged the couple to restore original features, including bringing the classic marble fireplace in the living room back to life and adding cornicework in a style true to 1865 when the property was built.
The denim colour of the ceiling highlights the grand height of the room.
Combined with mid-century modern finds and clean-lined contemporary pieces, the individual mix of old and new is stylish and characterful, while layers of cosy texture and robust materials ensure it works well when three children and a muddy dog tramp back from a winter's morning in the park
See Also: Moody Blue Living Room Ideas
MASTER BEDROOM
The mix of dark colours and soft textures feels cocooning.
MASTER ENSUITE
A fumed oak vanity unit was made to match the flooring.
SHOWER AREA
The rich colours and materials continue in the shower area.
CLOAKROOM
The colourful wallpaper, from a 1918 watercolour drawing by C.F.A Voysey, and brass accents make even a small space pack a punch.
See Also: Cloakroom and powder room ideas: small spaces, big patterns

See more modern homes
Shining a spotlight on the now and the next in home design and decor, Livingetc is the UK's best selling high end and contemporary home design magazine. As a brand, Livingetc showcases the world's very best homes, breaks and makes the trends, and has access to leading international designers for insight and ideas. It was first published in 1998, and is currently edited by Pip Rich.