Cream kitchen ideas – light and lovely spaces that prove beige is back
Classic and chic, these cream kitchen Ideas are anything but ordinary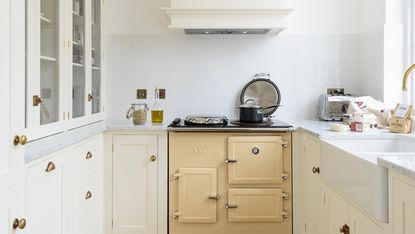 (Image credit: deVOL)
The Livingetc Newsletter
For style leaders and design lovers.
Thank you for signing up to LivingEtc. You will receive a verification email shortly.
There was a problem. Please refresh the page and try again.
Beige is back and it's had an exciting glow up, as all these beautiful cream kitchen ideas prove. Chic, soothing and so adaptable you can make it work with any style.
A great way to create a design that is spacious and full of light, with a warm tone and a homely feel, cream is a classic option for areas used for family gatherings and socializing. A well-loved choice for interior designers, cream kitchens have a timeless appeal that will look stylish for many years to come. Plus it can look wonderful as part of a neutral palette, but equally, you can bring in bolder and brighter hues and use cream as your calming backdrop.
From elegant, just-off-whites, like ivory, chalk, and alabaster, to grey-creams, such as taupe and stone, and more earthy shades, like linen - take a look at our deliciously creamy cream kitchen color ideas.
10 inspiring cream kitchen ideas that are far from bland
1. Go chic in monochrome
This elegant cream and marble kitchen is a classic example of how to weave in a monochrome palette that doesn't have to feel overpowering. Here cream is used as the primary shade with black hardware, taps, and a striking marble backsplash which adds depth and a touch of drama.

'This serene and calm bespoke kitchen is hand-painted in Farrow and Ball Moles Breath with a beautiful African Fusion worktop and splashback,' explains Jane Powell, Designer at Roundhouse. 'This is a bright and open plan space with lots of clever kitchen storage and state-of-the-art Gaggenau appliances. The kitchen design reflects the period architecture of the building.'
2. Elevate the basics with ribbed texture
If you want a neutral kitchen as a backdrop to your interiors but are worried it could feel flat or too ordinary - add texture in the form of ribbed detailing in the cabinetry. This creamy wood kitchen is encased in a contemporary and curved line of cabinets featuring slatted surfaces giving the whole space an architectural look.
The relatively simple cabinets would also work well as a statement-making contrast in more traditional settings. The cabinets are painted on the cooler side of the color spectrum - an elegant creamy grey that works well with the monochrome marble backsplash.
3. A neutral base for an eclectic kitchen
This eclectic farmhouse kitchen in by Plain English is a wonderfully layered mix of cream tones that look striking in this long run of galley kitchen cabinets. Combining a farmhouse aesthetic with contemporary design, the latte-hued cabinets have modern silhouettes and minimal paneling styles but incorporate traditional storytelling with aged shell handles and frothy neutral paneled walls with white wall surround and ceilings.
Industrial wall lights and open shelves decorated with pottery and paintings give the effect of a bohemian artist's kitchen.

'A galley layout can be a most efficient layout plan as the chef can 'zig-zag' between the elements and it provides plenty of work surface,' says Adrian Bergman, Design Manager at British Standard by Plain English. 'A drawback can be if the kitchen is also a main corridor in which case it can be dangerous to carry hot pans across a space when people are walking past.'
4. Combine cream cabinets with wood
This Scandinavian kitchen idea incorporates sleek cream cabinets and natural wood grain into the elements of a modern kitchen through raw wood handles and semi-clad cabinets. The grey walls give all those softer hues a slight edge and prove that cooler tones can work in a cream kitchen without clashing. Just be sure you check the undertones of the grey and cream you go for – for example, a blue-toned grey and a yellow-toned cream should be avoided.
'Here we have married together two different door finishes,' explains Jayne Everett, Design Director of Naked Kitchens. 'Our brushed limed grain oak and our smooth painted cream finish, along with two different handle styles to create interest whilst maintaining the simplicity that is key to a Scandinavian aesthetic.'
5. Layer up the look with wallpaper
A cream palette doesn't have to mean a minimal decorating scheme – we love this kitchen featuring a lightly checked neutral kitchen wallpaper by Swedish brand Borastapeterwhich adds a lovely layer of depth and homeliness to the space.
'Many opt to use bright white in small rooms with the aim of making the room appear larger,' says Judy Smith, Crown Colour Consultant, 'However, light neutrals used in a tonal scheme will have the same effect whilst not appearing too stark. If there is a lot of natural light in a small room then using soft, light tones will make the room feel more spacious. Our colour scales collection is a wonderful solution for creating a light fresh space.'
6. Use creamy stones for a mediterranean look
An off-white stone kitchen pairs well with a cool Meditteranean aesthetic featuring creamy walls, pale wood drawers, and a weighty kitchen island that looks hewn out of rustic greek stone.

'Our Faro White stone represents the white of the Mediterranean and its sun-drenched walls which symbolize simplicity and serenity,' says Laura Davie, Marketing Manager for quartz surface brand Cosentino UK.'A powdered white that gives calm and tranquility to spaces, this color embraces a silky, smooth texture. It pairs well with natural fibers, aged woods, and metals with a matte finish.'
7. Go smart and sleek with handle free cabinets
We love the look of handle-free cabinets in a kitchen and the refined look that a biscuit-hued finish gives to a contemporary space. This smart kitchen by Team 7 incorporates horizontally opening cabinets. The adjoining wall features handmade cream tiles and more sleek cream shelves. The combination of the cream palette and hand-less cabinets makes small rooms appear much larger.
This unusual color is a prime contender to surpass the longstanding classic cream kitchen - a warmer and more contemporary version of the neutral its color wheel leans towards putty hues ranging from barely there to a deep greige.
8. Weave vintage pieces into a cream kitchen
This bohemian kitchen by the seaside offers up a creamy off-white backdrop that's built upon by natural wooden materials, brighter whites, and taupes. The deeper hued contrasts stay within a warm range of coppers and the occasional hit of maroon in the form of vintage textiles and antiques.

'A classic creamy cream, but not yellowy, this is the perfect color for a natural and light-filled kitchen.' says Helen Parker, Creative Director at deVOL. 'It is the easiest of colors to work with and goes perfectly with light and dark worktops, brass or silver fittings, and traditional or contemporary settings. A firm favorite with everyone and sometimes there is nothing more beautiful than keeping it simple.'
9. Add glints of brass detail for warmth
Brass details are a perfect match for creamy kitchens bringing out the warmth and adding slight contrasts to green tones in the hue giving the cream more dimension. This tall and light-filled kitchen by Martin Moore features light, dreamy chalky neutrals, paired with striking marble-effect quartz.
Brushed brass knobs and taps bring contrast and warmth to the kitchen drawing the eye, they are the perfect metallic for this tone of cream.
10. Pair light woods and cream
This light and lovely vintage-inspired cream kitchen from Neptune incorporates a pale wood farmhouse table, and blonde wood floors paired with elegant cream cabinets. All the wooden accessories like chopping boards and are also chosen in a light wood palette. White enamel lights hand overhead finishing off the delicate look.

The airy kitchen also benefits from an L-shaped kitchen layout which opens up the room up and provides more floor space allowing room for a kitchen diner.
'An L-shaped kitchen provides plenty of additional floor space without having to compromise on work-surface space, says Stephanie Nix, Kitchen designer at Neptune. 'In this way, a kitchen table can be incorporated into your room or a breakfast bar or island. With plenty of lower cabinetry for incorporating appliances, opt for wall cabinets or open shelving for crockery, store cupboard essentials, pots, and pans.'
What wall color goes with a cream kitchen?
There is a whole range of creams to choose from – from elegant, just-off-whites, such as ivory, chalk, and alabaster, to gray-creams, such as taupe and stone, and more earthy shades, like linen. Cream kitchens look fabulous as part of a bold kitchen color scheme, too – pale blue to navy, blush pinks, deep greens, grey, white, and even black.
Does grey go with a cream kitchen?
When covering colors that go with grey, cream is up there with all the neutrals. Warm cream cabinetry is an ideal backdrop for sophisticated grey kitchen ideas such as worktops, lights, and accessories.
Choose a shade of grey with warm undertones to help retain the warm qualities of cream, avoiding blue-toned greys. Grey and cream can offer an ideal soothing color combination to create a strong neutral base, avoiding the starkness of brilliant white. Thanks to the undertones in both colors, they work together in unison to add warmth and depth.
For style leaders and design lovers.
Rohini Wahi is Content Editor for Livingetc Online. With a decade-long career in the interiors and design industry working as a journalist for premium lifestyle publications then delving deeper into the business as a trend forecaster, Rohini has amassed a wealth of global design knowledge that informs her work. She loves a period drama and keeps a tidy home.