Bedroom shelving ideas – 10 ways to add storage and style to your space
The right bedroom shelving ideas will not only provide a place for storage but will also bring personality and decor into the room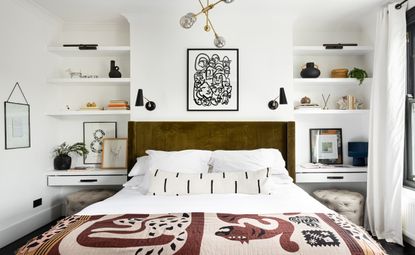 (Image credit: Interior Fox)
The best bedroom shelving ideas will not only provide the perfect spot to display your most aesthetically pleasing books, the house plants you've managed to keep alive, or your ever-growing collection of prints. They will also be functional, add storage as well as style, and potentially even become multifunctional so you could use them as a mini desk or dressing table. Essentially, no matter what size or style of your space, bedroom shelving should work hard.
Shelving can be a real asset to a bedroom, it's just about knowing where to hang them and how to use them effectively. So we have pulled together loads of inspiring bedroom ideas, from how to use shelving when floor space is limited, to maxing out your awkward alcoves.
1. Build bedroom shelving into a headboard
When you envision a wrap-around, built-in headboard, it admittedly conjures images of bulky, 70s-esque designs that are made up of way too many drawers and cupboards, that tower imposingly over the bed. However, as this bedroom shelving idea proves, built-in-furniture can work and really maximize space. The key is to keep it simple and rather than go a solid block of cabinetry above the bed, incorporate shelving instead to break up the storage.
And don't overcrowd these over the bed shelves, in fact, avoid cluttering any shelves in a bedroom as designer Sabrina Albanese says, shelves in bedrooms risk becoming a 'dumping ground. A bedroom is for calm & serenity, visual clutter will take away from that. If you do have a shelf in your bedroom, everything on it should have a purpose, keep it minimal. Don't feel the pressure to fill it up with a bunch of stuff, just because. Less is more here.'
Negative space is key then. Ensure you leave plenty of space between your objects, or collections to prevent that cluttered look so your shelving ideas always feel purposeful and curated.
2. Make your bedroom shelving work harder
Alcove shelving that's purely decorative is a bit of a luxury, those spaces may seem awkward but you can actually transform them into really hardworking, multi-functional areas. Take this really quite small and narrow alcove, sure you could fill it with floating shelves and create a pretty book display, lovely, but if you really want to put that space to good use, turn it into a workspace or a dressing area.
There are plenty of lovely floating desk designs out there that have drawer space, but you could equally just use a floating shelf that's deep enough to be functional. Pick a stool that can neatly tuck under when not in use, mount a wall mirror if you are planning on using it as a dressing space or add more shelves if you want to use it as a small home office. Hey, you could even add doors and turn it into a closet office so you can shut work away at the end of the day.
3. Float a shelf above the bed to add a focal point
The head of the bed is often naturally the focal point of a bedroom, so embrace that and make it even more of a feature wall by adding a shelf above the bed. And don't just have it floating awkwardly in the middle with a sea of wall surrounding, take it either the whole length of the wall or at least ensure you opt for a shelf that's longer than the headboard, it looks far more elegant and pleasing to the eye.
And in terms of what you decorate it with, this isn't about practicality, this is a shelf that's almost purely decorative since it's not like you are going to standing on the bed to reach up for your skincare every night. So be creative. Books are always a good option, instantly adding texture and color. And if you want to keep the texture but into a more neutral color palette, why not embrace the controversial trend of displaying books page side outwards?
As this white bedroom shows houseplants also work wonderfully for adding a pop of subtle color and literally bring life into a minimalist scheme.
4. Group in odd numbers for satisfying shelving
When it comes to styling modern bedroom shelving, our key piece of advice, whatever your style, wherever the shelving is, is to group in odd numbers. The Rule of Three as it's known in interior design is a tried and tested approach that actually has scientific backing. According to the theory, odd numbers take the brain longer to process as there is no obvious pattern, causing the eye to linger more. So for displays that have intrigue and interest, always group in odd numbers.
As Jane Rockett, co-founder of Rockett St George says, 'One of our ultimate style secrets for curating a beautiful shelfie is the use of odd numbers when curating your display. Think in ones, threes, and fives when grouping together treasured objects and ornaments. Whilst a uniformed and symmetrical display with matching numbers looks pleasing to the eye, it can make your home feel too perfect – like a showroom.
'Mix up your display ornaments in odd numbers to keep things interesting and don't be too precious about what makes it into the final display. Sentimental pieces, well-loved books, and quirky ornaments that make you smile, all add character to your shelves and are therefore essential for creating a show-stopping display that is unique to you and your home.'
5. Use a shelf to add surface space to a tiny bedroom
In a tiny bedroom, shelves can be such a lifesaver. Floating shelves take up zero floor space and yet create an instant surface area that you can use for decor and storage. See how in this small bedroom there is literally no floor space for freestanding furniture, so a well-positioned shelf becomes a bedside table, a bookshelf, and an area to add some character to this diddy space.
'If you do have a shelf in a bedroom, only display what is necessary, it should be more functional than anything.' explains Sabrina Albanese. 'A lamp, a beautiful water carafe, a space for a phone charger, a book, a little tray if you have a few smaller items, or a jewelry box to conceal things.' And she also suggests included some closed storage like small baskets or boxes to hide away the essentials that you might not want on display.
6. Add height to room and keep shelving above eye level
Bedroom shelves that are positioned above eye level add a certain elegance to a room, perhaps because they draw the eyes upward creating this allusion of height and loftiness. Just be sure to get all your lines right, and by that we mean consider where the eye will move around the room and how the space will be... taken in. It's so subtle but can make such a difference.
This neutral bedroom is the perfect example of a room with good lines. The bottom of the shelf sits at the same level as the top of the prints, the doors of the built-in wardrobe opposite mirror the top of the shelf space, even the lighting hangs at the perfect point. We told you it was subtle, but once you notice it you can see why this room is so pleasing to the eye. So the takeaway; always consider the lines that a bedroom shelf will create in a space and how will that work with the other lines in the room?
7. Maximize an awkward nook
And sometimes the lines in a bedroom aren't straight, often there are awkward nooks, dead corners, and tricky angles to work with, but there's always a shelf shape and style that will help you maximize that space. The best way to really make the most of that space is to go bespoke, and built-in. Have a shelving unit designed to fit perfectly into your space.
'Wall-mounted storage units and made-to-measure shelving units can create a built-in feel that seamlessly blends in with the room's features achieving a cohesive overview.' says designers Jen and Marr, founders of Interior Fox.'And remember to furnish your room both vertically and horizontally. This is especially important in small areas of the home, when we need to optically enlarge the space.'
In this loft conversion, that sloping ceiling that of course, you are going to get in any loft space, has been used as an asset, with the shelving at the tallest point of the space to allude to more height and those awkward low spaces where shelving just wouldn't be functional have built-in storage added. Clever.
8. Be clever with shelving and create a mini dressing room
This is an ingenious bedroom shelving idea and a great way to make use of an awkward spot. Rather than just fill your alcoves with bedroom storage, build-out slightly and use the space in between as a hidden home office or a dressing space. Once done using the space the doors just fold back over for a totally seamless look that doesn't intrude into the bedroom.
9. Make your shelves a feature with contrasting colors
Make your bedroom shelving more of a feature in your space by painting it a color that's going to contrast with your walls. So often we see rooms where the shelving just blends into the background, and while this can work if you are after a more minimalist look, or adding shelving to a room that already might have a lot going on like a living room or kitchen, but in a bedroom, we are of the opinion you can be a bit braver.
You want a bedroom to feel inviting and cocooning, so opting for a dark color for your built-in shelving will instantly give you that enveloping effect – especially if it spans a whole wall as in this bedroom.
Plus, darker hues are perfect for bedroom shelving as you'll find colors pop so much more against a deep background, so your displays will stand out for more than if you were to stick with a light, neutral palette.
Take home tip: books don't all need to be stacked the same way! It may feel unnatural to mix horizontal with vertical but it adds so much for shape and character to shelving.
10. Free up floor space with a floating bedside table
Bedside tables, for all they offer in terms of storage, sometimes just aren't a practical choice if space is tight or you don't want to add extra bulk to a bedroom. A simple floating shelf, wall-mounted at the right height next to the bed can be just as practical as a table, and yet light can still flow underneath and you can keep the floor space free.
In this master bedroom, the dark wooden headboard doesn't feel too overbearing because of the lack of a bedside table. The simple shelf allows for the shape of the bed to go interrupted. Also, note the wall-mounted lighting. Space is precious on a shelf so save yourself having to squeeze on a lamp by choosing a wall light instead.
How can you style a bedroom shelf?
'When it comes to styling shelves start placing larger items first like a large artwork, big bunch of blooms, or a propped up mirror as these anchoring pieces will set the tone and also elevate any shelf. If everything is small and bijou it can read as too itty-bitty.' explains designer Abigail Ahern. 'Books always make shelves feel homey so stack vertically and horizontally for visual interest and always plop something on top of the horizontal stack. Decorative objects like sculptures take shelves to another level and to add life and vitally botanicals are a must.'
It's also a great idea to make use of bedroom organizers on your shelves, to help keep your things neat and tidy — and out of sight.
Where should shelves be hung in a bedroom?
Where shelving should be hung in a bedroom will depend on the size of your space and the layout. If you have alcoves these are prime real estate for shelving as they can fit in neatly without protruding into the room. A long single shelf above a bed always works and switching a bedside table for a shelf or two can work wonders in a small bedroom or when you want to keep things minimal.
Hebe is the Digital Editor of Livingetc; she has a background in lifestyle and interior journalism and a passion for renovating small spaces. You'll usually find her attempting DIY, whether it's spray painting her whole kitchen, don't try that at home, or ever changing the wallpaper in her hallway. Livingetc has been such a huge inspiration and has influenced Hebe's style since she moved into her first rental and finally had a small amount of control over the decor and now loves being able to help others make decisions when decorating their own homes. Last year she moved from renting to owning her first teeny tiny Edwardian flat in London with her whippet Willow (who yes she chose to match her interiors...) and is already on the lookout for her next project.