10 living rooms with creative open shelving that helps bring their owners' personality to these spaces
With these open shelving ideas, it's easy to bring character and charm to your living room walls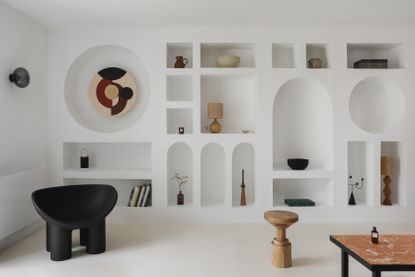 (Image credit: Heju Studio)
Open shelving in living rooms serves double duty – it provides easy access to storage and allow you to display your favorite collectibles, art, and curios in the most beautiful way.
Plus, its aesthetic and practical appeal apart, open shelving comes with another valuable advantage – they're often budget-friendlier alternatives to traditional cabinetry.
If you're looking for fresh, new living room storage ideas, we've rounded up 10 of the very best living rooms with open shelving that takes centerstage in the space's design.
1. This living room with a sculptural bookcase
A wall-to-wall open shelving can create a cozy living room vibe, enveloping the room in the best of decoratives and inspiring curios. But for a supersized wall of shelving, consider a unit that has a interesting design, adds a decorative touch to the room, and has a light form. Think of it like a large artwork that is going to influence the look of your room. Choose a muted tone too, so the room doesn't feel too overwhelming.
This bookshelf designed by Nildo José Virgínia Lopes of Brazil-based NJ+ Architects is the perfect example - made in matte white lacquer and is a special, bespoke piece for this Paris home. 'It was prefabricated and assembled in three weeks by craftsmen, and was produced in the region; the true star of the decor,' says Nildo. While designing it, the form was chosen to create a feeling of movement, 'giving the feeling of boosted dimensions to the room.'
2. A wall full of shapely niches
'This home is located in Bligny-sur-Ouche in Burgundy, and has a unique atmosphere,' says Hélène Pinaud, founder of Heju Studio. 'We wanted to create a house with a soul and a personality. For this space which is located behind the kitchen, we created a built-in library that is designed with geometric cells, all in different shapes. Each cubby holds something unique.'
Shelves in different, odd shaped-cubbies can emerge as design staples too in the room. For an elegant living room touch, keep the number of items within the shelves restrained so the organic shape of the storage unit emerges.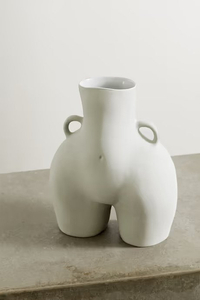 Want to add an interesting element to your open shelving? Consider this decorative object and vase that can bring any vignette to life.
3. This neat, symmetrical look
Another room by the same designer, this living room's shelving is neat, grid-like and minimalist, both in style and how the designer has dressed them.
Think of your display is how you would for interior design. Mix up the textures when you are styling a shelf. If you work with the same textures, you'll get a flat, dull-looking interior or vignette.
Perhaps bring in something shiny and reflective, a touch of wood, and something soft and plush. While redesigning a modern living room shelf, it goes without saying that books are the no. 1 staple for open shelving. Complement them with a collection of your travel curios, and pepper the space with art.
4. These floating shelves for a minimalist living room
If it's a minimalist living room you're keen to design, then this design of sleek, floating shelves could be the way to go. Installed next to the TV, these provide enough space to display lightweight, small curios, ensuring the media unit doesn't feel too plain with just a television.
In this design by Fenda Architects, the timber shelves extend around the TV and onto the stone wall cladding, drawing focus to the materiality of the design.
'Open storage takes up visually less space than closed storage, but you have to be careful about the design of the shelves and what you put on them,' says Jennifer Morris, founder of JMorris Design. 'So if you have unattractive clutter but can't get rid of it, consider adding them inside attractive bins or baskets and placing those atop the shelves. I like shelves that have rounded edges so you can stack books without the fear of them falling off the ends. Alternatively, shelves with eased edges can provide flow and feel softer.'
5. A backlit bookshelf to draw focus to books
When it comes to living room lighting, you;d usually focus on the large elements that make up an accent or task lighting, such as the chandelier, pendants, or lamps. But a great way to highlight a feature in a room is via the soft, diffused magic of recessed lighting. If you want to bring your open storage into focus, consider back-lighting the storage piece and making it the star of the room.
'When designing storage for a small living room, you need to make sure of the amount of contrast between the materials – dark against light and other high contrast colors,' says Jane Lockhart, founder of Jane Lockhart Design, who designed this transitional living room. 'If you want to make the storage the focal point, choose a high contrasting color and backlights but make everything else more subdued and blended, which will make the room feel more spacious. '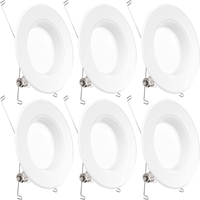 Buy this pack of six recessed LED lights that allow for versatile installation in various spaces.
6. These bookshelves built like a library
Nothing adds a more charming touch to a living room than a bookshelf. Your collections are a representation of who you are and your interests. Open shelving allows you to not just display your books but also provides easy access for guests to browse through your tomes, pick out ones they like and even borrow them.
When it comes to decorating bookshelves, one of the easiest ways is to rotate some of the books to create little stacks rather than having all the books sit vertically. You can also consider arranging them as per genre, color, or size. Keep the largest books on the bottom shelves and spread out the smaller ones evenly across the cubbies. Don't aim to make the look perfect or symmetrical.
7. These colored shelves with a hidden TV
In this living room, not only does the shelving bring color and material textures to the space, but it offers a way to hide the TV in the room. 'We used a sliding solid panel in the center to hide a TV from view, but also to create a more striking composition that juxtaposes open shelves with large areas of color,' says Rustam Mehta of GRT Architects. 'I think of the shelf as having strong bones – wood structure with confident colors – as this is what enables it to absorb and grow from the variety of objects that you see displayed against it.'
Consider painting your shelves to make them stand out in the room, contributing to the living room color ideas. Make sure you don't fill every nook with things so the shelves and their color can stand out. Empty space will also allow the eye to rest and focus on the important things you want to show off. It allows your arrangements to breathe and not look cluttered. Vignettes are all about thoughtful placements of objects.
8. This corner shelf holding family treasures
The decor you adorn your open shelving with can become a defining part of your interior scheme, as it has in this modern home.
'The shelves were designed for a growing collection of art and objects – a personal collection of family treasures,' say Jennifer Mobley and Bill Bloomfield founder of Mobley Bloomfield, who interior designed this living room corner. 'They were designed and engineered so that the shelves would be uninterrupted with no vertical separations for maximum flexibility. The shelves are wood, and painted in a rich, saturated warm pink hue by Farrow & Ball called, 'Setting Plaster.' Setting Plaster, Farrow & Ball
Give your bookshelf a lick of paint and make it stand out without overwhelming the room. This dusty pink shade can add softness to the overall decor and make the storage look timeless.
9. A built-in shelf for special curios
Maximize the entire length and breadth of a wall with built-in storage, and create an interesting living room gallery wall idea. Add shelves right up to the ground level, but make sure each shelf is large enough to hold a curated display and is painted the same color as the walls, so the storage wall doesn't feel too overwhelming.
When arranging things inside, think about an imaginary triangle. Smaller items should form the base of the triangle, while the tallest items will form the peak. This will help create an interesting look. If you're worried about the maintenance of some of your items, you could cover some of the shelves with sliding glass units so the curios are always visible but saved from dust and accidents.
10. This living room with recessed shelves
Shelving that's been cut into the wall and is recessed inside is a lovely, neat solution that doesn't intrude on a room, and is an ideal storage idea for small living rooms. You can allow the recessed shelves to blend into the wall, or you can make a feature of them.
'Recessing the shelves within the wall was an effective way of showcasing the client's extensive book collection without compromising the clean lines and sense of space in the living room,' says Christopher Jones, founder of Jones Associates Architects. 'Having the books on display not only brings color and character to the space but also ensures they are easily accessible for people to read in the comfort of the light-filled sitting area with its wood-burning stove and view out onto the garden.'
If you want even more flexible shelving, opt for a modular system. That will allow shelves to be added or adjusted whenever the need arises.
The Livingetc newsletter is your shortcut to the now and the next in home design. Subscribe today to receive a stunning free 200-page book of the best homes from around the world.
Aditi Sharma Maheshwari is an architecture and design journalist with over 10 years of experience. She's worked at some of the leading media houses in India such as Elle Decor, Houzz and Architectural Digest (Condé Nast). Till recently, she was a freelance writer for publications such as Architectural Digest US, House Beautiful, Stir World, Beautiful Homes India among others. In her spare time, she volunteers at animal shelters and other rescue organizations.