This glam family home shows that to decorate with white is an art form
This home is a masterclass in how to decorate with white - white walls, a white kitchen, a white bathroom and just the right amount of accent shades throughout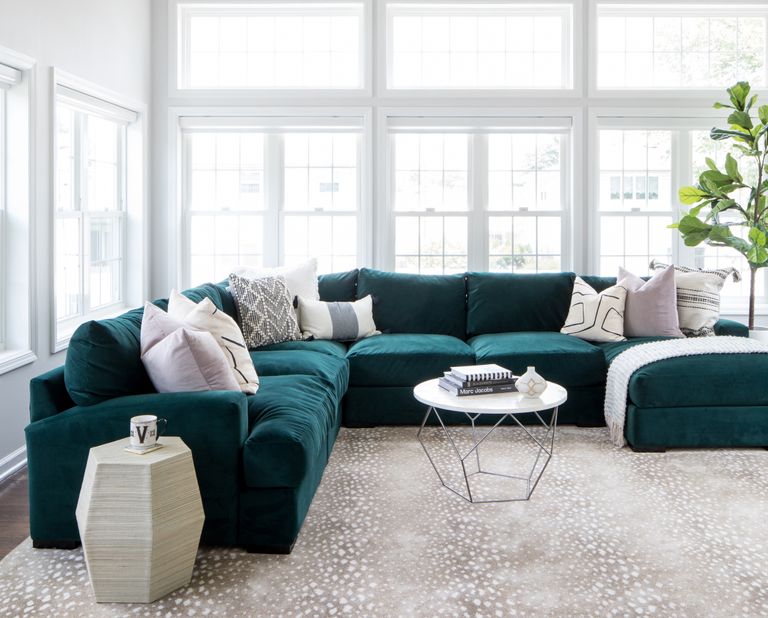 (Image credit: Victoria Bell Design)
THE PROPERTY
Although a common theme in modern interior design, learning how to decorate with white is not as easy as it sounds. There's picking the right shade, and then there's choosing the accent tones that bring it to life.
This modern home in Springfield, New Jersey, was refurbished and decorated by Victoria Bell Design, taking around nine months to gut it and start again. 
The house's original plan was a version of a split level. The kitchen was tiny and walled off and the living room and dining room were conjoined. The dining room and living were carpeted wall-to-wall. 
To make the main floor flow better, Victoria knocked down the wall between the kitchen and the dining room, and extended the kitchen so it became the hub of the house. Then, she made the living room into the dining room and added on a family room, with the windows on every wall, vaulted ceilings and beams. 
In addition to changing and adding to the layout, she ripped out all of the carpet on the main floor and restored the hardwood floors underneath. 
See Also: Beyond the pale - how to decorate with white
Kitchen
Among the things to consider when designing a kitchen, colour and storage are both key.
Victoria wanted to make sure the kitchen became the heart of the home, so keeping the palette to a bright white kitchen meant it felt inviting and fresh, while stripping back to the hardwood floors stops the white from seeming too clinical. 
By keeping the kitchen cabinets bright white, sink and window fittings feel like a cohesive part of the design - nothing stands out or is jarring to the eye.
Kitchen islands for modern homes are as practical as they are aesthetic. Here, this island is slim enough to not take up too much floor plan, with an overhang just big enough to allow stools to tuck under. 
Dining room
With a gently textured wallpaper, dark blue shelving and Ghost chairs by Kartell, the grown up dining room is sophisticated and characterful without being a break from the white seen elsewhere in the home.
See Also: Stylish White Living Room Ideas
Family room
The family room has windows on every wall, vaulted ceilings and beams. The result is a light and bright living room, given charm by the jewel green L shaped sofa.
Bathroom
It's easy for an all white bathroom to feel clinical, but this one has details which make sure it has personality. The black bathroom taps are a modern touch, and the antiqued edges to the mirror give a sense to time worn warmth.
The black fixtures carry over to the shower room, a contemporary touch next to the sleek white tiles.  
See more work from Victoria Bell Design here
All images by Raquel Langworthy
See Also: Black and white bathroom ideas for a modern, monochrome look