Home Decor Colour Trends – The Hottest Colour Trends For 2021
The hottest colour trends for 2021: These are this year's most sought-after colours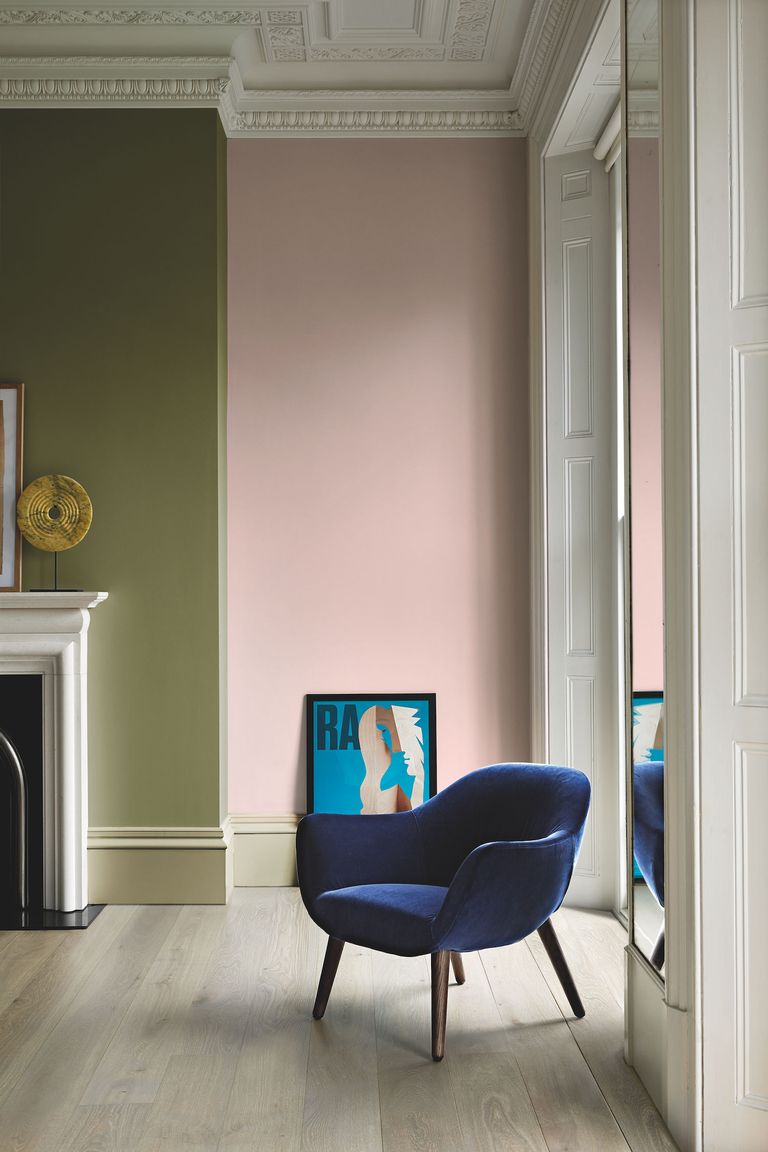 (Image credit: Future)
Next year's home decor colour trends palette is already emerging in force across all aspects of home decor and it is every bit as delightful as you'd hope. From wall paint shades to kitchens and bathrooms, colour trends are signalling an overwhelming shift away from bright, energetic tones and into warm, soothing neutrals and natural hues, reflecting an appreciation of the natural world. With the new normal meaning we're spending more time at home, we're focusing on making comforting sanctuaries through creative use of colour. Kitchen and bathroom spaces are turning to solo use of colour trends and biophilia is behind many new shade choices.
See Also: Interior Design Trends – the biggest interior trends for 2021
1. Turn to warm, earthy tones
We can be sure that soft, natural, soothing hues, used to create a sense of comfort, is set to be a mainstay in home decor palettes. As Marianne Shillingford, Creative Director of Dulux UK explains 'For many of us, lockdown has served to emphasise how important our home environment has become, it has been the place where we work, learn, relax'. Earthborn are also reflecting this shift, as noted by Cathryn Helsby, Head of Creative Marketing, on new shades; 'The natural, cool beige with a faint green undertone carries a calming, easy going, earthy quality. In parallel with this emotive reflection, Lick are adding similar shades to their existing range. Tash Bradley, Head Colour Specialist, enlightened us on the emotional power of green undertones as being calming on eyes and an necessity now spending 80% of our time at home.
See Also: These are the most popular paint colours of 2020
2. Paint a dusky pink shade
Following along the lines of comfort in the home, the soothing feeling created by a dusky pink wall is set to make a strong influence on upcoming shade trends. As Fired Earth Creative Director Colin Roby-Welford notes 'Gentle, optimistic colours will be a key trend for 2021. With their blue undertones, dusky pinks are ideal for injecting warmth and vitality into the palettes of grey and blue.'
See Also: Modern wall paint design ideas with tape – for walls that are graphically glorious
3. Use solo shades in the kitchen
As far as kitchen decor is concerned, solo shades seem to be the standout concept for the year. Rebecca Elderfield, Product Director at Neptune tells us that 'Whether you're painting the walls the samecolouras the cabinets or seeking to create a contrast between your cabinetry and elements such as a kitchen island,the season ahead is focused on using colour creatively'. US company Benjamin Moore is also on board with solo shades as UK Director Helen Shaw comments; 'Using a single shade to cover the skirting, walls, ceiling and window frames adds a feeling of grandeur. Echoing this solo use of 'new neutrals' is what Hayley Simmons, Head of Merchandising for Magnet has to say; 'These are colours that include a subtle trace of tranquil new tones and allude to colours commonly found in nature.'
See Also: Pink Kitchen Ideas, White Kitchen Ideas, Blue Kitchen Ideas, Black Kitchen Ideas and Wood Kitchen Ideas
4. A fresh take on yellow
As we continue to reflect on nature, other uplifting shades are popping up with a somewhat brighter tone. Ruth Mottershead, Creative Director at Little Greene reflects 'I see 2021 as being a year of warm neutrals. Tones with a little warmth to them are perfect for creating restful living spaces.' Following on the idea of brighter spring colours, Leatrice Eiseman, Executive Director of the Pantone Color Institute comments; 'A range of floral hues reflective of gardens in springtime awakens our spirit, reinvigorating our interest in colour that inspires feelings of much needed optimism'.
See Also: The 6 Best Sage Green Paint Shades, The Six Best Powder Blue Paint Shades and The 6 Best Blush Pink Paint Shades
5. Play with finishes
Not only are we exploring new shades, but it's how we use them that is gaining prominence across home decor colour trends. As Andy Greenall, Head of Design at Paint & Paper Library tells us, 'Ithink we will see the use of different finishes in surprising situations. From using a matt finish on walls and ceiling with woodwork, windowsills and doors all enveloped in the same colour, to theuse of gloss on walls to create a dramatic high sheen effect.'
See Also: Blue Living Room Ideas and Blue Kitchen Ideas
6. Explore new greens
When it comes to exploring more powerful colours, biophilia is inspiring a swathe of rich greens to welcome the outdoors in. 'The combination of green and blue is certainly a pairing to look out for in the future' explains Emma Sims Hilditch, Founder and Creative Director at Sims Hilditch Interior Design. American paint brand Sherwin-Williams is launching a Sanctuary range, bursting with moss and earth shades to reflect the influence of our need for nesting. Valspar's 2021 range also points to biophilic influences, points to the evoking the benefits of the natural world as the perfect setting to relax, escape and restore the senses' as Sue Kim, the Senior Colour Designer notes.
See Also: Bedroom colour ideas: 25 paint colours with impact
7. Translate earthy tones to tiles
The same natural, nurturing shades we're seeing in wall paints are finding their way into bathroom tiles. Better yet, traditional tiles are making way for unusual shapes to maximise the trend. Claybrook are working delectable terracotta and ochre shades as well as some peachy terrazzo tiles into their existing range. Rob Whitaker, Creative Director at Claybrook Studio observes 'warmer earth tones will create a neutral base to complement other natural shades and textures, something we see as key to creating a fresh but comfortable feel for 2021'.
See Also: Chic And Stylish Paint Colours For Your Bathroom
8. Dare to try pink grout
Turning to tiles, an appreciation of deep natural tones is also on the rise according to Harriet Goodacre, Tile Consultant at Topps Tiles; '2021 is all about using expressive colours. This could be anything from bold, powerful primary colours such as heritage blue or vivid green, to subtle pastels.' She also notes the use of a contrasting grout as something to keep an eye out for. 'Pink grout is an especially striking choice when paired with rich blues and greens, making the colour it surrounds more vibrant and captivating.'
See Also: Gorgeous Pink Bathroom Ideas and Pretty Pink Kitchen Ideas
9. Natural wood flooring
Wood flooring trends are also favouring natural elements. Moving away from dark stains, clear and natural finishes with organic oils or with a white pigment are set to be favoured. 'We are seeing a lot of neutral, natural wood colours being specified by the architects and designers that we work with' shares Nick Wilde of Ark One, a specialist in sustainable wood flooring.
See Also: Cool Kitchen Flooring Ideas, Bathroom Flooring Ideas and Hallway Flooring Ideas
What paint colours are on trend for 2020-2021?
Warm, earthy neutrals are where it's at for paint colours in the coming year. Whether that calls for earthy shades with green undertones, dusky pinks or uplifting yellow tones, the emotional response to many of the events of 2020 is translating into creating comforting sanctuaries at home.
What furniture colours are 'in'?
Biophilic influence is set to be a big thing next year. From forest greens, to olive and sage shades, rich blues and some lighter shades are sweeping into colour ranges. Brands and interior designers alike are looking to nature for inspiration.
What bathroom tile colour is 'in'?
Bathroom tile colours are embracing warm earth tones like terracotta, ochre and peach hues. Rich blues and greens are also 'in' for tiles, and if opting for these, try a contrasting grout such as dusky pink for maximum impact.
What kitchen cabinet colours are 'in'?
Whilst trends are favouring similar natural shades of blues, greens and neutrals, it's how you use these colours that matters. Experts have noted that solo use of on trend colours is something we'll see a lot more of in 2021.
What wood flooring is 'in' / on trend?
The wood flooring industry is seeing a definite shift towards natural, clear finishes, often with a white pigment for to maximise the natural texture and grain of the wood.