Color trends for 2022 – from high gloss ceilings and bold red hues to warm earthy tones and cocooning neutrals
Looking to redecorate? These are the hottest paint and color trends to inspire your scheme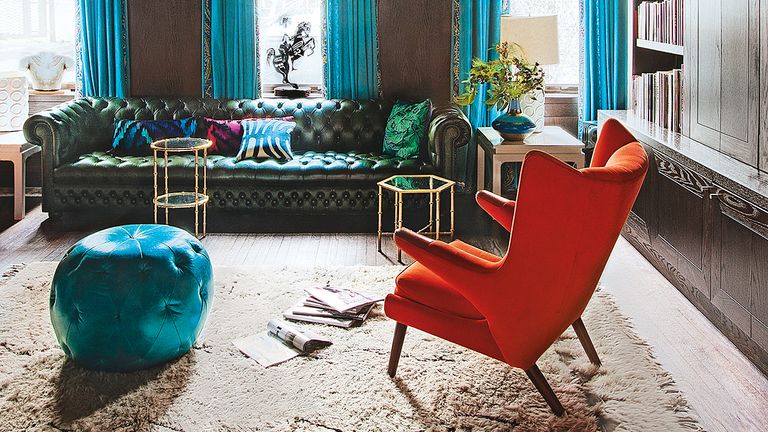 (Image credit: Future)
By Hebe Hatton
As we all predicted last year, 2020 was a year for being braver with color trends. Without getting too existential the world was looking grey and our homes became, more than ever, our places of safety, comfort and calm. So it's no surprise that the color trends for 2021 continue to reflect this need for our spaces to feel cozier and more cocooning. Jewel tones and deep hues are a big trend and there's lots of inspiration coming from the natural world too with vivid greens and brown tones.
And there's also a feeling that we aren't playing it as safe anymore. You'll see that grey and cream and white aren't as apparent as they once were, instead, there are more energetic shades like pinks and yellows and even red has recently made a renaissance.
So if you are redecorating, or just looking for some ideas to possibly test out a new color scheme, be inspired by our hottest color trends for 2021...
See Also: Interior Design Trends – the biggest interior trends for 2021
1. Choose deep jewel shades
Dark and stormy is still up there when it comes to color trends. This time used
on staircases, feature windows or woodwork to bring elegant definition to a space. A deep plum or black with a red undertone makes for a warmer and more striking alternative to the popular deep charcoal greys and blue-blacks. It adds warmth to cooler palettes, and pairs beautifully with pink and nude tones.
2. Combine pink and green for an on trend mix
The unusual color pairing that is hot pink and forest green is unmissable seen everywhere right now across walls, homeware and even daringly kitchens like this viral kitchen combination. Green and pink are complementary colors as they sit opposite each other on the traditional color wheel and enhance each other and are far less contrasting than green and red.
Find more colors that go with pink in our expert color pairing guide.
3. Add a touch of electric blue
Blue is a classic color, no change there that it's on-trend. But we are used to seeing dark blues, navy and blue/blacks, however, for 2021 the shades at the brighter end of the spectrum are making a comeback. Brilliant sky blues and vivid cobalt bring fun and creativity into a room, even when used in a very small amount.
Copy this color trend and test out a brave blue by just painting your woodwork or your shutters. It will have just as much of an impact but is more liveable than if you were to take it to the walls.
Love this living room? Find more blue living ideas and inspiration in our gallery.
4. Replace cool greys with neutral stone hues
'The neutral trend for 2021 continues subtly away from cold greys and traditional creams, towards warmer neutral stone tones. This trend is all about creating warm cocooning spaces that feel intimate, inviting and familiar with consumers embracing warmer, more natural colors.' explains Ruth Mottershead, Creative Director at Little Greene.
'Earthy, stonier tones alongside soft welcoming greens are becoming increasingly popular, providing a restful alternative to cooler choices. These gentle neutrals can be used in all areas of the home adding warmth as well as a sophisticated, complementary canvas for fabrics, wallcoverings and furnishings from all genres.'
5. Bring back red
Yes, red. This bold and notoriously difficult shade to decorate with is having a bit of renaissance, again proving that the 2021 color trends aren't about following rules. If you are wary of using primary colors in your home, test out deep terracotta or dark pinks but if you really want to feel the joyous optimism this color can bring, the bolder the better.
6. Be inspired by nature
2020 was a big year for getting back to nature, the rural idyll had more of an appeal than ever and that quickly seeped into how we were decorating our homes even in the cities. And in 2021, we continue to be inspired by nature and a big color trend is green.
Olive greens, emerald greens, sage greens, they are everywhere right now and it's such an easy, versatile shade to bring into your home. Pair it with lovely natural textures and wooden accents for a feeling of tranquility.
You can find plenty more sage green kitchen ideas in our full feature too.
7. Add bolder colors with furniture
If bright colors spark joy for you - but going bold on the walls feels too much - choose strong colors on furniture pieces instead. This is a really easy way to create impact without color overpowering the space.
A color that we love right now, and is back a sure comeback this year, is a primary red. It's bright but the clean notes in the red makes it feel vintage and therefore timeless amongst modern interiors.
8. Mix bright colors with warm metallics
Often an afterthought when devising an interior scheme, metal finishes can make all the difference to the look and feel of a space, as can be seen in this blue kitchen. Texture and level of sheen aside, essentially, they read as colors. Decisions in hardware, brassware, lighting or furniture can alter, rebalance or unify a space and its palette.
9. Turn to warm earthy tones
Move over grey, these earthy tones are overtaking cool neutrals. Adding instant warmth shades like terracotta, honey hues and even the once shunned beige do reflect that want to make our homes feel more comforting and inviting.
'Earthy colors which bring the outside in are having a moment again, for obvious reasons. Look to classic neutrals too which provide reassurance. Just make sure to stop them from being sapping, draining, mood-hoovering shades by livening them up with pops of color. We all need it, and just a splash will do the job.' explains color expert Annie Sloan.
Pair these toasty shades with a bright white, or even a touch of black to give them a contemporary edge. And be sure to layer them up too to create a lovely tonal effect. Find more inspiration in our beige living rooms gallery.
10. Experiment with a grown up pink
After its renaissance back in 2017 with Pantone's Millennial Pink, it's stuck around, taking on a few different forms, yes, but this rosy hue has taken its place with grey, green and navy blue as the most popular colors to decorate with.
The key to giving these rosy hues a more grown-up feel is to pair them with dark colors. See how in this pink bathroom the black floor and cabinet give to space drama and depth, it doesn't feel too Barbie's Malibu Dreamhouse because of that contrast.
11. Go two tone in a kitchen
Because why choose one color for your kitchen when you can choose two (or three)? You can go as bold or as subtle as you like with different shades for your wall cabinets and your floor cabinets, a stand-out island or pinch the idea from this black kitchen and add a splash of color with your appliances.
12. Lean into the yellow color trend
What a gorgeous sunny dining room and it just proves how warm and welcoming yellow can in fact be. There has been a rise in this uplifting shade this year (unsurprisingly) mostly in a more muted, toned down form which is a surprisingly liveable shade even when used on four walls.
Yellow is taking center stage with its ability to add instant positivity to a space.' says Ruth Mottershead. 'It is a color that makes us feel uplifted, happy, energized and invited, so is perfect for a hallway, kitchen, living space or a front door. It is wonderful to be able to introduce new yellows that celebrate this desire for warmth and joy.'
13. Play with high gloss finishes
Not only are we exploring new shades, but the finishes we are using are changing too. Gloss finishes on ceilings, for example, are emerging as an incredible way to add a sense of playfulness to a room and depth to existing color.
The finish is inspired by pubs of the 50s and 60s with close ceilings for a necessity because they had to be wiped clean easily. Today it's a wonderful way to bounce light and color around the room. The effect is quite magical.
What kitchen color trends for 2021?
Grey, white and navy blue are classic kitchen colors and all still on trend for 2021, but there is definite shift towards more colorful kitchen cabinetry. Green and pink, once would have been considered bold choices but this year they are up there with the most popular shades.
Dark cabinetry is also increasing in popularity – 'black is our new love,' says Helen Parker creative director of deVOL. '[At first] I think people were a bit scared, but it's in full flow now!! Think late night bars, speakeasies and restaurants in New York City for the look, big grand kitchen cupboards and especially big islands painted black with maybe some distressing and definitely some brass for the foot rails or aged copper for the worktops and certainly a splash of softly rounded Carrara marble, which just isn't ever going to go out of fashion.'
What bathroom color trends for 2021?
Bathroom colors are embracing warm earth tones like terracotta, ochre and peach hues. Rich blues and greens are also big in bathrooms right now, and if opting for these, try a contrasting grout such as dusky pink for maximum impact.
Again again, darker colors are big this year. This color trend is in line with wanted to create that kind of hotel-feel at home and a dark bathroom just has a certain opulence you don't get from neutral hues.
Hebe is the Digital Editor of Livingetc; she has a background in lifestyle and interior journalism and a passion for renovating small spaces. You'll usually find her attempting DIY, whether it's spray painting her whole kitchen, don't try that at home, or ever changing the wallpaper in her hallway. Livingetc has been such a huge inspiration and has influenced Hebe's style since she moved into her first rental and finally had a small amount of control over the decor and now loves being able to help others make decisions when decorating their own homes. Last year she moved from renting to owning her first teeny tiny Edwardian flat in London with her whippet Willow (who yes she chose to match her interiors...) and is already on the lookout for her next project.