This gorgeous Made garden hammock is new and still in stock
This garden hammock is a hidden gem on the Made website. It's a stylish way to soak up the British summertime. And, it's just £79...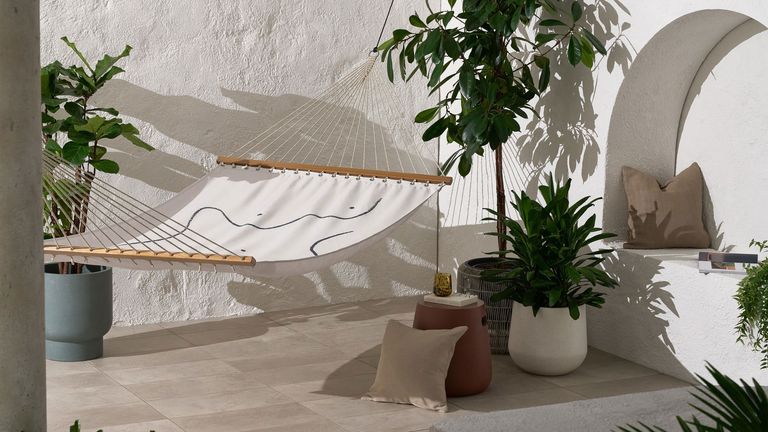 (Image credit: Made)
Searching for a garden hammock for your outdoor space? Whether said outdoor space is a terrace, balcony or acres of land, a hammock will go down a hit this summer. Especially this garden hammock that we've found at Made.com. Why? It's stylish, comfortable and also a steal. And, unlike lots of other garden furniture across the country, this hammock is still in stock. A true winner!
This cosy yet stylish hammock is perfect for lounging in the sunshine with your favourite book, or for those all-important afternoon naps in the sun. You can use it along with a hammock stand, or you could hang it from two trees. Either way, it's sure to be a stylish – and cosy – addition to your garden.
The Varena Body Outline Hammock is beautifully minimalist. Kit Agar designed this hammock to boast a sketched body outline design, though the rest of it is white – with wooden accents – so as not to draw attention away from the rest of your garden furniture. We expect hammocks to be a popular buy this summer since lots of lounge-friendly garden furniture, from sofas to deckchairs, are out of stock. Not to mention the fact hammocks are usually quite purse-friendly – this one is just £79.
Head over to our best garden furniture guide for more stylish recommendations to add to your outside space, from sofa sets to deckchairs and dining sets.
Varena Body Outline Hammock | £79 at Made
We're in love with this Made garden hammock – and not just because of its unique yet gorgeous design. Though large, it's a subtle addition to an outdoor space while you can always take it down and store it away with ease, should you want to enjoy the floor space it would be taking up. Made of a mix of
keruing wood and polyester, it's safe to be left outdoors in the summer but it's advised to store it away in the winter. Delivery is only £6, too, and it should arrive on your doorstep within a few weeks.View Deal