Color experts reveal the 9 best paint colors for 2024 - and how to use them
Design experts predict you'll be tucking into rich shades of chocolate brown in the very near future, as these are the best paint colors for 2024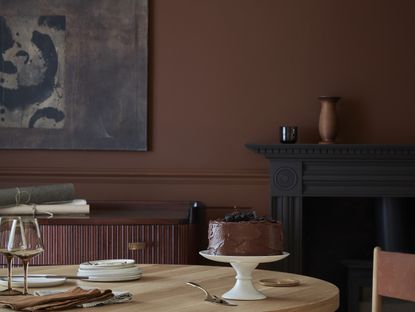 (Image credit: Little Greene)
The Livingetc Newsletter
For style leaders and design lovers.
Thank you for signing up to LivingEtc. You will receive a verification email shortly.
There was a problem. Please refresh the page and try again.
Looking to see in the new year with a fresh start for your interiors? The best paint colors for 2024 will work to give your home a modern refresh while adding warmth and ambiance to any space.
The trend forecast includes paint color ideas for every room, and will have you itching to redecorate if you weren't already.
The emerging trend that might surprise you? Rich brown shades are making a comeback - in a big way.
The best paint colors for 2024
When it comes paint colors, these are the ones experts believe will be setting the interior design trends for 2024, and are perfect to spruce up your space.
1. Chinese Blue by Farrow & Ball
Blue is a perennial favorite in modern interior design but expect it to emerge with a bold freshness for 2024.
'The color blue will always play an important role in the decorating portfolio whether you choose the palest, sweetest blue for a light-filled kitchen or the darkest, inkiest blue for a living room,' says Patrick O'Donnell, International Brand Ambassador, Farrow & Ball. 'But, behold, cleaner and brighter rich blues bring a wonderful vitality to a space. Chinese Blue delivers a great punch of joyful exuberance whether your tastes hover towards traditional or contemporary.' Chinese Blue is a shade that the brand has archived, meaning that it's no longer on the main color card, but still available to buy on request. And all the more desirable because it's not the one everyone knows about.
'Try it on walls in a light-filled bathroom or introduce to your dining room where it will transition to something very grown up for those more formal celebrations,' Patrick adds.
It also makes an inviting choice for a blue living room (as seen above), creating a rich surrounding that can be paired with neutral hues, but can also take a color contrast really well, like hot pink.
2. London Clay by Farrow & Ball
Move over deep green, it's all about sumptuous brown paint colors for 2024.
Patrick O'Donnell says: 'Whilst we have all be playing with dark greens and moody blues for the last five years we are starting to notice the benefits of dark browns too. Where blue and greens can err towards the cooler side, browns can add warmth - especially the elegant London Clay with its subtle dose of magenta.
'This color will give you great flexibility and will work effortlessly with a multitude of other colors, including pinks, greens, blues and earthy neutrals, and is a great option for poorly lit spaces, like a narrow hallway, giving you drama and warmth in equal measure.
'Try on kitchen cabinetry with mid neutral walls and add a splash of rose pink to a freestanding piece of furniture such as a kitchen island or larder cupboard, or paint bedroom walls for a truly cozy and elegantly relaxing feel.'
3. Ganache by Little Greene
The color masters at Little Greene also confirm that brown is the go-to paint hue for 2024.
'We see the trend for rich, cocooning interiors continue into 2024, with a move toward the soothing power of darker and mid-tone caramels and rich and indulgent browns that deliver comforting schemes,' says Ruth Mottershead, Creative Director at Little Greene.
'Gone are the associations of dated 1970s interiors, drab or dull spaces, browns are re-taking their rightful place in contemporary interiors,' she continues. 'From the deep Chocolate Color and sumptuous Muscovado, to the softer ochre-toned brown 'Galette' or the elegant warm stone color Split Pink, these cozy, versatile neutrals are perfect for creating captivating, indulgent and inviting spaces.'
This embracing of brown is a continuation of the trend we have seen shifting away from cooler grey interiors to a warmer palette of natural hues that deliver soothing schemes.
Ruth explains: 'The earthy yet refined nature of brown shades makes them the perfect backdrop to natural materials currently being incorporated in contemporary interiors, including wicker, rattan, warm woods and stone finishes.
'Earthy shades, particularly browns, have historically been used for their practicality, and are often dismissed as being dated or dull. However, rich warm colors based on umber and ochre deliver cocooning, restful and charming spaces.'
Ganache (above) is likely to be the darkest shade in your room scheme, but consider pairing it with the even darker Chocolate Color for a deeply committed interior design statement.
4. Chocolate Color by Little Greene
'Perfect for use in 'all-over' schemes in both contemporary and traditional settings, rich chocolate browns tones of Ganache or Chocolate Color work really well in a color-drenched room as an alternative to white, grey or stone,' says the Ruth Mottershead.
'They are the perfect choice for bedrooms, bathrooms and living rooms, or any space where you wish to create a restful and indulgent feel.'
She adds: 'Juxtapose them with deeper browns and blacks to create a captivating, sophisticated interior.
'Soft, warmer whites will also elegantly complement these shades to maintain a more traditional feel, and they will equally support an accent of a brighter, contrasting highlight, such as a bold yellow or striking blue, for a more dynamic look.'
You can also try using it as a warmer alternative where you might previously have considered black, charcoal or a dark blue.
Ruth adds: 'Brighter accents such as Marigold or Orange Aurora will leap off a Chocolate Colour background, or use it as an exquisite trim colour to frame a wall of Arras or Tuscan Red.'
5. Stardew by Sherwin-Williams
Sherwin-Williams recently released a paint color trend report comprising 48 hand-selected hues that will be trending in 2024.
The trend forecast is broken up into four core color palettes: blues and greens, reds and purples, deeps and darks and delicate tints, to make it super easy to navigate.
Stardew is from the blue and greens palette and, according to Sue Wadden, Director of Color Marketing, Sherwin-Williams, it's a 'distinctive and dreamy slate blue that holds a trace of magic in its bewitching balance of warm and cool undertones'.
Sue adds: 'Blues and greens, especially lighter ones like Stardew, are great to use in respite rooms like bedrooms or living rooms, for their association with calmness and resting.'
6. Fireweed by Sherwin-Williams
Red is sometimes a color that can be a little intimidating when it comes to interior design and decorating choices as it has an association with being too aggressive or too stimulating.
But, used in the right tone and in the right space, it can bring warmth and an uplifting ambiance.
Sherwin-Williams Fireweed is one such red that will be popular for 2024. 'Expect a pleasing kind of warmth with a trend-forward mineral and earthy character in this rust and brown-toned red,' says Sue Wadden.
'I recommend using deep reds in spaces where people gather together, like a dining room or kitchen, due to their high energy.'
7. Sealskin by Sherwin-Williams
Brown is certainly emerging as the paint color for 2024. Another top pick? Sealskin by Sherwin-Williams.
'This color is a decadently deep, bold brown, a timeless enfolding neutral that is both sleek and refined,' says Sue Wadden.
'Darker colors work really well in smaller rooms, like TV rooms or hallways, because they create a theater-like and cozy environment.'
7. Cracked Pepper by Behr
Behold the 'bold new neutral: black.
Yep, designers want to us to know that black is nothing to be afraid of and is, in fact, to be celebrated and embraced in modern interior design.
'As we look towards the end of the year, the design world is experiencing a seismic shift towards more sophisticated, understated color palettes that convey a message of modernity and timeless elegance,' says Dan Mazzarini, Principal and Creative Director of BHDM Design and ARCHIVE by Dan Mazzarini.
'Leading the charge is Behr's 2024 Color of the Year, Cracked Pepper - a captivating hue that's proving to be much more than just a fleeting trend.
'A bold, moody, versatile color, Cracked Pepper is a soft black that can ground any space – either as a striking statement or a subtle and simple addition.'
Explaining how to use the color, Dan says: 'Where you can put white, you too can put black. Pair it with rich browns, burgundies, or forest green to layer an interesting vibration into your space. Black is also great as the star of the show. Think about it: a piano in the corner of a living room is the scene stealer.
'This soft charcoal black is a great way to make that statement, but a bit softer. Also, consider a matte finish which is a bit more subtle than glossy black.'
8. Crystalline by Benjamin Moore
For a delicate touch that still offers a splash of color, opt for Benjamin Moore's Crystalline.
Helen Shaw, Director of Benjamin Moore, says: 'Opt for an inviting green-grey such as Crystalline for 2024 – it will still reflect plenty of light while providing a softer look than a bright white, which can feel cold in the wrong space.'
Give your dining room a fresh feel with the uplifting hue for a welcoming, warm space.
9. Night Owl by Benjamin Moore
Benjamin Moore are another top paint brand that's championing saturated brown for paint colors for 2024.
Helen Shaw says: 'We will continue to see the trend for warm and welcoming rich chestnut colors.
'Use hues like Night Owl in a gloss finish on the walls of a living room to create a cozy retreat with designer flair – the reflective sheen will constantly shift and evolve as light ebbs and flows during the day and through the seasons.'
For style leaders and design lovers.
Ruth Doherty is a lifestyle journalist based in London. An experienced freelance digital writer and editor, she is known for covering everything from travel and interiors to fashion and beauty. She regularly contributes to Livingetc, Ideal Home and Homes & Gardens, as well as titles like Prima and Red. Outside of work, her biggest loves are endless cups of tea, almond croissants, shopping for clothes she doesn't need, and booking holidays she does.