10 colors that go with light grey for the most relaxing and soothing schemes
Wondering what colors go with light grey? Design experts show us how this is the most easy and flexible neutral to pair tones with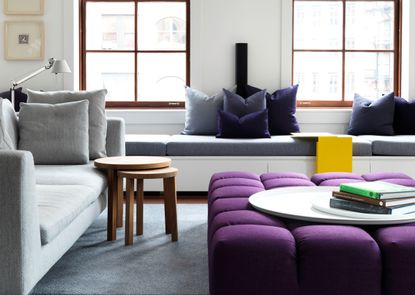 (Image credit: Nexus Design)
The Livingetc Newsletter
For style leaders and design lovers.
Thank you for signing up to LivingEtc. You will receive a verification email shortly.
There was a problem. Please refresh the page and try again.
If you're looking for colors that go with light grey, you'll be spoilt for choice. As a neutral, this shade pairs with various colors, and as a dominant tone, it's a great choice for layering shade upon shade. Grey has been a household favorite for a while, with its urban and compelling visual.
If you're in the process of renovating, designing, or painting your home, we suggest you pause and pay attention to these examples that make a strong case for why light grey should be your go-to color, along with all the great colors that go with grey.
Take a look.
Aditi is an experienced homes writer and editor. She has written hundreds of articles for various international titles helping readers make the best home design choices, and spends her days interviewing interiors industry experts to bring the latest ideas to her readers. For this piece she spoke to the world's best designers to find out about the colors that go with grey.
10 colors that go with light grey
Before you get started on decorating with neutrals, take a moment to understand the right undertones for light grey.
'Grey is one of the quintessential neutral colors,' says Amy Krane, architectural color consultant and founder of Amy Krane Color. 'By definition, a neutral color has two components: one which describes its function and the other which describes its appearance. A true neutral works well with almost every color in the physical world and it also lacks colorfulness. Together these two attributes make light grey the perfect color companion.'
'Greys come from every color family, usually showing just a dash of their origin,' says Amy. 'Paying attention to what color they are derived from is the key to pairing them well. Greys which appear to be neutral, meaning just a mixture of black and white, are rare, and they lack complexity. Complex greys, on the other hand, are very interesting and create sophisticated spaces.'
1. Blue
Among the many colors that go with blue is the anchoring grey, and more importantly, light or mid-tone grey. Put the two tones together in the right combination and you have a palette that is stylish, sophisticated, and as soothing as the sky.
Grey, that doubles as a warm neutral provides a lovely base for high-octane tones to shine and pop. And due to the grey's grounding nature, disallows very bright tones to look too OTT.
'I like to pair light grey with deeper colors as the most harmonious interiors mimic the natural world by combining warm with cool, and dark with light colors in an environment,' says Amy. 'Light grey with navy or blue creates dynamic and interesting rooms.'
2. Yellow
Grey and yellow are a winning pair, perfect for a modern, contemporary interior. While the former's subtleness allows yellow to shine, the latter adds a touch of liveliness to grey. Any tone of grey looks more lively and bright when used with yellow.
Light grey also allows the introduction of patterns in your upholstery or home accessories. The more pattern and prints you have, the better counterbalance your grey will give to the overall scheme.
In case you're unsure of how this scheme will play out, you can always play it safe by choosing light grey as the base color and bring in yellow through small accessories like trays, art prints, and more. This will also allow you to add in a third tone, and thankfully, there are several colors that go with yellow and light grey.
'Want to add more warmth to a contrasting scheme?' says Bea Pernia, founder of Bea Interior Design. 'We like to use Benjamin Moore Classic Gray 1548, which is a warm tone, ideal for matching with other colors.'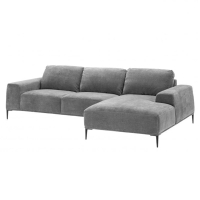 Montado Lounge Sofa from Luxdeco
Choose this light grey sofa with tapered black legs, in an L-shaped design to add to your modern living room. It is a designer piece handcrafted by artisans to be as sophisticated as it is comfortable.
3. Purple
While deep, solid tones add instant elegance to a room, they can sometimes make it feel too boxed in. Dark tones when painted on walls or used across furniture can also reduce the amount of light in the room. Counteract that by adding a soft, muted element such as a light grey, which is neither cold like white nor too muddy like beige.
'Purple is a color that can be challenging to use,' says Sonia Simpfendorfer, director at Nexus Designs. 'It's very dramatic and has many strong associations, from royalty to magic, frequently seen with pink or gold. Combining purple with restrained greys is a much less expected pairing and brings a calm, sophisticated feeling to an interior scheme. Use grey as the anchor for unapologetic purples, being mindful of the cool, warm, or neutral undertones in the grey.'
Many colors go with purple, and with layering, you can refrain the space from seeming too overly glam and cold but warmer, cozier, and inviting.
4. Orange
If it's a dramatic bedroom color scheme you're looking for, a light grey can be your best companion to contrast or even create a color block with orange. Since this room needs to be as relaxing as decorated, the light grey will ensure that when the lights are out, the space is soothing and restful, and during the day, as eclectic as you want it to be with the orange.
'The public spaces in this home are in monochrome, while the private spaces showcase bright accents...quite opposite to how a home's color scheme is designed,' says Rustem Urazmetov, head architect at UR Bureau. 'The entire bedroom is painted in a bright orange color, including even the air conditioner and radiator. The walls of the bedroom are contrasted with the grey bedding for an interior that is striking.'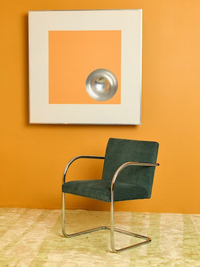 5. Pink
Delicate and stylish, this color combination can be energizing but also calm. If you want a more earthy, cocooning interior, consider a more dusky or mid-tone pink (perhaps one with grey or brown undertones) with a mid-tone grey to instantly help lift the room, but keep it grounded.
'A warm taupe-like grey will partner well with saturated tones,' says Amy. 'A cool blue-grey will look great with a deep, blue-pink or fuchsia. There are many great choices to combine with each type of grey.'
If you're worried that just pink and grey will seem a little two-dimensional for your bedroom or dining room, many colors go with pink, so add a splash of another color to keep things fresh.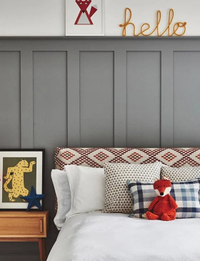 Manor House Gray from Farrow & Ball
This mid-tone grey is ideal for contemporary homes that are conducive to minimal living and is often used alongside the more dramatic pinks.
6. Wood tones
Grey plays well with a variety of wood tones, especially if you use a more earthy grey. The combination can add an organic vibe to a room, especially when paired with natural materials such as wood and stone.
In this dining room color scheme, a variety of different organic textures are used like the thin framed, woven chairs and the dry flower arrangement. The entire scheme is tied together well through the use of warm white on the walls.
7. Dark grey
Consider using color but both, in its palest and deepest incarnations, so you can create a rich, contrasting look that is still harmonious and coordinated. Take a look at this living room color scheme with a long sofa drenched in deep and light grey, while the wall furnishings are far paler.
'By entering the house you meet all three materials used in the interior: the grey, warm wood texture, and the white,' says Aidas Barzda, partner at YCL Studio. 'The grey leads to a path connecting the second floor with the living space while the wood and white surfaces connect you with private areas on the second floor: the master bedroom, two children's rooms, and bathroom. The living room features a light and dark grey sofa, and the big windows give a light and shadow play on sunny days.'
8. Cream
At the lightest end of the color spectrum, colors become less distinct, so very light grey can become the perfect layer to a white or cream, almost merging into it. This can also help create a beautifully warm scheme, where tones meld into one another, without the need for glossy or bold shades.
A lovely partner to such schemes is earthy materiality or tones, such as beige or brown. You could even add a plant or two, bring in an organic rug, or introduce a vignette with pampas grass to further heighten the cocooning capabilities of the scheme.
Want a little punch of hue? Choose ones that look good with earthy tones – in fact, several colors go with brown or taupe so the choice is yours.
'Light grey is used as a stabilizer so when choosing a palette you have two options,' says Bea. 'Use the light grey to stabilize the strong color palette you chose or use light grey as the main tone and add colder tone colors like black or white to add seriousness to the room.'
9. Black
Black doesn't have to darken a space. In fact, the color will often make a space feel brighter and airer if used in contrast to a light tone. Enter light grey. The two colors offset each other well but as opposed to black and white, which can look stark, black and grey can look a lot more mature and grounded.
'Modern interiors tend to skew cool in tone,' says Amy.'Cool greys can show hints of their blue, green, or purple beginnings. In fact, modern interiors often include monochromatic color combinations well. For instance, grey with black can create a dramatic room.'
You can be sure that several colors go with black along with grey. Do remember, if your room is small or narrow, or has fewer windows, it's best to dial up the grey and dial down the black.
10. Red
Red can be bold, vivacious, and classic, and while one might feel that it's a hard color to decorate around, that is not the case. Many colors go with red, but perhaps the most sophisticated pairing is with grey. Both tones are classic and personality-filled, and while each looks great as a stand-alone color, when used together can complement each other incredibly well, leaving a very polished-looking interior.
In a predominantly light grey interior, consider bringing in a red to highlight key features, say an arched ceiling, crown moldings, or an interesting alcove. Walls awash in deep-toned red can make a bedroom or a sitting room feel cozy and luxurious, especially when paired with equally saturated tones.
Consider partnering grey and red with a crisp white too, to bring freshness to the decorated space.
For style leaders and design lovers.
Aditi Sharma Maheshwari is an architecture and design journalist with over 10 years of experience. She's worked at some of the leading media houses in India such as Elle Decor, Houzz and Architectural Digest (Condé Nast). Till recently, she was a freelance writer for publications such as Architectural Digest US, House Beautiful, Stir World, Beautiful Homes India among others. In her spare time, she volunteers at animal shelters and other rescue organizations.