Interiors experts pick the timeless modern furniture pieces that won't date
Ten industry insiders tell us about their favourite modern furniture design classics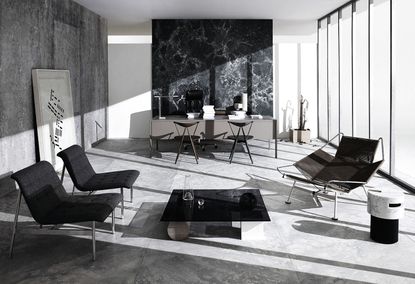 (Image credit: Future)
The Livingetc Newsletter
For style leaders and design lovers.
Thank you for signing up to LivingEtc. You will receive a verification email shortly.
There was a problem. Please refresh the page and try again.
Whether you're looking for modern furniture by scouring vintage shops and auctions for hard-to-find, pre-loved pieces or investing in much-coveted design icons, there are certain items that will never go out of style.
Here, ten industry insiders tell us about their favourite modern design classics, sharing what makes each piece both unique and enduring – from the artful simplicity of Max Bill's Ulm stool to Wegner's beautifully engineered Flag Halyard chair and the sinuous curves of Vladimir Kagan's Serpentine sofa.
See also: Modern furniture ideas – from age-old classics to the latest furniture trends
The PK1 Dining Chair by Poul Kjærholm, chosen by Nina Tolstrup
"Poul Kjærholm is one of my favourite Danish designers" says Nina Tolstrup of design studio Studiomama. "His PK1 chair from 1956 is made with chrome-plated steel tubing and woven cane seating, which gives it a warm, handcrafted feel. The chair manages to be both modest and distinctive at the same time. It comes across as a small chair with a minimal footprint, it's light and easy to move and has tube on the back rest that doubles as a handle. This chair is always on option in my interior work – I have yet to design a space where it wouldn't sit perfectly."
See also: Modern furniture for living rooms - the ultimate style guide
Meuble D'Appui by Jean-Michel Frank and Adolphe Chanaux, chosen by Sophie Jensen
"The beauty of this piece is in the simplicity of the natural materials and carefully considered proportions," says Sophie Jensen of the architecture firm BWT. "True luxury comes from the details: the solid walnut construction, the trace of the artisan's hand that has carefully gouged out the timber to give it its graceful fluidity, the delicate quality of the ironmongery. All of these elements combine to elevate the utilitarian sobriety of a storage cabinet into a piece of art to be collected. It could comfortably sit within an art collector's curated penthouse apartment, or a maximalist country home. Styling must be done carefully so as to enhance, rather than detract from, the quality of the craftsmanship."
See also: Mid-century modern furniture – your complete guide
The Serpentine Sofa by Vladimir Kagan, chosen by Ariel Ashe
"Our studio loves a classic Vladimir Kagan sofa, such as the German-born designer's Serpentine model," says Ariel Ashe of Ashe Leandro. "It's as impactful now as it was when it was first designed in 1950, when Kagan's clients included the likes of Marilyn Monroe and Gary Cooper."
Ariel adds: "The Serpentine sofa takes care of an unfurnished corner, helps to shape a large room and elevates any environment with its graceful curved form. It's the sort of modern furniture that pairs well with many other sofa styles and is both a functional and sculptural addition to a room."
See also: How to get the mid-century modern look in a modern home
The Lake Credenza by BBDW, chosen by Charles Mellersh
"A true modern furniture classic, BDDW's Lake Credenza fits comfortably in both traditional andcontemporary environments and is as practical as it is beautiful," says the interior designer Charles Mellersh. "Handcrafted from high-quality natural materials that age beautifully, the cupboards and drawers offer a generous amount of storage space to hide everything away. Its surface looks beautiful styled with a Christiane Perrochon ceramic lamp, a Carina Seth Andersson vase from Svenskt Tenn and piles of your favourite books. Over the past fifteen years my own Lake Credenza has acted as drinks cabinet, head office filing system, and the perfect platform for a forest of overgrown house plants."
See also: Small living rooms: Interior designers share their secrets
Ceramic and Brass Table Lamp by Tommaso Barbi chosen by Charlotte Rey
"Italian designer Tommaso Barbi is probably best known for his Ginko leaf brass lamps and chandeliers but I equally love his ceramic pieces with swirled surfaces," says Charlotte Rey of the design duo Campbell-Rey. "Often inspired by nature and the organic, he shaped his designs with a certain lightness of touch and subtle humour which I am very taken by. He was drawn to, and expressed an interest in, materials and techniques like burl wood and marquetry, and juxtaposed metals like steel and brass to great effect. He often adhered to a limited colour palette, and I think this lamp is particularly striking."
The PP225 Flag Halyard Chair by Hans Wegner, chosen by Fred Rigby
My favourite piece of modern furniture design changes almost daily,' says Fred Rigby of Fred Rigby Studio. "Today it's the PP225 Flag Halyard chair, designed in 1950 by Hans Wegner. I recently had the privilege of sitting in one for the first time, having admired them from afar, and it has to be one of the most comfortable chairs I've ever sat in. Rumour has it that Wegner designed this chair on the beach, digging, sliding and moving the sand out until he was at his most comfortable, allegedly with his wife telling him all the while that he shouldn't working on holiday and had better not be designing a chair!"
See also: Small living room ideas
The Ulm Stool by Max Bill, chosen by Roman Alonso
"When it comes to mid-century modern furniture, I have so many personal favourites that it's really hard to pick just one," says Roman Alonso of Commune Desgin. "If forced to, I would have to say the Ulm stool by Max Bill, designed in 1954 and reissued in the 70s by Zanotta. I read somewhere years ago that Bill's motto was "minimise design, maximise usage" and this stool really lives up to that. I was introduced to it decades ago and it always comes to mind when challenged to simplify a design to its barest, most minimal and functional self. My favourite things tend to be so simple they appear to be almost nothing, but in the end are everything. I think Max Bill would have understood what I mean by that."
The Standing Writing Desk by Donald Judd, chosen by Fran Hickman
"Donald Judd has always been a tremendous influence on my design philosophy, largely because I find the minimalism of his work so pleasing," says the designer Fran Hickman. "His works were not about evoking an emotional response in the user: he was of the firm belief that the objectives of art cannot be transposed to furniture design. His pieces attributed their complexity to the method of construction and his keen consideration for proportion and scale, which played a pivotal role in making the pieces utilitarian."
Fran adds: "When creating desks for my office, I took inspiration from this writing desk to create considered designs that are minimal and highly functional."
See also: Redesigning a modern living room: Architects and interior designers share their best ideas
The Croisillon Armchair by Jean Royère, chosen by Duncan Campbell
"Jean Royère's Croisillon armchair is one of my favourite twentieth-century design classics, particularly in this wild powder blue and eau de Nil colourway," says Duncan Campbell of design duo Campbell-Rey. "Like a lot of Royère's eminently collectable work, his Croisillon furniture strikes a thoughtful line between playful and restrained, with its pared-back volumes and whimsical ball feet. I feel an affinity with Royère because, like me, he had no formal design training but much of his most celebrated work focused on creating complete environments where he would design everything specifically for the rooms he worked on."
Duncan adds: "This piece is chic without being too serious, and would work just as well in a chateau in Normandy as it would in an apartment in New York."
The Conoid Bench by George Nakashima, chosen by Rosa Park
I've always been drawn to the soulful nature of Nakashima pieces, with the spirit of the tree fully in tact in the final design," says Rosa Park, director of Francis Gallery. "Now, more than ever before, I yearn for this level of respect for natural materials, and for my space to be imbued with its grounding energy. The Conoid bench in particular is one that I covet; I love the combination of its elegant spindle back with free edges. My dream home would have the Conoid in the entrance hall, with a JMW Turner seascape above it."
See also: Living room ideas: 24 decorating tricks to inspire
For style leaders and design lovers.
Tessa Pearson is an interiors and architecture journalist, formerly Homes Director at ELLE Decoration and Editor of ELLE Decoration Country. When she's not covering design and decorative trends for Livingetc, Tessa contributes to publications such as The Observer and Table Magazine, and has recently written a book on forest architecture. Based in Sussex, Tessa has a keen interest in rural and coastal life, and spends as much time as possible by the sea.