A courtyard garden is the centrepiece for this beautiful London home
A courtyard garden gives this former Victorian dairy a splash of Parisian style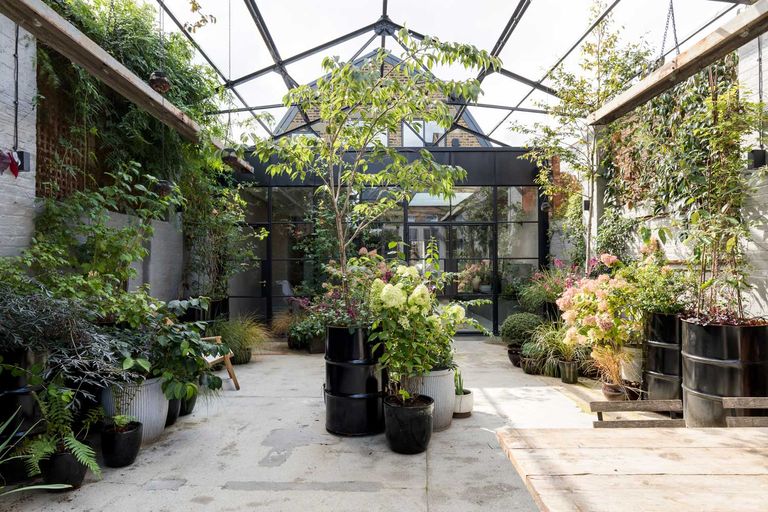 (Image credit: Imperfect Interiors / Photography: Chris Snook)
With its spectacular Parisian-style courtyard garden and gentle soft-toned interior, it's hard to believe this former crumbling Victorian Dairy had a collapsing roof, damp and no natural daylight. 
That was before interior designer, Beth Dadswell, founder of Imperfect Interiors and her husband, Andrew, a graphic designer, got their hands on it and turned it into a beautiful modern home.
See Also: A light, airy home centred around a gorgeous courtyard garden
The previously dark, dank spaces were converted into a light-filled family home but the couple took meticulous care in retaining its industrial atmosphere and unique character, finding inspiration in the rust and decay.
The couple sought inspiration from the hidden gardens found behind old buildings on the streets of Paris.
The extensive use of steel windows and doors maximises the views of the two vertical courtyard gardens. 
A limited palette of materials including un-lacquered brass, plaster and concrete put an elegant twist on the previously raw industrial aesthetic.
The beautiful kitchen was once a windowless fridge, storing the goods, after the cows were milked. 
The original joists were restored while the walls were painted in a soft calamine pink.
See Also: 21 Pink Kitchen Ideas- How to get the on-trend kitchen colour right
In the kitchen and dining area, simple utilitarian cabinetry is offset with beautiful pale pink Zellige tiles and a spectacular chandelier. 
The palette flows through to the study, which overlooks the courtyard.
Two bedrooms and two bathrooms were slotted into the original footprint on the first floor.
They simple grey panelling, pale pink tiles and brass detailing continue upstairs, creating a cohesive scheme.
Clad completely in beautiful Zellige tiles, the shower room is a lesson in understated luxury.
See more of Beth Dadswell's projects at Imperfect Interiors. 
Want Beth's look without a complete renovation? Shop the pieces at The Edit.
See more Modern Homes
See Also: See how a small Victorian terrace has been tastefully extended into a modern family home