Explore A Modern Rustic Country House In Connecticut
Designers Sheena Murphy and Tor Sauder have created a country house in Connecticut full of beautiful and eclectic homeware...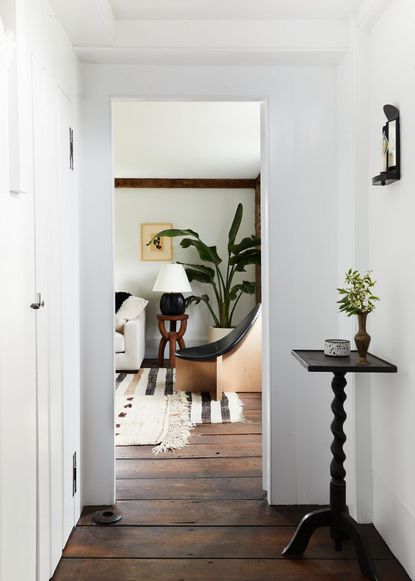 The Livingetc Newsletter
For style leaders and design lovers.
Thank you for signing up to LivingEtc. You will receive a verification email shortly.
There was a problem. Please refresh the page and try again.
THE PROPERTY
A country house in Connecticut. On the ground floor there is a living room, den, a dining room with a seating area, the kitchen-diner and a shower room. The first floor has the master bedroom with adjoining study, a guest bedroom, two single bedrooms and a bathroom.
The owners of this historic house wanted us to create an interior that honoured the narrative and the architecture of the property, and something that really suited their lifestyle,' says Sheena Murphy, who co-runs New York-London studio nune with fellow interior designer Tor Sauder.
Entrance hall
This entryway leads to the den on one side and the formal living room on the other.
Vintage pedestal table, Laserow Antiques. Custom stair runner, Merida Studio.
The project she's referring to is Bruey Cottage, the owner's country retreat in Norfolk, a small town in Connecticut, about a three-hour drive from their city pad in Brooklyn – which nune also designed.
See Also:Striking hallway floor ideas
Living room
'This is the formal sitting area, so we've used more luxe materials, such as velvet, suede and brass,' says Sheena. 'These create a contrast with the primitive wood and rough cotton textiles.'
Velvet sofa, Jayson Home. Cushions, Küdd Krig. Vintage coffee table, Morentz. Armchair, Espasso. Brass side table, Anna Karlin. Vintage wooden bench, Andrianna Shamaris. Photograph, Anne Menke at Clic gallery.
'They bought the cottage in 2017 and we got started right away,' says Sheena. 'We'd previously worked with the couple on their own properties and ones that make up their residential development firm, Branca & Co, so our relationship was well established.' A whitewashed, wooden A-frame house set within seven acres, it was built in 1790 by Captain John Bradley, an American Revolutionary War veteran. Despite numerous cosmetic updates over the centuries, the cottage has retained many of its original features, including exposed structural beams. It looked to be in good condition – until exterior work revealed serious structural issues.
See Also:Storage ideas for small living rooms
Kitchen-diner
'This is the newest part of the house,' says Sheena.
'The white-on-white scheme ensures it maintains a strong visual connection to the rest
of the property.'Bespoke cabinetry, designed with Frances Mildred. Vintage chairs, Amsterdam Modern.
Wall light, Schoolhouse
'We had to wait almost a year while this was rectified,' says Sheena. 'It was unfortunate, but it did prompt the clients to reassess what they were doing with the kitchen.' The couple hadn't initially intended to renovate this space – it was to be part of a future extension – but they now had time to address it. They called in New York-based architectural firm Frances Mildred, who created a custom design that pairs white- painted wooden cabinets with a marble work surface. 'The kitchen now feels aesthetically at one with the rest of the house – that was a nice silver lining,' says Sheena.
See Also:Modern Kitchen Cabinet Ideas For A Contemporary Aesthetic
Dining room
The simple white tablecloth and vintage chairs manage to be chic while fitting in with
the cottage's period features.
Volga Linen sells a tablecloth like this one. For similar vintage chairs, try Etsy
As for the rest of the interior, that now features a mix of old and new pieces, niche and more established brands, all expertly selected by nune to elevate the cottage's white walls and dark floorboards. 'We almost always work with a heavily layered and neutral scheme, but this project was a departure for us,' says Sheena. 'The age and character of the house demanded an eclecticism that others we've worked on haven't. You have more freedom to mix what you want, as long as you unify things with a consistent tone and palette.'
See Also:Chic and Clever Small Dining Room Ideas
Guest bedroom
'Two single bedrooms with sloping ceilings are almost mirror images and sit opposite one another at the top of the staircase.' The reddish tones of the wide floorboards stand out here and elsewhere in the house.
Vintage bed, Chairish. Vintage side table and light, both 1st Dibs. Vintage rug, Home Stories.
Looking to play with materials, shapes and genres, all within a soothing colour scheme, the designers left no stone unturned in their search for different pieces, scouring flea markets and designer-makers, both nationally and worldwide. 'Some things were already on our radar, but vintage is an ever-moving target – you never really know what's out there,' says Sheena. It's also a part of the job that isn't without hazards: 'We'd go to markets and sometimes end up taking far more stuff home for ourselves – it can be hard to part with some finds!'
An example of Sheena and Tor's meticulous furniture mix is showcased in the living room. A welcoming space full of amped-up textures,it features a luxe, contemporary velvet sofa from Chicago's Jayson Home with cushions from Californian brand Küdd Krig. These mingle with a tiled coffee table from Dutch vintage gallery Morentz, while chance finds include a brass fireguard from Etsy.
Master bedroom
The pared back stlye is enticingly relaxe, yet sophisticated. A small study with built-in closets adjoins the room.
Bed, Earl Home. Vintage bedside tables, Laserow Antiques. Bedside lights, Circa Lighting. Rug, Territory Design.
Similarly unique arrangements are found in every room. Unified through the designers' use of neutrals, each space adds to an overall look that feels casual and collected. 'Nothing is too precious or new,' says Sheena, who is looking forward to seeing how the house evolves over time – especially with the arrival of the couple's son. 'When clients move in, things get tweaked – that's when it really starts to feel like a home.'
See more of nune's design work at nunenune.com and find out more about Branca & Co at brancaand.co. View Frances Mildred's architectural work at francesmildred.com
Photographs Nicole Franzen Styling nune Studio
For style leaders and design lovers.
Shining a spotlight on the now and the next in home design and decor, Livingetc is the UK's best selling high end and contemporary home design magazine. As a brand, Livingetc showcases the world's very best homes, breaks and makes the trends, and has access to leading international designers for insight and ideas. It was first published in 1998, and is currently edited by Pip Rich.