Modern kitchen cabinet ideas for a contemporary aesthetic
Cool modern kitchen cabinet ideas, from Shaker-style to sleek and chic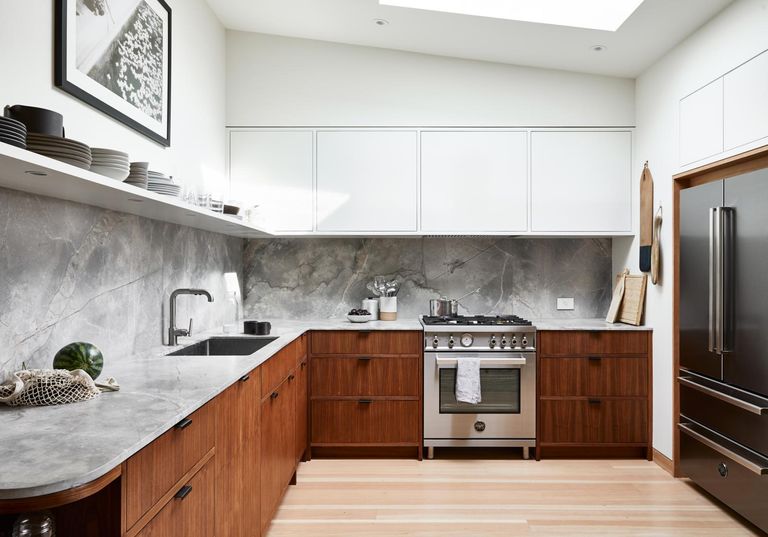 (Image credit: Shapeless Studio)
Looking to update the heart of your home and need some modern kitchen cabinet ideas? No problem. Whether you want to do a full renovation or simply want to give your existing units a makeover, these design-led ideas will set you in the right direction.
Shaker-style cabinetry is a great option for traditional design fans as its honest, simple and utilitarian; you can also modernise it with a contemporary, bold colour or keep it neutral for a tranquil feel.
Merlin Wright, Design Director at British Standard by Plain English, says: 'We have noticed a substantial increase in demand for cupboards that are highly functional and also thoughtfully considered with a real nod to traditional [and practical] touches- think ample shelving, well-placed hooks and with a utilitarian aesthetic.'
Something sleeker on the menu? Opt for handleless or minimal styles without any detailing and clever, hidden storage.
And what about kitchen cabinet colours? Helen Shaw, Benjamin Moore UK Director, says: 'Despite many regarding the kitchen as a 'neutrals only' space, rich, bold colours marry unexpectedly well within a kitchen setting as these spaces tend to be a busy and bustling heart to the home rather than a room for serenity. For many, kitchens are also increasingly becoming places for entertaining, meaning people are seeking a wow factor, statement kitchen that reflects their personal style while maintain a contemporary feel.
'Kitchens themselves, however, can be costly investments and aren't easily interchangeable, so using paint to add a daring colour pop to a cabinet front, island or shelving unit is not only cost effective, but also allows for a unique burst of creativity and personality to be injected with ease.'
1. Into the forest
Update a Shaker-style kitchen with a fresh, rich forest green hue. There's a growing interior trend for dark tones in the kitchen, which create a stylish and sophisticated personality with a sense of balance and renewal.
Bringing the outdoors inside with this restorative green colour scheme produces a beautiful and vibrant yet natural atmosphere. A green kitchen island can contrast seamlessly against white walls. Introduce soft pastels and metallics to complete the contemporary look.
2. The dark side
Painting your kitchen cabinetry a similar colour to your walls works to unify the space, and a dark, rich blue offers a sumptuous, dramatic effect.
3. Aim high
The Victorians were onto something with their penchant for tall cupboards... If you've got the space, go high. This Shaker-style kitchen with sleek worktops is given a modern makeover with a cool, charcoal palette, and the long cupboards offer plenty of storage space.
4. Metallic muse
Add gold or brass handles or trims to your cabinetry for an elevated, luxurious finish. Metallics works particularly well as splash backs, and on dark colours.
5. Two tone
Want to experiment with colour but don't want to go the whole hog? Try giving your kitchen island or just some cabinets a statement shade.
'Rich blue tones varying from vibrant teal to chic navy have increased in popularity due to their versatility and connection with the outdoors,' says Helen Shaw, Benjamin Moore UK Director. 'Conservative, yet bold, shades of blue can create a feeling of restfulness and harmony in chaotic spaces like the kitchen.'
6. Sherbert shades
Pretty pastels have definitely found a place in our kitchens, and it's not hard to see why. Pink kitchens are big for the same reason - soft and calming, as well as pretty and joyful - the perfect combination for a space you spend a lot of time in. These cabinets in First Light are lovely, while Pink Ground by Farrow & Ball is another stylish choice for modern kitchen cabinet ideas.
7. Midnight hour
Black kitchens and charcoal palettes are complemented by stainless steel appliances, marble worktops and Victorian-inspired tiles for a dramatic and impactful effect.
8. Go with the grain
We're increasingly looking to biophilic design to create more organic, calming, earthy spaces. It follows that the trend for wood kitchen cabinets has grown. Try pairing with soft sage green to really bring the outside in and create a look that's contemporary yet timeless.
9. Sleek and seamless
Clean lines, glossy finishes and handle-free cabinets are increasingly popping up in our kitchens.
Daniela Condo, designer at Life Kitchens, says: 'Hidden storage features are becoming much more popular as consumers become interested in clever storage and maximising on space, particularly city-dwellers.
'From pull-out and pull-down features, hidden pantries and multifunctional drawers, we are now considering storage options for the kitchen more than ever.'
10. Textured luxe
Consider mixing natural textures for a luxurious yet organic look. Daniela Condo, designer at Life Kitchens says: 'Texture is something that is also being increasingly explored when it comes to modern kitchen cabinet ideas. Materials such as end-grain, oak, and reclaimed wood can be blended with marble, stone or concrete to create a beautiful and highly resilient finish.'
Merlin Wright, Design Director at British Standard by Plain English, agrees: 'There's a renewed appreciation for natural and reclaimed materials such as wooden cabinets, sustainable wooden worktops and antique hardware.'
Before investing in new kitchen cabinets, it's worth doing your research to make sure it's a style you'll be happy with for years to come. Need some expert advice? We've got you covered below.
Your kitchen cabinet questions answered
What kitchen cabinets are in style now?
Don't be afraid to mix things up... You don't have to have exactly the same cabinets throughout the entire kitchen.
Jamie Blake, creative director at Blakes London, says: 'Deeply textured and stained veneers are really popular at the moment. Increasingly we're designing and installing kitchens that combine different styles of cabinetry within the same space. This creates layers of interest and personality, for example we might have hand painted shaker units on a wall run and then combine that with raw-sawn timber flat-fronted units on the base cabinetry.'
What colour kitchen cabinets are in style for 2020?
'Greens are definitely still very popular in 2020,' says Jamie. 'We're probably seeing the shade become more pastel green than the richer emeralds that were more common a few years ago. Earthier tones are seeing a real comeback in the form of natural textures, polished plasters, textured paints and warm tones of browns and even deep reds.'
Merlin Wright, Design Director at British Standard by Plain English, agreed that natural shades are a favourite: 'A lot of our current projects are also being specified with natural colours such as greens, browns and blues. A successful colour scheme has a balance of proportion and intensity; our preference is for tonal colours (ie. the base hue dulled with grey) as these feel more natural and calming than pure or primary hues.'
He added: 'There will also be continued interest in strong colours and bold combinations; perhaps as a result of global uncertainty and a desire for the warmth and optimism of mid-century modernism.'
What are the kitchen trends for 2021?
Cleverly designed spaces and storage have been key for a while. But never more so than in 2021 when our homes are having to work so much harder for us.
'Kitchens are hybrid spaces and need to deliver more than just an area for food prep,' says Jamie Blake of Blakes London. 'They are living spaces, offices, playrooms and spaces to gather. Kitchens therefore need to look less like kitchens. We're seeing fewer wall units and more open shelving for art, ceramics and other stylishly curated objects that detract the eye from the more utilitarian aspects of a traditional kitchen.'