What are the best cabinets for a minimalist kitchen? Designers on how to complete a calming look
What are the best cabinets for a minimalist kitchen? Design experts reveal the best fronts that will conceal your clutter and transform your mood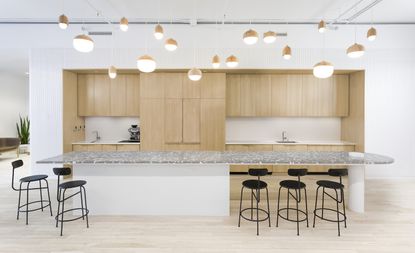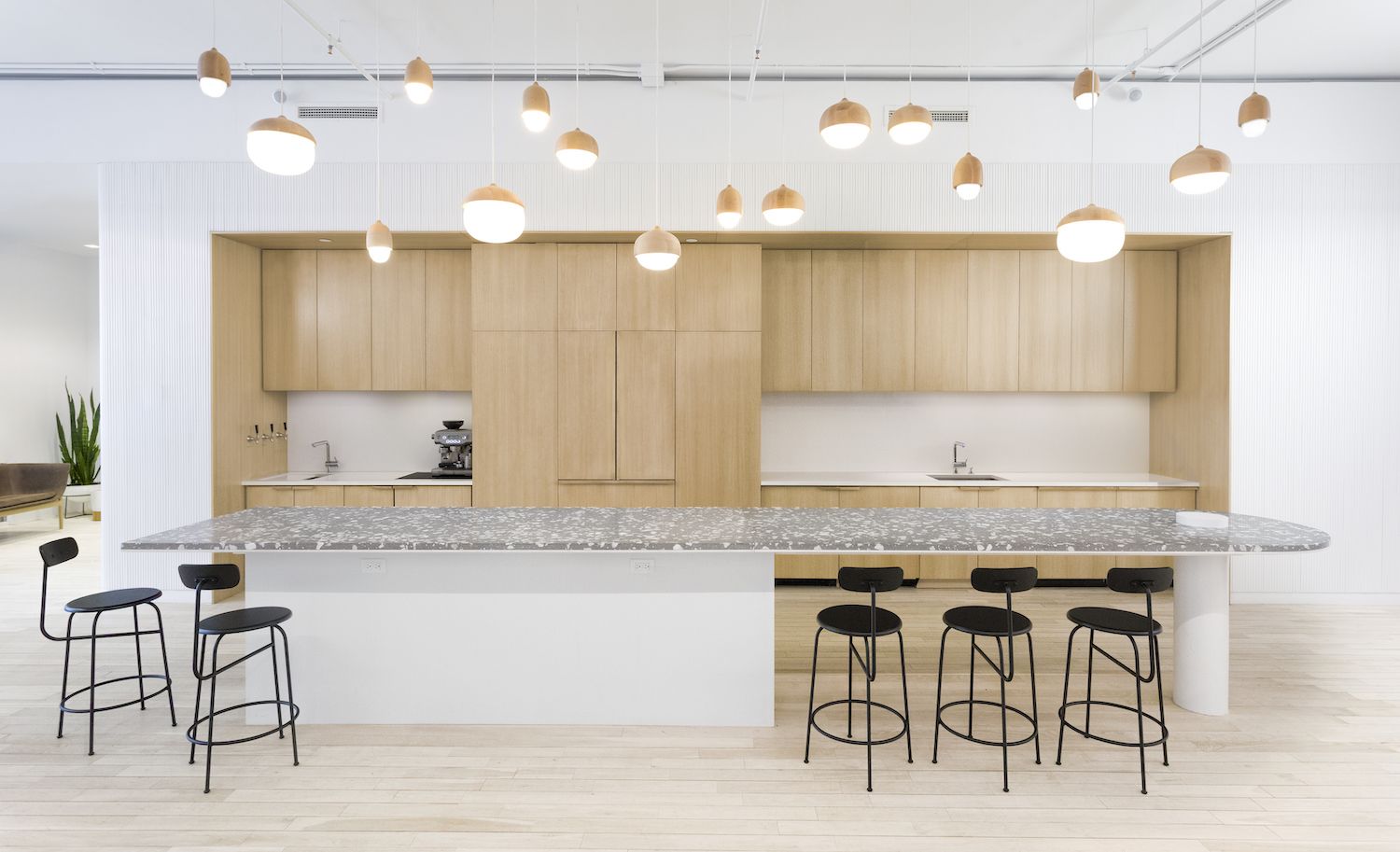 (Image credit: Aaron Thompson, design by Float Studio)
The Livingetc Newsletter
For style leaders and design lovers.
Thank you for signing up to LivingEtc. You will receive a verification email shortly.
There was a problem. Please refresh the page and try again.
A minimalist kitchen is not just about creating that modern, clutter-free look, but about designing a space to enhance your wellbeing. When choosing the best cabinets for a minimalist kitchen it's therefore important to think about how different designs make you feel. Whether they include easy-to-use integrated handles, or highlight the comforting textures and patterns in wood, the best kitchen cabinets can promote a sense of calm.
"Just like the weather, the atmosphere of the built environment has a profound effect on how we rest, think, feel, work, eat, and socialize," says Jonas Bjerre-Poulsen, He'a a leading figure in the the modern minimalism in interior design movement, as Founding Partner at Norm Architects and Designer behind minimalist kitchen cabinets at Reform. "Spaces and objects must certainly be functional, but if they are to truly serve us, they must also attend to our bodies and emotions. To us, good design transcends utility and aesthetics to become a sensual exercise. We call it Soft Minimalism."
Here we speak to more leading interior designers to find out which styles of kitchen cabinets will bring these benefits of soft minimalism to your kitchen.
10 cabinet styles for a minimalist kitchen
1. Flat fronted
Minimalism is a rejection of ornamentation, and so in their purest form minimalist kitchen cabinets should be flat fronted or slab cabinets. While concealing clutter, these cabinets create a soothing, seamless effect.
"Flat front and full-overlay style cabinets are typically best in a minimalist kitchen," says Santa Barbara-based interior designer Jessica Risko Smith.
Nina Etnier of New-York interior designers Float Studio agrees. "I would stay away from busy patterns and textures," she says. "If you are going for a minimalist look, flat-panel cabinetry is the easiest route – but the addition of subtle details can be a really nice way for materiality to shine."
In the above example by Captex Construction, for example, the edge-pull handles in a contrasting color add interest and texture.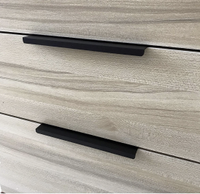 2. Slim shaker
While flat fronted cabinets are the best option for a minimalist kitchen in its purest form, the new wave of 'soft' minimalism takes a less strict approach to ornamentation. "In our essentialist design approach, decoration is not as taboo as the minimalists insist, but is used with great restraint so as not to dominate the space," says Bjerre-Poulsen, Founding Partner of Norm Architects and designer at Reform. "It is always authentic to the context and inhabitant, and it's there to add warmth and personality rather than clutter. In this way, every object serves its user."
Depending on the vibe and architecture of your home, a slim shaker style cabinet could work and bring warmth to your minimalist kitchen. Jessica Risko Smith explains: "In a more traditional home, you might still keep a minimalist aesthetic but use an inset style cabinet. In any case, fewer lines are better."
Alice Arterberry and Barrett Cooke of Los Angeles, CA and Austin, TX based studio Arterberry Cooke agree: "Overlay cabinets with a tiny (1/4") thin rail or 'slim' shaker detail are nice – you don't have to go completely plain with slab cabinetry."
In the above design by Urbanology Designs, the slim shaker style kitchen cabinets have been painted black to modernize the look.
3. Integrated handles
Kitchen cabinets with integrated handles are a great way to minimize ornamentation and focus on functionality, which are both key principles of minimalist decor.
"We are looking to create a less is more or a form follows function approach with minimalism, so we would want cabinet handles to either visually disappear, or be a very intentional part of the design," says Risko Smith. "Integrating your appliances with the cabinetry also creates a streamlined look which is great for a minimalist space."
4. Edge-pull handles
If you prefer cabinet handles to integrated designs, edge-pull handles are ideal for minimalist kitchens. We mentioned them in point one but it's worh underlining again, as they're a key part of current kitchen hardware trends. Arterberry and Cooke explain: "Edge pulls seamlessly integrate into the cabinets, quickly indicating access points without creating a busy look or throwing your eye around the room like a mix of knobs and pulls tend to do."
In the above design by Risko Smith, the black edge pulls keep the look simple and modern. "Edge pulls are another great choice," the designer says. "For hardware that is a key part of the design, very sleek or clean-lined handles are the best fit – wire pulls, contemporary knobs or bar pulls – something that is not overwhelming or distracting."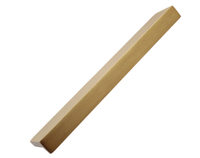 GlideRite brass finger tabs, Walmart
Available in five colors, these slender finger tabs strike just the right note for a minimalist design. The brass version adds a subtly warm touch.
5. Natural wood cabinets
Soft minimalism is all about adding texture and warmth through the use of natural materials. In the above design by New York-based Studio Zung, the natural pattern in the grain of the wood brings warmth and comfort to the kitchen. Principle designer Tommy Zung says that texture and pattern is okay for minimalist kitchen cabinets if it brings "depth and stillness to your space". He adds: "The design should feel cohesive, soothing, and nothing abrasive."
Wooden kitchen cabinets are the way forward when it comes to choosing for a minimalist kitchen. "Wood is timeless and soothing," say Arterberry and Cooke. "Minimalist design can feel stark or harsh if not considered; wood helps soften the space to make it inviting and calm instead of sterile. Rift cut (or quarter sawn) wood has a tighter linear grain so you get a uniform and consistent aesthetic."
Bjerre-Poulsen explains why natural materials can have such a soothing effect on the soul. "We find ourselves returning again and again to the natural world – the primordial home of the human race – for guidance in the pursuit of timeless beauty, simplicity, and connectivity," he says. "As engagement with nature is essential to human well-being, natural materials and forms, natural light, and quiet acoustics become synonymous with haptic design. We use sensory materials that remind us of nature and therefore calm us."
6. Painted cabinets in off-whites and neutrals
From the soft beiges in sand to the warm gray tones of the earth, you can find warm neutrals everywhere in nature. This is why they can have such a soothing impact on us – and why they are the heroes of soft minimalism. "Homes finished in earthy colors like beige, brown, and gray, with windows looking onto verdant landscapes, are soft on the eyes and speak of enrichment and sanctuary," says Bjerre-Poulsen. "We read such spaces as beautiful because of the feelings they evoke. It is for this reason that our approach relies extensively on neutral colors."
When it comes to painted kitchen cabinets, Arterberry and Cooke recommend "neutrals in an eggshell or satin finish, such as greige or warm off-whites with undertones of yellow or pink."
7. Painted cabinets in warm, dark hues
If you're wondering 'how do I make my kitchen minimalist' then don't forget about warm, dark neutrals, as illustrated by the deep burgundy cabinets by Float Studio above. Danny Spears, President and CEO at Captex Construction, recommends trying "rich, dark colors". He continues: "All white can look a little stark. We love colors like 'Brush Blue' and 'Salamander' by Benjamin Moore."
As before, look for tones that appear in nature. "I never let the studio look to the interior design world for colors," says Zung. "It's too transitory. I say look to fashion, look to flowers, look to anything in the natural world. Nature is honest. It won't lie. If you're looking for greens, look to oceans or pools or the Mediterranean. If you're looking for oranges, look at sunsets in a desert or sunsets in the tropics."
8. Monochromatic color schemes
When designing any minimalist space, be mindful of using contrasting colors. The overall feel should be seamless and monochromatic, illustrated in the design above by Norm Architects and featured in our list of the best minimalist houses of the year, where there's a smooth transition between the dark cabinetry and moody gray walls.
"Try not to 'break' your space by choosing a contrasting color for your backsplash and countertops," says Captex Construction's Spears. "If you are working with dark stone and tile in the kitchen, go dark with the cabinetry (and vice versa)."
Arterberry and Cooke echo his thoughts: "If you choose to have all painted cabinets, consider a darker neutral color paired with a dark stone countertop to create a relaxed, loungey feel."
9. Tactile materials
Along with opting for natural materials, another key principle of soft minimalism is to choose materials that have a tactile quality. "Emotionally, touch profoundly affects our sense of safety and belonging and in its absence, we feel deprived and alone," says Bjerre-Poulsen. "Human-centric design is necessarily haptic, treating the skin with a spectrum of smooth, textured, hard, soft, warm, and cool sensations. By harmonizing tactile qualities, a space or object can engender intimacy – softening the border between internal and external, and inviting the human body to feel."
In the above image by Float Studio, the variegated wooden cabinets beg to be touched. Tactility can also be added easily through cabinet handles. "Hardware –especially cabinet hardware – has the ability to complete the narrative of a space in terms of look and feel," says Float Studio's Etnier. "In our recent collaboration with Modern Matter we looked to create two luxury hardware collections, Otto and Marcelle, that provide both modern and transitional solutions. The elements in the Marcelle collection feature an elegant profile that feels nice in hand".
Float Studio's Brad Sherman adds: "Tactility is at the forefront of Otto's design concept with a profile derived from the feeling in hand. We started from what consumers typically see in modern hardware design, like a cup or tube, and added a curved shape for an elevated quality and a richer tactile feel".
10. High-quality craftsmanship
Finally, the best cabinets for a minimalist kitchen will be ones that function beautifully – and last.
"Achieving simple yet sensuous spaces requires a sincere devotion to craftsmanship and an ambition to work with high-quality materials and detailing," says Bjerre-Poulsen. "Simplicity can sometimes be laborious and luxurious. It is more difficult to be selective than it is to be excessive, and it takes a great deal of skill to craft spaces and furniture that work well while hiding everything except the essentials. An essentialist mindset also urges us to create well-made materials and spaces that last, rather than succumbing to passing trends or construction shortcuts. If the design reduces itself to its essence and nothing more, and if it is made intentionally, we're often choosing a more sustainable path."
For style leaders and design lovers.
Kate Hollowood is a freelance journalist who writes about a range of topics for Marie Claire UK, from current affairs to features on health, careers and relationships. She is a regular contributor to Livingetc, specializing in reporting on American designers and global interiors trends. Based in London, Kate has also written for titles like the i paper, Refinery29, Cosmopolitan and It's Nice That.