Just in: Jen Atkin's OUAI is expanding into home
The celebrity hairstylist is lighting the OUAI, adding two signature scents to her lineup.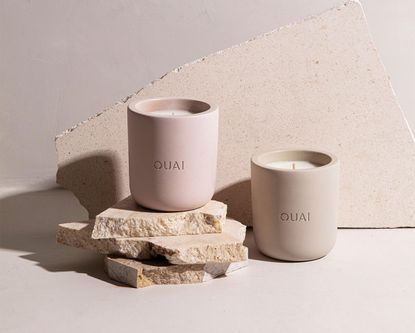 (Image credit: Ouai)
Jen Atkin is showing us the OUAI — the way the best candles (opens in new tab), that is. The celebrity hairstylist announced that she's not only expanding her fan-favorite brand OUAI (pronounced: way) but entering the candle game.
Starting September 7th, the newest category offers not just one signature scent but two. 'North Bondi' and 'Melrose Place' will be available at OUAI and Ulta Beauty, and if you feel like you've heard of these names before, you have.
Already fan-favorites in the hair and body range, these blends are bound to be marked as two of the best home fragrances (opens in new tab) in no time! (Or at least, we think so.)
Both selections are constructed from a chemical-free blend of coconut and soy wax and offer an approximate burn time of up to 55 hours.
Perfect in any bedroom, living room, or study, this candle is housed in a hand-polished concrete vessel that will elevate any space in seconds. Plus, once you've burned through the wax, it can be re-purposed.
OUAI Candles: What to buy
Whether you find yourself in the market for something clean and calming or fresh and floral, both OUAI candles are magnificent. Continue reading to see which blend best fits you and your home's aesthetic.
1. North Bondi OUAI Candle
North Bondi Candle (opens in new tab) for $44, at Ulta
Inspired by Sydney's iconic Bondi beach, the North Bondi candle (opens in new tab) infuses homes with citrus notes of bergamot, Italian lemon, peony, jasmine, amber, and white musk.
2. Melrose Place OUAI Candle
Melrose Place Candle (opens in new tab)for $44, at Ulta Beauty
Spurred by LA sunsets and valet parking, Melrose Place (opens in new tab) is a velvety rich rose fragrance filled with notes of champagne, pink peppercorn, peony, rose, sandalwood, and white musk.
Brittany Romano is Future's U.S. Shopping Editor, residing on the Upper East Side in New York City. From her start as a freelance fashion market assistant at Marie Claire to building a highly profitable commerce vertical at Us Weekly and AMI brands, Brittany has produced award-winning content covering everything from celebrity beauty hacks to must-have items from online sales. She is a graduate of New England College. When she isn't writing, you can spot her on Fifth Avenue lusting over the yet-another Chanel bag, making a stylish statement on her velvet couch (in the most luxurious sleepwear), or at a Boston Bruins game, in her signature So Kate Louboutins.
Follow her on Instagram at @ItsBrittanyRomano