Mother's Day gift guide: 9 relaxing buys for the woman in your life
Read Livingetc's Mother's Day gift guide for 2021 and treat your Mum to the best wellness buys on the online shelves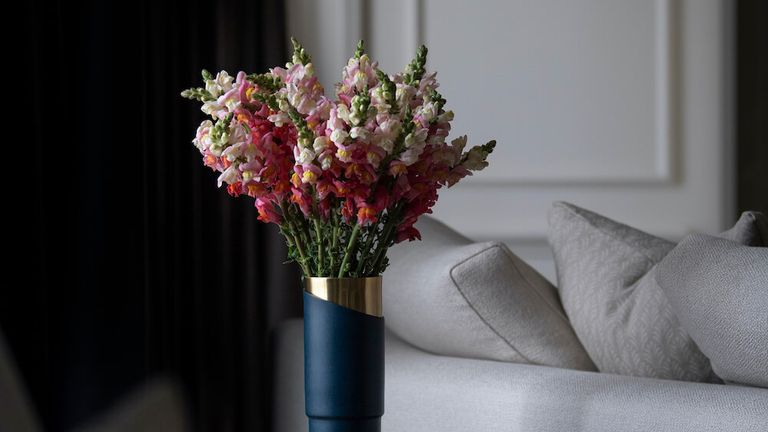 (Image credit: Bloom)
It's Mother's Day soon and with shops shut across the country, you are best to do your shopping online. If you need some inspiration on what to gift your Mum who loves a slice of luxury, then keep scrolling. Our Shopping Editor has handpicked nine lovely gift ideas that can help your mum get some well-deserved R&R from home. Whether she treasures her sleep, her idea of the perfect Friday night is spent in her freestanding tub, or, perhaps she rolls out her yoga mat to relax.
Read our best home fragrance guide for scent-sational buys to make your home smell lovely.
1. A Mulberry silk eye mask from Scooms
If your Mum is someone who struggles to sleep then treat her to an eye mask for Mother's Day. Not any eye mask, but a Mulberry silk one – it will feel lovely on her face, and it's great for those luscious brows and lashes. This one from Scooms is comfortable, breathable and hypoallergenic. It also comes in a matching drawstring bag so she can take it on her travels.
2. An essential oil diffuser from The White Company
A The White Company bestseller, an electronic diffuser works with water and fragrance oils to create a relaxing atmosphere in Mum's home. She can set it on a timer to release scent for a certain amount of time – from one hour to three hours – and it will automatically turn off when empty. It also doubles as a light so would be ideal placed on a side table in a living room. Unlike a candle or a reed diffuser, an essential oil diffuser is the gift that keeps on giving...
3. A tea gift box from Fortnum & Mason
Whether she's a tea lover or not, this Fortnums gift box will go down a treat in Mum's kitchen. Whether she chooses to pop the tins on display or use them for her afternoon tea, this gift set also comes with digestives and a tea strainer. What more does she need?
4. A lovely bouquet of flowers from Bloom
We all know the power of a pretty bouquet – not only can flowers brighten a room, but they can drastically improve your mood, too. This luxurious bouquet from Bloom is filled with Coral Snapdragons, and Bloom flowers arrive ready to display and already out of bud so she can enjoy them straight away. Choose how many stems you want to gift her, from 20 to 50.
5. The best-selling Simba weighted blanket
Filled with nanobeads to comfort Mum while she sleeps, a weighted blanket offers a full-body hug she needs to fall asleep – and stay asleep – every night. A weighted blanket isn't just for use while laying down. She could also drape it over her shoulders or pop it over her feet while she sleeps or catches up on her favourite TV programme. Great for reducing stress and anxiety, the Simba Orbit is super soft with a 100 per cent cotton cover that's washable.
6. Some yoga cards from John Lewis & Partners
If your Mum relies on a good stretch on her yoga mat to refresh her mind and get her ready for the day, then buying these yoga cards from John Lewis & Partners would make a lovely gift idea. She needn't fiddle with her phone to ensure she's posing right any longer. Not only do these cards feature photos, but they have instructions on how to perform each pose, too, and they will look lovely in her home gym.
7. A bamboo bath tray from Heal's
If she loves a dip with her favourite book and candle but has nowhere to put things down without stretching or leaving the tub, then she needs a bath shelf. This one is made from solid oak and it's perfect for holding anything from accessories to products. It's moisture impervious, too, and perfect for contemporary or Skandi-style bathrooms.
8. This chunky and cosy blanket for chilly nights
Last but definitely not least, a chunky blanket for cold nights in the living room or chilly evenings in the garden. This inviting blanket is as soft as it looks, and it's pretty large. Perfect for a sofa, bed, garden sofa or guest room – and it comes in four colourways. The neutral beige colour being our favourite, unsurprisingly...
9. A personalised bottle of Veuve Clicquot Rose
Possibly the most relaxing buy on our list, especially once she has enjoyed a few glasses of it, this bottle of Champagne will be sure to have Mum smiling. It comes in a lovely pink box with a pencil-shaped magnet for you to write a message to Mum on. Pop this message in the box, facing outwards, so she can see it while opening. Something different yet definitely relaxing – just make sure you gift it to her chilled.
Annie is the UK Shopping Editor at Livingetc, with the majority of her time spent advising you on what to buy for your home – whatever the season, or the latest trend. Whether that be a design classic floor lamp for your cinema room, a comfortable new chair for your home office, or a high-quality exercise bike for your home gym. She's also our fitness guru, with hands-on experience with some of the best home gym equipment around. Otherwise, you can find her forever painting the walls and reorganising the furniture inside her modern London flat, or going on long walks with her pug.