This luxury cat bed has 5-star reviews all round
Pets and their owners can't get enough of this luxury cat bed that right now, comes with free delivery – and it can be on your doorstep fast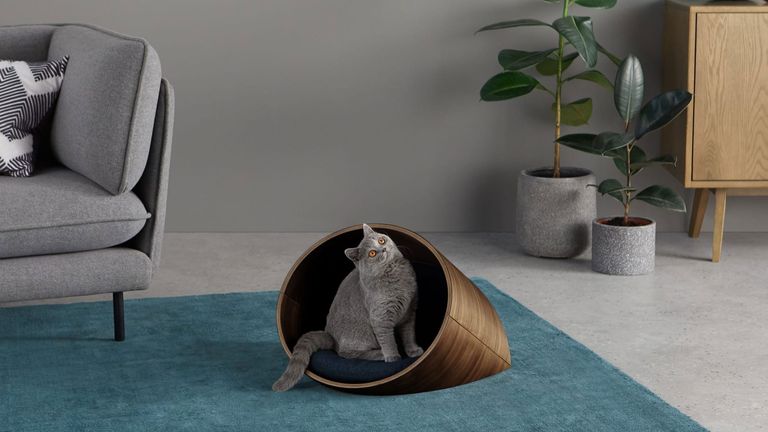 (Image credit: Made)
Searching for a new, luxury cat bed for your beloved feline? Finding a stylish yet comfortable cat bed can be hard, and since this item will inevitably be on show in your home, it's important to make sure it looks the part. After all, you don't want an arguably comfortable yet eye sore fluffy neon cat bed to ruin your living room aesthetic. Don't you agree? 
We've spotted a very stylish, modern cat bed at Made.com – and not only is it pretty but it's practical and comfortable, too. Only the best for your four legged friend as it boasts a solid walnut frame. It's also oval in shape to almost be a nook for them, and it's quite dark inside so your cat can snooze in peace. You can also place it anywhere from underneath a bed to in a corner of a room, or even atop a surface or on a windowsill so they can still be nose on the neighbours.
Take a look at the Kyali Oval Pet Bed at Made yourself – and to see some seriously cute pets modelling it. Yes, it's loved by cats and dogs alike! Also, it's worth noting that this luxury cat bed can be dispatched in just two days, while delivery is free right now. Keep scrolling for more info and to treat your fussy but loveable feline to one.
Dog owner? Don't miss our best dog beds guide for your furry friend. 
Kyali Oval Pet Bed | £99 at Made
Available in two stylish colourways, choose from a navy or grey interior to blend in with the rest of your home. How to take care of their fancy new bed? Wipe the outside clean when needed with a damp cloth, and as for the cushions they are washable at 30º. It couldn't be any easier.
Why else should you buy this luxury cat bed? With a total of 25 5-star reviews, don't just take our word for it. Some happy owners have said everything from "Lovely addition to the living room", "This bed ticks all the boxes" and "This is not only a well-made pet bed but a piece of beautiful furniture" plus more. While some reviewers even said it's fussy cat friendly. Impressive!
8 stylish pet buys for the home – luxury pet accessories you need