This London home overcomes a unique challenge – a triangular shape
What do you do if your house is shaped like a triangle? Style it like this one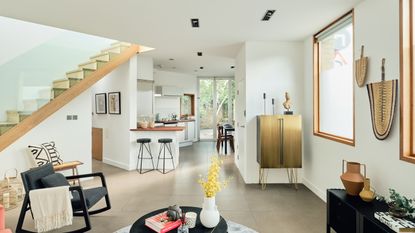 (Image credit: The Modern House)
Awkward living spaces come in many different shapes – from galley kitchens to narrow bedrooms. But what if your house is built on a triangle-shaped plot? Now that is a very special challenge to overcome both for the architect and the stylist.
This house in London's Battersea proves that a triangular shape is no barrier to creating a beautiful modern home.
Meet Diamond House. It was designed by Undercurrent Architects (opens in new tab) who are well-known for working with challenging building sites. The inconspicuous modern facade of the building conceals an ingenious layout that makes the most of the unusual shape rather than trying to hide it.
The kitchen area has been nicely slotted into a natural corner of the building. The breakfast bar creates a nice semi-enclosed feel to the otherwise open-plan space. The kitchen is north-facing, which has been counterbalanced with the glazed doors offering views onto the peaceful courtyard garden.
The dramatic central staircase has been flooded with natural light thanks to the addition of a skylight right above it. This house really showcases the transformative powers of natural light in small or unusually-shaped spaces.
Considered window solutions have been dotted throughout the home, with the ground-floor en suite master bedroom especially benefiting from a large picture window that faces the courtyard. The private aspect of the bedroom means that no curtains are required – and they're not needed given the overall minimalist aesthetic of the interior.
The decor is restrained without being clinical – and softened by the use of warm-toned wood throughout. Scandi design meets a contemporary flair for comfort. We also like the way that the windows and mirrors replace the need for artwork – the gentle green of the garden provides just enough liveliness without disrupting the calm of the decorating schemes.
The outdoor space deserves a special mention. Both an extension of the balanced decor and a secluded space with its own character, the courtyard has been transformed into an ethereal, meditative space. The low-level planting just outside the bedroom window enhances privacy, while the centrepiece of the courtyard – the magnificent silver birch tree – pulls the courtyard design together.
Diamond House (opens in new tab) is on sale for £1,050,000 by The Modern House.
Anna is Consumer Editor across Future home titles. She contributes to Livingetc, Homes & Gardens, Ideal Home and Real Homes, and she has a background in academic research. She is the author of London Writing of the 1930s. Not just an expert in consumer shopping trends, she has also written about literature, architecture, and photography, and has a special interest in high-end interior design.