What should you not do in a bedroom layout? 7 simple mistakes designers notice in unbalanced spaces
Experts reveal what not to do when planning your perfect bedroom layout, and the work-arounds you can use instead for a well balanced and restful space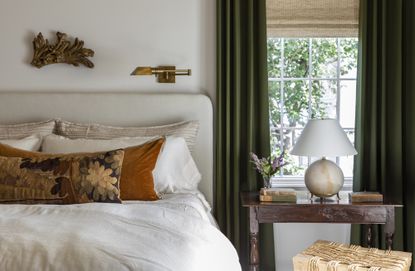 (Image credit: Marie Flanigan Interiors/Julie Soefer)
The Livingetc Newsletter
For style leaders and design lovers.
Thank you for signing up to LivingEtc. You will receive a verification email shortly.
There was a problem. Please refresh the page and try again.
Designing a bedroom layout takes a lot of thought and forward planning to create a cohesive space that works both functionally as well as aesthetically.
During the planning and remodeling stages, there are a number of things you to be aware of that you should not do in a bedroom layout to ensure the result is perfectly balanced and works well for your lifestyle.
Whether you're looking for bedroom layout mistakes to avoid in general or for inspiration on what to look out for in small bedroom layout ideas, these expert tips could save you a lot of headaches further down the road.
What should you not do in a bedroom layout?
There's a host of things you shouldn't do in a bedroom layout to get the most out of your space and create a well-balanced and restful room. One of the most important things is to make sure you don't block the natural light; for example, by placing a tall chest of drawers in front of the window.
Another mistake to avoid in your bedroom layout is neglecting to cater for practical bedroom storage ideas. A clutter-free space is a calm and alluring one.
Experts reveal more tips on what you shouldn't do in a bedroom layout below.
1. Block the light
'Embracing natural light is one of the most important components of designing a space, especially a bedroom,' says Marie Flanigan, Principal, Marie Flanigan Interiors.
'When the room's positioning necessitates placing a bed between windows with bedside tables in front of the windows, I always choose pieces that are not much taller than the windowsill to avoid blocking the light.'
Using transparent materials is another option to let the light in.
Brad Ramsey, Principal and Founder of Brad Ramsey Interiors, says: 'In small bedrooms, sometimes you're forced to put objects along a window wall. When stuck in this scenario, opt for open bedside tables and glass lamps, as I did in this space (below).
'This allows as much light to come through as possible and not be blocked by heavier furniture pieces. We also kept the color palette very soft and layered in with neutral colors and textures. This allows the space to breathe and still feel invitingly warm even though it is a tight space.'
2. Neglect to plan your storage
Good bedroom storage ideas are essential for a bedroom that's functional as well as aesthetically pleasing - clutter will only lead to a chaotic look and feel.
'Wardrobes are a crucial consideration when designing a bedroom,' says Irene Gunter, Principal, Gunter & Co. 'I recommend built-in designs instead of freestanding ones, which can waste space.
'Built-in wardrobes are tailored to fit the specific dimensions of your room, making the most of every inch of space. They can also be customised to suit your specific storage needs.'
She continues: 'To avoid overwhelming the room with built-in wardrobes, integrate them into the backdrop of the room. This can be achieved by painting them the same color as the walls or wrapping them in the same wallpaper or fabric.'
If you're looking for small bedroom storage ideas, don't forget the wall space above and to the side of your bed - it's the perfect spot for built-ins.
Under-bed storage is also a great way to maximize the use of your space.
Ginger Curtis, CEO and Founder of Dallas-based Urbanology Designs, advises: 'Don't let valuable space go to waste! Consider investing in customized built-in storage solutions tailored to your specific space.
'This could involve floor-to-ceiling wardrobes or shelves, built-in closets, or even niche shelving. Customization allows for efficient use of every inch available.'
3. Waste alcove space
Although they might feel like a challenge, alcoves are the perfect spot for extra storage, whether its closed built-ins or open shelving.
Alcove or recessed shelving is a particularly useful way to store books or display objects.
If you feel there isn't enough space in your small bedroom layout ideas for a standalone shelving unit, it's the best way to incorporate useful shelving into the space. Make it pretty with ceramics, indoor plants, photographs and art.
4. Ignore awkward corners
A sloped ceiling or small corner space doesn't have to be a problem. Try and make it work for you, whether it becomes home to a small vanity table or perhaps an office desk.
Another idea is to place a bed in the corner under a sloped ceiling to really maximize the space. This works particularly well as a guest bedroom idea or kids' room idea.
Using a corner with a sloped ceiling allows the central floor space to be freed up, which can serve as a play area for a child or relaxing area for a guest.
Or you could opt to create a 'bed nook', which also creates a sense of intimacy, and a cocooning 'space within a space' for a tranquil feel and relaxing slumber.
5. Get the scaling wrong
'Improper scaling is an easy way to ruin a bedroom's potential,' states Urbanology Designs' Ginger Curtis.
'Large bedrooms require large furniture! To ensure your room feels cozy and full, make sure to select pieces that won't feel too small in your space.'
Ginger suggests it's also a good idea to create 'zones' within a large bedroom.
She says: 'If you have the room, also consider creating moments in your space for relaxation and conversation. Fill large corners with a comfortable lounge chair or put a large bench at the end of your bed. These are a great way to create touch-down points in your room.'
6. Forget about lighting
Forward planning is not only essential when it comes to storage but also when it applies to your bedroom lighting.
Wall lights or pendants are a popular option instead of table lamps in modern interior design, particularly in small space.
'In either case, you will need to decide on the exact position of your bed before installing the lights,' advises Irene Gunter. 'Also, think carefully about the amount of clearance you would like between the bottom of the light and the tops of the tables. To allow space for a pile of books or a carafe of water, I always recommend a gap of at least 30cm.'
7. Fail to plan your bed positioning
Thinking about where you want to place your bed is an important part of bedroom layout ideas, as it informs where you might need electrical points for wall lights or pendants, as well as placement for bespoke storage, or even how much room you have to accommodate bedside tables.
So where's the best place for the bed? Marie Flanigan says: 'I like to make the bed a room's focal point. To achieve that, the bed will be positioned away or across from the door allowing for maximum visual impact.
'If your space doesn't accommodate traditional bedside tables, substitute with a small side or martini-style table.'
For style leaders and design lovers.
Ruth Doherty is a lifestyle journalist based in London. An experienced freelance digital writer and editor, she is known for covering everything from travel and interiors to fashion and beauty. She regularly contributes to Livingetc, Ideal Home and Homes & Gardens, as well as titles like Prima and Red. Outside of work, her biggest loves are endless cups of tea, almond croissants, shopping for clothes she doesn't need, and booking holidays she does.