Outdoor Christmas lighting ideas - advice from the experts on how to make your outside space sparkle
Outdoor Christmas lighting ideas to make your home exterior feel merry and bright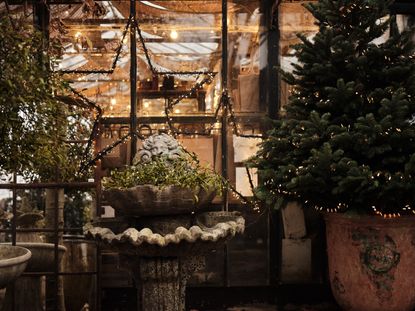 (Image credit: Petersham Nurseries)
Getting your outdoor Christmas lighting ideas together is where the festive feelings begin. Not only will a touch of sparkle outdoors be a heart-warming festive greeting every time you arrive home, but it may even create an additional cosy space to relax and spend some time with loved ones in the winter months.
'Lighting is absolutely essential for setting the scene and creating a cosy ambiance outdoors during the festive period,' says Jonny Brierley, CEO at Moda Furnishings. 'Whether it's warm hanging lights or a glowing table lamp, the use of soft lighting is crucial for creating a warming atmosphere especially during the cold winter months.'
With Christmas lighting ideas from the experts suitable for projects big and small - from how to create an entire festive garden scene, to starting small with a nature inspired set up - you're bound to feel inspired. And you might surprise yourself with how much time you'll long to spend in the great outdoors this Christmas!
Outdoor Christmas lighting ideas
1. OPT FOR A WOW-FACTOR PIECE
If you want to go all out, but don't have the time to plan and install an elaborate display - opting for large scale pieces is a quick and easy way to achieve a fabulous look. Like Christmas window lighting ideas, you can create maximum impact without putting in too much effort.
'For outdoors, we'd recommend focusing your efforts on statement pieces to really give your decoration the wow-factor it deserves at Christmas,' says Lucy Kirk, Creative and Photography Manager at Lights4Fun. 'Choose majestic reindeer figures to adorn your garden and complete the look with supporting touches, including festoons or fairy lights to line your guttering'.
Shop the brilliant Lights4Fun collection of Christmas lights here.
2. ENHANCE THE NATURAL BEAUTY OF TREES AND SHRUBS
Before you get too ahead of yourself with grand plans for a twinkling festive wonderland, or bogged down by current Christmas tree trends, think about making the most of what you've got first. Gardens already have the structure to form the backbone to a magical Christmas display, and working out which of your trees and shrubs may benefit from a sprinkling of fairy lights should be your initial plan of action.
Experts in showcasing the beauty of nature, Petersham Nurseries know a thing or two about how best to add lights to the garden. 'Warm white LED lights are the best,' says Ronny de Koning, Creative Director at Petersham Nurseries. 'They are the most energy efficient and bring a beautiful glow.'
Their Horticultural Director Amanda Brame, offers the following brilliant advice when it comes to installing them perfectly, 'When decorating the lights, always follow the branch in a natural way - this will give you an even distribution.'
3. LET NATURE INSPIRE YOU
As well as enhancing the beauty of your garden with fairy lights, allow yourself to be guided by natural forms when choosing more statement pieces for a really enchanting look that doesn't jar or feel too brash.
'We've used alliums as our main inspiration for our range of indoor and outdoor lights,' says Sarah Raven, founder of Sarah Raven. Forget regular Christmas tree ideas, thanks to their botanical design, they sit naturally and comfortably within a garden setting for a really cohesive look.
Sarah's main tip for decorating with outdoor lights at Christmas? 'Go mad!' she says. 'Sparkling lights are the remedy for murky Christmas evenings and give superb, welcoming cheer. You can never have too many lights at Christmas.'
4. IF YOU DON'T HAVE ANY TREES TO DECORATE, RECREATE YOUR OWN
Sticking with the natural theme, why not think big and replicate the look of a tree? You needn't have to have a forest in your back garden to create the feeling of a magical festive woodland - the look can be achieved with some cleverly positioned lights, and of course the all important star at the top. 'There's something incredibly whimsical about a tree of twinkling lights,' says Joanna Spindler of Graham and Green. 'A really simple idea, yet so beautiful on the long dark evenings ahead.'
Joanna also offers a gem of wisdom; 'When positioning your outdoor lights, consider how they will look from all angles, especially with 3D structures,' she says. It's also well worth testing out the position in relation to what you can see from your window when you're inside your home - one of the best living room ideas for the season is making sure you can enjoy them from your sofa too!
5. SCALE IT DOWN
On the other hand, if time is precious and large scale installations aren't your thing, how about a charming miniature display? Position in a place that you pass often, or on top of a table as a centrepiece for an outdoor get together.
Greg Lehmkuhl, Creative Direct of American garden boutique Terrain, echoes the sentiment for keeping things achievable at Christmas; 'It's important to consider what you have time for, and what your budget allows,' he says. 'Just remember, even something on a smaller scale that is thoroughly thought through will be as evocative as a big show.'
Keeping things small may also lead to a more 'put together' look, as there's nothing worse than a big display that's actually quite thin on the ground. 'Concentrate your area of focus as best you can,' says Greg. 'This will lead to a much more successful display, rather than random pieces dotted around a larger space.'
6. CREATE AN ENTIRE SCENE OF FESTIVE MAGIC
'Make this Christmas the brightest yet and show your outdoor area the TLC it deserves by turning it into a twinkling festive scene that's guaranteed to impress,' says Rebecca Stanton, Style Expert at Dobbies. And can you imagine a more magical scene to hunker down in?
To achieve these Christmas decorating ideas, Rebecca recommends layering as many elements as you can; 'String lights, lanterns, garlands and standing decorations - a combination of all of these will create a really interesting display,' she says. 'When you're layering, just make sure to choose lights that complement one another in terms of colour and tone for a sophisticated look.'
Rebecca's top tip? 'Test the lights before you start stringing them all up! There's nothing worse than installing them before realising they may not be working…'
7 RELAX BY CANDLELIGHT
You don't need a big electrical set up to create something special outside. In fact, just a few simple glass lanterns with flickering candles within are an easy way to conjure some seriously festive feelings. They're also perfect to carry outside for an impromptu drink at dusk, or can be included generously as part of your Christmas table decor ideas for a more formal get together.
'There is nothing more magical at this time of year than candlelight,' says Chrissie Rucker, OBE and Founder of The White Company. When it comes to styling the lanterns Chrissie offers the following advice for optimum visual interest; 'I love a combination of tall and short lanterns to create a welcome entrance and subtle warmth to a home,' she says. 'I particularly like to add large lanterns of differing styles and heights either side of my front door - equally, lanterns and tea light holders placed on window sills inside glow beautifully outside too!"
8 LIGHT UP THE FIRE PIT
If you've mastered how to put lights on a Christmas tree, then here's another alternative to electrical fairy lights - don't forget about the good old humble fire pit! There is just something so special about a roaring fire, and lighting one up outside on a winter's day always feels particularly good for the soul. Jonny Brierley, CEO at Moda Furnishings, agrees; 'Whilst fairy lights create a lovely cosy atmosphere, nothing compares to the glow and warmth that comes from a fire pit.'
Great for creating an ambience at gatherings, a fire pit is a magical central point for your guests to gather round and linger a little longer. 'Fire pits create a wow factor, and allow you to stay outside for longer and enjoy a winter evening to its fullest,' says Jonny. 'The light from a fire is also said to create a more intimate setting, allowing your friends and family to relax and talk. The fire provides a visual, psychological comfort - from which everyone will benefit from during the hectic Christmas period.'
As well as your garden, consider areas of the exterior of your house that might benefit from a touch of sparkle. 'Icicle lights, cluster lights and net lights are a great start for your first set of outdoor lights,' says Megan Humble of Whitestores. String them up along gutters, around windows or a front porch to create a warm welcome.
And for any front door ideas, Megan has a great piece of advice; 'Look for lights with a timer function - this means you won't have to go out in the cold to switch them off at night!'
WHAT ARE THE BEST OUTDOOR LIGHTS TO BUY?
For creating something spectacular in a relatively fast time frame, you can't beat large scale pieces. To keep it classy, allow yourself to be guided by nature - both in your choice of design, and choice of placement too. Think about woodland inspired pieces that elevate nature rather than overpower it, and your display shouldn't fight with any existing trees or shrubbery.
Fairy lights are a favorite - and for good reason! They can be adorned across just about anything; a hedge, window ledge, guttering or door frame. Think about your preferred element of your exterior facade and consider how best to highlight it - icicle lights are great for this.
The humble candle or fire pit is also a fail safe option for illuminating a gathering or cosy evening - and will never fail to give you that warming, festive feeling.
ARE LED OUTDOOR LIGHTS GOOD?
LED lights are by far the most popular choice among our experts - and for good reason! They are the most energy efficient option, as well as being much safer than filament bulbs.
When it comes to the question of choosing between mains operated and solar powered, mains operated will be your best bet at Christmas. 'Solar options struggle to gain enough power in the winter months, as there's simply not enough light to charge them up,' says Joanna Spindler, of Graham and Green.
Go for an indoor plug socket, or if you have an outdoor one available, be sure that it's suitably covered.
WHAT ARE THE MOST POPULAR OUTDOOR LIGHTS
Fairy lights with a warm white glow prove popular year after year - and you can't go wrong with their subtle sparkle. Larger scale pieces are also gaining in popularity and are a magical choice if you have the space.
The Livingetc newsletter is your shortcut to the now and the next in home design. Subscribe today to receive a stunning free 200-page book of the best homes from around the world.
Interiors stylist and journalist Amy Neason was the Deputy Style and Interiors editor at House Beautiful for years. She is now a freelance props and set stylist, creating work for a range of national publications and brands such as Imogen Heath. She has previously worked at Established & Sons, and her skills include styling still life and interiors shots for editorial features and sourcing unique products to create inspirational imagery.

She is particularly respected for interpreting seasonal trends into feature ideas and style stories.