Front door ideas: 15 front door colours, plus practical advice from the experts
Front door ideas for an exterior colour refresh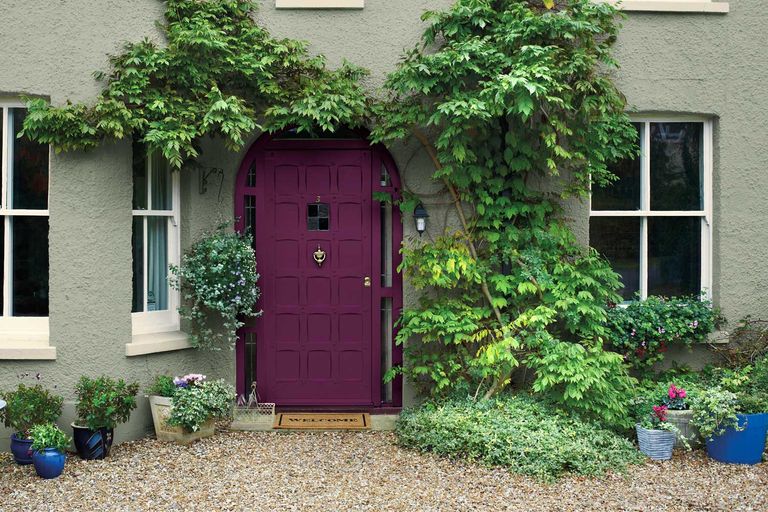 (Image credit: Dulux)
When considering home decor ideas, include front door ideas too. As even the most welcoming front door can lose its wow factor if it's not protected from the elements.
'To achieve a look that lasts, you'll need an exterior paint that has a UV-resistant formula and provides protection against cracking, flaking and peeling,' says Sue Kim, senior colour designer at Valspar.
The colour you choose to paint your front door is vital as a welcome to you and your guests. According to a study by Dulux Weathershield, it only takes 10 seconds for people to make a judgement about you when they see your front door.
There are so many colours to suit modern homes, how can you narrow down the options?
While red suggests a passionate and dynamic homeowner, black is favoured by those who want to give off an air of power and prestige. It's also preferred by those who want to maintain a sense of mystery!
Green denotes a calm personality and complements the outside world with its strong connections to nature. A calming teal front door, with its year-round summery vibe, will bring your front garden back to life through the bare winter months, according to the Dulux colour experts.
For those feeling brave, statement front doors are one of the hottest trends and bright yellows are perfect for creating a warm, welcoming entrance and setting your house apart from the rest.
Consider the character of your home and the materials it's made from too, so that your door colour acts as an accent to the rest of the exterior.
'If you have a period property, you may decide to go for a classic colour such as grey or black, or a soft tone such as Sung Blue,' says Jessica Plateo, marketing manager at Craig & Rose. 'That's not to say that bold, unorthodox choices don't work here – they often do – but that will come down to how much of a statement you're intending to make'.
1. New neutrals: stoney shades
Just how soothing is this soft, earthy shade from Little Greene? There's nothing loud or bolshy about it, it's just neutral, warm and calming.
More gorgeous colours from Little Greene, but we're particularly taken with the way that narrow raspberry pink line perfectly complements the lining of the curtains. Gorgeous.
2. Blush pink
Pink might not be an obvious pick but a muted shade can be a surprising and stylish choice. This lovely blush shade is not too pink, not too peachy, it's just calm, bright, and rather sophisticated.
3. Canary yellow
If doors could dance, this door would have jazz hands. The zesty citrus shade instantly puts you in a good mood.
4. Deep green
Taking cues from the natural world, options in green are becoming deeper, with ones like this working well with warmer materials.
This vibrant green looks fresh and zesty on this modern door, but would suit shed or garden house buildings and cottages too. Pairing it with black hardware gives it a modern, minimalist edge.
5. Sky blue
If you ask us, you can't go wrong with a soft sky blue shade. It's a classic.
6. Lavender
Lavender has a friendly, inviting and familiar feel to it. The dusky violet of this Lavender Quartz works well with soothing shades of white or cream and suits steel doorware better than brass colours.
7. Classic black
The traditional facade of this period property is given a smart update with this elegant black front door.
As this front door on a Georgian property in Holland Park proves (it's one of our Design Projects), it's that black and white is always classic and elegant, and a very London look.
8. Pillarbox red
If you have a brick home, colours that work best sit opposite each other on the colour wheel, Jessica Plateo explains. 'For example, if you have a home with red bricks, then it's likely that a blue or green tone will work well on your door. If your bricks are more of a sandstone colour, with a yellow tint or one that's more neutral, then it's worth considering a darker colour for contrast or even a red tone.'
9. Bright white
The white door and door frame makes a bright, fresh contrast to the brick exterior.
10. Deep aubergine
It is all about pairings with smart deep blue shades – and we suggest you go for matt black or brass hardware for maximum effect.
11. Plum
You may be thrilled with the new look you have planned, but others may not be. 'If you're going for an exceptionally bright or bold colour, it's good etiquette to mention this to your neighbours first,' advises colour expert Annie Sloan. 'Also, make sure you've checked local planning restrictions, especially if your home is in a conservation area or it's a graded property.'
12. Browns
Rich shades of reddish brown – especially in gloss finishes – are becoming increasingly popular.
13. Deep, rich blues
This indigo shade reminds us of the Aegean – we wish we could dive right into it.
14. A timeless grey
Smokey hues give this entrance a modern, sophisticated and grown-up vibe.
15. Navy blue
This dark blue shade from Little Greene looks almost purple in some light. The dark, bold colour is chic and grown-up.
HOW TO PAINT A FRONT DOOR
'Always sand down to get a smooth surface,' says Dominic Myland, CEO of Mylands. 'Then clean with a damp cloth to make sure there is no dirt or dust that will get caught under the paint. If there are any dents or chips in the woodwork, use filler. Sand the door down again to get a smooth surface and then you're ready. We'd always suggest using a primer and then two coats of your chosen colour for best effect.'
ANY OTHER TIPS?
Once you've sanded down and wiped the door, mask the hinges, handles and door frame before you apply the primer,' say the experts at Valspar. 'Once the primer and undercoat is dry, paint the edges of the door first with desired colour and then the rest of the door. Then repeat with a second coat.'
*Top Tip: Make sure to leave the door to dry for 2-4 hours before closing the door!
WHEN IS BEST TO PAINT A FRONT DOOR?
You need the right temperature and air flow when painting outdoors, says Helen Shaw, director at Benjamin Moore UK. 'If it's too hot and windy, the paint can dry too fast, making it difficult to smooth out brush marks. The paint may also pick up dust and dirt before it's dry, ruining the finish. If it's too cold, the paint will take a long time to cure, which may cause the door to stick when it's closed.'
Check out the eco paint that improves air quality
Shining a spotlight on the now and the next in home design and decor, Livingetc is the UK's best selling high end and contemporary home design magazine. As a brand, showcases the world's very best homes, and has access to leading international designers for insight and ideas. it was first published in 1998, and is currently edited by Pip McCormac.