Front door ideas – how to choose the perfect style for your home
Our front door ideas will guide you through picking out the most practical, and stylish design to create a beautiful first impression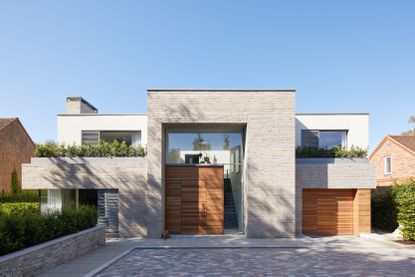 (Image credit: UrbanFront)
Front door ideas may not seem like the most glamorous choice when it comes to your home's design. Choosing a sofa or a new bedroom wallpaper are things we can all easily get excited about but doors? Doors are hardly... enthralling. Although, as we have recently found, picking the perfect door can or choosing a new paint, can be every bit as exciting as hunting for a new sofa. And more people will see your front door than your new sofa too so if anything it's an even more important design factor to consider.
'Creating a welcoming impression to showcase your style starts with the front door in my book.' says designer Abigail Ahern. 'There are a few ways to go paint it out in a contrasting hue to accentuate it or do as I do and paint it the same color as the windows frames and wall color. I make sure that my exterior paint color very much reflects and harmonizes with the interior paint colors so everything flows seamlessly as you transition from outdoors to in.'
'Having a light over the door immediately upgrades things, adding a welcoming statement plus it deters burglars all at the same time. Swapping out hardware like letterboxes, knobs, and handles is also a simple fix. You can go a step further into your front garden and pretty up with plants or small trees. Plants like jasmine, wisteria and honeysuckle are wonderful climbers and have a lovely scent.'
And if you are after more advice on actually choosing a door, we have asked the experts for their top tips on picking the right replacement to suit your personal style as well as the style of your home.
1. Decide whether you want your front door to complement or contrast your home
Let's start at the beginning, with choosing the right style of front door. Since this really is the first thing people see when entering or even just looking at your home it's important to get it right. We think the first decision to make which will dictate your choices going forward is, do you want your front door to match the aesthetic of your house or contrast it?
'I'm of the opinion that contemporary doors do suit traditional homes but it just depends on the door design and the era of the house. So be smart with your choice, make sure it's a contemporary classic design and also that it improves the overall look – as it's easy to update but actually reduce the saleability of the house and its charm.' advises Elizabeth Assaf Designer at Urban Front.
'For instance, Victorian houses really suit our Porto design which is a classic vertical boarded design but they wouldn't suit our very contemporary designs like Root or Sorrento. Saying that though, a lot of the time choosing a design is a personal thing – everyone has different tastes and opinions. But there are a few rules that can help this decision.' continues Elizabeth.
'If you are just updating the door, make sure the choice of material is just as important as the design and function.'
'If you are updating the whole frontage, make sure you choose windows, roof, door all at the same time so they work together to update the building.'
'Consider using mood boards and finding images of houses like yours online with a contemporary door so you have something as a reference. It's nearly always your first-ever choice which is the best choice!'
2. Consider the practicalities of your front door
Something to be considering alongside deciding on style is practicalities – insulation, accessibility, front door security, etc. Elizabeth recommends asking yourself these questions: 'Do you need your door to provide a high level of insulation? Does the door need to be easy to maintain over time? Do you want a door that blocks out sound due to being on a busy road? Does the door need to be accessible friendly or easy to maneuver a wheelchair through? Does the door need to fit into a glass wall?'
'All of these questions can help you decide the level of performance your door needs to achieve for you. For instance, some of our clients need doors that meet Passive Haus standard (houses that maintain a temperature of 18-21degrees without heating or airconditioning) so we supply them with doors at 98mm thick which meet this standard but this would not be suitable or needed for a standard English domestic home in the suburbs.'
3. Embrace the ever-growing love of Crittall-style
So once you have got your practical needs assessed, let's get into the exciting part of on-trend front door styles. Of course, we couldn't not include Crittall doors, they have been everywhere for the past few years and their popularity is only increasing.
While we so often see Crittall doors used internally or at the back of a home as part of a kitchen extension or renovation, it's only recently we are seeing them being used as front doors. And really they can work with any style of home from super modern to a period property, it just depends on whether you want to mix styles or keep things cohesive.
Now, whilst Critall doors look beautiful, they won't work for every home. Security could be an issue here, but if you have a gate, high hedges, or a second internal door you could for sure consider this glazed style. Or alternatively, you could create a similar vibe by adding Crittal windows or panels down each side of a solid door, so you have added privacy but still get that on-trend retro look, plus allow for plenty of light to flow into your hallway.
4. Make it seamless with a pivot door
Pivot doors, with their super streamlined look and minimalist aesthetic, are growing in popularity and much like Crittall doors, we are seeing them shift from being used as internal doors to front doors. Rather than being hinged to the side of a frame as traditional doors are, pivot doors rotate on a hinge that can be placed anywhere along the top and bottom of the door frame, making them really flexible.
Glazed pivot doors are the most popular design, allowing swathes of light to flow into a space and offering that really seamless feel between outdoors and in, so again if privacy isn't going to be an issue with your property, be inspired by this beautiful pivot door that almost blends into the home. You could also opt for a decorative or semi-transparent glass if privacy would be an issue. Or look into solid options like wood or aluminum.
If you have fallen for a pivot design, there are a few things to consider, however. 'Pivot doors are truly a 'Wow' factor but they aren't suitable for all properties.' advises Elizabeth. 'This is because it's impossible to completely seal a pivot door like a hinged door due to the way the hinge is situated and fitted. So, pivot doors need to be under a canopy or set back.'
6. Opt for a Dutch door for traditional charm
Think Dutch door and maybe your mind automatically goes to cozy cottages or rustic farmhouses, and while of course this design works on more period properties (they were designed for them after all), Dutch doors can also work with more modern homes.
Case in point with this lovely deep green front door. It feels classic, elegant, and in no way reminiscent of a farm. The larger size and the beautiful engravings elevate this bucolic door design to something that perfectly suits a contemporary home. Plus, as well as looking lovely there are loads of benefits to adding a Dutch door – you can bring in more light, more air and are ideal if you have pets or children you want to keep in (or out) of the house.
7. Create interest with pattern tiled steps
When choosing a new front door, or even if you are just after ways to just spruce up your current one, consider the space around it too. How will the frontage of your house look as a whole? Of course, the color and even your front door number design will set the tone but look to the floor too.
If you want to add interest, tiled steps or a tiled entryway is a sure way to do it. This front door idea is a beautiful example of a Victorian-style tiled step – a classic look that should definitely be considered if your home is from this era. It just adds so much more wow-factor than a drab grey stone.
And tiled steps aren't just for Victorian properties, there's a way of doing it to suit any style from any era and can be a lovely way to add color, pattern, and personality to an often relatively small part of your home.
8. Add a modern rustic touch with wood
Choosing the material for your front door will really depend on your style, practical needs, and budget. But a really safe option that's going last decades, help you save energy by keeping the house warmer and never date is wood. Wood can be repainted and retreated too so even when it starts to wear you can give it a new lease of life.
Ryan Schofield of door and window specialists, Thames Valley Window Company, suggests 'choosing a door that not only looks great but is also durable, draft excluding and thermally efficient. Timber is a strong and durable material with outstanding insulating properties. Timber doors benefit from traditional aesthetics combined with modern technology to create doors that are secure, energy-efficient and eco-friendly.'
And with wooden doors you have so much choice, from classic styles to minimalist designs. We love the simple, chic look of this wooden door, it adds a warm, modern rustic vibe to the exterior of this contemporary home and works perfectly to add texture to the sleek frontage.
9. Consider how to light a front door
And don't forget lighting. Not only is this important for creating a lovely welcoming glow around your front door, but it's a security precaution too.
'Front door lighting may become more important in the winter months when the days get shorter, however, even in the lighter months it can add a real style element to your entry. Lighting the front door can also add a security element to deter unwanted visitors.' explains Jamie Moxey of Dusk Lighting.
'There are a wide variety of lights that can be used for this, and these are really down to personal preference whether you prefer designs such as one larger light directly above the door for more emphasis, or smaller matching wall lights to frame the door.'
'Choosing a light in the style of the home helps to balance the exterior and introduces guests to the interior style of the house. For example, with a grander, classic home design you may opt for a vintage style pendant to reflect this. Alternatively, for a more modern, chic design you may choose more minimalist wall lights to illuminate without drawing attention.'
10. Soften your front door with greenery
It's the finishing touches that will give your front door really character and mirror the home that lies behind it. Adding greenery is a really simple way to soften the look of your front door and add in some lovely natural textures.
Keep a cohesive feel by choosing plants that suit the style of your front door and your garden. For example, climbers that wind around the frame or porch work so well with more traditional designs where you want some unruly charm, whereas for more modern frontages you may want to opt for something more structures and symmetrical like potted olive trees.
'The front of your home often gets forgotten but it is what people first see. It is important to plan the landscaping of your exterior/driveway/garden so that it feels considered.' advised Tom Rutt, founder of TR Studio. 'Bay and olive trees, potted buxom balls, window boxes with contemporary shrubs are great to add life to the exterior of your home.'
11. Consider your hardware
Hardware can really update a front door and as Tom Rutt rightly says 'The quality of your door hardware is also really important, if the color of your door is the face, then those are the features' so ensure you get your choice right and pick a style that's going to match your front door design, whether you want to use your hardware to make a statement and add character or simply blend into the background.
'On traditional doors, good quality bronze or aged brass ironmongery will create a timeless aesthetic, whereas chrome would really look out of place on a traditional door.' continues Tom.
'Over recent years for modern door styles, black hardware has become more popular. On a recent modernist house of ours, we hid the door in a large black slatted timber screen. The actual door was slatted and featured black banham locks so it was almost invisible.'
12. Update a tired front door with a lick of paint
Your front door color is hugely important, it sets expectations of what lies behind your door, lets guests and passers-by what your style is and if you buy into color physiology can tell a lot about you as a person too.
When starting to consider shades, Patrick O'Donnell of Farrow & Ball recommends to 'Always think about the vernacular of the building, a hot pink front door might not be the right choice on a Georgian rectory, but it would make a fantastic statement on a brutalist building - such as a Rangwali front door against a concrete façade.'
'Sometimes we don't want our home to 'shout out' so, a subtle contrast between exterior walls and your front door can be incredibly smart. And, painting your front door in a dark shade will always be popular, especially a perennial black - but a muted deep green such as Green Smoke is a great alternative that will appear both modern yet empathetic and works with most brick shades.'
And if in doubt , we agree with Annie Sloan and say be brave, it's not it's a color you have to stare at all day so go for something fun and bold – the best thing about paint is you can switch it up as often as you like. 'I find that people often pick colors for their front door that they wouldn't pick for the inside of their home – they're a bit braver and I love that!' says Annie. 'Bright yellow is a very popular color for a front door. Bright pink and turquoise are great also. Your front door is the first thing your guests will see so why not be bold and expressive!'
How do you choose the right front door?
If you are still unsure of how to choose the perfect front door Elizabeth Assaf Designer at Urban Front recommends to first consider these factors:
The style of the house (is it contemporary, Victorian, Edwardian, 1970s etc)
Any design features on the frontage (is the door the main feature? Is there cladding, lots of glazing, a grey slate roof etc – this will determine what will suit)
Is the house plain – then it might need a more 'wow' door or feature
What are the elements being used internally in the hall? This is because the door should suit the internal design too
How much space is allowed for the door? Sometimes size determines the design too – as some designs look better larger.
What is the best material for a front door?
'On no account construct a front door (or windows) from uPVC! ' advises architect David Money. 'It also doesn't age well as I cannot be easily sanded down and repainted every few years.'
'For longevity a hardwood like oak or sustainably sourced sapele or iroko is a good option, with recessed panels in WBP plywood. Repainted every few years (which also gives you an opportunity to try new colors) it will last more than a lifetime.'
Elizabath adds, 'There are so many to choose from at the moment, but it really does depend on a few factors. If you'd like a door that has character, texture and a natural feel and you don't mind a bit of maintenance then wood is the best choice. If you want something that you don't need to maintain, then steel or aluminum is the best choice.'
'My personal opinion is that with a wood door there are so many more options, you can have painted, bronze or metallic, stained, oiled or the natural finish and the options are really endless.'
The Livingetc newsletter is your shortcut to the now and the next in home design. Subscribe today to receive a stunning free 200-page book of the best homes from around the world.
Hebe is the Digital Editor of Livingetc; she has a background in lifestyle and interior journalism and a passion for renovating small spaces. You'll usually find her attempting DIY, whether it's spray painting her whole kitchen, don't try that at home, or ever changing the wallpaper in her hallway. Livingetc has been such a huge inspiration and has influenced Hebe's style since she moved into her first rental and finally had a small amount of control over the decor and now loves being able to help others make decisions when decorating their own homes. Last year she moved from renting to owning her first teeny tiny Edwardian flat in London with her whippet Willow (who yes she chose to match her interiors...) and is already on the lookout for her next project.