IKEA pantry hacks – how to create a perfectly practical kitchen storage space on a budget
Chic storage solutions don't have to break the bank with these handy IKEA pantry hacks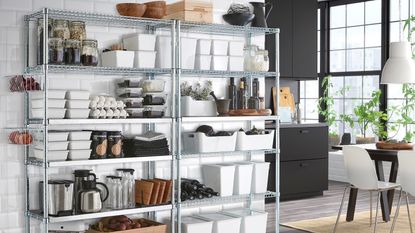 (Image credit: Ikea)
Contrary to popular belief, you don't need a country manor house to install a pantry into your home. And IKEA pantry hacks are a fantastic affordable storage solution that won't compromise on style.
A pantry is simply a convenient place to store all your baking essentials and dried goods (think pasta, rice, cereals, flour, and spices). Kitchen pantry ideas can suit any style and size; from pantry cabinets in petite places to walk-in pantries in larger spaces. And they can prove a much-loved addition in any type of home, from bijou city apartments to palatial country pads. So we've rounded up all the best IKEA hacks that will add a pantry to your space quickly, easily, and affordably.
IKEA pantry hacks
Whether you want to display your kitchen essentials in pretty glass jars on open shelving or keep it hidden in stylish drawers and cabinets, we've rounded up a host of pretty yet practical IKEA pantry hacks below.
1. Paint it black for a modern-looking pantry
'I am a huge IKEA lover and I am always fascinated about transforming IKEA furniture to unique pieces that match my design style and our home decor,' says Evie @homewithevie.
'So this is what I did with the Billy bookcase for our kitchen. Nothing too complicated, I just painted the outside of the bookcase in deep black color and changed the hardware. Changing the color only on the outside but keeping the original wood color on the inside it makes it look more expensive.
'This hack was a great small kitchen idea on a budget, as I didn't have a lot of space but I still wanted to create a statement pantry.'
We love how Evie has enhanced the contemporary look by giving a nod to the natural trend with potted and trailing plants.
2. Achieve IKEA pantry hack goals with Billy bookcase 'built-ins'
IKEA Billy bookcase hacks are fantastic for creating a built-in look on a budget.
Kellie @breakfastatkellies explains how she got this interior designed effect on her IKEA pantry hack: 'I've always loved baking, and unfortunately, our pantry was just one cabinet in our home, which was not enough space. It wasn't functional for someone who had four different types of flours let alone a cupboard full of other dry ingredients. I would admire other people's beautiful jars they could display in their kitchen filled with all of their different ingredients, and I wanted to find a way for this to work for me.
'To create my open pantry, I purchased two Billy bookcases. It took a lot of planning as I wanted to make sure the bottom shelf was equal to the baseboard height and make sure I could build them up to the ceiling to make them look built-in. I put both bookcases on a plywood platform to gain height. Once my bookcases were lined up where I wanted them, I attached them to the wall using brackets and framed them in with 2x4's to ensure they would be sturdy.
'After this, I applied MDF to all the seams and used concave trim on the back of the shelves to ensure the bookcase had no gaps. I built my own shelf out of MDF to add to the top of the bookcase and then topped this off with crown molding.
'Once all of my moldings and panels were applied, I dapped the entire bookcase and then sanded it down for a smooth finish. The final step was to paint the whole project. I primed using an oil-based primer and then used Benjamin Moore Advance paint, which dries with an enamel finish. Luckily, after I finished painting, my husband and I left on a road trip which gave the shelves a week to cure before decorating them with my cake stands, French ovens, cookbooks, and jars of all of my dry ingredients.
'I couldn't be happier with the final result, and for someone who loves baking as much as I do, it made my kitchen way more fun to be creative in.'
3. Install an IKEA pantry hack that looks seamlessly integrated into the existing kitchen
Just because you don't have room for a walk-in pantry doesn't mean you can't add one to your existing kitchen; a pantry can simply be a handy cabinet - and makes one of the better kitchen ideas - where you can store all your dried goods and baking materials.
Ruth @mrs_macs_home did just that with the IKEA Ivar, and created a pantry cupboard that seamlessly integrates into the kitchen.
She says: 'We used 2 of the larger IKEA Ivar pine cabinets to make a worktop pantry for our budget kitchen makeover.
'Once built, we put one on top of the other and screwed them together to secure and then anchored to wall.
'We then glued on 6mm thick and 90mm wide MDF strips around the front and sides, coving to the top and new shaker style handles.
'I used Zinsser ALLCOAT color-matched to F&B Cornforth White to paint and match the rest of the kitchen.'
4. Keep it monochrome for a sleek aesthetic
If you can spare the room, a walk-in pantry is a luxury you won't regret investing in; especially if you carry out a clever IKEA pantry hack and make a small budget stretch to a designer look.
This stylish butler's pantry houses shelving for cookbooks, a glass-fronted unit for pretty jars of dried cooking essentials, a coffee machine, a microwave, and lots of storage space.
Speaking about her chic black and white pantry, Marika, of @marikaknowsthings, explained: 'This was previously a dead space, an unused second entry with a rickety old external staircase, located just beside the second-floor kitchen/lounge area. Since we had another entry 99% of people naturally used, we decided to make it into our dream pantry instead.
'We used a combination of IKEA Bodbyn white kitchen cabinets, Billy Bookcases with Oxberg half glass doors and the height extension, with Mosslanda picture ledges for cookbook display, Tile Cloud Dural White floor tiles, and affordable wood panels finished with a liming white stain and varnish for the benchtops. Dulux Domino paint went on the back wall and Vivid White elsewhere.'
5. Create the pantry space of dreams with IKEA shelves and bookcases
Anna @numberthirtyseven showed how you can kit out an entire walk-in pantry with IKEA products alone and still make it functional as well as visually pleasing.
She used Billy bookcases for the structure and then mixed in a number of pantry organization ideas, from IKEA Knagglig pine boxes to IKEA Korken glass jars to display and store all her kitchen necessities.
'I used various Billy bookcases so that they fit perfectly in the pantry space I had,' explains Anna. 'Symmetry was very important to me for the visual effect and for my neat organizing tendencies.
'I used one 80x28cm, two 40x28cm, and two 80x40cm bookcases to give me depth for appliance storage. I fitted IKEA Oxberg doors to hide some of the less aesthetically pleasing items and placed shelves at the same intervals all the way around the room. I also used 2 Gnedby units to fill in the gaps at the end so the units go wall to wall in a U shape.
'All of the shelves were then organized issuing an array of IKEA storage options, again with symmetry and spacing key, including Knagglig, Variera, Rajtan, Vardagen, Korken, and Snudda.'
6. Make a stylish breakfast pantry nook
A chic breakfast and baking pantry area is an increasingly popular kitchen trend, and ensures that tea, coffee, and cereals are all neatly hidden away as opposed to cluttering up your kitchen worktops.
This quirky design successfully uses an originally awkward space and turns it into a pleasant spot for enjoying your morning cuppa, or for whipping up a few tasty treats with your KitchenAid without making a mess in your main kitchen.
The base kitchen cabinets are IKEA Metod, which have been given new life with color-block linoleum doors, which are available in a host of different shades from KOAK Design.
Jimmy at KOAK Design says of the look: 'Linoleum, also known as Marmoleum, can be used in many places in the home. You probably know it from linoleum floors, but it is also very suitable for other applications in the house. This also applies to the kitchen!
'One of the advantages of linoleum is that it is very practical and easy to maintain. Besides being a practical material, it is also environmentally friendly. Linoleum is made from sustainable raw materials such as linseed oil, resin, wood flour, and jute and is biodegradable.'
7. Engineer a chic Scandi-style pantry area
IKEA Metod cabinets are fantastic for creating a carcass for an Ikea kitchen design or pantry that can then be customized with unique fronts and finishes.
This ultra-chic pantry area uses the versatile cabinets to create a space where you can easily access your dried goods and baking essentials, as well as keep your coffee and tea-making machines neat and tidy, and all together.
The textural wood fronts inject warmth into the Scandi kitchen style, neutral space, and allowed the owner to splurge on other items - like a Smeg fridge and statement chandelier.
Jimmy at KOAK Design says: 'The client used our oak fronts and KOAK 7844 Black 4cm handles to create this look.'
We also love the idea of adding open shelving on the wall to display your ceramicware - function meets form.
8. Turn an old IKEA shelving unit into a smart pantry space
Yep, small kitchen ideas can include a large and practical pantry for all your storage needs if kitchen cabinets are short in numbers. Make the most of any spare wall space, and dress up an IKEA shelving unit with organizational boxes and jars. A cute wooden 'pantry' sign can add a rustic and individual touch while keeping things zonal.
'A pantry is a must-have on our list as we don't have a lot of storage space in our kitchen,' says Nyl of @nylcgaccion. 'However, built-ins are quite expensive and we are on a tight budget.
'We decided to turn our old shelf, a Fjälkinge shelf unit from IKEA, to a pantry. The shelves are adjustable, so we can change the height according to our storage needs.
'We used Axtorp wine rack for our wines, Observatör clip-on baskets, Filur storage bin, clear plastic bins, crates and jars to organize our knickknacks and labeled them.
'We also added a Nävlinge clamp spotlight so it's easy to find our way to the pantry for a midnight snack. It's a simple, budget-friendly way to keep the mess contained in our tiny kitchen.'
9. Channel the back-to-nature trend with an all-wood pantry cabinet
Who would believe there's an IKEA Metod cabinet sitting beneath this refined yet informal IKEA pantry hack? The look was created by adding 'Warm Bamboo' doors and circular hand-routed handles by Custom Fronts for designer-worthy finish on a DIY budget.
Wood kitchen ideas are on the rise as we all try to connect with nature to create a calming, tranquil space to relax and socialize in. A timeless look that will stay fresh for years.
The Livingetc newsletter is your shortcut to the now and the next in home design. Subscribe today to receive a stunning free 200-page book of the best homes from around the world.
Ruth Doherty is a lifestyle journalist based in London. An experienced freelance digital writer and editor, she is known for covering everything from travel and interiors to fashion and beauty. She regularly contributes to Livingetc, Ideal Home and Homes & Gardens, as well as titles like Prima and Red. Outside of work, her biggest loves are endless cups of tea, almond croissants, shopping for clothes she doesn't need, and booking holidays she does.