Ikea kitchen design – a complete guide to creating the bespoke kitchen of your dreams
Our guide to Ikea kitchen design can help you create a bespoke look on a tighter budget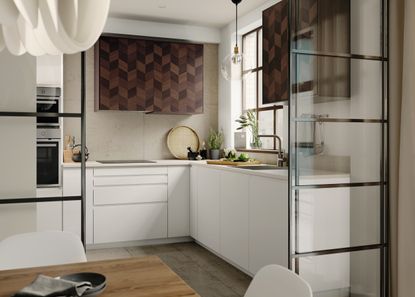 (Image credit: Ikea)
The Livingetc Newsletter
For style leaders and design lovers.
Thank you for signing up to LivingEtc. You will receive a verification email shortly.
There was a problem. Please refresh the page and try again.
The word 'bespoke' might not be something you typically associate with Ikea kitchen design, but with a little insider knowledge, the kitchen of your dreams may not be quite as out of reach as you first thought.
Ikea kitchens are undeniably affordable compared to their custom counterparts, and while you may have to invest more of your own time to create something that really works for you, the savings are well worth the effort.
The most effective way of creating a bespoke look is to source your doors elsewhere, and there are a number of companies who offer doors designed to Ikea's specifications. Custom Fronts are a brilliant example; based in rural Sussex, they design and make stylish, sustainable door fronts to fit Ikea kitchens. 'Not everyone realises, but Ikea kitchen cabinets can be bought without doors,' says their Co-Founder and Director Rachel Thurlby. 'This, along with their high quality and low cost, makes them the perfect building block to create a customised, bespoke kitchen for a reasonable price.'
We've enlisted the expert help of interior designers and Ikea kitchen specialists to reveal the insider tips, tricks, and kitchen hacks they use to turn an Ikea kitchen into something truly special.
What is the best Ikea kitchen?
Ikea offers a few different kitchen ideas and systems, and it's crucial to choose the one that will offer you the most opportunity to customize. The resounding answer from all of our experts was to go with the Metod range.
'The Metod kitchen is the best to use if you want to create a bespoke look,' says Beth Dadswell, Founder of interior design studio Imperfect Interiors. 'The carcasses come in a huge range of sizes and there are many external companies out there who can supply bespoke door fronts specifically for the Metod system.'
Custom Fronts, Husk, Superfront, Naked Doors and Plykea are all brilliant places to try for beautiful door fronts that will fit the Metod cabinets perfectly - and Sheena Murphy, founder of Nune interior design studio, reiterates the importance of opting for a company with expertise and experience in Ikea kitchens. 'The most important thing here is to ensure the company making the cabinet and drawer fronts are familiar with Ikea carcasses and have experience making fronts for them specifically. We wouldn't necessarily recommend trying this for the first time with a joiner,' she says. 'As well as Custom Fronts and Husk, I can recommend Semi Handmade, Reform and Holte too.'
When buying the Metod carcasses from Ikea, you can choose between either white or black internal units, and Millie Teden of Husk offers the following advice; 'We always suggest to our clients that when choosing between the color of their internal units, consider them in relation to the color of their chosen front. For example, if you were to go for a dark green front, black internals would look really sophisticated. But for a light blue kitchen, white would work beautifully.'
Becky Martin, Interior Design Leader at IKEA also speaks to the strengths of the Metod range if you are looking to create your dream kitchen. 'It's very versatile, allowing you to create many combinations and designs,' she says. 'With the modular sizes, you can combine the cabinets in a way that makes your kitchen feel like a unique piece of furniture, designed just for you.'
Which parts should you buy from Ikea?
Its modular nature means the sheer scale of options available as part of the Metod range can be hugely overwhelming - from the type of kitchen cabinet to choose, right down to the tiniest fittings - and it can be confusing to work out exactly what you need.
'The Ikea cabinets are excellent these days, and the hinge systems they use come from the world-leading Austrian company Blum, so you can be rest assured that these are a great foundation for creating a quality kitchen,' says Monica Born, co-founder of Superfront.
In addition to the carcasses and hinges, the consensus among our experts was to also use Ikea's drawer runners, plinth feet and any internal storage systems you require. Everything else can be sourced elsewhere.
How to make the most of the planning process with Ikea?
Even if you've decided to only buy elements of your kitchen from Ikea, you can still make the most of their brilliant planning service. 'Ikea has a team of experts on hand to help you plan your kitchen,' says Rachel of Custom Fronts. 'This is a free service and they will plan your kitchen for you, as well as advise on the wonderful, innovative, and space-saving interior storage systems they offer.'
To really streamline the design process, Becky from Ikea recommends attending the appointment prepared. 'It's good to come with some visual reference to use as inspiration,' she says. 'The Metod system is super versatile, and it can be used in many unconventional ways. As there are so many beautiful possibilities it is difficult to represent them all in stores or on the Ikea website, but if you have a visual reference of the bespoke features you like, it should be easy enough to achieve them with Metod.'
Crucially, Rachel at Custom Fronts advises what you need to take away from the planning session. 'Ask them to design the kitchen by adding doors and panels - this way you can easily see what you need to source elsewhere,' she says. 'It's also vital to make sure that Ikea also give you a version of the final design without the doors and panels.'
The next step is to take these designs to a company such as Custom Fronts, Superfront or Husk, and they'll be able to instantly suggest different versions of doors, handles, and worktops to elevate the look.
If you'd rather avoid the planning process altogether, Husk have got you covered. 'If you didn't want to work with Ikea directly, we offer a design service complete with 3D renders,' says Millie. 'We compile your Ikea shopping list for you, and suggest the best appliances to meet the practical needs of your kitchen.'
When designing your Ikea kitchen what should you consider?
Even with the help of a planning service, approaching a kitchen design can be daunting - not least for the vast amount of practical demands on the space. Andrew Griffiths, founder of interior design studio A New Day has some brilliant advice.
'Make a kitchen storage plan. List everything within the space, and work out exactly what needs to have a home in the kitchen,' he says. 'How much, and what type of glassware do you have? What small appliances do you want to be able to put away? Do you have large serveware that needs to be stored? Be realistic, and then plan your cupboard space and configuration accordingly so that everything has a place.'
From a visual perspective, there are also some layout tricks to creating a space that feels high end. 'Try to create symmetry,' says Beth from Imperfect Interiors. 'Centre your oven and hob, and have taller units at both ends if possible. Don't cram in too many wall cabinets - open shelving to display art, plants and ceramics will look much more premium and modern than endless door fronts.'
Millie from Husk agrees, 'Apply tall units where possible, not only do they look great, but they will also optimise storage space,' she says. 'Custom made shelves will instantly make the kitchen totally bespoke to you'.
What should you look for elsewhere?
'Think of Ikea cabinetry as the foundation of your kitchen, and then layer it up with details to truly elevate it into something special,' says Andrew from A New Day. With your carcasses and layout chosen, the fun can begin!
In addition to the doors, sourcing kitchen countertops, taps, sinks and handles separately will all contribute to a much more bespoke design. Building your kitchen piece by piece also means you can get really creative with sourcing each element and find things you really love, as opposed to being tied down by one company and choosing from their limited selection.
'It's worth looking into getting your worktop from a specialist supplier,' suggests Beth from Imperfect Interiors. 'Rowen & Wren and Corston both sell beautiful quality hardware at reasonable prices, and Mandarin Stone is a great place to go for interesting tiles'.
Sheena from Nune interior design studio also appreciates the beauty of quality hardware. 'Adding beautiful knobs and handles will really make the doors and drawers feel special and unique,' she says. 'We love Pruskin Hardware, Studio Henry Wilson and Swarf Hardware.'
In addition to doors, Superfront also offer design-led handles. 'We strive to create timeless pieces with a twist,' says Monica. 'We also use genuine materials that will age beautifully and last forever, such as vegetable tanned leather, solid and untreated brass that will patinate with time, and real Carrara marble.'
Get creative a design something really unique
Ultimately, the more tweaks and changes you make, the more individual the result. Opting for your choice of fronts, handles and worktops will elevate an Ikea kitchen, but you can also get creative with your choice of colours and finishes across the doors too.
'Use a mix of materials,' suggests Rachel from Custom Fronts. 'For example, mix oak and colour doors for a quiet but interesting look.'
Monica at Superfront also encourages a more artistic approach. 'Combining patterned doors with plain ones is another great example on how to make a kitchen feel more elaborate and designer,' she says. 'For those who dare – doors in different colours is an option that creates an expression far from the mundane.'
Whatever you choose, try not to alter the integrity of the Metod carcasses. Becky at Ikea explains, 'Metod is a great system to personalise, but whatever you decide to add as bespoke elements, try to not modify the carcasses, it will be easier in the future to adapt the kitchen to a new style or layout if you want to make changes.'
For style leaders and design lovers.
Interiors stylist and journalist Amy Neason was the Deputy Style and Interiors editor at House Beautiful for years. She is now a freelance props and set stylist, creating work for a range of national publications and brands such as Imogen Heath. She has previously worked at Established & Sons, and her skills include styling still life and interiors shots for editorial features and sourcing unique products to create inspirational imagery.

She is particularly respected for interpreting seasonal trends into feature ideas and style stories.