'It's so serene' - 5 perfect kitchen colors designers use for spaces to entertain in
Getting the color scheme in your kitchen right is the most important mood setter for a space you want to entertain in. Designers let us in on their favorite shades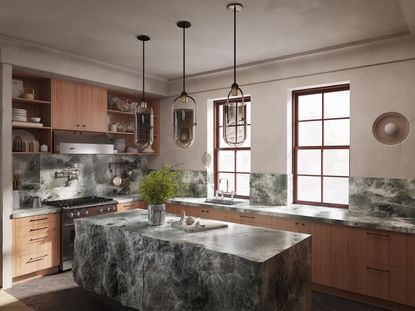 (Image credit: Arsight)
Picking a color scheme is the starting point in designing a kitchen and for good reason. Securing a color scheme which works in the space aesthetically and practically ensures you feel comfortable and creative in a part of the home many of us spend so much time in.
Getting colors right is even more important if you frequently play host to friends, family or are inviting someone over for dinner whom you wish to impress. Fret not, we have designers on hand to advise you which colors from their repertoire shine extra bright in a modern kitchen you are looking to entertain in.
1. Warm BLUE
Shauna Glenn of Shauna Glenn Designs in Fort Worth, Texas tells us 'the kitchen is the heart of the home, so it's where everyone hangs out. It's also one of the most valuable spaces in your home. So, you have to balance finding colors that stand out but are not so trendy that you'll feel you have to change them in 5 years.'
It is for this reason that she shows us the transformative effect of a warm blue scheme that she says have a sense of longevity and timelessness. Glenn tells us: 'To me, blue is a neutral, like a pair of jeans. So, it's a great alternative to gray or white or wood if you want a little more color in your kitchen.'
She goes on to say that the blue kitchen cabinets here are 'in a Spanish-style home so we chose a more muted color that allowed the colorful backsplash to shine.' Having this pop of color creates a vibrancy which will leave your guests feeling invigorated and creates a lively atmosphere which works particularly well if you host a lot of daytime events when the natural daylight will make the colors sing.
Air Force Blue by Little Greene has all of these qualities.
2. GREEN-GRAY WITH OAK
If you are going to host dinner parties into the fall and winter seasons or are known for your ambient drinks receptions, a cool toned gray scheme offset by touches of warm oak is a winner in the eyes of designer Artem Kropovinsky, Founder of Arsight in New York. 'Gray-green, especially in a marble texture, can mirror the subtle shifts in mood and atmosphere, akin to an overcast day or a quiet forest,' the designer tells us. 'This gives the room a nuanced depth that's both cozy and expansive.'
Opting for a colored marble will naturally draw your guests' eye, and for all the right reasons. 'The texture of marble provides an element of tactile richness,' Kropovinsky says. 'Guests are not only visually engaged but can also 'feel' the design through its surfaces.'
To keep the space warm and inviting, Kropovinsky advises opting for warm wood cabinets to play against the cooler marble. He says: 'Wood tones, such as oak, serve as an essential bridge between the indoors and the outdoors, creating a harmonious balance. For a space intended for gatherings, this link to nature brings a calming yet invigorating energy.'
3. NEUTRALS GALORE
Designing a kitchen set for entertaining doesn't have to be about color. In fact, the very opposite to bright colors and patterns are what Madison Popper, Founder of Chill Casa opts for time and time again. 'For a kitchen that's all about hosting, neutrals are your go-to colors. Think classic gray, timeless white, and those warm beiges that make you feel right at home,' Popper advises. 'Gray adds a touch of sophistication and works well with various accent colors. White brings in a sense of openness and brightness, creating an airy atmosphere. Beige and taupes are like a cozy blanket – inviting and comforting for your guests.'
Popper also reminds us not to neglect practicality when getting caught up in the excitment of designing a kitchen your guests will love spending time in. He tells us: 'You want colors that not only look great but can handle the excitement of hosting...If neutrals are your main act, consider light pastels like soft blues, gentle greens, and muted yellows as the opening act. They infuse a fresh and lively touch that complements your entertaining space perfectly.'
Lamp Room Gray by Farrow and Ball is particularly effective in a kitchen.
4. EMERALD
Of course, if neutrals aren't really your thing why not go green and embrace a little emerald? This doesn't have to mean lathering every wall in emerald paint. Why not create a feature wall around doorways, windows or allow the color to peak out around cabinetry for a playful yet adult effect. Green kitchens can be both playful and inviting.
Devin Shaffer of Decorilla tells us 'green innately connects with nature which makes it one of my favorite colors for kitchens. This particular color has a zest about it that makes me think of a rosemary, sage, and lime mix - all three of those are oftentimes used in dishes and drinks for social gatherings' making it a perfect color for an entertaining space. Decorilla use Behr's Precious Emerald paint in this kitchen.
5. OLIVE
If green takes your fancy but going emerald is feeling a little too Wizard of Oz for your liking, why not tone it down and go for an earthier olive shade? Shaffer has a handy tip for picking out kitchen shades which will come in handy for the keen chefs among us who want to ensure their new olive color scheme is going to work for them: 'Searching paint names that are culinary-inspired is the best place to start when finding both cabinet and wall colors for a kitchen.'
This goes for this Decorilla kitchen. 'The "Whipped" wall color [by Clare] has a certain energy to it that elevates it from the standard white options and that makes it great for making it both comfortable and energetic for clients and their guests alike, Shaffer tells us. 'I love seeing it against the "Dusty Olive" cabinet color [by Valspar] because it creates a mysterious aesthetic that speaks to a variety of different dishes and drinks- think everything from martini to tapenade.'
Amanda Reynal, founder of the eponymous interiors brand in Iowa says 'if you plan to entertain in the kitchen, make sure the colors work well with your tableware or china pattern.' An earthy neutral color like olive ticks these boxes, providing a serene backdrop for accessorising your table ahead of your guests' arrival. Opt for off-white linen napkins and chinawear with gold trim for an elegant and relaxing environment for hosting any sophisticated dinner party.
The Livingetc newsletter is your shortcut to the now and the next in home design. Subscribe today to receive a stunning free 200-page book of the best homes from around the world.
Katie is a freelance lifestyle writer who has recently finished an MA in Magazine Journalism at City, University of London. Before writing for Livingetc, Katie has gained bylines with The Caterer and The Telegraph and has interned at several lifestyle magazines including Grazia and Red. When not scrolling through Pinterest for interior design inspiration, Katie can be found writing about women's issues, trying out new beauty trends for her blog or seeing a West End show.