These are the world's 10 best entertaining-ready spaces to give you holiday-hosting inspiration
These sociable set-ups were made for hosting all year round – here's why we think they work so well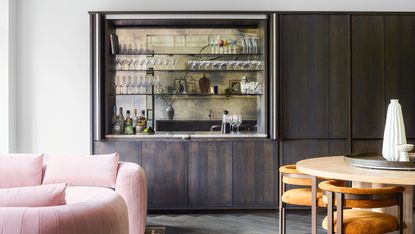 (Image credit: Mary Wadsworth)
Chances are you're hosting over the holiday season. If you haven't already got it out of the way, you're either gearing up for a celebration in the Twixmas period or – if you're brave – hosting a raucous New Year's bash. Whatever your plans, you might have found that your home struggles with the influx of guests or space for partying – and now you're looking for ideas for a more entertaining-ready space.
It's important to note that an entertaining space needn't be huge – you can have a great time in modest homes so long as you've perfected elements like seating, have enough room for a (small) dance floor and, of course, keep the drinks flowing.
Below, we've rounded up our favorite entertaining-ready spaces from the modern homes we've featured this year – so read on to be inspired and pick up tips for your own space.
1. An open-plan dining-living-bar space in a north-west London home
The brainchild of interior designer Cherie Lee, this Victorian home in north-West London is full of ideas for a space that marries contemporary style with historic features, all with plenty of minimalist decor ideas to steal.
Arguably the star of the home, the living room is divided into a seating area with blush pink velvet sofas, a dining space with sociable round table, and a glamorous home bar tucked inside a cupboard. The kitchen sits just behind the sofas, meaning the owners can interact with guests while they're cooking or serving up drinks.
Take the full tour of this minimalist-luxe home here.
2. A glossy, glam kitchen in a Sydney bungalow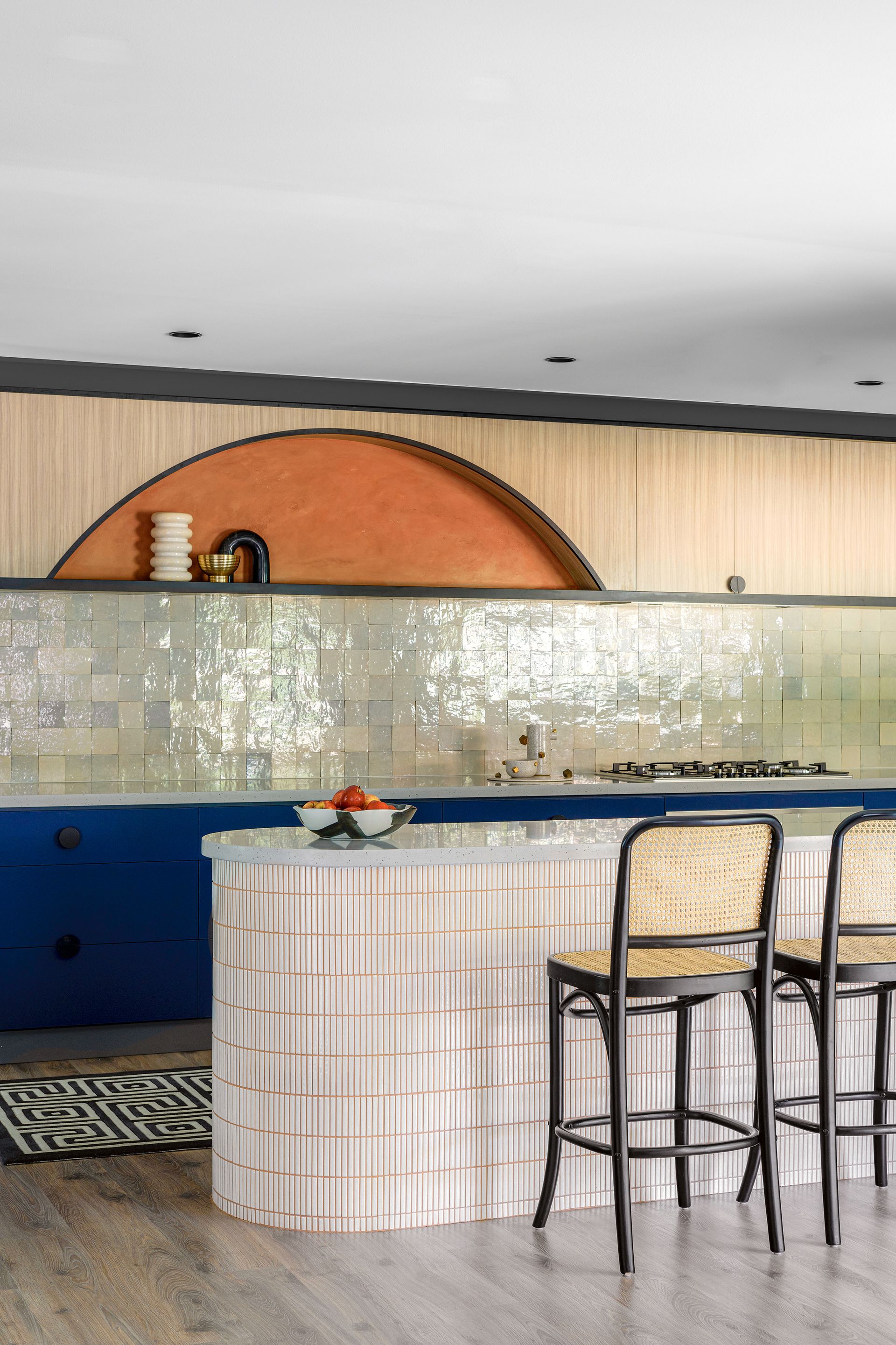 Situated near Bondi Sands beach in Sydney, this bungalow – designed by Kaiko Design – has been given a total makeover to make it into a modern family home. Think vibrant washes of color and subtle luxe accents, all with an air of casual elegance that epitomizes Australian design.
This incredible modern kitchen manages to combine a sense of homeliness with the lively and sociable elements of a bar, including glossy tiles, a substantial island and a statement shelf – the perfect place to keep cocktail glasses and good-looking bottles. Bar stools mean guests can prop themselves up for a chat while the host is cooking.
Take the full tour of this Sydney bungalow here.
3. A lounge with plentiful seating in Kelly Wearstler's Beverly Hills home
When wondering how to arrange your seating for a better entertaining space, no one does it better than superstar designer Kelly Wearstler. And in her Beverly Hills home she gets it so right. The interior designer's pad is packed with opportunities to sit and chat, or simply relax, not least in the multiple dining spaces.
Still, it's this living room we fell in love with as an entertaining space thanks to the plentiful but eclectic mix of seating – including cozy sectional sofas, fur-lined armchairs and formal leather seats. Plus, a large space in the middle means the coffee tables can be moved and the rug kicked back in case of dancing.
Take the full tour of Kelly Wearstler's Beverly Hills home here.
4. A kitchen island-slash-dining table in an interior designer's east London home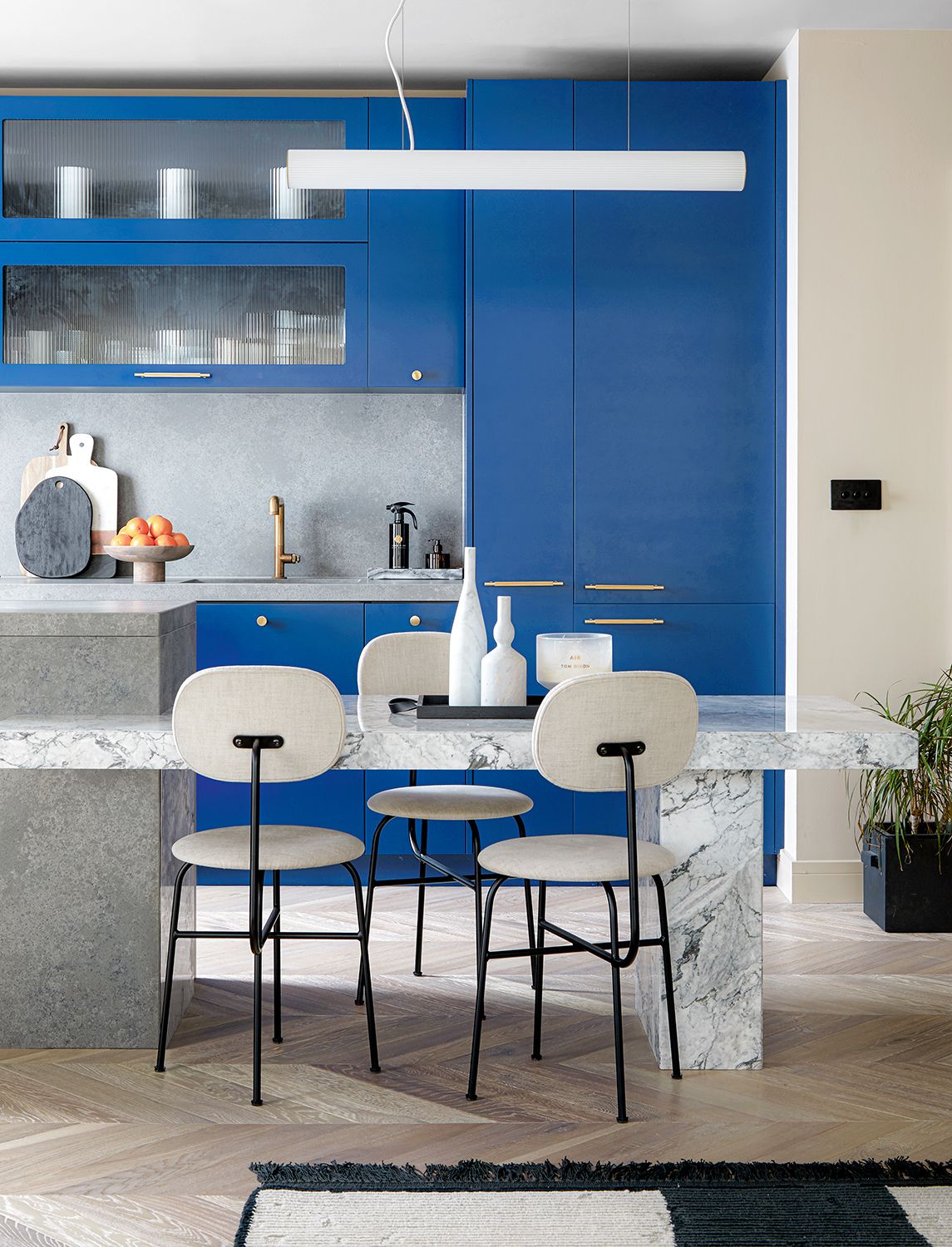 Hosting in an apartment doesn't mean socializing has to be tricky – you just need to get clever with your design, as this east London apartment, owned by interior designer Omar Bhatti, shows. The loft-style new build has an open-plan kitchen/living area plus a guest bedroom, which makes entertaining a little easier.
The cleverest part of the space, however, is the split-level kitchen island idea, with a high part for prepping food and a lower part that doubles as a dining table. It's a space-saving trick that means Omar can chat to guests while he's cooking.
Take the full tour of Omar Bhatti's new-build apartment here.
5. A cosy listening room in a mid-century modern Tribeca penthouse
If your idea of a good party is more listening to albums than dancing the night away, you need cozy spaces that will encourage guests to relax – as well as storage for your vinyls, of course.
In this space, part of a 3,500-square-foot duplex in the Tribeca area of New York, the listening room sits separately from the living room, acting as a less formal area in which to unwind or host guests. A tree stump coffee table adds personality to the space.
Take the full tour of this Tribeca Penthouse here.
6. The wet bar of our dreams in the Hollywood Hills
Lia McNairy and Azar Fattahi of LALA Reimagined are the design duo behind this Hollywood Hills home, which combines a fine-art-level appreciation of color with stunning architectural detail.
The home features a TV room, a formal sitting room and a large entertaining space with elegant oval dining table and comfortable curved chairs, but it's the wet bar that grabs our attention, complete with pink onyx countertop with scalloped edge. If you weren't sure whether you needed a home bar, you know now – it's an essential for any entertaining space. And if you can go all-out like this? All the better.
Take the full tour of this Hollywood Hills home here.
7. A kitchen-diner made for laid-back dinners in an Edwardian London home
A dining table in a kitchen is by no means a new idea, of course – but we had to include this space, from an Edwardian home in London, for the way it's managed to combine modern kitchen design with a homely feel through the contrast of dark wood wall cabinets with light pink base units. The scheme makes for the perfect casual dinner party experience in contrast to a more formal dining room set-up.
The angular dining table to the right is one of two in the space, with a round table in the corner served by banquette-style corner seating – the two together provide a shapely contrast, as well as extra space for guests to sit and mingle.
Take the full tour of this Edwardian home dressed up for Christmas here.
8. A grand dining room for more formal occasions in a listed London home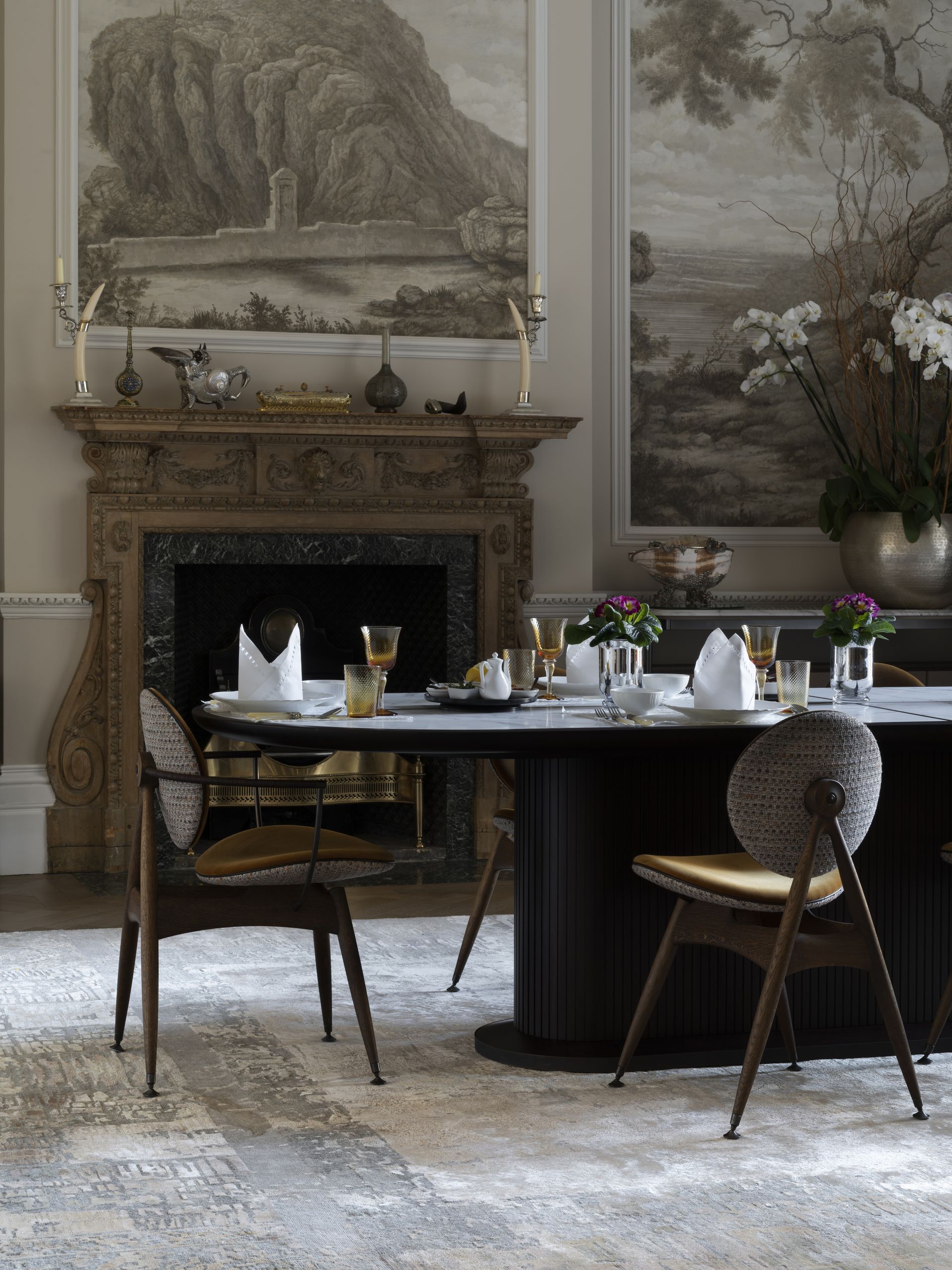 A masterclass in elegant design comes in the form of this modern home in Belgravia, created by London-based studio Tollgård. With a vast entrance hall with sweeping stairway, decorative living room with a cosy collection of sofas and side tables and an orangery complete with even more seating, it's already set up to be an incredible party house – but for us, it's the dining room that seals the deal.
Large framed wall art, an original fireplace and stone-colored rug create a traditional backdrop for this space, which is contrasted with the very contemporary, almost architectural dining table and geometric chairs. Altogether, it's a space that screams 'dinner party' to us.
Take the full tour of this Belgravia home here.
9. Comfortable banquette seating in a maximalist LA bungalow
With everything on one level, a cohesive scheme can be difficult to get right in a bungalow – but it's something that Dabito, creative director at Old Brand New, has nailed with his colorful 1950s LA home.
The dining room forms part of an open-plan space, but thanks to the corner banquette seating, it feels cozy, cocooning, and very much a space of its own. Part of the art of a good dinner party is creating a space that encourages your guests to linger at the table long after the food has gone – and the sumptuous seating and rich color palette of this room will do just that.
Take the full tour of Dabito's colorful LA bungalow here.
10. A sunken lounge area within an open-plan kitchen in a Bondi Beach home
This architect-designed home near Bondi Beach, Sydney, owned by the founder of architectural studio Alexander & Co, went through three major renovations over seven years before arriving at this point, following the needs of the family as they grew.
In the kitchen, a sunken lounge is an architectural talking point as well as a party-ready space, with a seamless link to the modern garden beyond and a sense of separation from the kitchen – though it still allows the host to chat to guests.
Ellen is deputy editor of Livingetc magazine. She cut her teeth working for sister publication Real Homes, starting as features editor before becoming deputy editor. There, she enjoyed taking a peek inside beautiful homes and discovered a love for design and architecture that eventually led her here. She has also written for other titles including Homes & Gardens and Gardeningetc. While she gets ready to buy a house of her own, she takes inspiration from the works of some of her favourite architects and tastemakers. She has a particular passion for green design and enjoys shopping small, local and second-hand where she can.