Small bathroom shower ideas – how to create a stylish sanctuary in a tiny space
Let these small bathroom shower ideas prove you don't need tons of square footage to create a beautiful and practical space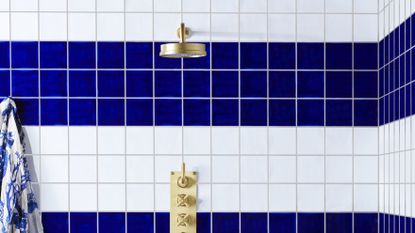 (Image credit: Fired Earth)
The Livingetc Newsletter
For style leaders and design lovers.
Thank you for signing up to LivingEtc. You will receive a verification email shortly.
There was a problem. Please refresh the page and try again.
A sanctuary to unwind and decompress can be found in even the tiniest sliver of bathroom space and, as these small bathroom shower ideas prove, you really don't need acres of room to create a beautiful and stylish shower design.
Squeezing a shower into a small space can seem daunting but we're here to tell you there is plenty of charm and functionality to be packed into a small footprint by incorporating everything from bold colorful tiles, innovative styles, and eye-catching enclosures. From bold striped horizontal tiles to give the illusion of space to vintage shower nooks that ooze Old Hollywood Glamour, we've pulled together all our favorite looks that are perfect if you are after inspiring small bathroom ideas that don't let lack of space hold back on going big on style.
Small bathroom shower ideas that go big on style
1. Old Hollywood Glamour
A small bathroom doesn't mean you have to compromise on your creativity or interior aspirations - if you love grand Victorian architecture or Art Deco interiors your shower space should be able to reflect that. This small but beautiful wet room idea designed by interior designer Steven Gambrel aims to recreate the glamorous look and feel of the hotel lobbies typical of mid-twentieth-century London.

'There is a strong focus on materials, color, and texture' explains James Lentaigne Creative Director of Drummonds. 'The walls are adorned with swirling Verde Luana and Verde St Denis green marble, bringing a sense of opulence and grandeur to the space. Renowned for their classic English bathroom-ware, brass fittings from Drummonds were the perfect choice for the scheme. A pair of our floor-standing Chessleton showers in an antique brass finish take center stage within the spacious walk-in shower enclosure, sitting beautifully against the warm, rich marble.'
2. Let there be skylight
The sure-fire way to creating a sense of space in the most holistic way is by introducing natural light into a small space. A skylight or a roof window positioned directly above a shower area ensures you'll be ready to tackle whatever the day brings.

This delicate bathroom by Decus Interiors is decorated in pale pink all-over tiles and a striking arched shower screen. Light floods the wet room with light and opens up the tiny space. Paired with a pared-back palette and pale striped floor tiles gives the whole space a modern spa feel.
And note the lack of a traditional shower enclosure too, just an elegant arched screen that's as practical as it is beautiful. Walk-in showers really aren't just reserved for larger bathrooms, in fact, they work best in smaller spaces, creating a small bathroom layout that isn't broken into sections. They don't add any visual bulk to the room and allow light to flow freely through the space.
3. Go wide with horizontal stripes
Horizontal stripes are the ideal small bathroom tile idea, as they draw the eye and make spaces look wider than they are. This look is striking as the use of color is bold but can be achieved on a budget by mixing lower-priced plain tiles to create a really show-stopping effect.
Or if you have fallen for really gorgeous tiles that may be pricey but are really going to make a small bathroom shower sing, take the advice of Damla Turgut, founder, and creative director at Otto Tiles. 'Just because a bathroom is small there's certainly no need to compromise on style and luxury. In fact, one of the great things about tiling a compact bathroom is that since you won't need a huge quantity of tiles, you can invest in really eye-catching designs that might be beyond your budget in a larger bathroom. Another advantage of having a small bathroom is that your tiles will really make an impact in the space, particularly if you opt for bold color.'
4. Natural stone in bright white
Going elegant with an attention to quality materials in a small bathroom can really elevate the space. Natural stone featuring balanced white and grey tones with a delicate crackled effect can make sanctuaries of small spaces. And you of course have the space expanding effects of using lighter colors, see how in this small bathroom shower, the walls, floors, and ceiling almost merge into one, blurring the edges of the room and creating the allusion of space.

'Extra-large tiling is a great way to play with proportions in a smaller bathroom' says Laura Davie, Marketing Manager at Cosentino UK. 'This can be taken one step further by using surfacing coverings to clad entire walls. Predominantly a design option seen in high-end hotels, this style offers plenty of practical benefits – for a start, oversized tiling means less awkward grouting to keep clean! Pair with an oversized shower head and a generously sized shower screen – the result will be a luxe, wow-factor look even in a smaller space.'
5. Soft Pastel Floors
In this small bathroom shower design, a Mediterranean-style tiled floor adds plenty of charm and the large pattern also tricks the eye, giving the impression the floor is larger than it is. 'The best shades to pick would be pastel shades, soft greys, and subtle yellows' explains Chris Brookes of Maitland Poate. 'Each of these colors will help reflect and inject additional light into a smaller bathroom, making it feel light, open, and inviting.'
6. Nostalgic check!
If you don't have space for a sleek standalone shower and don't want to compromise with giving up a bath, the good old-fashioned shower in a bath offers up plenty of room for creativity and charm. This sweet retro bathroom by Studio McKinley is filled with inspiring bathroom color ideas, framed in sunshine yellow chequered tiles and teamed with vintage fixtures and high shine brass hardware for a contemporary edge.

'Colour chosen well can add a real sense of luxury to a space.' explains Damla Turgut. 'For example, a colorful bathroom floor can really ground a small space and make it look a lot larger than it is by tricking the eye. Striped tiles are a great way of making a small bathroom look wider or longer and we highly recommend them as a way of adding interest to a small bathroom or wet room. Likewise, a checkerboard tile can have the similar effect.'
What is the smallest size a shower can be?
The smallest size is typically 32 inches wide x 32 inches deep (although the International Residential Code allows for showers as small as 30 inches x 30 inches), and they go up incrementally from there, usually to about 36 inches x 60 inches.
Can you have a walk in shower in a small bathroom?
Yes, a walk-in shower can look great in a small bathroom using shower screens and tiles cleverly you can create a smart and spacious feeling wet room. Small spaces really are the best places to get creative.
For style leaders and design lovers.
Rohini Wahi is Content Editor for Livingetc Online. With a decade-long career in the interiors and design industry working as a journalist for premium lifestyle publications then delving deeper into the business as a trend forecaster, Rohini has amassed a wealth of global design knowledge that informs her work. She loves a period drama and keeps a tidy home.