This traditional townhouse in NYC has been turned on its head with a radical revamp
With its sweeping curves and textural pieces, designer Noa Santos has crafted a modish townhouse that also cocoons the family that owns it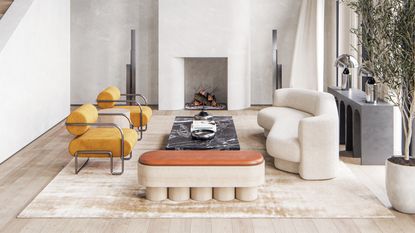 (Image credit: NAINOA)
This four-storey West Village modern townhouse was reimagined by Noa Santos, founder and owner of New York-based studio NAINOA, who designed this house for James and Leona Leong and their two children.
The ground floor was designed for private family time and includes a media room and office. The first – or parlour – floor was designed as a series of family and entertainment spaces and includes the kitchen and living room. The second floor has the family's bedroom suites, while the third floor has the guest bedroom suites.
Noa took two years to transform this trad townhouse into this rather radical, sculptural space. But when you hear his professional roots lie in an architectural degree at Stanford, you get how he not only feels brave enough, but also has the wherewithal to know how to turn a space on its head...
Living room
The result is a striking, yet cocooning, environment, that's all about texture – whether that's the marble-clad main bathroom or the bouclé-covered sofa in the living room.
Everything, but everything, in this house is about the quality of the finish: from the custom-mixed wall paints and bespoke kitchen cabinetry to the scene-stealing statement lighting. The result is the ultimate in luxe lounging – a home where the family can kick back and relax, away from the 24/7 hustle and bustle of the city that never sleeps.
It fits the brief Noa was given to a T. 'They asked for a contemporary home that felt sophisticated but warm,' he explains. 'They wanted a space that was sculptural and artful but still felt like a place to plop down and relax.'
Noa first met the couple at a dinner party, but was appointed to the project when, 'they reached out after seeing our work on Instagram.' The initial challenges of tackling the layout turned out to be a pleasant revelation. 'Townhouses can feel segmented and choppy, but once we opened a few walls and ceilings, the spaces flowed beautifully together,' says Noa. 'We were surprised by how naturally the home opened up.'
This 'opening up' is seen at its best in the double height living room, which Noa dubs 'the great room'. It's the Leongs favourite space in the house and it's not hard to see why. With its sweeping sculptural staircase, curvaceous feature fireplace and soft stone palette, it's not a surprise that influences behind it range from Gio Ponti to Gaudí.
'There's an Italian quality to the space, I think, due in part to the use of plaster and stone,' explains Noa. 'We wanted the soft curves to be reminiscent of an undulating landscape – almost Gaudí in nature.' Noa believes this solution came from 'the clients' desire to have something that felt simultaneously New York and European in nature.'
Kitchen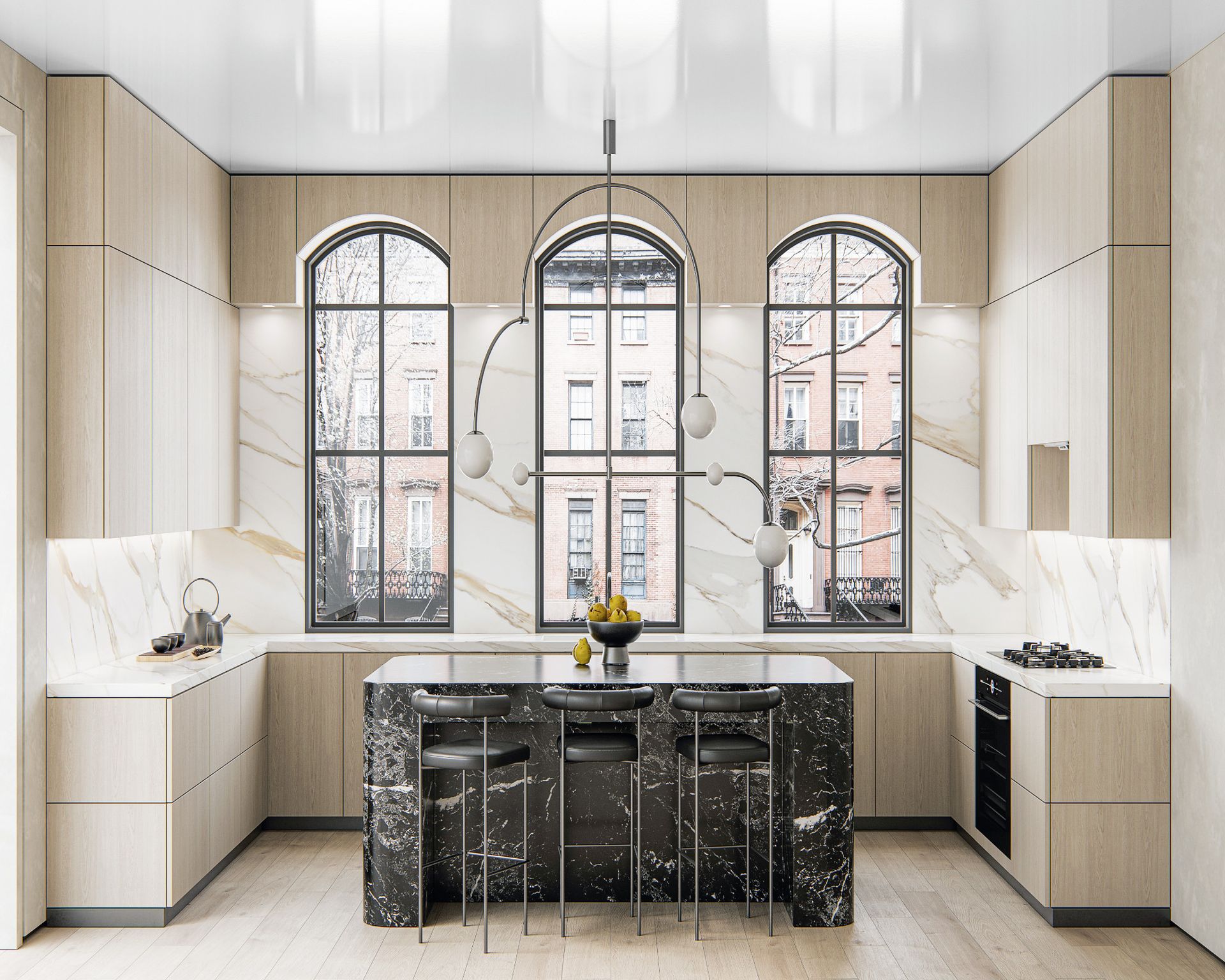 Function and form collide with contemporary hardwood cabinets and impressive marble worktops in here. 'We wanted the kitchen to feel sculptural and stately enough to be a public space for entertaining but laid out in a way to enjoy the street view as the chef,' says Noa.
Main bedroom
'We work very hard to make our spaces feel integrated,' explains Noa. 'The result is rolling over in bed and finding the socket exactly where it should be – like your favourite hotel room.'
Main bathroom
'Stone is the beginning, middle and end in the primary bathroom,' says Noa of the marble-clad main bathroom.
Noa feels the completed house very much reflects the Leongs, thanks to the USP of NAINOA, which lies in the fact that it doesn't so much have a signature look, as a signature approach to design.
'We don't want our work to fit neatly in a box, rather we draw from myriad sources – eras, geographies, cultures – to create unique spaces that we hope are almost like fingerprints for our clients,' he says. 'Unique to them and timeless.' That's the kind of philosophy we can definitely get on board with.
See more: a 19th century apartment is a lesson in combining architectural details with modern design
As journalist with over 25 years experience, Kara has held staff positions at ELLE Decoration, Sunday Times Style and The Express. She has been a longtime contributor to Livingetc, and also been a regular writer for titles such as House Beautiful. She has always focussed on design and interiors, and her first book, At Home with Plants, was written with florist Ian Drummond and published in 2017.