This season's hottest trend? Reusable fabric gift wrap...
The fabric gift wrap trend is totally waste-free; you won't need so much as one inch of tape.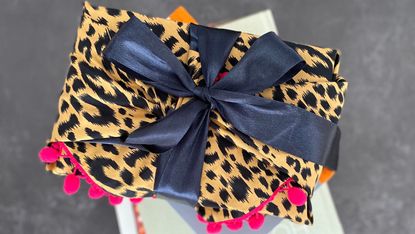 (Image credit: fabricwrappingco.com)
Reusable fabric gift wrap has been popping up all over Instagram, and shops have responded with colourful, jazzy and affordable collections of fabric gift wrap.
But while it may be a new concept to many of us in the UK, it's actually not a new thing; the Japanese have been wrapping with fabric for years.
Named Furoshiki in Japan, the gift wrapping phenomenon has been taking the western world by storm this year.
Marie Kondo, who has built her empire and reputation around attainable minimalism – including buying less – also swears by this method of gift wrapping.
Her Instagram post reads: "You can use furoshiki to wrap just about anything. They look beautiful around a bottle of wine, candles and even the most oddly shaped items. But best of all, they're reusable, which makes them a gift to the earth as well. So, if you're wondering what to do about gift wrapping this holiday season, try picking some fabric squares that spark joy for you and use them furoshiki-style."
See Also: Eco wrapping ideas - expert advice for chic and sustainable gifts
You can use fabric wraps to tie up just about everything and anything, and you can reuse them year after year, resulting in less Christmas wrapping paper ending up in landfill.
The method is totally waste-free; and you won't need so much as one inch of tape.
Leading the way in fabric gift wrap this year are Notonthehighstreet.com, Etsy, and new kids on the block The Fabric Wrapping Co.
While tags for #furoshiki are nearing 100,000 on Instagram, Etsy also reported on the rising trend this year.
"There has been a 110% increase in searches on Etsy for eco friendly gift wrap items in the last 3 months (compared to the same time last year)," Etsy's trend expert Dayna Isom Johnson us.
She explains: "The festive season can be one of the most wasteful times of the year, and many are prioritising items that reduce their environmental impact as much as possible, now more than ever. From the gift to the gift wrap, shoppers are seeking a greener alternative this year to help reduce waste."
When selecting a fabric for furoshiki gift wrapping, make sure it's double the size of your gift and at least an extra inch longer, so you have plenty of fabric to tie together at the end. For an extra-sustainable option that doesn't require cutting, repurpose a piece of fabric that you already have – like a tea towel or vintage scarf – that already fits around your gift.
There are numerous methods to wrap with fabric, some of which are explained in tutorial videos on fabricwrappingco.com.
The new brand offers bold, reusable gift wrap. The founders explain that "in the UK alone we use 50,000 trees each year in almost always single use wrapping paper." Thus, aside from creating a more eco-friendly alternative, they have also launched a campaign called Wrap with Care, and they plant a new tree for everyone that pledges to do things differently on wrapwithcare.com.
Bigger brands are cottoning on too (pun intended), and Frugi gifts now come with the option of being beautifully wrapped in an organic cotton Furoshiki wrap cloth, which are essentially pieces of trimmed fabric left over at Frugi's factories.
The Christmas Furoshiki cloth wraps are also available for purchased here.
See how people are styling their fabric gift wrap Furoshiki style this year...
Lotte is the Digital Editor for Livingetc, and has been with the website since its launch. She has a background in online journalism and writing for SEO, with previous editor roles at Good Living, Good Housekeeping, Country & Townhouse, and BBC Good Food among others, as well as her own successful interiors blog. When she's not busy writing or tracking analytics, she's doing up houses, two of which have features in interior design magazines. She's just finished doing up her house in Wimbledon, and is eyeing up Bath for her next project.