8 little things that will instantly make a bathroom feel like a spa, handpicked by our editor
From the perfect scented candle to the simple storage hack that changes everything, our editor Pip Rich knows how to make a bathroom feel like a spa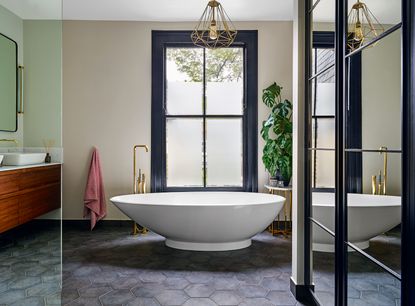 (Image credit: Future)
I'm just at the planning stages of a bathroom remodel, and predictably getting more excited about the finishing touches than the bigger buys. We've not yet chosen a sink, toilet or faucet but I do have the freestanding towel rail of my dreams locked and loaded in an online shopping basket ready to buy when the time is right.
To my mind, it's the little things that can make the biggest difference. Because while every modern bathroom has a sink and a faucet and a toilet not every bathroom feels like a spa. And as the interior designer Simon Holbrook said to me when I turned to him for advice: 'why wouldn't you want that same feeling of luxury you get in a boutique hotel every day at home?' Well, quite.
So these accessories will elevate your space, adding a sense of serenity and joy. BYO cucumber slices to pop over your eyes and you'll soon find this to be the most relaxing room in the house.
The 8 little things to instantly turn a bathroom into a spa
1. A freestanding towel rail
I am honestly basing my entire bathroom layout around where the freestanding towel rail will be (at the end of the freestanding bath). I once spent a night in Soho House Downtown LA and they had one next to the tub. Stepping out of a long soak and being able to just pluck a neatly folded and fluffy towel off the rail felt like pure luxury.
Plus it'll encourage me to always fold my towels perfectly as they'll be so much on view, which instantly creates a spa-like halo effect. Everything looks more calming next to properly placed towels. Trust me.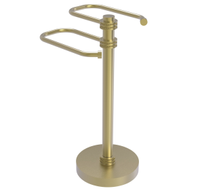 2. A bathroom tray
A bathroom tray is a genius way to impose a bit of an order, which always makes the room seem more calming. I keep one on the vanity next to the sink (and will do in the remodel), only allowing myself to have the products I'm actually using at any one time on it. Trays are finite, they keep your bits contained, stopping them from spreading across the whole vanity counter.
Pro tip: don't clutter your bathroom tray. Instead, try and keep the bottles and jars on it equally spaced, with a bit of air in between each one. This room for light flow is where the spa magic happens.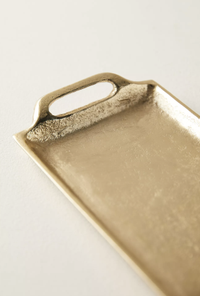 Decorative gold tray, Anthropologie
The contrast of a rectangular shape next to the curves found elsewhere in a bathroom (the basin, toilet, tub) is very pleasing. This long, thin tray gives plenty of space for the most treasured and aesthetic of your daily products.
3. A bathroom stool
Ok, so I know it seems like I'm adding more to the bathroom floorspace (having already included a towel rail). And over-filling a small bathroom is not the way to achieve zen-like calm.
However, I wanted to include an armchair here (and if you have the space then nothing says spa bathroom like an accent chair) so consider this a concession. And a stool could be seen as a space-saver - something to perch your iPad on during long stints in the bath, or to sit yourself on while waiting for your face mask to be done. Either way, it adds the ability and desire to linger longer in your bathroom, which is very spa, don't you think?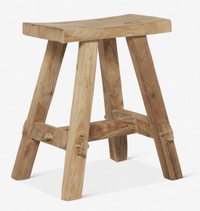 Arlene stool, Lulu and Georgia
The subtle curve of this stool is super-comfortable to nestle into as you dry your hair/apply moisturizer/drink champagne like you're truly in a spa.
4. A leafy plant
The biophilic benefits of being surrounded by nature as you relax are well documented. But adding a living, growing thing into a space that can be quite functional and clinical is an easy way to soften it up and evoke a spa.
When it comes to houseplants for bathrooms a luscious and thickly green plant like a fiddle leaf fig or Kentia palm will thrive in this humid and often poorly lit space.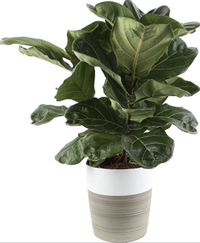 Also known as a ficus lyrata the fiddle leaf fig plant has become a modern design classic. It grows tall and into an architectural shape, its leaves are beautifully round. It should do well in bathroom-like conditions.
5. Ceramic jars
Conventional bathroom decluttering wisdom leans towards glass jars on vanity counters. The thinking is that balls of cotton wool will look cute stuffed into them. But notice in high end hotels how the jars are never see through? It's because they contain sewing kits, vanity packs and other assorted things that never look that good.
Choosing ceramic jars to hide your less vision-friendly pieces - remember that your most beautiful ones are already on the tray - is a neat trick to keep the counter neat.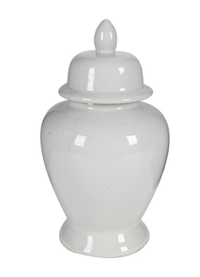 A slightly vintage lid helps to give this a sense of refinement. Use to hide spare toothbrushes, cotton buds and the sample pots you can't bear to throw away.
6. A bath caddy
Ok, now we're getting seriously luxe. Imagine yourself lying back, deep in the water, eyes closed. Just above you is a bath caddy, on it is a lit scented candle, a glass of wine, a vase of flowers. Is it just me or does even the thought of this put you immediately into a trance? If just an imaginary bathroom caddy can do this, think what a real one will do for your soul.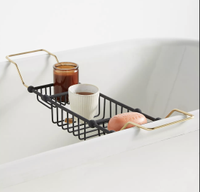 7. Guest towels...for use yourself
If you're anything like me you'll be squirrelling away your best things for the occasional moments guests come to stay, using your mediocre old stuff on yourself every day. This is not very spa-hotel-vibe. In fact, it's the antithesis, where you want to be making yourself feel special. You deserve it.
So, fluffy towels that are thick, with a deep pile and large surface areas. Or big, waffle print linen which always feels meadow-fresh. Don't hide them away for your sister in a law. Invest in a set for yourself.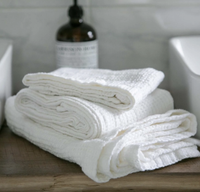 Waffle linen towel set, Rough Linen
Despite Rough Linen's brand name, its linen always feels super soft. It's slubby and thick, luxe. These large towels are made for wrapping up in.
8. A scented candle
Surely no bathroom is complete without a scented candle. One to light while the bath is filling, or even while you're in your morning shower. The ideal scent is one that is both relaxing and energising, so you leave the room with that just-out-the-spa feeling. In my line of work I've burned an awful lot of scented candles, and there is one that stands out as the very best of the best - the Pop Tomato candle by Jonathan Adler. Seriously. It cannot be bettered.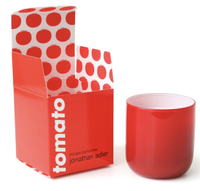 Pop Tomato candle by Jonathan Adler
This not only smells like freshly cut grass but also has the citrus scent of a tomato leaf. If the aroma was a color it would be green - verdant and zesty and like the outdoors. It's the literal perfect candle.
The Livingetc newsletter is your shortcut to the now and the next in home design. Subscribe today to receive a stunning free 200-page book of the best homes from around the world.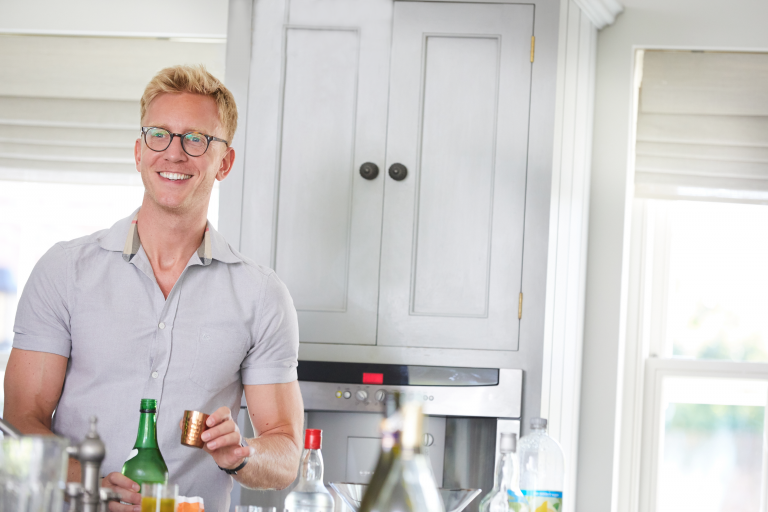 The editor of Livingetc, Pip Rich (formerly Pip McCormac) is a lifestyle journalist of almost 20 years experience working for some of the UK's biggest titles. As well as holding staff positions at Sunday Times Style, Red and Grazia he has written for the Guardian, The Telegraph, The Times and ES Magazine. The host of Livingetc's podcast Home Truths, Pip has also published three books - his most recent, A New Leaf, was released in December 2021 and is about the homes of architects who have filled their spaces with houseplants. He has recently moved out of London - and a home that ELLE Decoration called one of the ten best small spaces in the world - to start a new renovation project in Somerset.