I love staying at hotels, just for the bathroom – I asked interior designers to help me recreate the feeling at home
Hotel-style bathrooms bring the luxury of vacation to the everyday. Here's how to capture the feeling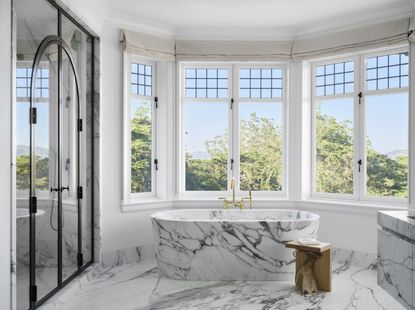 (Image credit: NICOLEHOLLIS)
The Livingetc Newsletter
For style leaders and design lovers.
Thank you for signing up to LivingEtc. You will receive a verification email shortly.
There was a problem. Please refresh the page and try again.
A hotel-style bathroom is a picture of perfection and the epitome of relaxation. Think of all the bathroom features that you loved during your last hotel stay. That spectacular tub, the beautiful views, a spa-like ambiance, classic high-end fixtures. Didn't you wish you had a similar space back home too?
The good news is, a hotel-standard bathroom doesn't have to be limited to vacation time. I asked interior designers how they embrace modern bathroom ideas to turn an everyday space into something that feels hotel-worthy, and turns out there are several ways to translate a high-end luxury look, right at home.
Aditi is an experienced homes writer and editor. She has written hundreds of articles for various international titles helping readers make the best home design choices, and spends her days interviewing interiors industry experts to bring the latest ideas to her readers. For this piece she spoke to the world's best designers to find out how to design a hotel-like bathroom.
9 ways to design a hotel-style bathroom
1. Add a skylight and an open shower
Been to an alpine resort or a beach destination and loved the shower that opens to the sky? Skylights can be the most loved architectural addition to your master bathroom if you have the space and budget for it. They offer ventilation and light, a visual connection to the exterior, making you feel one with nature.
If you're wondering about the types of skylights, consider vented ones that allow fresh air into a room and circulate heat outside. Choose a motorized feature as opposed to those that require manual operation. If you live in a place that receives a lot of hail, snow, and rain, choose a skylight made of glass, as no water spots will be left behind on it, and you will not have to worry about leaks.
'Inspired by the authentic Japanese bathing ritual, this bathroom offers spa-like amenities with open showers, custom teak soaking tubs, and walls and floors wrapped in honed limestone,' says Severine Tatangelo, founder of Studio PCH. 'The bathroom is illuminated by skylights and windows that fill the space with easy beach light. Every last detail has been carefully designed and artfully crafted from the knuckle joints of the exterior teak siding to the intricate selected warm tones of the custom-colored board-formed concrete walls.'
2. Recreate far flung destinations with an outdoor bathroom
If you have a lovely courtyard garden, a pool, or a lounging patio, then consider an outdoor bathroom to bask in the sun and truly feel like you're in a getaway. Add a statement bathtub, and decorate the area as a beach oasis with lush exotic flowers, pebbles, rattan chairs, and more.
'The concept of an open bath was included in this project with utmost importance given to privacy,' says Vipul Patel, founder of VPA Architects. 'We fashioned a custom bathtub out of local stones, with the walls finished in the stone cladding. The bamboo screens allow filtered light and the greenery around provides a soft and soothing aura. The open-to-sky bathroom is further adorned with landscape furniture.'
3. Go for a tactile materials and eye-catching accessories
For a spa bathroom that feels relaxing, opt for earthy, tactile materials that combine luxury and comfort. Layer in unique-looking fixtures such as mirrors in organic shapes, and gold or brass-toned faucets for a touch of elegance.
'This project is located in the mountains, and so, the remoteness of its location encouraged me to use materials of local origin,' says Ksenia Breivo, founder of Studio Breivo. 'The main material on the walls and floor is microcement. For the ceiling, I used oak beams combined with bamboo. The washbasin cabinet is made from spruce, and the sink is a local stone, which we specially treated and coated with a protective matt varnish. Ceramic candlesticks and a bathtub cast from liquid marble tell the tale of the surrounding landscape.'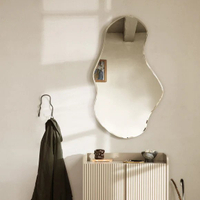 Love the look of the mirrors above? Consider this organic-shaped piece for your bathroom, that can, interestingly, be hung horizontally or vertically.
4. Choose a statement tub
There's nothing more relaxing than a deep soak in a large tub; a big staple in high-end hotels where you can take the time to linger in the bath. Add a lavish touch worthy of a designer hotel to your space with a freestanding tub made in marble, quartz, or cast iron. Want to take it a notch higher? Perhaps go for a clawfoot tub that elevates the piece, quite literally, and makes it the focal point of the room. These types of tubs look especially beautiful in an ensuite bathrooms that are all about eye-catching luxury.
'I love a freestanding tub in the right setting; it has a luxe feeling and it makes you feel as if you're floating in the room,' says Jennifer Morris, founder of JMorris Design. 'I also love a stool or a tall tray next to the tub for drinks and candles. Consider a tub made in natural stones or mosaics,' she suggests.

5. Opt for a unique vanity
Often a hotel bathroom will have one key, stand-out feature that affords it a luxe look... one you immediately want to add to your wish list. While commonly it is the bathtub or the lighting, for a refined, high-end look that truly spells unique, look to a freestanding bathroom storage vanity and sink, made in plush materials. Want to add further interest? Contrast the vanity with interesting wall tiles.
A vanity of this style will not only keep your bathroom organized but also add character and personality to your space.
'We loved this basin from Nood and Co in a red ochre, and based the palette and design of the bathroom around this piece,' says Julie Niass, senior associate and head of interiors at Carter Williamson Architects. 'The deep red floor and wall tiles with contrasting grout, red joinery with an expressed carcass, and bronze tapware, all come together for a unique-looking space.'
'The choice to have a floating vanity was to counter the bold and heavy palette, with a lighter element that didn't take up any more floor space in what is already a small bathroom,' says Julie.
6. Add a seating area in the bathroom
Don't you just love hotel bathrooms that have a lounging area within them, where you can settle down comfortably and get ready, or even chat with your partner?
'A stunning upholstered bench can add warmth to any room, and turn an ordinary primary bathroom into a luxurious, hotel-like space,' says Alisha Taylor, founder of Alisha Taylor Interiors.
If the space is generous, consider adding a long sofa or even a long platform with plenty of cushions to cozy up. Even a built-in window seat can add a whimsical vibe. A few chairs and a stool too can do the job, if yours is a small bathroom layout.
Remember to keep the seating space far from the wet area. If you want to ensure your textiles face no harm, perhaps add a soft bathroom partition between the wet and dry area, with a curtain or a bamboo/wooden screen. Polyester fabrics or faux leather tend to do well in areas with humidity.
7. Style up the space with a chandelier
Nothing makes a bigger, better statement than a bathroom chandelier. This large, cascading piece usually seen in lavish living rooms or bedrooms can seem a little unexpected in a space like a bathroom, but the inclusion of this can be a great addition. Especially seen in large hotel bathrooms, this staple can give your space a big boost.
Chandeliers naturally introduce a sophistication into thr scheme. From hand-blown glass, and crystal to polished nickel and more, choose one that looks smart and timeless. Even a vintage piece can add a nice, transitional touch to your modern bathroom. Mix and match metals throughout the bathroom for a clean and cohesive look.
Place the fixture in a spot that will instantly make a statement, like above the bathtub or in the center of the room. Keep in mind to avoid fabric shades because they can get water spots on them or fade.
8. Display toiletries on trays and dishes
To mimic the elegant simplicity of hotels, you'll need to arrange the bathroom artfully. The first thing to a beautifully, well-arranged bathroom is to get rid of the clutter. Consider organizing bathroom cabinets with lots of shelves and drawer inserts that will store all the toiletries, medicines, and accessories in an orderly manner, and away from sight.
Invest in beautiful trays and platters and display some of your most expensive makeup, shampoos, perfumes, and creams on them. Add sleek vases and candles to make the arrangement look more decorated and quaint.
9. Add a storage rack for towels
The one big thing that most of us appreciate (and even secretly hoard) are hotel towels – the softest and plushest fabrics you can imagine. Don't you love the way these are displayed, all rolled up, folded, or placed in the shape of a dove, on counters, inside baskets, or under the vanity?
This is the easiest way to give your guest bathroom or your private suite a touch of luxury. While storing and displaying them creatively is a must, do remember to pamper yourself with the purchase of fluffy, oversized bath sheets. Don't skimp on them as they will last longer, and remind you of lovely vacations and time spent in hotels.
When it comes to color, while many hotels use white towels to keep laundry routines easy, you could bring in linens in calming colors like greens or blues. Also consider monogramming them, if you want to go that extra mile.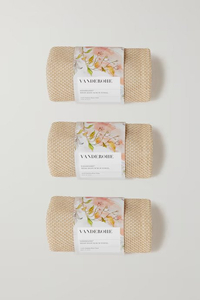 Vanderohe scrub towels from Net-a-Porter
For a superior spa-style space, bring in towels that spell relaxation. These are a pure blend of cotton and washi; the latter is a traditional Japanese paper known for its antibacterial properties. Use these to exfoliate your skin and rid it of excess oil and impurities.
For style leaders and design lovers.
Aditi Sharma Maheshwari is an architecture and design journalist with over 10 years of experience. She's worked at some of the leading media houses in India such as Elle Decor, Houzz and Architectural Digest (Condé Nast). Till recently, she was a freelance writer for publications such as Architectural Digest US, House Beautiful, Stir World, Beautiful Homes India among others. In her spare time, she volunteers at animal shelters and other rescue organizations.