10 tricks for organizing a bathroom cabinets that the best declutterers always use
Organizing a bathroom cabinet will not only bring order to your vanity, medicine cabinet and under-sink area, but also your life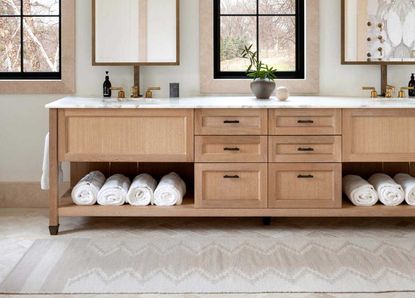 (Image credit: Nate Berkus Associates. Photo credit Christopher Dibble)
Organizing a bathroom cabinet might seem like a chore, but it can be one of the most satisfying spaces in your home to declutter and rearrange. It usually has a lot of things to organize, too, from spare tubes of toothpaste, to your lotions, towels, and even a hairdryer. But, with so much to sort, where do you begin?
We spoke to top organizers and designers to help us with how to effectively organize your bathroom storage. These are the 10 tricks they all recommended, plus the most useful organizers that will curb the clutter monster.
Aditi is an experienced homes writer and editor. She has written hundreds of articles for various international titles helping readers make the best home design choices, and spends her days interviewing interiors industry experts to bring the latest ideas to her readers. For this piece she spoke to the world's best designers and organizers to compile fresh bathroom storage ideas to inspire.
10 tips for organizing bathroom cabinets
1. Start by editing
If you're wondering how to organize a bathroom effectively, we first suggest you take stock of what you already have in your cabinet. There might be empty or half-open bottles, expired and unwanted products lying around, adding to the clutter of your cabinet. Trash these stray items and keep the ones you use daily or frequently.
'The number one thing to do is to edit, edit, edit,' says Laura Cattano, founder of Organizational Design. 'One way of doing this is by writing out your bathroom routine, and then taking out things you never use, along with those that are old, expired, tried, and not liked. Tick off things based on categories such as extras, specialty or less often used, nail care, hair care, oral care, everyday makeup and special occasion makeup.'
2. Categorize the items as per frequency of use
For a well-put-together bathroom cabinet, consider the categorizing all the items as per use, frequency or occasion. Place all the toiletries you have in front of you; this includes your moisturizer, makeup, face cream, shaving items, and whatever else is in your daily routine.
'Think about what you use every day and what you use occasionally,' says Kashi Shikunova, director of Yam Studios. 'Then split them into groups, for example, morning routine skincare products can be one group, body care in another. This will help to have an organized cupboard where you can pull out the items you need and keep them back in a tidy manner. The things you use daily should be in easy-to-reach places whereas items you use occasionally can be more hidden away, i.e, in the back or higher up in the cabinet.'
'Store most often used products in the medicine cabinet by types, such as day, evening, oral care, with extras and larger products below or inside cabinets,' says Laura.
3. Use drinking glasses as easy organizers
'To hold smaller items neatly inside the cabinet, consider using a few shot glasses or tumblers,' says Laura. 'These can hold items such as tweezers, scissors, clips, to lipsticks, eye pencils, mascara, and makeup brushes.'
If you have small bathroom storage, which isn't able to hold all your items even after you arrange them in glasses, think about where you may have some wasted space, like the back of the door. You could fit a rack on it to hold more things.
4. Fit in a drawer organizer
Fit drawer inserts inside bathroom shelving or cabinets to curb the mess of smaller items. Think bobby pins, clips, rubber bands, safety pins, rings, studs, and more. These easily get lost in the mess of the drawers, but with the organizers, you can place them within sections, so they are all visible at once.
Before you buy any organizer or divider, measure the drawer to ensure you get one that fits snugly inside the space. Be strategic while measuring the drawers – leave a couple of inches to make sure you can move an organizer around if need be.
'Medicine isn't always best in the medicine cabinet,' says Laura. 'If you have other, more important things to keep then store them in the medicine cabinet instead, and use the drawer inserts to keep medicines, where you can sort them into pain relief, first aid, cold and allergy, etc.'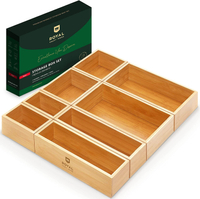 Bamboo drawer organizer, Amazon
This storage set is ideal for organizing the bathroom drawers, helping you arrange all your things in an orderly manner. The set has 8 varying sizes, ideal for all kinds of drawers.
5. Use boxes to group 'stuff' on open shelving
Have extra shelf space under the bathroom vanity or cabinet? Bring in large, acrylic trays to keep things that are miscellaneous or ones you need right after you shower so they are at arm's length.
'Adding a tray or basket full of essentials is useful when guests visit as they may have forgotten to bring some things along,' says Shoshanna Shapiro, founder of Sho and Co. 'You can place a hairdryer and small mirror here, plus extra towels, soap, etc.'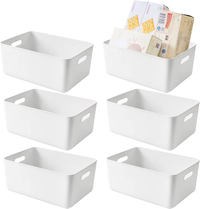 Acrylic storage baskets, Amazon
These storage organizer baskets are lightweight and can be used in the bathroom, kitchen or even outdoors. Keep toiletries, towels, tissues, make up and more inside these and keep the bathroom orderly.
6. Or curate a good-looking display
'It's nice to have a few products on display that add character to the space like beautifully rolled towels in racks and baskets,' says Kashi. 'Maybe even a beautiful moisturizer or a lovely perfume bottle, a cool soap bottle, or more can be placed inside them.'
'If you don't have a lot of closed storage, but want some, try to buy boxes or baskets which have lids, as this will curb the mess and make the bathroom look organized.'
Interestingly, these space enhancers for bathrooms not only help keep things neat but also add to the appeal of the room.
7. Add a hook inside cabinets to hang a hairdryer
Adhesive hooks may be small but are effective for organizing a bathroom closet or cabinet. Instead of nailing them to the inside of the cabinet, you can use the stick-on ones or over-the-door hangers to make room for your hairdryer or brush.
The functionality and even beauty of hooks is such that they can be fixed in any part of the bathroom; not necessarily just cabinets. Install these behind doors, by the shower area, or next to the vanity. Choose interesting designs and colors to add a little sparkle to the bathroom.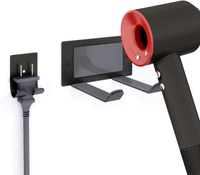 This hook is a great way to organize a hairdryer and its plug in your bathroom cabinet, and can be stuck inside cabinets, behind doors or even on walls.
8. Use trays on your cabinet countertops
Trays or flat plates can be placed inside or beside the bathroom cabinet, in a way to store things that are needed daily and often in a day. These also allow you the opportunity to add a little decor touch to the master bathroom, with the inclusion of flowers, candles, and potpourri.
Consider lining the inside of the trays with a non-skid vinyl liner to prevent products from moving around.
9. Make a display of extra towels
If your modern bathroom has a large vanity or cabinet with several sections for storage – open and closed – make the most of them, and categorize your things accordingly.
Things you use once in a blue moon can go in the closed section, along with glass bottles or medicines so that they're out of reach for children. The decorative things can be placed on the open shelves, to add to the vibe of the room, and to make the space more easily usable.
Keep in mind: if towels are on display, be sure to display the best-looking ones, with coordinated colors and patterns, and make a cohesive decision on how they're folded and displayed.
10. In a double vanity, organize each person's things in separate drawers
One big benefit of a luxurious, large or ensuite bathroom with double vanity is the extra storage gained. Lots of drawers and shelves can lay the grounds for a clutter-free, organized, and highly functional bathroom.
Use the extra storage to seperate the family's things. In a shared bathroom, you can each use a certain section of the drawers to keep your toiletries and gadgets, while leaving some common to both.
If more members of the family use this space, consider labeling the drawers for ease of use. This will also encourage and help the members to put everything back in their rightful place.
The Livingetc newsletter is your shortcut to the now and the next in home design. Subscribe today to receive a stunning free 200-page book of the best homes from around the world.
Aditi Sharma Maheshwari is an architecture and design journalist with over 10 years of experience. She's worked at some of the leading media houses in India such as Elle Decor, Houzz and Architectural Digest (Condé Nast). Till recently, she was a freelance writer for publications such as Architectural Digest US, House Beautiful, Stir World, Beautiful Homes India among others. In her spare time, she volunteers at animal shelters and other rescue organizations.