10 expert tricks for organizing a bathroom closet, creating the serenity of a spa
Expert tips on how to create a clutter-free and easy-to-access bathroom closet, making your bathroom a calm and ordered place to be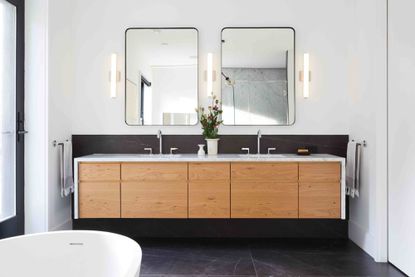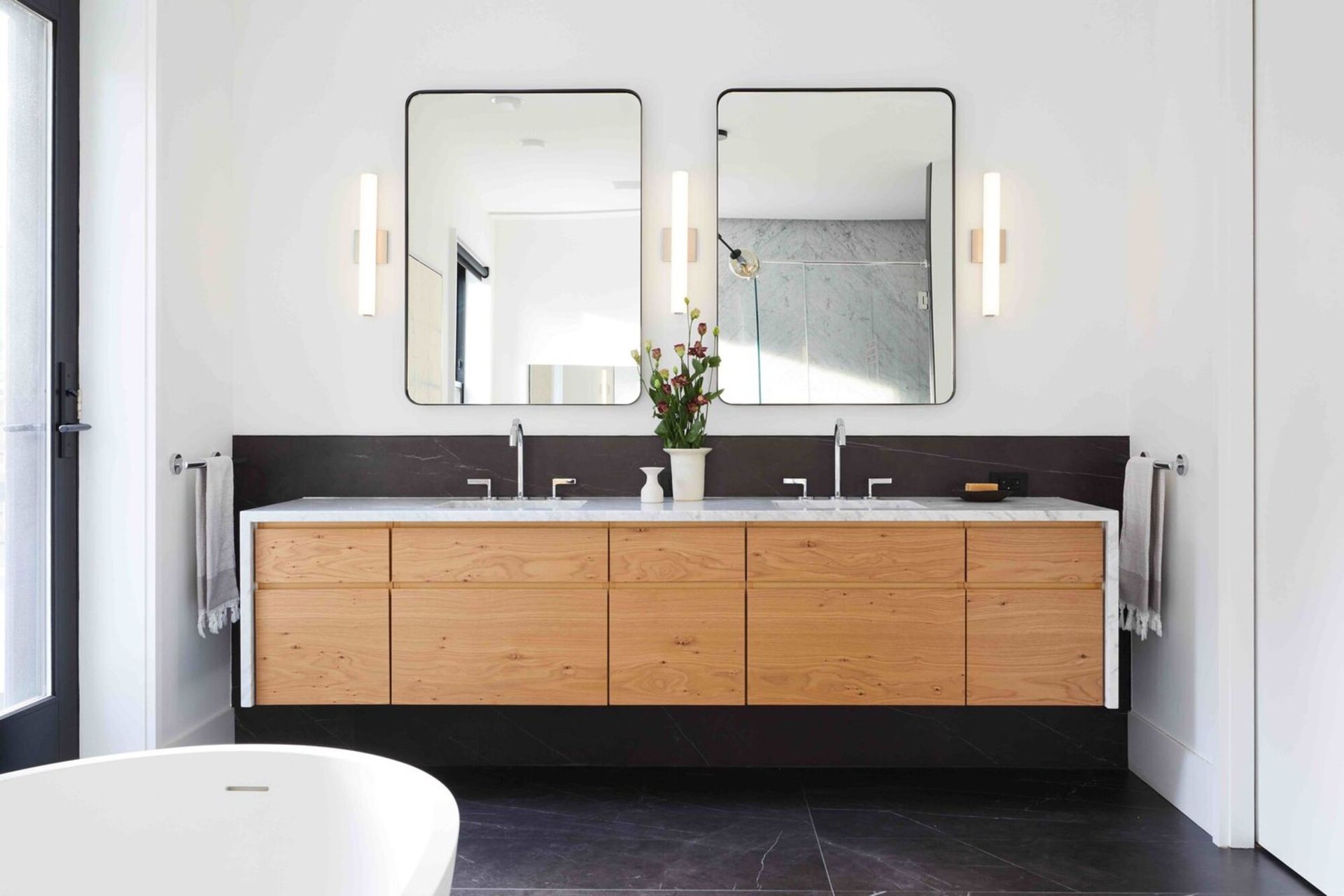 (Image credit: Nicole Franzen. Design: Annie Leslau)
The Livingetc Newsletter
For style leaders and design lovers.
Thank you for signing up to LivingEtc. You will receive a verification email shortly.
There was a problem. Please refresh the page and try again.
Bathroom cupboard overflowing with random products? Don't panic, organizing a bathroom closet doesn't have to be an overwhelming process and, with expert tips and tricks, can make getting ready a stress-free experience.
If you've put a lot of thought into your bathroom, creating a tranquil, restorative space, a messy cabinet can ruin the vibe in an instant. So, if you're knocking bottles over and dropping things on the floor to access your everyday products, it's probably time for an organizational overhaul.
Thankfully, we've got a host of experts on hand to lead you in the right direction for clearing up that skincare collection and keeping those cotton rounds in check. Whether you're tidying up the closet as part of a bigger plan to organize the bathroom or simply want to maximize the storage space you've got for a clutter-free cabinet, we're here to help.
Organizing a bathroom closet for a clutter-free space
1. Carry out a full audit and categorize
No, we're not talking about your accounts - your bathroom closet can benefit from a full audit too. Clearing out unused and out of date products has to be first before starting to categorize what is left.
'I always recommend a full audit of what's currently in the bathroom before trying to organize anything,' says Sue Spencer, a KonMari Master trained by Marie Kondo and founder of A Life More Organised. 'It's great to look at everything grouped together again when you start to organize the bathroom space.'
Sue continues: 'Toiletries can be a bit messy so it's a good idea to pop a towel or sheet on the floor before starting your edit to protect the carpet or any wood flooring. Gather all your toiletries, skincare, make up, and even bathroom cleaners together and sort them in to different categories (hair products, shower gel/soaps, moisturizers/face creams, perfumes/aftershaves etc).
'Look at one category at a time and check that the items that are open are still 'in date' – check the symbol on the container for shelf life – throw away any that are out of date.
'Also check to see which products you actually use; there may be some that you bought and tried but you didn't like the fragrance or had a bad reaction to – NOW is the time to move these on.'
Laura Price, of The Home Organisation, agrees that you need to get tough on unused products, adding: 'The first step in any organization project is to edit, and bathrooms are particularly bad culprits for hiding expired items. Most beauty products have a 12 or 18 month expiration from opening (look out for the picture of a pot with an open lid and a number in it).
'If you find you're having to throw lots away, think carefully about what you buy and when you open things in future. If you can reduce what you have in rotation, you'll find organizing so much easier.'
2. Invest in storage bins and keep similar items together
Using the best bathroom organizers to break up larger drawers or shelves is a game changing bathroom storage idea - particularly for small bathroom storage.
Laura Price says: 'With lots of little items in use, it can quickly become a mess. Separating the chaos into different categories, such as teeth, face or hair products, and containing them in a small box or basket means you'll always be able to find what you're looking for.
'I'd always recommend acrylic or clear plastic storage products in a bathroom so you can easily wash away any spills, and see clearly where things are. If you have the space, deep turntables are great for taller bottles - no more digging around at the back of the shelf and knocking everything over.'
Sue Spencer says this trick will also prevent you from buying backstock you don't need. She adds: 'Store similar items together: This works for two reasons – you know exactly where things are when you're rushing to get ready in the morning/evening and you can see exactly what you've got so you can check before buying something new.'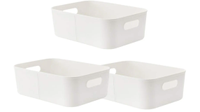 3. Don't forget to label your storage bins
It's all very well auditing and categorizing your bathroom closet products, but you'll also need to know quickly and easily where to put them back again once they've been used.
Sue Spencer says: 'Label and use plastic tubs, shoe boxes, iPhone boxes or little acrylic/plastic containers to keep the similar items together if you are storing them in drawers – it goes without saying that you need to put things back in the right place once you've used them.'
4. Decant your products
'Decanting essentials like cotton balls, bath salts, feminine products or razors into glass canisters can up-level the aesthetic of a bathroom to give the space a more relaxing spa-like environment,' says Michelle Urban of The Organized House.
'In addition, a simple black-and-white label will give your glass canisters a more sophisticated and luxurious look.'
When choosing your decanting storage products, look for neutral colors for a chic finish.
Laura Price says: 'I love to use a mix of glass and natural textures in bathrooms. A glass bamboo lidded container for cotton buds or bath salts elevates the look from purely functional and is a lovely spa bathroom idea.'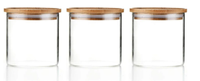 5. Give regularly used products pole position
When organizing your bathroom cupboards, always think about frequency of use.
'The items you're reaching for on a daily basis should be right in front of you and easy to get to,' says Laura. 'Less frequently used items can go on high shelves or in more awkward-to-access cupboards.'
And Sue Spencer concurs, adding: 'Try to keep the frequently used (everyday products) central on any shelves and at an easy-to-reach level so you can grab them quickly.
'Anything that's less frequently used should be kept up high or stored in a vanity unit or bathroom caddy so you know where it is but it doesn't crowd the everyday space.'
6. Store liquid products separately
Avoid damaging spills by keeping fluids and liquids away from other products/
'Store water-based or fluid products (skincare, contact lense solution, cleansers) separate to things like makeup,' says Sue Spencer. 'Water-based or fluid products can spill and ruin other items like makeup.'
7. Optimize lighting
Often find yourself turning on your phone light to dig around at the back of the cupboard? Make getting ready a less stressful experience by ensuring in-closet lighting is optimized.
'Bathrooms can often be quite compact, and closet storage can sometimes be awkward,' says Laura Price.
'If you have a small, poorly lit space, try using strip LED lights to allow you to see everything more easily. You're less likely to lose and rebuy something if you can see what's in the cupboard.'
8. Utilize behind-door storage
Maximize your closet space by taking advantage of the vertical space on the back of the cupboard doors.
'If you have the depth between the inside of a cupboard door and the shelving, you can create additional storage by mounting wire baskets or hooks on the back of the doors,' says Laura Price.
'This is a good option for sponges or clothes that may need to dry out a little, or even for taller bottles where you have lots of height to take advantage of.'
Michelle Urban adds: 'Use acrylic adhesive containers to store items like hair products and accessories, and adhesive hooks for towels, brushes, and loofahs.'
9. Put duplicate items at the back
As with lots of spaces in your home, a backstock area in a bathroom can be a really good option. But don't take up prime bathroom closet real estate to store it.
Laura Price says: 'Precious space at eye height or in easy reach should be saved for what you're using on a daily basis, not for duplicates.
'These can go higher up or out of the way, so you can just grab them when you need to replace something.'
10. Roll up spare towels for a chic display
An easy and elegant bathroom storage idea is to keep spare towels rolled up in pretty wire baskets.
Not only does this keep them neat and grouped together, it also looks inviting and creates a pretty aesthetic.
You can also use this trick on open shelves around the bathroom for an elevated look.
What should be in your bathroom closet?
A bathroom closet can be a space to store your everyday essentials, like towels, toilet roll, toiletries and backstock items. If you the cupboard is a store-all space or the only cabinet in the bathroom, it can also accommodate anything from makeup and hair essentials to medicines and grooming products, like cotton pads and loofahs.
For style leaders and design lovers.
Ruth Doherty is a lifestyle journalist based in London. An experienced freelance digital writer and editor, she is known for covering everything from travel and interiors to fashion and beauty. She regularly contributes to Livingetc, Ideal Home and Homes & Gardens, as well as titles like Prima and Red. Outside of work, her biggest loves are endless cups of tea, almond croissants, shopping for clothes she doesn't need, and booking holidays she does.